Microsoft has workarounds for some Windows 10 build 10041 issues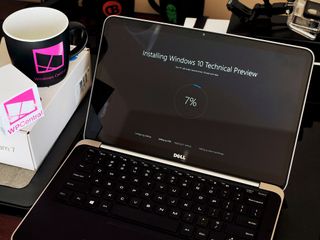 If you are having problems installing or using the recently launched 10041 build of the Windows 10 Technical Preview, you might want to check some workarounds Microsoft has posted to see if they solve your problems.
Some users are getting this error message when they try to install Windows 10 10041, "Windows can't be installed because this PC has an unsupported disk layout for UEFI firmware." In a post on the Microsoft Community forum, the company admits:
The post has a workaround on this issue that involves making a creating a Microsoft Reserved Partition (MSR). It's quite detailed and you can check out the full workaround at the Microsoft Community post (opens in new tab).
Some other Windows 10 10041 users have reported on audio issues when using drivers from Realtek. The Microsoft Community forum (opens in new tab) has posted work that some of those problems have since been resolved but a couple won't be fixed until the next build. In addition, Microsoft is still investigating reports on a couple of other audio issues. Again, all of the details can be checked out on the company's forums.
Source: Microsoft 1 (opens in new tab), 2 (opens in new tab): Via Gabriel Aul (Twitter)
Windows Central Newsletter
Get the best of Windows Central in in your inbox, every day!
And they say it will be ready this summer?

Ik. So many things I'm worried if it'll get finished on time. Posted via Windows Phone Central App

I think they actually are working on the actual official build but give these earlier builds to test to see what they can change.

This. MSFT clearly has newer internal builds available --- we've seen many screen shots containing features which we have yet to see in an insider build". I feel as if they're just showing us enough to get feedback, and at the same time, holding back enough so there's still SOME element of surprise at the final Windows 10 reveal.

This sounds like a clever process to me if so. I like it and hope that's their plan.

i thought and felt the same things but then i really thought about it.. They have many different versions of this operating system and if we think our version is anywhere close to the versions they are working on in the background that we dont receive.. Think about past releases and how complete (they had bugs at first, all software does cause of the different internals, etc.) they came out... They still have those testers and developers working on very specific details and screen area... What I am saying is they use our information to add and curtail things on their versions ours is a skin over win 8.1 (or a mock up of the actual system, maybe even a bare necessity for use version.. Cause the amount of small lil issues means they slipped by in our versions cause think of the thousands of initial errors it probably had... i have faith they will get it right but its what they have planned in the future and updates that scares me... so after the first year to get updates will we pay monthly? Which will lead to bad copies everywhere cause no one wants to subscribe to their operating system.

6 more months to get it right!

MAYBE the last day of summer. As for Windows Phone 10, Ill be surprised to see it before next winter. If we get it sooner, I bet that yet again, it won't be the complete version of it and not entirely finished. And they'll be talking about 10.1 coming late 2016 with the rest of their features. MS has great vision, but putting it into practice completely, especially for WP, they've struggled mightily.

The build you are gonna use is most likely December Code. Right now they are simply wanting feedback on things that can be changed either before launch or later. But things will happen. Let me know when any OS has went off without a hitch, on all devices, on all products, ill buy you some 200yr old Maderia Wine

Hey, I'm understanding with some things not working smoothly. I get it. Its the pace. Especially with WP. Is there any doubt that the first release of Wp10 will not be the full version, just like WP8? They'll take a long time to get 10 out, and it will end up missing good features that weren't ready. And well wait for another year to MAYBE get their full vision released in 10.1 or 10.2. If they havent decided to go in another direction by that point.

Bugs happen every day in all software. It'd be rather strange to assume they aren't working directly with hardware vendors. Hiccups happen; fixes come for those hiccups. :)

Microsoft is finished. They can't deliver on their promises. The Windows 10 Technical Preview is evidence of the company's pending doom of collapse. Even the 2nd preview is unfinished. Microsoft just can't do anything right and is a failure in the market. Not so for Apple. Their processes and products are perfect. Any reports of problems are nothing but lies and propaganda perpetrated by competitors and anti-Apple technology journalists and their supporters: So say the iCattle. ;O)

I see the joker buy this is like build 3 or 4 to insider channel

I'm not really interested in final build right now. Testing is fun. You are getting new features quiet fast. I just would like to have that on my wp, its now over a month they released first build

I'm all In on the promise of Windows 10!!!!!!!

Hmm i think late ring updaters may not have problem and iso though

Seeing the news of this build, I'm very happy with build 9926. Waiting for the next build for slow ring.

I had the audio issue with Realtek. But I resolved it by getting the required driver and other information from the Realtek site. So the audio works now.

Cool, I'll check that out, my desktop has no audio since latest update

I got around it by manually uninstalling the old drivers and letting Windows update re-install clean. Dell inspiron 1300.

I reset my settings in properties to default and the sound started working.

I just uninstalled and reinstalled my drivers. Worked like a charm. :)

Same here. I just uninstalled them and did't let Windows restart. Then I installed the drivers from the Realtek site.

And none of those is what I'm experiencing. At about 30-40% it fails and restores back to 9926. Tried updating by booting from USB, Windows Updater and from desktop with the ISO. None of them works.

I downloaded the ESD, made my own ISO and did a clean install after a failed upgrade left my laptop unbootable.

That's why you should use VM or dual boot... :P.

No major problems here so far.

I want one of those mugs. :(

Hmm... Not working right for me either. Got "windows cannot activate" error with a permanent overlay and no transparency. Oh and aload of the settings are missing. Oh well, it is a preview after all :D

Same here. I collect mugs of companies I visit as a Senior Engineer. And I would love to get a Windows Central mug too. You know where I can get one? Daniel?

Had to go back to 8.1 because of limited wifi connection problems.

I also went back to 8.1. My update broke the touchpad and mouse and whatever I've done nothing resolved it. When I installed 8.1 I couldn't believe how pretty it is compared to 10, I just miss Cortana.

How can update break your touchpad and mouse?

It did. I was happy with build 9926 and when I updated to 10041 the touchpad no longer functioned. I tried reinstalling the drivers but nothing could fix it.

I know. I was just kidding. I was talking about physical damage.

Oh, sorry, didn't get that. I'm watching Exodus and it sucks ass. Maybe that's why I didn't get it.

I had no issues installing this build other thank i had to manually restart at update launch. No other issues post-install.

Plz help some one! I have dual boot installed Windows 10 Pro Preview. Windows 7 & Windows 10 Pro Preview. But, problem is when I am searching for Windows Update, it shows all updates but can not downloads. I have tried both Slow & Fast option too. Plz help to resolve!

Worst build ever.. I had no sound, it was slow and full of bugs (yeah I know it's beta but..). Wiht 9926 everything is better. So I used Recovery to go back.. Took me 5 mins. Now my Notifications doesn't work but who cares... :)

Well, that explains my problem. Nice to know it wasn't my configuration, just have to wait for the next build.

So what about the people who it simply doesn't show up for?

Yeah my acer's dolby audio had trouble too.. I just uninstall, restart, install, update, restart.. And worked again.

You wanted a fast track....

After reading this, i am happy that I didn't download this.

How about an phone update. Lumia 930

Successful installation on my Surface Pro 3 & I have no driver related issues. Only issues were the mail, calendar & people app; that was resolved with the PS script. I'm happy now.

Brave soul you are :) but hey, glad it's working for you!

That I am. :) I like the none instrusive option of switching between Tablet and Desktop mode whitst attaching & detaching the type cover. Can't wait to have CORTANA full features deployed. I'm eager to see more fellow Jamaicans take this leap of bravery though. :)

I put on my surface as well, but the hold windows key and press power button to log in screen doesn't seem to be working. Only option is to attach keyboard and ctrl alt dlt. Have you experienced the same issue?

One tap on the password field brings up the virtual keyboard for me, when I have detached the type cover.

The new store doesn't open for me

I've kept it to build 9926 just because of these things. I like it!

This build gave me a headache, it took me 1 and a half day to install. It would download, stop at 13% for some hours till had to restart pc. At times it would fail to find an update. Now my Realtek has no sound had to use standard HD driver.

I had this problem but a quick visit to the Realtek site and download of the right drivers sorted it out. :)

I have an issue that when I hit Start and start typing, nothing happens, There is no Search box. This is not the first build I've seen this on. Makes Windows 10 unusable.

How does not having a search bar make the entire OS unusable?

I have been well-trained by Windows 8/8.1 to do everything by tapping Start and starting to type. Starting applications, starting a web search, finding O/S settings, etc. If that's not working, the build is too broken to go public. I'm certainly not going to spend time using it. I somehow tricked it into working just now by making my task bar horizontal on the bottom (my task bar is normally vertical on the left) and clicking in the Search box on the task bar and searching. After that it worked, and I could even put the task bar back vertical. I fear that after my next restart, I will have to trick it again.

You have to tap Cortana, but you should buy her dinner first ;)

This has actually been brought up a lot already. If the task bar isn't on the bottom, the search bar doesn't work. They know its a problem.

Okay, good to know. I figured I couldn't possibly be the only one to notice this.

Switch off and re-start. After a few of those you will finally get a working search bar.

i guess i got lucky as everything appears to be working for me ... except live tiles ... they almost never work no matter what windows edition you are using

Same for me, everything works good except live tiles. Starting to get annoying but that's what we signed up for.

This build is lagging so much, I have a problem when I try to switch between tablet and desktop mode and apps list on right side of screen is frozen all time , every thing need fixing

I cant install ... when searching for and installing updates the windows update fails at about 50-60% with error 80070003 .., tried fixing with "MS Fixit" and deleting temporary files. I had the same issue the last build and resulted in reinstalling the current build via downloaded iso. But now I wont reinstall W10 and stick to my Linux ... everytime I install Windows, it's able to screw up my bootmanager, even with UEFI.

Has anybody noticed a lot of background services trying to prevent a restart on this build? Everytime I try to restart I get a huge list of running applications.

No issues so far on my surface Pro 3! But I haven't played with it much since the update so let me keep my fingers crossed Posted via Windows Phone Central App

And this is why I stayed on the slow ring. While trying new stuff is fun I still need to be functional. The complaining from the fast lane is kind of humorous.

Only issue I have is my login password number will not work. It will only allow for my Live email password.

Installed​ just fine. Also got mail, calendar installed. But, very odd behaviour in those apps. Window contents in mail and calendar draw as if the window is 20% talker and wider, so the bottom and right hand side are cut off. When I bring up the settings, it half appears on the right edge of the window...

Same problem with the store too, will obviously get a fix soon.

I've noticed that with many of the Modern apps. The search field in the store app starts about 2/3 visible and moves out of the visible area of the window as you enlarge the window.

You people wanted faster builds. Faster builds still have bugs in them, stay in the slow ring if you want stable builds.

Some truth to that. Older systems and especially systems that have problems with memory will be the first to feel it.

But there really isn't anything new in this build, except the buggy transparent Start menu.

Lots of bug fixes though.

Hi John Callaham, I have a problem with metro apps... When I open them it's like they are extending to another screen... Tried minimizing,installed graphics driver... Even my new lock screen looks awfully big.. It only happens with metro apps...

What about the Mail,Calendar, and People app? It keeps coming up with an install error.

http://winsupersite.com/windows-10/fixing-mail-calendar-and-people-windows-10-build-10041

weird thing is that i can't even find these apps in the store to reinstall them

You have to use the green Store app, not the gray beta one. They aren't listed in the new beta store.

Funny enough I dint face any issues with installing. I have UEFI on my PC too.

When will windows central mug be available outside US?

I had problems with my Broadcom Wi-Fi on my VivoTab 8. I had to run the driver installation as administrator to get it working again.

My start menu has disappeared again, just like the last build.

Can't even get 10041 to appear as an update. Not alone either, reading the MS support pages.

not to sound like a smart ass or anything but maybe you have to change your ring to fast if you haven't done so yet

Already there. They're a problem for some that's preventing it appearing. Cheers.

It wouldn't show up for my until I switched to the slow ring and back to the fast ring.

2 machines. A desktop and laptop. No real issues here. Especially on the laptop (Elitebook) I love the new network quick acces (because I visit a lot of companies with each their own WiFi network)

I had an issue with my network adapter driver. I had to uninstall the one provided by Microsoft and to install the original one that came om my motherboard cd.

I want that windows central mug :*(

its funny how they show or some weird far off site showcases new builds months before they are released. Its obvious that Microsoft has builds months in advance that they are working on but releases these early builds from previous stacks to help get users engaged in the process and provide fixes and implement strategic features and changes into the core stream. its smart, alot of extra work but smart

I can't get this installed on a Surface Pro 3, their own hardware. That's troubling.

I just installed this build 10041 and using it to comment here now. However, I have issues on my audio. My PC doesn't have audio now and the speaker icon in the system tray has redf "x". Tried to click it and a troubleshooter is opening but could't find the problem.

This it's the most unstable of all Windows 10TP release thus far. I had some very quirky behaviors. Yesterday the hole taskbar and start menu froze up. Today I lost the default screen font, everything appeared in an odd font. The start menu right side is squeezed and overlaps with some info inside the life tiles.

Best. Build. Ever. I had no issue at all. Not a single one nada. The best thing - I left my PC on at work with setting to check for update every hour and next morning it was already updated to 10041. Love it!

Will my data delete if I update computer to W10?

I have no problems with my asus t100 tablet. everything works.

Microsoft: Attention please if you are reading these comments - the AMD display drivers being installed via Windows Update are extremely buggy and cause freezes, hangs, crashes and blue screens in multiple games on numerous systems, desktops and laptops both. R9 290X, R9 270X, Radeon 7660D, Radeon 8660D, R7 250, and more. The last stable ones were in the 14.xxxx line, anything in 15.xxx has been very bad. Numerous reports of this in the Feedback app by various people and still MS continues to not list it as a known issue and no fix has been promised. Please address this asap Microsoft! Thank you guys and gals!!

This seens to have fixed my issue with the amd drive update. http://www.tomshardware.com/faq/id-2165451/dont-windows-windows-automati...

I switched to the fast lane so I could get 10041, because I was having some real problems with the previous slow build. It's mostly fixed them and so far has proved pretty stable for me. There are some rough edges of course but it's looking good...

new build works great.. just had to install my realtek drivers for my Asus MB again. thats all visually it is faster and my ESATA drives dont lose connection anymore

Has anyone been experiencing problems with the Windows Search feature when they hit the Start button?

The 10041 broke my video into a garbled mess, so I can't use win 10 anymore! I had it hooked up to TV to watch march madness. I dozed off and then it started to update. Three hours later after updated, a squigly mess was left on my screen.Can't do anything.

My start menu won't open!!! i noticed it started doing this after installing apps from the store

Looks good to me so far. Haven't found any issues so far with the latest build. I did notice that the size for the desktop icons seems to have increased.

my problem is I have 10041.. I am trying to install 10049 but it keeps downloading 10041 and and 10049 at the same time to install both on 10041 then errors. No idea how to fix this.

Its installing again hope it works. im on a vitrual machine. if it doesn't i will just get the latest iso and do the update from there.
Windows Central Newsletter
Thank you for signing up to Windows Central. You will receive a verification email shortly.
There was a problem. Please refresh the page and try again.