Microsoft HoloLens developer events to be held in 11 US cities in October and November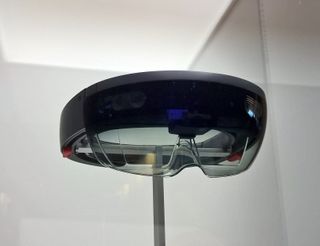 Microsoft had a spectacular demo of its HoloLens augmented reality headset during its press event earlier this week, and now it wants to show developers how they can make apps for HoloLens. The company will be offering a series of developer demo events across the US starting next week and running throughout October and November.
Here's the full schedule of the 11 cities and dates for the Microsoft HoloLens developer events:
Seattle - Oct 13 - 16
Toronto - Oct 19 - 22
Salt Lake City - Oct 20 - 22
Chicago - Oct 26 - 29
San Francisco - Oct 26 - 30
Los Angeles - Nov 2 - 5
New York City - Nov 2 - 5
Minneapolis - Nov 9 - 11
Phoenix - Nov 10 - 12
Atlanta - Nov 17 - 19
Austin - Nov 17 - 20
More information on the events, and how to register to attend, can be found at the source link below. Microsoft plans to release the first HoloLens developer kits sometime in the first quarter of 2016 for the price of $3,000.
Source: Microsoft
General public seats are full at all locations, I believe, but they are sending out private invites to certain folks.

Will these events be oen to all devs though ? Edit: yes as per source. There is almost a waiting list in all the dates available (NYC) :(

Everytime I see that picture of the HoloLens, the first thing I think of is that it is a mock up of the HoloLens. That one is the one they have in the glass case to show the press. Instead of a clear piece of acrylic sticking down, the real HoloLens has a thicker piece of glass with what looks like 3 superimposed displays embedded in the glass. Of course, I see that as a clue to the fact that the display is the secret sauce...

I would love to see the hololens get to a point where a warehouse could make a halo style game laser tag game (but cooler), and everyone could use the hololens as part of the experience . Or even program levels and co-op modes.... :)

Can't wait f for something like that!

wow SF all waitlised now. that was quick.

No....stop me from saying....when in india :'D

Registered a couple of days ago. Looking forward to it!

Oh no! I will miss Toronto just for a mile.

Fart apps are gonna evolve into something horrific for the Hololens.

I just wonder how are they going to solve the physics problem of poor FOV.

The field of view "issue" is subjective. I used the HoloLens (on and off) for 4 hours and it really depends on what you are doing (application). Obviously, including peripheral vision would be nice, but the current HoloLens is still great. What's the FOV on Google Glass? Terrible, but it is still very useful. HoloLens makes Glass look like a joke. The key to wearing HoloLens is to turn your head to look at something. Naturally, we all look first with our eyes, then turn our head. With HoloLens, you quickly learn to just look straight ahead and turn your head to look around. I just started doing it without realizing, but it makes the experience FAR better. The people that complain about FOV, I think, have not had enough time with HoloLens to figure that out and are disappointed when their eyes dart around and realize there are no holograms outside of the display field. And to answer your question about solving the FOV problem? Simple, a larger and curved display will give you an immersive FOV. Or simply moving the display closer to your eyes. I would expect future versions will do one or both.
Windows Central Newsletter
Thank you for signing up to Windows Central. You will receive a verification email shortly.
There was a problem. Please refresh the page and try again.