Microsoft issues another batch of fixes for Windows 10 October 2018 Update
Another cumulative update is ready for October 2018 Update PCs.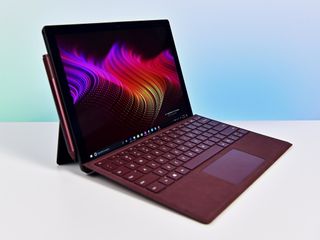 (Image credit: Daniel Rubino / Windows Central)
Microsoft this week is shipping out another cumulative update for the Windows 10 October 2018 Update. Labeled as KB4469342 (opens in new tab), the update began rolling out on December 5 with a total of 20 fixes, ranging from tweaks to Microsoft Edge to a correction for an issue preventing users from setting Win32 apps as defaults for certain file types.
Here's the full look at what's fixed in KB4469342:
Addresses an issue in Microsoft Edge with using the drag-and-drop feature to upload folders from the Windows desktop to a file hosting service website, such as Microsoft OneDrive. In some scenarios, files contained in the folders fail to upload, with possibly no error reported on the web page to the user.
Addresses an issue that degrades Internet Explorer performance when you use roaming profiles or you don't use the Microsoft Compatibility List.
Addresses updated time zone information for Fiji.
Addresses time zone changes for Moroccan daylight standard time.
Addresses time zone changes for Russian daylight standard time.
Addresses an issue that causes display settings to stop working when changing a multi-monitor configuration.
Addresses an issue that displays a black screen on some servers when waking a display from sleep.
Addresses an issue with long delays in taking a photo when using the Camera app in certain lighting conditions.
Addresses an issue that prevents live TV Hulu content from playing in Microsoft Edge; instead, a black screen appears.
Addresses an issue that stops Bluetooth® headsets from receiving audio input after several minutes of listening.
Addresses an issue that causes the Brightness slider preference to be reset to 50% when the device restarts.
Addresses an issue with the OEM manufacturing processes when running sysprep /generalize.
Addresses an issue with Microsoft Intune that causes devices to be incorrectly marked as not compliant because a firewall incorrectly returns a 'Poor' status. As a result, the affected devices will not receive conditional access compliance approval and may be blocked from access to corporate resources such as email.
Addresses a performance issue with vSwitch on network interface cards (NIC) that do not support Large Send Offload (LSO) and Checksum Offload (CSO).
Updates the Wi-Fi policy for service set identifier (SSID) filtering to avoid filtering out Wi-Fi Direct devices.
Addresses an issue that causes rasman.exe to stop responding.
Addresses an issue in which regedit.exe fails to add double null terminator to REG_MULTI_SZ values in the Windows registry. The missing terminator may prevent services and applications from reading REG_MULTI_SZ values that regedit.exe adds after installing the operating system.
Addresses an issue with RemoteApp visibility that may cause the main window to disappear until the user clicks the screen.
Addresses an issue that prevents some users from setting Win32 program defaults for certain app and file type combinations using the Open with… command or Settings > Apps > Default apps.
Addresses an issue that may cause mapped drives to fail to reconnect after starting and logging onto a Windows device.
There are two known issues to be aware of with this update as well. The seek bar in Windows Media Player may not work with "specific files," but Microsoft is promising a fix will be available in mid-December.Microsoft Edge may also crash or hang while playing a video on PCs with NVIDIA graphics, but NVIDIA has released an updated driver that corrects the issue.
Dan Thorp-Lancaster is the former Editor-in-Chief of Windows Central. He began working with Windows Central, Android Central, and iMore as a news writer in 2014 and is obsessed with tech of all sorts. You can follow Dan on Twitter @DthorpL and Instagram @heyitsdtl.
These change logs are pretty useless. For example. After 2018 October update my SP6 started having major problems with hello face recognition. It barely worked. This update fixed it without anything about it the change log.

I still have not got the then October, the then November and now December update on my Asus and Dell laptops!

To be honest, just be glad lol... as you won't have to contend with a random bsod... or something going awry thanks to that update. It's really not a good look when a cumulative update causes bsods on a premium device like the Surface book 2. They need to rehire the QA as soon as possible.

Gotta say, I'm pretty glad to see the fix for the black screen when trying to play Hulu Live in Edge. I was super cranky when I had to go and download Chrome to get it working. It would be nice if Hulu would just update their app to allow live tv via the app, but at least Edge will work with it again...

What October 2018 Update? It would be interesting to see an article, listing hardware it *is* currently available on...

Use the Windows 10 media creation tool to update.

Does anyone leave doze on 'auto update' ? - I have the damn thing firewalled away from $sod's IP ranges with everything as switched off as it deigns to let me keep it. When I read about vulnerabilities that affect my stuff I'll make sure I'm safe, maybe by tinkering around the update-edges if necessary. About six months after a release it's /usually/ safe to swallow the whole pill, so long as your system's fast enough to take the extra bloat but never ever do it sooner than 12 weeks if you value your sanity! I loath this idea of ticking a box that gives a programmer total freedom to upload whatever they feel like to my machine, whenever they feel like it, and for it to then be automatically substituted for whichever program I was using.
There's no notice nor explanation of what will change nor why, just the silent substitution of one application for another, usually keeping roughly the same front end though that's in no way guaranteed! Who /really/ thinks such a tick-box is a good thing to tick? Obviously plenty of people agree with me because they've resorted to making it really hard to stop windows metamorphosing as and when it feels like it without a rock solid firewall between system and network. Only those who with reasonable know-how can these days rely on what they install staying as they installed it, anyone else has very little control of what runs on their own damn computer.. :-(

Still have updates paused until further notice. Updates are less reliable lately. Accidental "seeking" possibly gets you a different update too.
Roll the dice and fingers crossed. Luck or misery?
Windows Central Newsletter
Thank you for signing up to Windows Central. You will receive a verification email shortly.
There was a problem. Please refresh the page and try again.