Microsoft Stores lowering Surface Touch Covers to $79 starting August 30th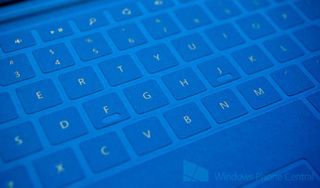 If you have a Surface RT or Surface Pro and were thinking of picking up one of the colorful Touch Covers, you may want to hold off for eight more days. It has been revealed to Windows Phone Central that Microsoft is planning to drop the price on the accessory from the regular $119 to a more reasonable $79.99.
The new price will be permanent.
The Touch Cover was one of two keyboard accessories that launched with the Surface RT late last year, the other being the more robust Type Cover with mechanical keys. There is no evidence to suggest the Type Cover will receive a similar discount but we're waiting on more information to see if that changes.
All colors variations of the Touch Cover, including red, cyan, white, black and magenta, will take part in the reduction.
The news of the price drop comes on the heels of the Surface RT being reduced to $349 (from $499) and the Surface Pro by $100, resulting in a $799-$899 price tag depending on configuration (through August 29th). The recent price moves by Microsoft appear to be motivated by lower than expected sales of the Surface and to take advantage of the "back to school" season.
Windows Central Newsletter
Get the best of Windows Central in your inbox, every day!
Daniel Rubino is the Editor-in-chief of Windows Central, head reviewer, podcast co-host, and analyst. He has been covering Microsoft since 2007 when this site was called WMExperts (and later Windows Phone Central). His interests include Windows, laptops, next-gen computing, and for some reason, watches. Before all this tech stuff, he worked on a Ph.D. in linguistics, watched people sleep (for medical purposes!), and ran the projectors at movie theaters because it was fun.
If they had been $49 there would have been at least half the complaints. Hopefully $79 helps.

Doesn't it cost Microsoft $50 or to make them?

I sure hope not.... Kevin O'Leary would choke.

Too late though. But I'm excited for the next surface!

It's becoming more and more tempting to buy it.

Agreed, but I'm still holding out until the release the new models in the coming months.

I'm getting a surface for my girlfriend for Christmas and this will help with the cost a lot

I hope this does not lack compatibility with the next version surface and that's why there's a reduction in price.

I hope that's not the case

I doubt they lack compatability. However, there was that rumour of the battery type cover. If that is released, these will become significantly less desirable.

Exactly what I think. No need to drop the price unless you are trying to clear out stock. Not a good sign.

Honestly, I hope the next iteration will be magnetic like the iPad's smartcover.

Oh no you didn't just use the 'i' word. But really this version is magnetic and works better than the apple version as it's strong enough to hold the surface on its own when connected.

Magnetic meaning that it should stay closed when covering the screen - it shouldn't have the ability to flap freely.

Ah now that makes much sense. I don't see it as much of a problem though.

Sorry, I wasn't very clear.

How do you carry your Surface that it manages to flap open?

I have a 3 year old. Trust me, having any magnetic resistance to help it stay shut would help.

Type keyboard is good been using it on surface pro for few months, tested the touch and would not recommend, like typing on a piece of paper with qwerty written on it

It's a much better cover than the type cover. Very low profile. Takes a little to get used to but works great. I've got a black one, would like to get the cyan one.

Agree touch cover takes sometime to get used to but once you pass it..its awesome thing to own. I am using red dragon of the year special edition for 4 months now...no complaints.

While I took in the reviews that the type keyboard was better, I was surprised how well I COULD type on the touch keyboard. I do type better on the type keyboard so that's what I bought. Still, it didn't take away from the fact that I did do quite well, better than expected, on the touch.

I would recommend people to find out for themselves.

I have a Type for my work Pro and a Touch for my personal RT. I unequivocally prefer the Type over Touch. For me (and I know others have different experiences and opinions) Type is much faster and more accurate. A fair number of my keystrokes get lost on Touch...that never happens to me on Type.

Finally! 119€ for the covers was a rip-off honestly. I got the Surface when they did that promotion of the free cover to get myself the type cover. I however would like to have also a blue touch cover but 119€ was out of the question. 79€ is better. It's still a lot for a keyboard...but it's definitely better than 119€!

So when can the tablet be 79$ :P

When it's made in China, has the specs of a calculator, and runs a 3 year old version of Android.

Well...the first requirement is met...=P

Hope that doesn't happen soon, lmao!

This is great as they're doing that additional 10% off if you have an edu email address, meaning, 72 bucks! Might pick up a cyan one so that i'm not always rocking black...

This with my school discount means I might actually get a surface rt now! Emphasis on might!

They need to fix how these covers dangle uselessly below the devices.

Lol What? This makes absolutely no sense.

Still too much. Include them with the device already! Let the Type Cover be the premium upgrade for an extra $xx or, even better, $125 for the Type+Battery cover that doesn't yet exist.

Agree, including it with the tablet would make more sense than bundling Office, $50-60 is max for a keyboard that works only with Surface tablets.

I still think it should be $49.99(touch) and 59.99(type)

Yeah, agreed, its a keyboard....it should be 29.99 or 39.99 at the most...c'mon man

Cheap bulky keyboard cost that much. I'm sure it's not easy to make a keyboard that thin. You're being a bit unreasonable. You also have to remember that besides the cost to manufacture, you have to add profit for Microsoft and the retailer plus there is the R&D cost that has to be recouped. $120 was too much, but $30 is way too low. The any decent ipad keyboard dock cost way more than that.

The type keyboard is $149 in Australia how about reducing its price as well it should be under $100, after all you did not give us 64GB surface RT owners a choice of color or type of keyboard we would choose.

Still pricier than I'd like, but its good to see sanity coming here. If it'll work with the next generation of Surface tablets? Fantastic. Otherwise? They really need to firesale these soon :(

I wanted one of the limited edition touch covers. No limited edition covers for Canada. Unless one of you guys can pick me up one. I'll PayPal the loot.

Not sure if this discount applies to special edition... I have red dragon of the year and really looks different.

That's the same one I wanted. Red to match my red Lumia 920. I don't really care if they lower the price,I just want one.

Actually spl edition runs $10 extra...but yea that color is sexy.

Nice. Makes me worry much less about my current cover which doesn't really seem all that sturdy... Hm, Red would be nice...
Now let's talk about those crazy power adapter prices; thanks to the custom connector I'd like to have a spare...

$79 is more resonable. $120 is way too much, especially considering they aren't THAT durable and not covered under the Complete protection plan.

This is probably because of back to school. Microsoft is also offering an *additional* 10% off for students, bringing the price to about $320. $320 + $80 = a great back to school promotion.

These should have come with the surfaces in the first place since they're the biggest selling point. Take the hit, flood the market and build better mindshare for the 2nd Gen

Yeah, if you could bring out a Surface RT 2 with Snapdragon for more power and a Surface Pro 2 with Haswell for 8h battery life that would be great.

Nooooo! I just bought one last week!

It's headed in the right direction but can't wait until it's actually out of the driveway.

I always believed Microsoft made an mistake by not including the touch cover with the first place. One of the biggest complains is price of Windows tablets. If Microsoft ate the cost, they may have added to early sales. When they add free for a promotion it was to late in my opinion. Many other companies have ate costs for future sales, such as SONY PlayStation's blue ray player. It took years to make a profit, but they created a industry standard.