Microsoft Lumia 535 arrives in Germany via Amazon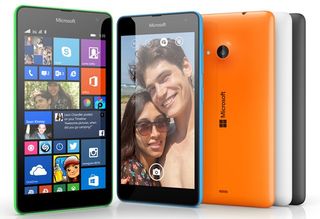 If you're in Germany and are looking for a budget-priced Windows Phone, look no further than Microsoft's Lumia 535, a smartphone that's now selling for just 119€ with Prime shipping on Amazon's website. The smartphone was introduced earlier this month with a 5-inch qHD resolution display, 1 GB RAM, and a quad-core Snapdragon 200 processor along with 5-megapixel front- and rear-facing cameras.
Are you in Germany and will you be picking up a Lumia 535? Let us know what your impressions of the device.
Thanks to Luis for the news tip.
Source: Amazon (opens in new tab)
Windows Central Newsletter
Get the best of Windows Central in your inbox, every day!
Chuong's passion for gadgets began with the humble PDA. Since then, he has covered a range of consumer and enterprise devices, raning from smartphones to tablets, laptops to desktops and everything in between for publications like Pocketnow, Digital Trends, Wareable, Paste Magazine, and TechRadar in the past before joining the awesome team at Windows Central. Based in the San Francisco Bay Area, when not working, he likes exploring the diverse and eclectic food scene, taking short jaunts to wine country, soaking in the sun along California's coast, consuming news, and finding new hiking trails.
I am a male. I would let Microsoft plant a Microsoft child in me. Plz Microsoft. Microsoft is love. Microsoft is life.

No offense, but are you like out of your mind, man?

And this is a prime example of what happens when the crazies are allowed technology.

Fans like him r actually important. Y do you think apple is popular ? CUs they have many fans like him. :)

This is the strangest line i ever read... :-o

I'm wondering if this will be a decent sidegrade to my awful HTC 8X, the processor my be lower but at least the OS will be properly optimised for the hadrware with firmware etc? And for £100 i cant really go wrong... My 8X on dev preview is unbearable with lag, crashes and general bugs / defects.

I have the same doubt. I have a HTC 8X but HTC don't care about this device. Besides, with DP some apps crash for no reason. So I want to know if the purchase of the Lumia 535 will be a big downgrade? ​ ​ ​ ​ ​ ​ ​ ​ ​ ​ ​ ​

I hope Microsoft keeps doing these quick launches. Nokia sucked at launch dates.

From what I can tell, Microsoft is leveraging their size and connections to get more done and faster. Lumia 730/830 also came to market quite quickly and my guess is this will be the new way going forward. Fingers crossed.

830? Just recently came to att. T-Mobile still don't have it maybe never will. That phone is a mystery to me. Never even seen any sort of ad for it. Maybe its just me

Ohhhh you wanna talk about marketing?

A phone not coming to a carrier at all is probably the carriers' fault...

Sept 4 it was announced. In Philippines, it became available only last week. Though, still faster than bringing 930.

Interesting, since you would think the old Nokia would have better connections to carriers.

Well then Daniel, we can expect to see a lot more Microsoft branded Windows Phones in the near future. And I mean a LOT more.

When will it be available in Asia? I love this phone.

but will they be able to do this in countries like India, where MS consumer line is not present and India has a high marketshare for WP, and this was Thanks to Nokia but lately India and some other countries where WP has high marketshare are being ignored.

They were busy with the N1 Android tablet launch obviously...

Does anyone know when the official update(not preview) for 8.1 GDR1 released? It's November already. What are they waiting for....

They are waiting for people to stop asking over and over

Thanks... You can come at my office and claim some cookies.

Think its delayed upto 2015

Are u using the preview for the dev?

I believe they are going to wait until January and best and package it with Denim. Now what we should all be wondering is, can Microsoft now send us OTA the firmware AND the software for Lumia devices? :o

I hope so... Feels outdated already.

Makes sense. With carriers getting so worked up over these things you kinda have to get as many updates in at the same time as you can.

Lucky ass Germany. Getting the first ever Microsoft branded mobile device. #American

Lucky ass America. Getting the first ever Microsoft branded fitness tracker. #German
;-)

Lucky America, actually being acknowledged by Microsoft #English

Lucky all of you that can buy the phones at a store and not having to get it from hongkong. :'( #Spain.

*silent spectator*
# India

This will be my next Lumia. Started with the 520, moved on to the 620, but now I'm gonna have to take this baby home.

Same here. I'm from the Netherlands, luckily the German Amazon has free shipping here. I'll be ordering it later today. The too 10% of my 620 has been unresponsive since August. I've not been able to use the notification center and some apps since than. This is finally a affordable replacement. My wife almost bought me a 830 this week, but this 535 is good enough for me :)

Man go get the 830.. Hehe.

I'm still on 520, somebody HELP ME!!!

Some people are still in L800 or L900 they need a lot of help lol

But the L5xx is really shit, no front camera, no flash, and extremely slow only 512MB RAM

Not the 535. Fixes all that. And with a much better screen.

Oh yeah definitely forgot about that, that is one amazing phone and I would definitely purchase it. Do you have any idea when it will be released in South Africa?

How the heck could you forget about the Lumia 535 while while commenting under the news that is all about the Lumia 535?

People make mistakes, my bad

One question... Does it have clear black?

They're not slow or laggy as you would find in Lagdroids. And Lumia 525 had 1GB RAM.

Really shit? That lineup IMO is the reason y Windows phone still exists!

Honestly I am a little jealous of the 5mp camera found on this if its like the one on the 735. I was playing around with one at O2 when I was visiting Bristol and that ffc just embarrasses my 1520. Even my gf was impressed.

I'd upgrade from my 521 to it in the meantime if it were available in the USA.

Same Thoughts here as lego..

I want to see this device on all four major carriers for $free on contract... And, a huge marketing campaign.. US, of course.

Not gonna happen Rodney. MS needs to go a step further, manufacture their devices with the correct antennas for each of the 4 major US carriers. Then sell through the MS store with full prices. Those that really want it, well now they cant say no. But yes, marketing. marketing is another subject with MS and Windows phone lol I see a surface add every 20 minutes here in Miami -_-

I laugh about ur carrier sh*t in the US..
I d hate it...

Still waiting for the day Microsoft releases a high-end Lumia, as opposed to constantly announcing devices running budget chips.

I'd rather them make the Surface the brand for high-end phones with Windows. The design of Surface on a phone could look a lot sexier than the iPhone, and could become a real rival, considering Surface is already a trusted and established brand known for its build quality.

I don't care a bit about the brand, because we'd still be talking about not having anything to call a "Surface" phone. That said, it would be just as confusing as spitting out the ARM-based Windows RT crap. Lumia is a phone brand, it just so happens that with Microsoft, it's about decent cameras and junk otherwise.

Microsoft! I want that baby for a backup phone!!! Come on bring it to the US!!!

Absolutely. I wouldn't mind having this device at all! This phone+windows tablet is ideal before end of 2014. Switching between 920 to 520, budget phones aren't bad at all.

You want that baby? You want Microsoft to implant it inside you too, like that crazy first post?

Don't. Mention. That. Post.

Would have been an Xmas present for my daughter if in US. She will have to suffer with keeping the 520. First world problems. Haha

Same here! My daughter's 720 is dying. Was going to get her the 635 for Christmas until I saw the 535 reveal a week or so ago. Hoping I can get an international version from expansys before her phone quits.

How about get me a 535 for xmas

Aware guys it doesn't have HD video recording!!!!!

Would love tho over my 630 in the US

Is the 920 too long in the tooth or would it still be a better option over the 535?

Same form factor, Similar design, Even the Microsoft branding is very much identical to Nokia. Microsoft could have done different in terms of design, branding to give it a bit distinctive look from Nokia. Why Microsoft does cosmetic changes & introduce a new phone? Where is innovation"Microsoft"?

If they did as you said phone would have been launched 1 year later.

why change the design? its beautiful

Please MS, make this available in Australia - NOW! I need to buy Christmas gifts for my son and daughter.

release in india as fast as you can :)

Is Lumia 535 support Cortana passive voice activation

Ages away... Just the 930 and 1520 will do so

I'm hoping this means a UK release is closer than I thought :)

Microsoft said that the Lumia 535 price will be 109€ in France. I don't know why Germany have to pay 10€ more than us. Hope for them that it is only due to the first availability, and this is not the small price difference that change the fact that this phone seems promise to a huge success, more than the 520 IMO.

Make way to Asia, please.

It's the perfect phone for the Indian market!!

It is great that Microsoft brings the 525 to Germany, but still no Cortana in Germany... Google Now (and Siri?) in Germany already adopted Location Based reminders and can be used with German language. I still have to change location to U.S. to talk to Cortana...
Just to mention: We still got the Windows Phone 8 voice assistant which works worse than the voice assistant in WP7! 3 of 4 times it does a websearch with "Call Martin mobile" for example. Google Now and Siri are on their way doing these things much better... all I can say why Windows Phone is still better is ... "wait for it ... it's coming"... " and its going to be.... "

Meanwhile in Sweden (and many other countries) native speech recognition is nowhere to be seen.


But the german market is 10 times bigger then the swedish...

I know that, what bothers me is that I had it on my three year old Android phone. Obviously we aren't too small for Google.

cortana is still beta and offers so much more than siri and now. i changed the language to english to use cortana. sure i want a german version, too. but i'll let microsoft take the time they need, so cortana will be even more perfect

A 635 with the goodies of the 535 would be perfect. Besides the processor the 535 looks superior and cheaper. Confusing IMO

When will windows phone gdr2 dp will release 8 Oct already gone ?

would buy it if i didnt have the lumia 830 already :)

Would buy it even i did have the lumia 530 already what is revers usb2.0?

i haven't seen any comments about it but it's not available yet from amazon.de in the link on the article - another seller will have it from december 4th but amazon with prime delivery does not have it yet and doesn't have a date yet for release

This phone should not exceed the display size by 4.5" which in turn improves the display quality and takes less memory to run heavy apps, secondly reducing the display size make it handy and improves the battery life as well as decrease the manufacturing cost

I live in the Netherlands. My girlfriend still uses her trusty Lumia 800 but with Windows Phone 7.8, seems to keep on running into apps that are not longer developed and updated.. Christmas is also just around the corner. Please amazon Germany, stock up on those phones and you are going to make a killing.

when is it launching in india?? any idea??

I'm on 635, had 1520 now waiting for 940, this 535 is low end 3g so wont come to Australia or even UsA most likely who would want a 3g phone?