The Microsoft Lumia 640 XL LTE is finally available in India for Rs 17,399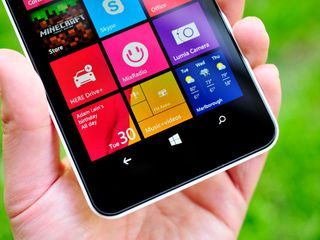 While Microsoft was in New York City on Tuesday making lots of announcements about upcoming hardware products, one of the company's older Windows Phone finally debuted in the huge Indian market. The Lumia 640 XL LTE is finally available for sale in India for the price of Rs 17,399.
The Times of India reports:
The Lumia 640 XL LTE is only the second Windows Phone from Microsoft that can connect to all of India's 4G networks, with the other being the Lumia 638. Microsoft has already indicated that its upcoming 4G Windows 10 Mobile smartphones, like the just-announced Lumia 950, Lumia 950 XL, will also connect to all of India's 4G networks.
Source: Times of India
Windows Central Newsletter
Get the best of Windows Central in your inbox, every day!
when in India ?.... oh, well, ok, this phone seems faster in India

Seems faster when in India.

Way too costly for same old processor.

Sometimes my regular 640DS shows an option to connect to 4G LTE networks say when I'm travelling for example and have no network on either of my SIMs..

Better late than never. One less thing for y'all to complain about

Yes better late than never. Btw 1520 also got the 4G after the last update .. But I guess it will not work with all 4G Indian networks or will it??

My lumia 1320 also got 4G... As if for now only airtel has it.. Soon will be with other.. Starting with reliance

All old Lumias, 625, 820, 920, 1020, 1320, 1520 that got the 4G upgrade will only connect to 1800MHz networks. Airtel runs on 2300MHz. Reliance will work but not in all states because they have a pan India 2300 MHz network and a mix of 1800MHz and 800MHz network. So if your state has 1800MHz RJIL's LTE coverage, you may be in advantage.

That pricing though... Hope it goes down to ₹ 12k soon enough

Yup, exactly.
Though we need the new ones here.

Seems like its the 640XL (as per the TOI article).
John mistook it for 640 :P

Holy crap it's twice as expensive as the normal 640 :O

whoops, misread it. It's okay for the XL.

That's too pricey given that you just pay ₹ 3K more and you get a Lumia 830.

When I was in India in June I bought 640XL 2SIM 3G at 12K. Just addition of LTE cost this much?

Yes .its 5k costlier that 3g model. Too much.

It's Windows phone 8.1. Just being a 4G phone doesn't mean it should be purchased.

are u sure. I think it must be 640XL LTE not 640 LTE

It is the XL, as per the quoted paragraph. Don't know how Mr. Callaham missed that detail.

John, slight discrepancy between the quote and opening paragraph lol

The Times of India mentioned 640XL, you are saying 640. In this article the statement of Times of India states 640XL.
http://m.timesofindia.com/tech/mobiles/Microsoft-Lumia-640-XL-LTE-launch...

It's 640XL, edit the article. -_-

Specs??? Original 640 specs?

What?!! That's about $270. I bought my non-LTE 640 dual-SIM for about $180.

I guess this will be a hard sell considering its price, since 640 is available for 10K-11K

How could I find my Lumia supports lte? (Without 4g network)

Settings>Mobile+sim>Highest connection speed

I waited for Lumia640XL LTE but i bought Lumia 640XL 3G in the second day of release :D

Finger crossed festive season round the corner and if 950 & 950xl are launched below 30000 [500$] then there is a possibility of these phones being a hit

That's not possible. There's a history of Lumias being launched in India for more price than their other global counterparts. Take 930 as example. It was expected to cost around ₹35K but was launched for more than ₹38K. Similar case with 830.

I was considering moving to Android for 12 months with the Nexus 6P because I think the 950XL is too expensive and Microsoft will likely have a true Surface type flagship phone out this time next year. If I don't get the 6P in December then I'll be picking one of these 640XLs up to tide me over. Currently have the Lumia 630 but need a bigger screen, anyone know how they compare?

Toooooooo late n pricy, WP are best but people never aware about WP n there r several android 4G phones available for just 10k-14k with this same config... Microsoft must release their models n software updates frequently without delay like this...

640 lte? Posted via the Windows Central App for android on Windows 10 mobile

Guys name me some great offline games like asphalt8

GT Racing 2: The Real Car Experience: https://www.microsoft.com/en-us/store/apps/gt-racing-2-the-real-car-expe...

The website says coming soon, dunno why did they even release the 3G only variants when every other manufacturer now offers 4G ready devices

Any buy back plans announced???

No thanks ..can wait for 950

Who the fuck uses 4g when even 3g is not so cheap and fast yet. First we need 3g to be cheap.

Well I know people who use 4G. And for airtel it costs the same as 3G..

wait a min.... but but bu.... am using 4g in lumia 830 right now! the article mentions that only 640xl lte and 638 are capable of 4g in india. i have an airtel connection and am from india

I am happy with my 3G capable Lumia 640 XL. 4G & LTE is a big scam in india. 3G itself is yet to mature. Every phone in India still swiches between 2G & 3G but ISPs are boasting about 4G capability. Thank You Guys. I am not buying your story yet. I will stay put with 3G for another couple years easily before I think about switching to 4G or 6G that you might boast about offering!!!