Microsoft should merge the Surface Pro X with the Surface Pro 9 this fall
These two devices are so similar. Why are they named differently?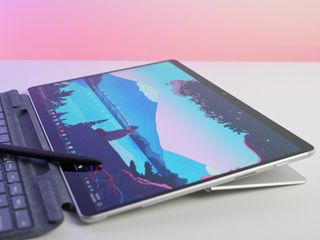 (Image credit: Daniel Rubino / Windows Central)
Microsoft's Surface Pro X is coming up on three years old this fall. When it was announced, it was touted by CVP Panos Panay as the next evolution in the 2-in-1 form factor, featuring a new design, larger screen, thinner chassis, and an ARM SoC powering everything under the hood. It was launched alongside the Surface Pro 7, which at that point had been rocking the same design for roughly five years.
It was a breath of fresh air for the Surface Pro line, but the Surface Pro X was a fundamentally different product. It was less powerful than the Surface Pro 7 but had built-in LTE and better battery life. It had app compatibility issues due to the ARM architecture and wouldn't work with previous Surface Pro accessories such as the existing Type Cover. But it was thinner, lighter, and more portable than its legacy sibling.
Everything about the Surface Pro X was new, and with it launching alongside the older-looking Surface Pro 7, the new moniker made sense. Yes, both were Surface Pro devices, but they were different in several ways. Now, fast forward to 2022, where the Surface Pro 8 exists alongside the Surface Pro X, and this differentiation is a lot less clear-cut.
The Surface Pro 8 launched last year and was the first "mainline" Surface Pro device to adopt the form and design language of the Surface Pro X. It has the same sized 13-inch screen, built-in LTE, similar battery life, and is compatible with the same accessories. On the Surface Pro X side, app compatibility is no longer much of an issue thanks to advances in Windows 11 on ARM, which further blurs the line between these devices.
These two products are now remarkably similar in a lot of ways, almost to the point where branding them differently doesn't make much sense. Sure, the Surface Pro X is still a different architecture, but that doesn't matter much anymore as the Surface Pro X can run all the same apps the Surface Pro 8 can, just with less performance in scenarios where emulation is required.
Bring them together
With the differences between Surface Pro X and Surface Pro 8 so slim, I think it's time that Microsoft merged the product lines under the Surface Pro 9 branding later this year. Microsoft could position the ARM SKUs as entry-level models while keeping the Intel Core i5 and Intel Core i7 models around for higher-tier SKUs and enterprise customers.
If we take a look at Microsoft's pricing structure for the Surface Pro X and Surface Pro 8, Microsoft is already doing this. The Surface Pro X is positioned as an entry-level (base model) Surface Pro at $899, compared to the $1199 starting price of the Surface Pro 8 with an Intel Core i5. Why not formalize this by calling them both Surface Pro 9 later this year?
Here's my hypothetical pricing structure to show how the ARM and Intel models could exist alongside each other:
Swipe to scroll horizontally
| Processor | RAM | Storage | Price |
| --- | --- | --- | --- |
| Microsoft SQ3 (no LTE) | 8GB | 128GB | $999 |
| Intel Core i5 | 8GB | 256GB | $1199 |
| Microsoft SQ3 (with LTE) | 16GB | 256GB | $1299 |
| Intel Core i5 | 16GB | 256GB | $1399 |
| Intel Core i7 | 16GB | 256GB | $1599 |
... and so on.
It would make sense from a performance perspective, too. The custom Snapdragon 8cx Gen3 expected to power the Surface Pro X this fall could rival that of an 11th-generation Intel Core i5 or i7, but the Surface Pro 9 is going to ship with 12th-gen Intel Core i5 or i7 chips, which are much more powerful than 11th-gen Intel chips.
Plus, it's not like Microsoft hasn't done something similar before. If we look at the Surface Laptop 3 and Surface Laptop 4, those devices can be had with both Intel or AMD chips, with each offering different performance and battery benefits and disadvantages. So, there's a precedent for this, and I don't see why Microsoft couldn't also do it with the Surface Pro 9 with Intel and ARM.
Now, it's true that the Surface Pro X isn't identical to the Surface Pro 8. The Pro X is thinner and lighter, but is that enough to warrant different branding for each? I don't think so. Plus, Microsoft could use this as an opportunity to merge the Pro X and Pro 9 chassis, putting the ARM SoC into the thicker Surface Pro 9 design and discarding the thinner Surface Pro X body.
Discard the Surface Pro X chassis?
Hear me out — doing this would allow Microsoft to enhance the ARM model in one of two ways. It could put in a much bigger battery, which would enable the Surface Pro 9 with ARM to be the first Surface device with true all-day battery life. Or, the alternative is it would allow room for a fan, possibly enabling Microsoft to overclock the SoC and squeeze out more performance.
Either option is a win for Surface Pro X fans, but it would come at the cost of the thin Pro X chassis we have today. Even if Microsoft does keep around the thinner chassis found on the ARM model, I think the differences between Pro X and Pro 9 are too slim to differentiate them by name. It just doesn't make sense.
I think doing this would also do a lot for "normalizing" ARM in the Windows space. Up until now, Windows on ARM devices have always been marketed as a stand-out, special case affair, but they really shouldn't be. If Microsoft wants people to forget about the architecture and normalize ARM, it needs to start treating ARM products like any other Windows PC. Stop giving them special names and unique designs and treat them like all the other PCs out there.
Finally, merging the Pro X and Pro 9 under one moniker would free up the "Pro X" brand for another variation of the Surface Pro in the future. Whenever Microsoft is ready to once again push the boat out in design or form factor, it can bring back the Pro X branding for that device. With foldable PCs on the horizon, I think the "Pro X" moniker would be a great fit for a foldable Surface tablet, if or when that ever arrives.
Get the Windows Central Newsletter
All the latest news, reviews, and guides for Windows and Xbox diehards.