Microsoft offers up 100GB of free OneDrive storage to Dropbox users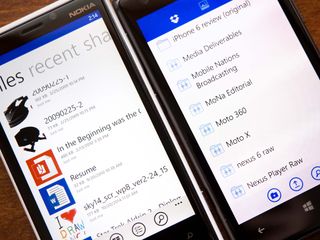 Microsoft is currently running a promotion that sees the company giving out yet another 100GB of free OneDrive storage for 1 year — this time to anyone with a Dropbox account. Unfortunately, this one is limited to current Dropbox users in the U.S. for right now.
If you want to get in on the offer, all you have to do is hit up the source link below to get started. From there, you'll verify your OneDrive and Dropbox accounts by signing into both. After you've finished with the sign-in process, Microsoft will add a convenient "Getting Started with OneDrive" PDF to your Dropbox folder to help new users become accustomed to the service. Overall, the process is quick and easy, so there's no real reason to pass this up if you've already got a Dropbox account.
This latest offer comes in the wake of several similar offers that have seen Microsoft giving free cloud storage out like candy. Just last week, Microsoft offered 100GB of free storage for 2 years to Bing Rewards members in the U.S., a deal which was expanded to international users just this morning.
Thanks to Chandan and Kaspars for the tips!
Source: Microsoft
Dan Thorp-Lancaster is the Editor in Chief for Windows Central. He began working with Windows Central as a news writer in 2014 and is obsessed with tech of all sorts. You can follow Dan on Twitter @DthorpL and Instagram @heyitsdtl. Got a hot tip? Send it to daniel.thorp-lancaster@futurenet.com.
Dropbox user here but not in the US.....means I'm not getting it

I'm not from US but I still got it :))

Me too! (from the Netherlands)

Me too!! \o/ (From Canada)

Me too!! \o/ (From France)

mine worked fine as well! (from canada also!) got 100gb yesturday! today received another 100gb! fantastic! 300gb in total!

Just get yourself a Microsoft account (you probably got one since you are commenting here) and take advantage of the 100GB free they are giving to everyone nowedays. It doesn't matter if you use Dropbox or not.

Dropbox user in the UK/Netherlands. I just clicked on the link, logged in and my 100GB has been successfully added! Good luck!

same here, 230gb right now!

My dropbox and outlook accounts were originally registered in the UK. I now live in the Netherlands and updated my accounts to reflect this. Not sure which country they classify me as when they decide if I'm eligible for extra storage ;)

I can confirm that users in India can also claim free bonus.

Me too!! \o/ (From Italy)

Sweet! 200GB two days ago, now an additional 100GB. Good job MSFT!

Time for another free 100 GB.

This is kind of crazy for Microsoft to do. I mean Dropbox just released an app for WP. WP is MS territory technically, and now with this deal I think even less people are likely to use Dropbox.

Either this or dropbox got paid lumps for this. So they wont mind? :P

Probably yeah.
Plus Microsoft is trying to bring new users to OneDrive but without a major new release of the applications/website, I hardly see then gaining a lot of new users.
100GB temporary isn't enough for many people to migrate to OneDrive, especially if they don't enjoy the desktop clients.

But you get 7gb permanent for signing up to onedrive. That is more than what dropbox gives you.

Many people who were studying at University about 2/3 years ago participated in Dropbox's 'Space Race' and received <25GB extra storage. Within the past week Dropbox sent all of these users (in every country I assume) emails to say that this extra space is expiring and that everyone is returning to the standard 8GB of storage. If you're already over the 8GB you can no longer edit files, save new files etc. Your Dropbox becomes read-only pretty much unless you start deleting everything. Pretty crazy of Dropbox to do I'd say. This Microsoft offer has come at a perfect time for all of us Space Race people (only including the top 100 participating universities means there are at least 630,000 of us)!

Technically speaking this works both ways, as it requires the user to already have a drop box account, so for OneDrive users without dropbox accounts, that in essence could sign up and get the extra (unless I'm missing something with this promo), plus this for a (limited) time as well

Dropbox dragged their heels. Now with this new model of free storage they have to be reeling. I quit dropbox when they got greedy with their free or $120 / yr for 50gb of storage. Down with them. This will have those young tech punks wishing they had taken Steve Jobs' money

No luck for me in brazil, not available in my region. The offer is over?

1 - Change your Microsoft region to USA. 2 - Try it again. 3 - Reverse region back to Brazil. 4 - ??? 5 - Profit! Worked for me.

didn't even have to do that, i'm from the netherlands and i just followed the instructions and tadaah, a total of 230gb of onedrive space

Netherlands and Brazil are the same place.

I wish Microsoft would cut out all these useless, timed free mega gig offers. Unless I was diagnosed with terminal cancer or something, I would much rather be giving 1 GB of permanet storage. It's a rather shady campaign they have going.

The idea is that you use as much as you can and after them two years you'll have enough valuable things on OneDrive that you will basically have to pay for renewal. I presume in two years storage will be so cheap that 100Gb will cost a dollar or so compared to todays $8.

Bullshit. If you use all of the 100GB you had. You can still access your files for free. You just can't add more. They're NOT holding your files hostage until you pay.

From the OneDrive Help page: What happens to my data if I cancel my subscription or my bonus storage expires and I've exceeded my 15 GB free storage limit? If you cancel your subscription or if your free storage bonus expires, your data will continue to be accessible. You'll be able to view, share, and download files on your OneDrive, but you won't be able to upload files until you buy more storage or free up space.

By the time this deal ends, 100GB will probably be default on Onedrive and Google. What on earth are you complaining about?

Very very true @tunggah. In two years, 200GB might even be the default.

From what I've heard, once you fill the storage, the data remains even after the offer expires. I plan to upload all my mp3s.

They gave 10gb of permanent storage. I believe it's 7gb now. There a have been several other offers that upped that permanent storage. I currently have 15gb from the original signup to onedrive, 10gb loyalty bonus, 3gb MS store bonus, and 15gb camera roll bonus with no expiration date. That's 43 gb of permanent storage. Then I have 100gb from bing that expires in 2 years, 200 gb for buying a surface pro that expires this year, an 10.3 TB of storage from an Office 365 subscription that expires if I cancel office 365. A total of 10.3 TB of storage. I am using maybe 2gb. I think I am going to start uploading movie files and free up space on my PC.

And this my 6th tip to WindowsCentral... I love this when they mention my name at the last of article.. Chandan...now hav 200 Gb free of 230

This is a bit silly. Wouldn't this make more people who already use OneDrive to try Dropbox?

You only get 2GB for free on DropBox. So i just signed up, got the Onedrive 100GB and won't even think about going back to dropbox anytime soon

It's for people who already have dropbox. People might sign up to dropbox just to get in on this offer but they probably won't install the dropbox app on their PC.

WORKS IN CANADA :-)
I just got my bonus 100GB

I was just about to tip this and the article popped up. Already got mine...

Well that puts me at a solid 250GB. I can live with this...

So is that additional from Bing rewards so that means 200 gb

I'm trying to figure out meaning of this move,can someone explain to me why company would make such a move like this

Basically saying, dropbox users we'll give you more if you switch.

Wow.... IE is not supported. Great, MS!

Just goto IE settings and set website preference to "Desktop Mode" that's it.. Worked for me..(:

I've currently got 1.12TB of free OneDrive thanks to the free year of Office Personal that came with my HP Stream 7, the free 2years of 1GB from bing rewards the default free storage & the Camera Roll Backup bonus from my iPhone & iPod Touch, but will add this when it comes to the UK. Can't pass a free gift up even if it's only for temporary storage.

Im in the UK, clicked the link and bam... got the offer. Job done.

Thanks, but no Thanks, your onedrive app sucks for windows phone ....hahaahaha

Good move MS... Now just release Bing rewards worldwide.... Then we all will be happy.

If you can't beat them...steal em? Nice move. I was thinking about getting Office365, but now that I have quite a bit of storage I think I can hold off until Office 16 comes.

Use VPN.. Sign up for Bing Rewards... Get 100 GB.. That's all -ㅁ-

I am from Croatia, I clicked this offer and got 100GB without any hassle. So it is NOT only US offer for sure.

well, apperently it's not us only, it worked in the netherlands

Same here in India...just clicked on link, signed in....its 230 gb right now....

Got the bonus in India. Thanks, MSFT! I now have 230gb. :D

355 GB...for free. Yes...yes, I will take it!

I now have 160 Gb of OneDrive space. So cool

Followed the link, got the bonus storage but when I went into OneDrive got a message saying my 100GB bonus had expired. Oh well. Still, with over 1TB there already, I'm not too bothered.

Ironically, on Windows Phone: "Your browser does not support the DropBox application. Please come back to this page using your desktop browser"

Yeah, you need to use a desktop. Maybe you can set your phones browser to desktop mode...

Change website preference to "Desktop Mode" ...! (:

Changing to desktop mode works.

It also worked in Denmark

Worked for me in the UK too :)

Got mine, but I don't want no more....im going to get charged in two year, which I dont want.....so I want to cancel now! >_<
Any help!

After this time, the Space obtained simply will disappear, you won't be charged for anything. Unless you'd used it. In this case you'll have to pay to edit/add files, but you still will be able to access your existing files

It worked for me in Sweden!

I don't think it's for dropbox users within the US..... I just got my free 100GB and my dropbox or Microsoft account is not from US...

Alright! I've 219Go now ;-) thanks Microsoft. I'm French user

300GB free betewen the two year offer, the Dropbox offer, and the 100GB Bing Reards I claimed last year. Time to move all 1000+ albums and 15,000 songs onto it.

Good. But it's going to get crazy now...
And still one major feature is missing on OneDrive! Offline sync via file explorer for shared folders!! Come on Microsoft that is seriously the only reason why I stick with dropbox! Please bring that sooooon ;)
It's getting out of control somehow at dropbox I have to carefully decide which files I can upload because I only have the free 3GB... And at OneDrive I now have 1264GB (free +office 365)... But I can't work via OneDrive with my colleagues at university because we can't sync shared folders!.... :/

Now 229GB available of 230 lol, man I need fast connection and I'll copy all photos to cloud.
What happens after subscription expires can I keep those free 100GBs in read only while I use my regular 30GB through full access?

1,12 TB available now.. awesome

LOL just logged into my empty dropbox account for the first time in years.

So did i. I even just guessed my password through the process. :)

For United Syria only oh well.

My wife has a 2GB free DropBox account. I haven't been able to talk her into picking up a OneDrive account like I have. I've got 230GB for the next 2 years, and haven't paid out a dime for it. When I told her Microsoft was offering a free year of 100GB storage to DropBox users, she just said, "Yeah, but how much is it after one year? No thanks." I don't even have a DropBox account, but am tempted to sign up just to get another 100GB.

All you have to do to convince her is to fill up her dropbox with photos and videos. Then she will be easily convinced to move to onedrive, which has a base storage of 15gb i believe. This can easily be done by going to her dropbox app and allow it to automatically sync the camera roll to dropbox.

10.33 TB total / 10 TB available. Between Office 365, Bing bonuses, loyalty bonus, OneDrive bouns, Camera roll bonus, Enthusiast bonus I'll never run out of space.

Read the conditions first.You give access to all your storage

In the UK here and now I've got 340GB!
100GB expires next week though :(

We should get another 100GB if we have Mega.

Non usa some how got it. I got it. Now I have over 200gb of online storage....amazing strategy by Microsoft. All my documents and music accessible anywhere. Allllllll.

Works in Saudi. Then again... What will I save here aside from pictures?!?! Now that's a problem. Hahaha

Received it. Philippines here. Microsoft should stop with this 'US ONLY' thing. They should embrace the world and let 'other countries' drive Microsoft's growth.

Many US users would create dropbox accounts to get the 100 gb of OneDrive space.

Microsoft is so f*cking pathetic. They' d sell their soul for someone to use their stuff :D

Didn't work in the opera browser, so I tried the link again in IE and it worked now

From Belgium and got it !

Why the big fuss to have drop box as an app and then promote Onedrive storage? Sounds stupid to me. Push for more first party Google apps and my windows phone is better plus have the current popular apps update in a timely fashion like on ios and android.

Let us know when it hits rest of the world too.

it says, Something went wrong :'(

It is saying it to me too... :'(

Same here. Don't know what happened.

It looks like it's failing to save the file to dropbox... but it won't say why :\

create new folder in dropbox and share it with onedrive mail

Dropbox started to prevent us from saving OneDrive's pdf to Dropbox http://pokazywarka.pl/t06n8n/

I doubt Dropbox are doing anything. Anyway, it's working for me now!

it is ok now create new folder in dropbox and share it with @hotmail on onedrive

create new folder in dropbox and share it with @hotmail on onedrive

GREAT, but even after you've followed the link and signed into your MICROSOFT ACCOUNT you still have to access online via your computer to confirm your running DROPBOX, before you get confirmation of the BONUS DATA. AUSTRALIA.

Dropbox started to prevent us from saving OneDrive's pdf to Dropbox ??????? http://pokazywarka.pl/t06n8n/
Windows Central Newsletter
Get the best of Windows Central in in your inbox, every day!
Thank you for signing up to Windows Central. You will receive a verification email shortly.
There was a problem. Please refresh the page and try again.