Microsoft officially increases free OneDrive space to 15GB for everyone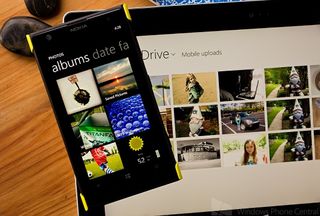 As promised last month, Microsoft has now turned on the switch and has expanded the free storage space on its OneDrive service from 7GB to 15GB for everyone who has an account.
The decision to double the free space on OneDrive was announced back in June but was not implemented at the time. Today's move means that anyone with a free Microsoft Account can access 15GB of space for storing documents, photos and videos and share them with others.
Microsoft will also let anyone purchase 100GB of OneDrive space for $1.99 a month and 200GB of space can be bought for $3.99 a month.
Today's move follows Microsoft's decision on Wednesday to activate the promised 1TB of free OneDrive storage space for anyone who has a paid Office 365 subscription.
Thanks to akak84 for the tip!
Windows Central Newsletter
Get the best of Windows Central in your inbox, every day!
Thank you MS, now waiting to fix PD

And to reduce/cut down the job layoffs. 1800 is too much and these staff are all talented.

depends on which side it is missing

I've got 28GB cause I was one of the first people in the UK to sign up to Sky Drive, as was... Then when Microsoft dropped the capacity down to 7GB, I was ask to sign up to the new contract to keep my 25GB! It seem to have had babies, cause it's grown to 28GB, or maybe just got fatter...

25+3GB of auto upload of your camera roll photos

Oh, Okay thanks... Some WPC users are crowing about having 100GB so that puts me in the shade somewhat. But, I've got an Box account too, that's got 50GB on it... Cause I had a Sony & they had a deal with Sony if you registered you got 50GB free!

More space for stuff and things

How much does Office 365 cost? Isn't it about the same as the 3.99 $ while you get 1 TB?


Microsoft site lists it at 9.99/mo

Home/5 user scrip. Personal 1 user scrip is $6.99

it's £5.99 for 1 user or £7.99 for upto 5 each user getting 1TB. Or in america $6.99 or $9.99 respectivly.

Yahoo!! that's cool....but wait...From the last two years I have used only 900MB of the free 7GB space.... Still it's a good thing to know I have 15GB OneDrive storage

It's great though... Now I can back up lots of my photos to the cloud and share them!

Once I got a Lumia 1020, my Onedrive space started dropping quickly with all the photos I was taking... and that's with only the 5MP images being sent there. Windows Phone 8.1, I believe, let's me send the 38MP images there. So, yeah, need more space. :-)

Okay I checked it now and I have 38 GB storage... I don't know why they gave extra storage and when? And 37.9GB storage is free.

They fire 15000 people and give us 15000 mb of storage LOL

One megabyte per head. :"P

The damage control is real

No damage control needed. Investors are bullish on layoffs like this. Improving company efficiency and getting rid of unnecessary workforce. It's a business, not a charity.

I'm talking about users... Microsoft has a horrible reputation.

Companies exist to make their owners profit. They do not exist to give people jobs. That's just a beneficial byproduct.

Yeah unless no people have jobs anymore, then they can't sell their crap anymore. Companies are better off in economically healthy countries, with a mindset to buy their crap, so bad publicity is best to avoid.

Companies don't just sell locally anymore. Local profit should be your smallest profit when your market is the entire world thanks to the internet. I don't hold anything against a company for laying off people not needed. In fact, I buy their stock.

Um, 15 GB = 15,360 MB. Not 15,000.

Thanks Microsoft, thanks John, thanks akak84

You're welcome Heecham Abrouki

Now how about letting me offload pics directly to OD over cellular.

We can in the UK but we have to change upload qaulity to standard rather than high quality dont they do this in america?.

I believe so but it's the high quality that eats up my space the most and needs to be offloaded as I take them.

Wasn't it 15 GB when it first started?

For me, it was 20GB when I signed up for the first time. Now its 38 GB (all for free).

Also worth noting that those of us who had 25GB free have now been reduced to 15GB also.

Yes, but we also get a 10gb loyalty bonus, bringing it back to 25 free :)

Seems you are right. Didn't noice the loyalty bonus before, just that the 25GB that was there was now 15GB instead.

But I have a new "Loyality Bonus" of 10 GB. It seems they just shifted it around.

I'm not sure what I had before but it was more than the standard 7 GB. I now have 15 GB plus a 10 GB Loyalty bonus for a total of 25GB.

Sounds like they nicked 10gb and shared it around. After which realised it was going to tick people off, so they rolled out the 'loyalty' bonus lol.

Or it's easier to make a change to the base setting, rather than having two different buckets of users with different base storage requirements.

Yo solo uso 80 mb Jajajajaja

Yes!!! I have a video I need to get on there, its 8GB

There is a 2gb file size limit lol.

1072 Gb on OneDrive... what to do with them ??

No joke, I have 1.24 TB now... not sure I need all that. Cool that I have it though.

Put your work folder on OneDrive. Your work files are available everywhere and if you work with graphics or anything big the free 25GB will fill up in a wink. Plus you get nice backup and can recover your work files from the OneDrive trash can if you accidentally delete them from your computer. It's a no brainer.

Total 18 GB....Should I transfer my data from gdrive to Onedrive

Time to back up even more photos

Microsoft gets serious when its comes to cloud. OneDrive is ruling

Meh... I already had 25GB from the very first promo they did

So now with my 200GB Surface 2 bonus, my 20GB "loyalty" bonus, and my Camera roll bonus, and now this... I've lost count lol
238GB?

Sweet! Nice to have the space although I won't be storing in any personal pics or videos in the cloud. Will come in handy when storing large work documents, or saving recovery media split into multiple rar archives.

Gee, my Google Drive also has 15GB of storage. Coincidence? Now, how about giving users an option to show file extensions for common file types in your UI? Who is the one at MS who crusades against showing file extensions anyway? Could we please make them part of the 18,000?

My OneDrive account has 18GB free space :P Beats Google Drive and the rest of the competition!

Google drive is very risky and unsafe

Oh, thanks for the heads up, Aashish! I will drop it immediately and use OneDrive instead. LOL


Microsoft, you're just awesome. :) you just are. I think I may have to now officially set up Office 365 just so I can get 1TB and 60 Skype minutes each month now! #CloudUtopia

And yes, I just did a hashtag for a comment; y'all will survive (dances)

Hell yeah!! I think I momentarily forgot about the music app and Creative studio there for a second!

So between this and the 1TB of space I get as an Office 365 user, its funny when you see 1.01 TB free of 1043 GB. What they need to do now is enable the roaming profile ability for home users like they have un the enterprise so that all my docs and windows settings follow my from device to device. Stored on OneDrive of course. That and an automatic iterative backup system like Apple's TimeMachine.

.....that's probably the cloud workspace of all those employee's who are getting the boot.....

Ok... Hang on... Now what are they going to take away?

Wait! Buying 200 GB costs a penny more that buying 100 GB twice.

Thanks Microsoft but I think I'll keep on backing up my photos with AT&T locker (wait, did I really say that...).

Xbox Music cloud locker now please...

I don't care, I got 25 GB

Awesome. Wish I wouldn't have used 100 Bing points for the 100gig for a year as that's overkill for me. 15 gig should be good enough for me

Now, if only they would update outlook.com as promised back in May... http://www.wpcentral.com/outlooks-new-advanced-rules-let-you-get-hyper-s...

Why don't they train them to redesign and elivate the laid foundations of windows and windows phone OS to become more stronger and prominent one. I guess it will be harder to find such talented freaks in the market. And for that we have less time.

I think I mistakenly thought this 15GB was on top of the original 7GB everyone started with... I really expected to get a total of 24GB that included my original 7GB, the bonus 3GB and then 15GB. D'oh! But I'm not going to complain because more storage space is always good!

I already had the legacy 25gb that they gave out with the original Onedrive accounts. Rather than giving me more, they changed my base storage to 15 and gave me a 10gb "loyalty" bonus. Kind of crappy, MS.

I concur. No incentive for the 'loyal' users since the beginning.

Great! I was already running low on the original 7gb, but I had some promotional things that brought me up to 35gb or so.

I got 18gb, why I got 3gb higher than others?

Yah I got 18 GB Storage ! Thanks Microsoft !

Just as important, I upgraded from$50 a year for 100gb to 1tb for$1.99 a month, or about $24 a year. The bulk of my payment was credited, about $19.00. Sweet. Now ready to clear some things from my PC and will set me up to downgrade my local storage without sacrificing data. With what I had previously, about 165gb, I had about 97gb free. Now 1.07tb free.

Yea.. Even I got 18 Gb!!! Thanx MS

I got only 15gb while others 18 y that difff? Some body answer me and help how to get that 3 gb....

There's also a third price tier, 50GB for 0,99€, I haven't seen that mentioned anywhere for some reason?

That's good...next the camera roll should go up to 8gb or 15gb

Thanks yo Microsoft.. It's time my favourite mp3 files jumped into the OneDrive

Yay;!!! More OneDrive $torage!!! Less money!!!

WPcentral have already made the post of it, but it was like 2 month.... Finally MS move !!! Am i the only one who think that Microsoft is damn slow, or they a announce everything too early or there is too much leek ???

Wouldn't it be interesting if they grew the basic OneDrive size back to 25GB that many of us are grandfathered into?

Have 18 GB now, been using lumia 520 for 9 months and I'm still using like 400 Mb, despite the fact that I take a lot of photos and put presentations in it ;D

I bought surface pro 2 last year, and I've fortunately invited some friends to have Onedrive. 219.5GB now...

Awesome now only if OneDrive on the desktop could sync properly with the cloud. Having that much GB I could imagine would take forever to sync up or download. But I have a feeling that this would be a good lead in to the rumored locker feature

I have 1 tb through office. I only use like 20gb...

I subscribed to the 100 GB a year, which, while they are refunded, the paid plan bonus still remains at 7GB, so looking at total storage its only 110 GB for the 1.99 plan

I have 38GB! Not sure how but i have 15 free 3 for camera and 20GB Enthusiast Bonus whatever that is...

Nice to wake up to good news!

While I'm happy for everyone, I was really hoping that the extra eight gigs would be added to my existing 28. Oh well, you win some, you lose some. I have more than I can use in the foreseeable future so I'm good.