Microsoft opens the doors to its rebranded retail store in Malaysia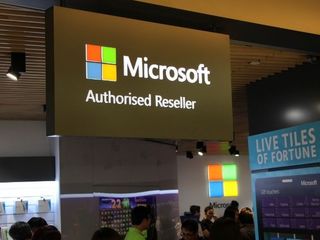 As promised earlier this month, Microsoft has now reopened the first of the now former Nokia retail stores in Malaysia as an authorized reseller of Microsoft hardware and software products.
The store is located in the Suria KLCC shopping center and Lowyat.com reports it will be just be the first of 14 more rebranded Microsoft store locations that will open throughout Malaysia in the next year, selling Lumia smartphones, Surface tablets and more. Another 25 locations will be rebranded as smaller Microsoft Mobile Reseller Stores.
The company is already opening rebranded Nokia stores as Microsoft locations in Brazil, and it is set to open its first large stand alone retail store large store outside of the US in Sydney, Australia sometime in 2015.
Source: Lowyat.com; Thanks to Jeng Jeng for the tip!
Great transition but will they sell surface also?

I wonder, have you considered reading the article? It's like 3 paragraphs long.

Lowyat.com reports it will be just be the first of 14 more rebranded Microsoft store locations that will open throughout Malaysia in the next year, selling Lumia smartphones, Surface tablets and more.

I was there during the opening. I can't believe they're are still selling L535! I checked out that phone and the touch issues still exist.

But some 535 in Malaysia already solved the touch issue, but still the issue will occur again when used 4 fingers

Same touch screen issue I found on 640XL.

Big, fat, lie! Lumia 640 has no touch issues! As for 535, just buy a screen protector and you will not have any problems again.

Yes, it has this problem, perhaps the demo phone got this issue but the sales person didn't answer me why is this happening. Don't panic while I share the issues because not many people are brave enough to face with the problem.

lol the phone should work properly even without screen protector, I really want Microsoft to admit that it's hardware problem instead of saying it can be fixed with software updates and keep us waiting for the update. Funny thing is all of L535 demo phone in that store have touch issue and some of L640 too.

Not seeing touch issues with Lumia 640xl as long as I used it, then I hand over to my colleague after I used and tested it. He love his Lumia 640xl and persuade other colleague to buy it to. ;)

Can you tell me how are they fixed? Cause I sent mine to the Nokia service center, they just updated the software which i can do it myself. The touch issues (stutter when scrolling, bottom part doesn't really detect touch when the phone is charging, zooming-two fingers still not as smooth) still exist.

Even my 1520 still having touch screen problem after all these while.

i use to have it, but all went away months ago with the latest Glance update. i have not had any, double taping phantom issues anymore. my 1520 is been working perfectly. no issues at all.

And their store sales person doesn't even care about customer. They never approach the customer. And when customer ask question, they answer with a very simple answer, yes or no. Very disappointed.

Actually maybe they didn't too much training about this, so when you try asking more info or detail about a specific product, they don't know how to explain or they even don't know about it

I think it I very normal, I bet none of them use a windows phone b4, its probably new to them that it actually existed. Too many ppl are blinded by Android and IOS here in Malaysia.

iSHEEP are everywhere my friend. They blindly fallow the mark of the devil, as it mentioned in the bible.(there will be a mark of the beast and many people will fallow it blindly).

i believe they are busy that time. if you come another time maybe they will answer all your question properly.

No, they are not busy. As I said, they just stand there watching and never approach customer. They even stand there scrolling fb on their iphone. That's really bad. The sales person in Microsoft authorized reseller store uses iphone or android. They better close the store. I rather buy Lumia from online reseller like Directd

oh. i taught your talking about during the opening days at klcc. may i know which shop behaving like that?

On a roll! This is what they need, like Apple hundreds of own retail points plus thousands more of authorized!!! Soon enough people will queue for new Lumia like for new iPhone, especially when it will start getting all those android and iOS apps!

Indonesia please :( I need a surface in my life

Yeah. When in Indonesia? :v

Hope among that 25 soon to be open store is located down south of Malaysia.

"Live tiles of Fortune" :D

Haha! I noticed that too. :D

I don't understand why a Microsoft Store would be branded as a "authorized reseller of Microsoft" ? when in fact it is a Microsoft Store ?? it does not make sence..

Its not a microsoft store. Its and microsoft authorized reseller

Because it is an Authorized Reseller... Duh!! :3

Authorized by whom? India Priority reseller, what's next?

I'm kind of wondering about this too. Is it not owned by Microsoft? If it's owned by Microsoft then it's not a reseller. If it's not owned by Microsoft then how can Microsoft be doing the rebranding? It's kind of confusing.

"Nokia" stores that are franchised are not owned by Nokia too

Wonder will Singapore get one

When it wil come to India?

Why not open in indonesia?? Malay just only have 20% population than indonesia..?? I mean..indonesia has many potensial market especially for mid-low budget phone..

I think there rebranding them.

If they own Nokia stores why are they authorized dealers? Sounds 3rd party.

I guess Nokia stores weren't really owned by Nokia. They are owned by local people (just like MacDonalds). So the franchise rights just transfered to Microsoft.

Most of Asian Nokia Store is not owned by Nokia. It's a local store which has contract as authorized resellers. When Nokia withdrawn from phone industry, the contract was terminated. And the former Nokia authorized reseller now made contract with Microsoft as their authorized reseller.

Ah. Thanks for the explanation. That makes a lot of sense.

Awesome! Glad to see Microsoft making itself locally present in many more places. That's the only advantage Apple has and it's a big one to selling stupidly overpriced shiny devices. Microsoft's presence would be real competition and should force Apple to make devices that are actually worth their price tag.

I hope they will do the same in Dubai. I am 100% sure if we have Microsoft branded stores here in Dubai, the numbers of Windows Phone users will definitely increase dramatically. Majority of consumers here in Dubai ride along trends, popularity and visibility. Very few are really doing research and study before purchasing products. Because if everyone is then they will know that Windows Phone is the most reliable platform out there. Unfortunately, people purchase products because they see it on big sign boards, their friends are talking about it, their neigbor has it, it is on every paper and magazines, even on buses and trains. And Samsung and iPhone are very good in this. They have set aside millions of dollars for that. That is why, a proper Microsoft branded stores would help expand the user based for Winbdows Phones. If you look at big electronics stores here in Dubai, you will see Lumia phones on display are just dummies and not real phones to try on (only few have real phones). While all the other phone displays even those that are least know have real phone display and not dummies.

Gah OCD... I wish whoever designed those signs could find either the FULL or CENTRE justified button!

I think they misspelled authorized...

Malaysia's English is following U.K.

Yes. But even you set your phone language to English (Malaysia), it still underline authorised as a misspell word. Even Microsoft did not know that Malaysian use English UK

what's the big deal? they are both considered correct.

About time. I'll go check it out soon when I'm free. ;)

Hope there will be one in at least every main city in each states!

Microsoft to open store in every state???even TM still don't offer UniFi in Kelantan.

Because UniFi have some technical issue about it, but something cannot apply to Microsoft, they can't just leave most of the Nokia reseller stores to keep the name "Nokia" and still selling Microsoft products, they already related to Microsoft not nokia

No surface 3 4gb ram version selling here

Philippines please. Nokia Care centers are too far. Please in mall of Asia

And in Eastwood City! Or Greenhills shopping center pls.

Nokia had stores all over. I hope more if them can be converted. MSFT needs a serious store in at least every capital city in Europe, Asia and Latin America.

When can I found some Microsoft store in Indonesia????

I think this is a sort of independent stores similar to many apple stores that are not "official" but the interior etc..looks like the real apple owned. I think it's a great approach by Microsoft. In this way they can grow must faster in the retail business outside US and Canada. ​ ​
Windows Central Newsletter
Thank you for signing up to Windows Central. You will receive a verification email shortly.
There was a problem. Please refresh the page and try again.