Microsoft overhauls Windows 8.1 Store, makes finding things easier (and handsomer)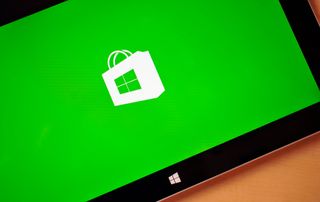 This morning, Microsoft is pushing out another serious update for Windows 8.1 consumers that will greatly improve the Store experience. Although the Store was redone for 8.1, there were still many refinements needed that were missed with the spring update a few weeks back.
The updates concentrate on usability, mouse and keyboard users and bring some parity with Windows Phone, greatly improving the experience of finding new apps and games.
Old Store
New Store
Today's Store update has four main changes, as detailed on the Windows Experience Blog.
Windows 8.1 Store Update
Persistent navigation bar with Top charts, Categories and Collections
Collections on the Store landing page
Multiple Featured titles at your fingertips (or mouse pointer)
Get once & download on compatible Windows devices
The persistent navigation bar is a welcomed change. Previously, users had to swipe down from the top to access it, and while it was much better in 8.1, discoverability was an issue. Now, the green bar will always be there for users. In addition, it highlights Top charts, Categories and Collections, which should go a long, long way in making it easier to find new apps and games. That's good for consumers and great for developers.
Collections should be familiar to Windows Phone users, as they have been a part of the Windows Phone Store since 8.0. Now, Windows 8.1 has the same feature, once again demonstrating how Windows Phone and Windows are coming closer together in features.
Featured titles will bring "new, trending and rising stars" to the forefront in the Store, in addition to having app and game sales more obvious (on-sale titles will have a strike-through of the original price with the sale price in red).
Finally, Microsoft has now brought over the new Windows/Windows Phone icon to signify that the app or game is also available on Windows Phone. We highlighted this new feature in our discussion of Universal Apps, and while the icon was present in the web-store, it was missing from the Store app. That has now been remedied, making the tie-in to Windows Phone that much more obvious.
Microsoft is serious about Windows these days. Just a few weeks ago, they released the ' spring update' for Windows 8.1, which greatly improved things for traditional mouse and keyboard users. Later this fall, they're expected to re-do the Start Menu too. Today, users are getting another much deserved refinement, and it goes to show that this new Microsoft is much agiler.
To get the update, open up Settings (swipe from the right edge of the Screen) > Change PC Settings > Update & Recovery > Check Now. Like all 'live' updates, it can take some time before your server sees it, so just don't be surprised if it takes a few hours.
How do you like the new Store? Let us know in comments. Even more, do you think Microsoft is doing enough for Windows these days?
Source: Windows Experience Blog
Windows Central Newsletter
Get the best of Windows Central in your inbox, every day!
Daniel Rubino is the Editor-in-chief of Windows Central, head reviewer, podcast co-host, and analyst. He has been covering Microsoft since 2007 when this site was called WMExperts (and later Windows Phone Central). His interests include Windows, laptops, next-gen computing, and for some reason, watches. Before all this tech stuff, he worked on a Ph.D. in linguistics, watched people sleep (for medical purposes!), and ran the projectors at movie theaters because it was fun.
Some of these were long overdue. Glad the changes/improvements keep coming. If anything, it's good to have toggleable options. :)

But is it faster? Cause it still lacks speed in loading the app or store-pages. I know its made with HTML but this is too damn slow (clearly is not HTML to blame, it can run faster than this)

I find that just about all the official Microsoft apps lack speed when opening...except on my Nokia 2520 and my custom suped up PC. On every other average PC they take like 10 secs to start which may not sound like long...but it feels like an eternity in the flesh! :'(

No screenshots? Updating now since the suspense is killing me lol :D

They're coming up. Sometimes, we're very ahead of the news ;)

Thanks... wow looks great!!! :D

I love the consistency amongst my devices. Keep up the good job Microsft.

So... Can I download Halo as a universal app now.

wondered the same thing... updating now

No, you can´t I just tried. For some reason you should´ve bought it first in the windows store and not the WPStore

yup, no dice. kind of sucks getting universal apps, but having it work 1 way.

This is what I'm waiting for

I seem to like the metro start page even though i have a non touch laptop. Any people with me ?

Me too. I've customized my start screen so it's always what matter to me first. Any most used applications now sit in the taskbar.

Seems like Windows and Windows Phone playing a catch up with each other. Haha joke. A good update :D

Nice! I've been waiting for this. But I thought the update was server side.

It looks a lot more busy! I guess it's ok. Perhaps better than the old one. But not a game changer. Wake me up when they release Cortana for PC.

!!!! I'm loving it... Microsoft is making everything inertwined(:

Now, this explains some glitches on the service while purchasing Xbox Video...

In the next few months my Nexus 5 will be sold and i'll be back to windows phone, hopefully the surface mini will be good and i'll be getting that to go nicely with my Dell Windows 8.1 Touch laptop..... My parents will be moving to windows phone with me. I use microsoft services now for email, storage, calendar, contact storage, search, maps.... I dont miss google at all, I thought I would... the only thing I use is Youtube.

Cool I wish I could convert my whole family like that (apple freaks).

My dad will use any tech I recommend as he knows nothing, my mum wants something simple and to be honest if I pin a few things she will use in the biggest tile on her home screen she will be happy with that.

Cool! I've done that already. It's gone great so far. Screw Google!

It's great, and Windows 8.1 is the best Windows yet... Now what Microsoft needs to do is some major public relations improvement so that the public can realize that.

Now, when will get the ability to remove apps from the store we've uninstalled and don't need?

I'm hoping for version info and comments that associate with the version.

Now the start menu for those who desperately want it!

Persistent navigation bar. Glad to see Microsoft conceding fact that minimalist, chromeless apps are not necessarily desirable or efficient. They came to same realization with Win 8.1 Music app by taking transport controls out of nested menus. Keep it up.

Is getting there much better than previous layouts

I still miss the feature that was added to the WP store: The ability to see recently updated/purchased apps.

Yeah? That would've been great to have on Windows Store.

I definitely like that as well. The only thing i dont like is i wish the 'My Apps' section would list not installed apps by date of original purchase, instead of just a random order. at least on Win8.1 they are in the correct order.

Anyone experiencing lagging of the system? (vivotab rt)

It looks weird, but maybe it's just a high resolution is a small thumbnail :P
They need to nail down some better guildelines for Windows 8.1 apps.
Xbox.com looks really nice, and works great with mouse / touch.

They're not doing enough. They keep taking features out. Messaging and People used to have Facebook integration, now we have a half-done Facebook app that looks more at home on the iPad than on Windows. Where's Metro style? Why is social networking removed from being built-in? Get rid of X-box Music, X-box Video, and the horrid Windows Phone sync app and put out a Zune app to do music, tv, movies, music videos, podcasts, phone app purchases, app purchases, and phone synch, and include a social networking plugin so we can see what friends are listening to, and post what we're listening to. That I'd be excited about. As it stands, the app designs are bland, and the direction Microsoft is going makes me not want to buy a new computer or a new Windows Phone. The system used to be "alive" and "delightful" to use their parlance, with social integration and easy hubs. Now? I'm too emotionally drained to care. If you fix it soon, maybe I'll come back. For now, it's Windows 7 and Windows Phone 7. I prefer Zune and its interface. It was markedly better.

I still can't understand why they removed Zune. They could've just rebranded it as xbox music/video or Windows Phone Center or whatever. Now we have 2 half baked garbage tools (one metro, one desktop) instead of the great Zune app

Now that about the sync app is very true. Whenever there is a m4u or such file in the folder it keeps stopping syncing and I have to manually close the app, remove any playlist files and sync again. Does anyone else get this?

I'm running into a 800F0922 error. Apparently an security update is blocking a refresh of upcoming updates. At least that's the impression I'm getting with this bug. anyone else running into this hindrance? Anyone have a solution? Even microsoft doesn't recognize this error!!??

I just wish the Store wasn't so slow.

I wish they'd concede that there isn't something quite right with the Update 1 patch and fix it. Pretty suspiciously high number of people running into "corrupted file" errors with little workaround success.

Can you easily find and sort Xbox games now? Kind of annoying having to switch over to the Games app to to so and then have it bounce you back to the store.

They now have Collections and have an Xbox Games collecction to help find them. Just got done taking a look around the new store.

Updated the Store. It has a regression.
Maybe Daniel could tap the microsoft guys and tell them. I don't know.
But when you enter in any category let's say "free games", you got like 1000 titles, and it happens one slides the tiles far and choose one game to see it in details. Let's say the game number 500.
When using the upper left arrow to go back to the list it starts always from the first one.
It doesn't matter which category or how many Apps are there.
Prior to the update, the Store "remembered" the position and scrolled automatically.
It's not something to scream or not sleep the night, but I find it annoying.


I still wish ms would make a live games category like what wp8 had so much easier to find live games

I doesn't even run in my laptop

why I still need to buy Hallo Spartan Assault on windows , while I have already bought it on WP !? it is a universal app right?

Same with Skulls of the Shogun. I have it on my WP but it wants me to rebuy it on the W8 dispite it being a universal app.

Does everyone have access to 28 collections? I'm only seeing 12. Trinidad & Tobago store

umm, I hope msft could fix the annoying "pending" issue for large size app update in the next update...

I can't access some apps in store...

What about this universal thing? Is it for a few selected markets only or do I have to buy the app / game on Windows first in order to be able to use it on WP as well? Cause I already own Halo on WP bought it for 4,99€ and still the Windows Store wants to charge me again

it's starting to look that way, or MS hasn't implemented it the other way yet,,,

theres no such word as handsomer.....phillistine

Well, this update and accompanying updates just f*cked up my Lumia 2520 completely. Many installed applications just disappeared after the restart and now can't be reinstalled (Skype, IM+ Pro, ... )

The NEW version for Windows Store is amazing. BUT again the PROBLEM is APPSSSSSSS Microsoft.

tumble weeds blow through the RT store

I want that the Store hides apps I have already installed. It's stupid to make advertising and annoying me whith those apps.

Hello , When i will get windows 8.1 for lumia 520 in india ? is there any idea?

Where is "clean" design? Just ugly.

Amazing, If only my PC could enter it without waiting 20 minutes or getting fake messages telling me i am offline i'd be delighted.