Microsoft promotes Project Spark with a 'Choose Your Own Adventure' feature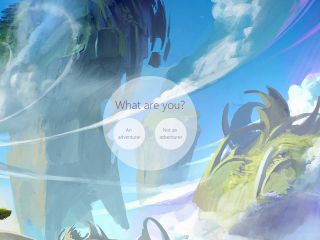 Remember reading those "Choose Your Own Adventure" books when you were a kid, where at some points in the story you had to decide whether to follow the plot in one direction or another? Well, that's just what Microsoft has come up with in a new feature story designed to promote their newly released game creation tool Project Spark for the Xbox One and Windows 8.1 platforms.
The webpage starts right off the bat with a choice of if you are an adventure or not. If you choose the latter, you are sent to a super drab looking version of the Project Spark feature. Basically, it's just one long web page full of text with minimal graphics and no interactive features. However, if you think choose the adventurer path, you are taken to a far more interesting web page, full of graphics and detailed information on how Microsoft and their Team Dakota team created Project Spark.
However, that's not the end of it. There are other choices to make in the story that could stop your adventure into reading more about the genesis and development of Project Spark. Thankfully, the article seems to want to encourage the reader to take a chance rather than choose a path that's a tad more boring. The final result is a story that not only takes a look at how the team behind Project Spark developed the tool but how third party creators are already using it to make some impressive content.
Have you been playing with Project Spark during its open beta and are you glad its now officially available?
Source: Microsoft
Get the Windows Central Newsletter
All the latest news, reviews, and guides for Windows and Xbox diehards.