Microsoft promotes Project Spark with a 'Choose Your Own Adventure' feature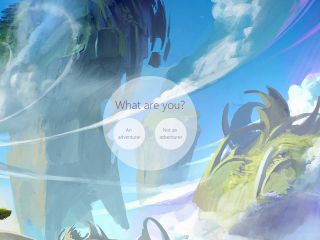 Remember reading those "Choose Your Own Adventure" books when you were a kid, where at some points in the story you had to decide whether to follow the plot in one direction or another? Well, that's just what Microsoft has come up with in a new feature story designed to promote their newly released game creation tool Project Spark for the Xbox One and Windows 8.1 platforms.
The webpage starts right off the bat with a choice of if you are an adventure or not. If you choose the latter, you are sent to a super drab looking version of the Project Spark feature. Basically, it's just one long web page full of text with minimal graphics and no interactive features. However, if you think choose the adventurer path, you are taken to a far more interesting web page, full of graphics and detailed information on how Microsoft and their Team Dakota team created Project Spark.
However, that's not the end of it. There are other choices to make in the story that could stop your adventure into reading more about the genesis and development of Project Spark. Thankfully, the article seems to want to encourage the reader to take a chance rather than choose a path that's a tad more boring. The final result is a story that not only takes a look at how the team behind Project Spark developed the tool but how third party creators are already using it to make some impressive content.
Have you been playing with Project Spark during its open beta and are you glad its now officially available?
Source: Microsoft (opens in new tab)
A previous video mentioned mescad, a SME and uber developer for Project Spark. Here are his videos which provide a great how-to on developing your own creation. http://www.youtube.com/user/mescad

This is probably the only time I'll ever thumbs-up a YouTube link, but that's how good mescad's work is. Such a great contribution to the Project Spark community.

Project spark kept crashing my x1 so I gave up lol. Will give it another chance since it is out of beta.

It progressively got much more stable and faster as the beta progressed (which is exactly what should happen in a beta). Definitely check it out now that it's gone gold.

Stackable achievements across Xbox One and Windows 8.1 version of the game for 2500 Gamerscore! (A few of them are ridiculously out of reach to the average gamer, though).

That website is awesome (looks like it was made using Microsoft Sway, by the way). Glad to see them promoting Project Spark in unique ways (the game deserves the recognition). Now, if only they'd promote D4: Dark Dreams Don't Die as well.

While pretty cool, it is quite lengthy. I can't thing of when I would have enough time to commit to it...

Occasionally id play but lost interest quickly

You might want to give it a second try now that Crossroads has been improved and Champions' Quest has been added in.

well, this game is surely getting more and more dissapointing. now some stuff costs double they costed in beta, it was already long and boring and hard to get with 20k credits even with premium for having snow, or the castle or other packs. but 40k? also the mouse doesn't work well anymore so scarlett is hard to control, also it was hard to make the karlsnor bowling challenge since it didn't seem to work either. it's still nice but honestly... they make it really boring for people to keep creating, for example. I get a nice Zombie themed game with yeti and zombies, all that costs now too many credits... now, people just come and play it. and they didn't have to spend anything on it to play the game I created with credits or real money. what do creators win? nothing, some votes up, sometimes not even votes even if you have a good game. the only time they ask you to buy things it's to remix the level but it's obvious why they do. but I don't know... I never really got interested in Minecraft until it was Microsofts but it seems a better deal, you create, many people collaborate, you chat, you enjoy. Project spark only seems to be more and more boring, yeah they added multiplayer (I think, I don't know, I saw teasers that's all) and they added achivements (useless crap) but project spark original idea seems, really broken now. it seems like now it's useless try and feel positive and making levels and such. Even on open beta and with no premium, it was still a nice game, but raising prices it's just an annoying move... some princes are not that high but then, why not leave the others that costed 20k in the same price? this is why people get turned off to play these games. when developers do these moves that are not nice. I understood the premium being tokens only, but raising prices for the same bad content those packs had? it sounds just crappy moves. but anyway, the controls sucks, collisions are still not working properly and you end up underground. and million of bugs more. which is the most annoying part of all the release, you can't do much without going and stress yourself restaring the crossroads, and things like that. because challenges it's all I am going to waste in this game.

You raise very valid points. May I ask what your native language is?

Spanish, I know my english is not good, especially when I am ranting ;) Project Spark decisions are going really bad lately. but anyway, if Minecraft it's Microsoft's game now, I could give a try. that's all I can say now about PS.

Project Spark is an amazing tool to create your own games, it just seems to be a revamped version of the old Kodu Game Lab, i know it was a bit dull back then but this just takes it to a whole new level, i enjoy playing Project Spark on my Windows 8 and i have also seen the craziest games made by the community, this for sure needs to be suported.
Windows Central Newsletter
Thank you for signing up to Windows Central. You will receive a verification email shortly.
There was a problem. Please refresh the page and try again.