Microsoft pushes fix for unresponsive flyouts in Windows 10 build 10130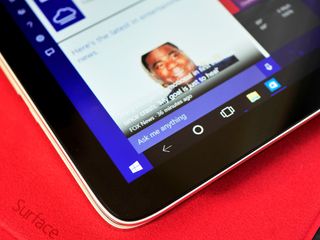 Microsoft has pushed a new update to Windows 10 build 10130 that fixes an issue causing flyouts for things like notifications not responding to user input. The issue appears to affect flyouts when clicking icons on the taskbar. From Microsoft:
An annoying bug, to be sure. If you've been experiencing issues with this very thing, you should be able to pull this fix from Windows Update now.
Source: Microsoft (opens in new tab); Via: Gabriel Aul (Twitter)
Dan Thorp-Lancaster is the former Editor-in-Chief of Windows Central. He began working with Windows Central, Android Central, and iMore as a news writer in 2014 and is obsessed with tech of all sorts. You can follow Dan on Twitter @DthorpL and Instagram @heyitsdtl.
Since build 10032 or something close to, i have been with that bug

Same here.. Thank god they fixed it. I think they posted the bug originally as a bit of an understatemnt... 'might not open' should translate to 'never opens'

I had same problem. And another problem sound stop working eveytime I start my laptop I need to go to audio device list and change their frequency to maximum and then I can play speaker and for headphones again need to do same procedure. That's really annoying. Above all builds were perfect. But this one is back step. And also touchpad stop working cant increase the pointer speed. It fails everytime. But using my external mouse it works perfect. So its a bug.

Yes I certainly feel they took some steps back from an effeciency and stability point of view in this build

Start and search (and cortana) broken after update. Flyout didn't work before, but start was ok, afterwards, flyouts ok and start broken. Anyone facing the same problems? Solutions?

mine are not responding now or yesterday and keep getting memory errors when trying to shutdown.....

Ditto. Pretty much the only feedback i provided when prompted for"what do you think of this build quality" and such feedback requests. Glad this bug was acknowledged and addressed!

Now, we're fine tuning.
......
Would be nice to get some polish on the WMTP side... Whatever happened to pushing out minor updates between builds❓❓

Seems worse after installing the update. File Explorer flyout menu no longer work (was working before update). Spartan keep freezing, not loading full content ..etc. And I can't even give feedback since Windows Feedback app is not working for me since build 10130.

That's what I was waiting for

I am SOOOOOOOOOOOOOOOOOOOO glad for this fix. I was getting start menu errors and lost the ability to use the notification center and desktop mode in 10130. Everything is working amazingly well now and I was JUST about to reinstall the build from an ISO. This update saved me a ton of time as my Venue 8 pro is performing flawlessly now! Thanks Microsoft!

Finally. Really annoying bug.

Windows Icon in Windows 10 is too small! Can I make it bigger like in windows 8.1 ?

It used to be bigger but then it was changed to be in proportion to the app icons that you pin to the taskbar ...a welcome and understandable decision

The whole of explorer frequently becomes non-responsive for me

Yay! The only complaint I have on my SP2. Now if they can stop Spartan from crashing when watching videos that would be ace :)

Is the Windows key on the keyboard not work in that case? What about doing a search for any programs that the fly out wont work for and open them that way? I've had a few issues with the start button but hitting the win key always works.

Yeah, win key was hit or miss. You could mash any combination and it might eventually work. But when you're using the system, that's not what you want or need to be doing.

It appears to have fixed the autohide taskbar problem as well! At least so far.... Update: Nope -- still hasn't fixed the autohide taskbar problem

Yes this bug was annoying. have been finding that the keyboard also does not always activate in tablet mode.

Is it just me or did the recycling bin get smaller?

Go to system protection and make the recycle bin capacity bigger.

My Surface Pro 3 was bit by the Notification Center one pretty regularly. Glad that's fixed! Start was never really a problem though.

What about the 'sign out' bug that randomly appears and practically forces you to sign out; Aside from all the complaints out there, it really makes usability frustrating.

After disabling Cortana, it comes up much less but it still does pop up occasionally. Quite irritating but glad I was able to cut it down, so try that out if it happens often and hope it helps.

I dont want Cortana to feel bad disabling her but will give it a try!

Hahahha dont worry I had felt the same way =p then i figured she would understand this was just temporary ;)

Do you want master chief to have a break down

This is already my default OS.
Now if they would just find the fix for the modern apps window resize bug and app crashing. I'm only keeping 8.1 around for the genuine upgrade.

you can get the genuine upgrade from the preview as well

Yay! this is the first time Action Center has worked on my laptop with this build!
Now I hope they can fix the issue where the user log-in security does not eat up 100% of my CPU then I would consider this build pretty close to complete. This has been the first build that modern apps work, my device drivers all worked without issue, and has not gotten stuck bringing up the log-in screen. If they can let me have 4 medium tiles wide on the start menu (like my desktop has) on my laptop then I will be one happy camper!

Yea. Fixed notification center fly out! Still has weird hanging mouse over app title on start menu. Very happy with Win10. +SP2

The 2 biggest bugs for me are music and video regular and preview app versions. Everytime I start playing music after about 2-3 songs the song stops and the app gives an error message or the app just crashes. Same with video. Anyone esle having this issue?

Heystack I am also facing problem similar to your problem... My video and music app cant work even after update app... And I cant reinstall the app

Note to the Author: When writing articles about Windows updates, it might be useful to mention the KB number.

Settings app is always on top. Anybody experiencing this?

Yup theres a couple issues with foreground and background window displaying. I reported it but you should to. I wonder if its something people might not notice as easy as other bugs.

II can't even get 10130,now stuck on slow ring ​

Change the setting from slow to fast rings in update and recovery options and verify your insider account again hope it works okk

I didnt have the option for fast ring. Only the slow ring was available to me.

I hate to ask, but when will mobile phone users get new bits? Seems like the desktop/tablet version gets new releases and updates frequently.

Figures. I did a complete refresh just this afternoon to fix this. Wish i had known the fix was in the pipeline. Dang... Edit: I take it back. I just rebooted after doing the updates. My start menu isn't working again. I don't understand this. It was working fine after the refresh. Then the update happened... GAH

I thought it was because my computer was bogging down good to know its a bug

The builds are getting slower in speed the newer they get, ugh

I dont have this pblm.. but in my pc the audio devices wont work..... Posted via the Windows Central App for Android

download or repair the driver of your pc hope it works for you

What if I can't open settings? How do I update it then?

Please refresh your pc or reboot it several times my settings also crashing again and again but after 2-3 reboots it works again hope it works for u also

Guys
I m not able to login my account using PIN option... Every time I need to use my password to login..
R u all getting PIN as login option!??

I am facing same problem brother but I now I changed my pin and it will work fine again please change your pin on clicking I forgot my pin in settings okk hope it works for u

So many bugs left. So close to release.

Some many updates for pcs. When for phones.. :@

Would like to put that update on a Surface Pro 2, but it's blocked by the constant previous System Firmware update being successful/unsuccessful.

Hi everyone... I am facing problems with my music and video app... I cant play songs and videos in preview apps and my sound is not working what to do ?? Is anybody here facing same problem then tell me please.....

How this will be ready in July I have no idea

Been having this issue since 10074, and can't start Windows Update. This is on a tablet w/o USB, so I'm still kind of stuck...

Yeah and it is supose to be ready next month.....

I am founding a fix for those who facing problem with their sound please unistall you sound driver I disable my sound and then unistall my hd sound driver and then restart my laptop and it works fine in my dell i3 inspiron series... Hope it works for all who facing these sound problems

I also have the problem that the start menu, settings pane & notification centre don't fly open.
So now i'm looking for a way to get to 'Windows Update' to install this fix? Since I'm not able to navigate to these settings :( Is there any 'trick' (shortcut through cmd) to enter Windows update ? I tried opening the search bar ( cortana ) and typed Windows update and the settings DO appear, however when i click them they don't open aswell. Thanks guys

Start still broken after updating. :/

oh so this explains why my start menu and notification button were barely functional when i installed the preview. Might try installing it again now that this has been corrected.

Still no Start menu pop up after ALL the updates. I can only access Cortana/search if I right-click Start then click Search. When I first installed 10130, everything was fine. It seems that when i sync my account, all goes to hell. If I use a local account, everything works. Windows 8.1 is looking better and better. We're so close to July 29th that I'm wondering if this glitch will be fixed by then.

I instaled w 10 but the Realtek Adapter 8785 doesnt work im kinda dependent of him where i live

I Just updated hours ago and the problem persist so I think they didn't at all .. Search don't open, notification bar also.. Twas working,before but,now....

What the hell with windowscentral app, almost a week that im receiving all time the network error... Not being able to use app .. Soo disgusting...
About fix Just updated hours ago and the problem persist so I think they didn't at all .. Search don't open, notification bar also.. Twas working,before but,now....

What the hell with windowscentral app, almost a week that im receiving all time the network error... Not being able to use app .. Soo disgusting...
About fix Just updated hours ago and the problem persist so I think they didn't at all .. Search don't open, notification bar also.. Start button used to work as a charm... Twas working before but,now what fck they did

Problem now is worst than before.. start menu, cortana and notification used to work now .... updated hours ago and the hell man.. now im not able to use the things.. and when start menu open (i think is more easy to see Zeus or Apolo than it open) it doesnt close.. .. a bug fix or a bug bringer? its more likely to bug bringer.,.

That bug was the reason I took the TP off of my DVP8. The start menu would work as long as I did not customize anything on the start menu, but as soon as I added a tile, changed the layout, or anything, the start menu would break until I reinstalled.

There seems to be an issue with the cache in both the start menu and the start screen. In both the "all apps" view, and the "pinned items" area. I can fix the pinned items "kinda" by manually deleting the explorer icon cache. All apps view is buggy as though. Has been unusable for me since ~10122

Start menu has been iffy for me on two previous builds, and hasn't worked at all on 10130 ... latest updates did absolutely nothing to fix it either ... may have to download the ISO and try a clean install ...

All tiles have disappeared. Start menu and action center unresponsive. Cannot find Windows live mail anymore, so can't get my emails. I can right click on Windows icon and some options pop up, but some settings are missing, including Update & Security and also Windows update, so I can't even check for updates to any of these problems. I read about a fix called KB3093266, but this update has not installed on my computer yet and I don't know why. I have tried various "fixes" from other websites that have not worked. Some fixes were just too complicated (or scary) for me to follow. I am so frustrated and exasperated. I really hope Microsoft is working on a permanent update/fix for this problem and it comes out soon, as many, many people are having these problems. I wish I would have waited to upgrade to W10 until these bugs were worked out. Lesson learned.
Windows Central Newsletter
Thank you for signing up to Windows Central. You will receive a verification email shortly.
There was a problem. Please refresh the page and try again.