Microsoft pushes update for Windows Store (beta), MSN apps, and various other apps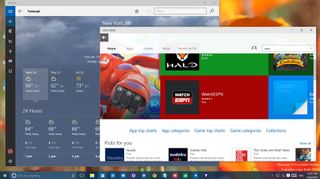 Microsoft just released a new preview of Windows 10 (build 10122) today, but the company is also rolling out a wave of updates for the Windows Store (beta). Additionally, many of its universal Windows apps, including the MSN suite are getting refreshes as well.
Let's take a look and what is new!
Perhaps the most noticeable changes will be found in the Store (beta) and on the MSN apps. Then there others, such as the Music and Video Preview, Word Preview, Get Started, Windows Feedback and many more apps are also getting updated, but only to fix known issues and various other problems.
Windows Store (beta)
As you probably noticed, the Windows Store (beta) behaves like an app, and it also gets updated like one. The new update brings many interesting UI tweaks and a few new additions. For example, in the list of feature apps, app tiles now take the background color based on the app's icon color scheme. Also, the underline on links are no longer present in most areas, the Store icon goes from gray to blue, and now the main navigation bar has a transparent effect when scrolling.
With the new update, users will notice a new My Library option listed in the profile menu. Inside My Library, users will find all their apps and games that were acquired by the Windows Store.
The main area is called "Refine" and only shows a partial list of apps and games you already own. To view the complete list, simply click Show All from the top-right corner or by clicking Apps or Games from the top-left corner of the screen.
A welcome new addition are the options now available in the settings area. Before users will only the version information of the app, but now we can see that Microsoft is including an option for users to enable or disable automatic app updates. Also, there is a link to manage your devices online, and it appears that in the future users will be able to limit to get Live Tiles updates only over Wi-Fi.
MSN apps
Although, we have recently seen a major overhauled of the MSN apps, Microsoft is pushing new improvements to most of these new MSN apps. Weather and News are the apps that get the most treatment.
The Weather universal app for Windows 10 features a fresh new look. All the weather information now appears centered on the screen; the new background covers the entire screen, and like we have previously seen the content continues to scroll vertically.
Microsoft seems to have removed the main navigation bar and users can only move around using the menu located on the left, which can be expanded using the hamburger button on the top-left corner of the screen. Like before, users can access forecast data, maps, historical weather, places, and weather-related news. Also, users will now find the setting and profile button at the bottom of the menu.
The News Universal app for Windows 10 looks pretty much unchanged. However, the main menu and title bar now have a gray background color. There is also a new dark theme for the main menu (just like the Weather and various other apps). Articles also have a new style format, very similar to the style Microsoft uses for MSN.com.
The Money app shows pretty much all the same changes found in the News app. And Sports looks pretty much unchanged. The only thing new are the tiles below the feature article. They now have a white background instead of a dark one.
Wrapping things up
Although, these aren't huge changes they are welcome additions. The Windows Store (beta) is finally taking shape, and it looks more consistent in its design. The MSN apps are also starting to come together. But Microsoft still has a lot of work to do. The Sports app doesn't include the majority of the changes we're seeing today in the other apps, and the software giant has yet to release a new Food & Drink and Health & Fitness apps.
Mauro Huculak is technical writer for WindowsCentral.com. His primary focus is to write comprehensive how-tos to help users get the most out of Windows 10 and its many related technologies. He has an IT background with professional certifications from Microsoft, Cisco, and CompTIA, and he's a recognized member of the Microsoft MVP community.
Is it wise to update to windows 10

Wrong place to ask, better hit our forums, thanks!

Can u please give ur opinion please...5words is enough

Why are you being such a douche? If he asks in the comment section, that's his liberty. This section is where users first check to see what the rest of the community thinks. You should be glad people are active on this page and not just on forums. Geez, for being the editor-in-chief, you should exercise more restraint or open-mindedness. Not everyone thinks like you! I guess your head must have gotten too inflated.

I wouldn't, running it in a VM is a better option especially if you have an AMD GPU.

Thanks neo... For ur help

If you want better performance, I'd recommend installing it in a separate partition.

That's not what I would recommend as you could, potentially, trash the bootloader for your main version of Windows. If you absolutely have to install it on bare metal, then use a spare machine instead.

There are some section on the MSN.com website that there is no a MSN equivalente app, like Lifestyle and Cars. I hope to see theses becoming apps in the future.

+1, since the new uMSN website I never use MSN apps at all.

The Store Beta already had these featues with the last update, not sure if it was just overlooked?

I wish they'd add the ability to remove apps from "My Library". There's apps I downloaded years ago (more on my phone than PC) that either no longer exist or for which I no longer have an interest. I don't want to see them anymore. So many times I'd install something to try it out, then remove it shortly and now it's there in my history forever. Come on MS, let us remove them.

+1520 i have been asking for that to no avail

People will complain that they accidentally removed a paid app and don't want to pay again.

Weren't most of these Store Beta changes already there?

We're only listing the changes happening today. Sometimes, it might seem like changes where already there, because some apps behave like webpages and they update as you close and open the app again. But of course, you'll need to download and install the update for additional fixes and improvements. Thanks,

I remember the blue tile, the library, and the automatic updates toggle coming a while ago. Maybe it's because of A/B testing or something. At any rate, they're good changes and I'm not complaining.

I also had those features as of the last update, so you could be right. Posted via my HTC One (M7)

What about WP apps? Why are they not updated despite being universal?

Because the ones on WP 8.1 aren't really universal like these.

What about windows 10 mobile builds though? Should be showing as updates there no?

Depends on how far along the W10M builds are in comparison to the desktop. I can't say for sure either way. Let me go grab my 1520 and look over it. Edit: Can't find the Beta Store for some reason. :\

So since they are universal apps can we expect an update on the mobile side?

Every one ready for wp 10 but am still strucked with cyan in my Lumia 638.... Can any one conform the release of denim.... Pls respond any one....

638? I don't know about this phone... but you need to check microsoft's site.. the release depends on your country/carrier http://www.microsoft.com/en/mobile/support/software-update/wp8-software-update/

It also depends on your IMEI number as they roll the update out to batches based on it.

These MSN apps look fantastic! Loving all the little tweaks too, almost there...

Yeah was thinking the same thing !! It is tweaked alot and looks nice and clean ! Oh im hyped

We already got this store beta update with 10074 IIRC.

People , how can I check for app updates in the store beta?

Click the icon next to the search box and click downloads, there's a button to check for updates in there.

Finally! The freakin STORE can be updated without an OS update

That's been the case in ALL the previous insider builds.

Who else absolutely hates the grey title bars?

I Dont necessarily hate them , they look good . But you do have a point actually, wish they had a color of the app ( like red in sports ) .

Colour of the app, that would look awesome!

Looks perfect for desktop. Love the UI

Why does the store still have that nasty back button wasting lots of real estate

My store has been like this for a while now. Maybe they pushed the update to me sooner than other people.

The update was pushed with build 10074.

Great...build! more polished than 10074

Msn travel app on wp become awful after update. Microsoft not Nokia. Waiting when old nokia to creat own phone

The beta store still doens't work for me, an server issue it says, what can i do?

Hamburger menus and bland designs really go together.

This NY Times article image says it all: http://www.windowscentral.com/sites/wpcentral.com/files/styles/larger_wm_brw/public/field/image/2015/05/news-article-style.jpg The new MSN apps are basically just a web wrapper for web content. Gone are the beautifully laid out magazine like Windows 8.1 apps with large high resolution graphics and text that flowed over the whole screen in easy to read format. The new apps just dump articles and small pictures in a column like your standard web browser. As if it wasn't ugly enough and miserable to read current version doesn't even support pinch zooming. Why would they want anyone to downgrade to these horrible new apps? Also don't even bother trying to share, print or use any charms functionality with these new MSN apps. The charms functionality is currently not supported. Hell even just trying to close these apps with a trackpad or mouse while it tablet mode isn't supported. Oh sorry I didn't know I wasn't allowed to choose my input methods at will, first I have to change OS "modes" before I can decide how I want to interact with an app now. So terrible.
Windows Central Newsletter
Get the best of Windows Central in in your inbox, every day!
Thank you for signing up to Windows Central. You will receive a verification email shortly.
There was a problem. Please refresh the page and try again.