Microsoft pushes Windows 10 cumulative update 14393.321 for PC and Mobile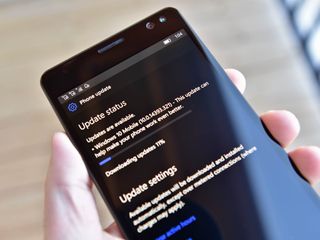 Today is Patch Tuesday and as such Microsoft is pushing out new cumulative updates for Windows 10 PC and Mobile.
Update: As of 1:30am ET we can confirm that Release Preview for Mobile is now getting the update too
Build 14393.321 is now live for those on Production (non-Insiders) and Release Preview (e.g. no Slow or Fast Rings) and with it comes new fixes and improvements.
The PC build is listed under KB3194798 during the Windows Update process.
Update: More about the KB updates:
KB3192440 (for RTM)
KB3192441 (for 1511)
KB3194798 (for 1607)
There also seems to be some bifurcation with Release Preview on PC getting a cumulative update while Windows 10 Mobile does not.
Changelog for 14393.321
This update includes quality improvements. No new operating system features are being introduced in this update. Key changes include:
Improved reliability of Bluetooth and storage file system.
Addressed issue causing printer drivers to not install correctly after installing security update KB317005.
Addressed issue causing sign-in errors if a password is entered incorrectly or a new password doesn't meet password complexity requirements after installing security update KB3167679.
Addressed issue that required users to log out and log back in before using the application they installed using the Windows installer (MSI).
Improved support for networks by adding new entries to the Access Point Name (APN) database.
Addressed issue that was causing excessive battery drain on Windows 10 Mobile when connected to Wi-Fi.
Addressed issue in which setting up both fingerprint and iris recognition sometimes causes the sign-in to fail on Windows 10 Mobile.
Addressed issue that was causing high CPU usage on Windows 10 Mobile.
Addressed additional issues with multimedia playback, revised daylight saving time, authentication, Internet Explorer 11, and Windows Shell.
Security updates to Microsoft Edge, Internet Explorer 11, Windows registry, and diagnostics hub.
For more information about the complete list of affected files, see KB3194798 (opens in new tab).
Daniel Rubino is the Executive Editor of Windows Central, head reviewer, podcast co-host, and analyst. He has been covering Microsoft here since 2007, back when this site was called WMExperts (and later Windows Phone Central). His interests include Windows, Microsoft Surface, laptops, next-gen computing, and arguing with people on the internet.
I installed this and my phone exploded. My phone is Samsung Galaxy Note 7. Help! What can I do?x

Nothing it's too late now

Dammit, Jim! I'm a doctor, not a computer programmer!

Did the phone wear a red shirt?

Just like Windows 10 Mobile Phones.... dead.

Try drilling a 3mm hole into it to unexplode it.

I'm pretty sure he should've done that first to relieve the pressure.

Did you try turn it on and off

Did you try turn it on and off

Put the smoke back in and seal with superglue. Explanation: Your phone works with smoke and hot air. The moment the smoke and hot air gets out, it stops working.

did you forget to charge it in the microwave first?

He can't, his phone exploded. =P

"I know! You construct a weapon. Look around you. Can you form some sort of rudimentary lathe?"

"A lathe? Get off the line, Guy!" :-)

That lines going to annoy me. I know it, but I can't remember where i know it from

They should have the ATIV version of the GS Note 7. With Continuum. That DOESN'T EXPLODE!

That would be insanely awesome, just like a flagship Nokia device running android

sing the song that Sam Sung, its the last funeral.

You can do HaraKiri to keep company to your SGN7

In that moment you know that you prefer to have a power brick like Xbox One and if explodes you only replace the power supply haha

Up, Up, Down, Down, Left, Right, Left, Right, B, A, Start

Beautiful :) Konami Rulez! still

Damnit! It was supposed to be two players, you forgot the select button!

Exchange it for another one...:|

We all know you are making things up as Android doesn't get monthly updates like this!! ;-)

Downloaded and installed! actually this is the first upate after the AU that fixes bluetooth sync issues with my Fitbit alta. also, the bluetooth button in the action center works normally. Double tap to wake is also faster. I'll have to wait and see if this also fixes the blank screen problem when turning on the screen. vpn store apps still dont work like hotspot shield

Were you having issues (that never happened before the AU) with the screen going dimmer like it was adjusting to light but not brighter after covering the sensor? I'm wondering if this is somewhat common. Haven't had a chance to check the feedback hub.

i only get this problem with the blank screen problem

I've had that problem in the past haven't seen lately however.

I encounter this when I set brightness from Suggested to Dimmest. After switching back to Suggested, I have to toggle the power button to turn the screen off and on to make the brightness change fully take effect.

Yes I had the going dim on & off for a couple of days, on 650 W10M

Do you still have issues on your L650?

I've had this problem since installing Win10 on my L730. It seems that the gamma is either too high or too low after unlocking the phone. Re-locking the phone fixes this. This happens once every 10 times. These days a similar problem happens in my HP laptop, with the screen gamma turned up when i unlock the laptop. it gradually returns to normal values in a minute.

This is very much common. Have this on a 950XL, 650, 640.
Brightness goes down randomly on the AU.
Solution is - Hold power button down till slide to turn off screen is seen. The brightness goes back to normal. Slide towards the top to not turn off. :)

I will try that out, thanks

I have seen the dim screen issue on my 950 on a recent AU build, and ALSO the blank screen. The Dim screen seems to be fixed for me as of late and the blank screen was always fairly rare for me

I had been having that issue with the screen not getting bright / staying very dim on my L959. Have not had that problem with my L650

Thanks for all your responses everyone. My issue was on a 950XL and it didn't happen at all till around the AU. Simply turning the screen off and then on solves it, and it does seem to be 1 out of every 10-20 times. Really need to search the feedback hub and upvote thus issue.

It's there in the feedback hub and I've even mentioned this to Jason (@NorthFaceHiker). Got a reply too. They weren't aware of this then.

Nothing here... 950XL Production

Just finished downloading it on My 950XL and finally the double tap to wake is more respnosive than before :D

Any chance they fixed glance not working for a crap om the 950XL? Down with Nutella

Until Swiftkey is their keyboard (they own it now for crying out loud), repeating notifications, and custom reminder delays are all in the changelog, I'm still not switching back. I tinker with my 640 on production ring, but not sticking with it a daily driver for these reasons.

On RP with both Surface Book and Phone. Surface is downloading, phone does not find.

Bit confused... I am not on any of preview branch.... still, I am receiving this update????

This update is for everyone. It's Patch Tuesday!

You will get updates like this every month. :) It is like a maintenance update for PC's.

Downloading. Hope a fast ring will come today too

How'd you like fast ring in your primary phone? I'm eager to do that, is it safe?

Better pick slow ring, or release preview.
Fast ring has lots of bugs and less stable.

Wow, it seems like every time I buy a Lumia, an update appears soon after. Only had this Lumia one day.

what is yur new device? x3?

Nope, Lumia 550. The last time, I had the 950 for maybe 2 days before the Anniversary Update dropped.

Ah, the famed Lumia x3 :D

Haha. The Elite x3 seems like a very interesting phone.

Yes, because you buy it the second Monday of the month.

Nah, both have been by chance. I actually bought the newest one with the b&h deal last friday. It just came yesterday.

I hope this fixes the 0x139 crash with Centennial apps.

Hope so my laptop is suffering coz of this error

If they aren't releasing to Slow Ring, are they getting ready to move Slow over to RS2?

I thought (could be wrong) that slow ring went to RS2 last week.

The Mobile slow ring is still on 14393, shouldn't they be receiving this update as well?

Downloading on my tablet nothing on my phone both on release preview

High battery drain and cpu usage, thank you. Hope it shows up in update soon.

Yeah! Was about to comment about this now. I just went back to 8.1 yesterday in my 930. I think I will stay there for 1 or 2 more days

Sounds like this could improve my L950 battery life. I would not object to that . Assuming it shows up for us on RP anytime soon. It was a couple days later for me last time.

Don't we have specific change logs for mobile these days

Why would we? It's one OS. See the changes for mobile in the posted changelog.

People usually complain about lack of change log, funny how now its switched to "can't we have a separate change log?" Lol

Its not one OS. You cannot buy the windows 10 disk and install it on a phone...please stop saying that...they are similar...but far from one OS. If it were one os, you could use x86 programs on your phone...

So, because you can't use 64bit programs on Windows 10 32bit, you're going to claim that Windows 10 32bit and Windows 10 64bit is the same OS? It's a different architecture, that doesn't make it a different OS.

Actually, it does. The 32 bit and 64 bit versions of Windows are different operating systems.

Nope. They are the same OS compiled two target multiple processors.

64 bit runs 32bit as well,

Does anyone have a problem accessing glance screen under extras', I'm on the Lumia 640 LTE

Yes, you can uninstall that.
The new glance option is under Settings > Personalisation.

Bruh have you heard of one core? where mobile pc builds and now xbox updates go through too? they have the same core... just minor tweaks since its ARM and cant do everything!

Minor tweaks... and desktop version is 4x size of the mobile os because minor tweaks?

I agree, all I was saying is mobile has particular issues which are better explained in a separate change log. PC doesn't bother me as I hardly use mine. I use my phone everyday so just want to see what's been done. An issue with my ringtone stuttering when I get a call for example won't be an issue on PC

You have a 640 don't you?

True that! One core and same OS are different things!

Wrong. It's one OS compiled to target multiple processor architectures.

Finally. Mine didn't work in release preview but put my phone on production and it worked. 950xl

I'm in release preview...but this update s not getting in my 730 mobile... Pls any one can suggest me

On 950XL on preview and not getting it either. Hmmm. Guess you and me are being quarentined.

Lmao. I love the downvotes!!!

Aren't that a miracle? Nowadays on WC you just post negative crumb about WM and you can't swim out of downvotes

I found with Mobile I needed to completely opt out of Insider (Release Preview) because opt-out-auto-turn-back-on-in-xdays still didn't get it downloading. The second I STOPPED Insider I got the update.

Is it not getting to the point were alotof these older phones running SD 400. Soc, are going to start to struggle with the demands of W10M

Me too. It seems they forgot release preview insiders this time ;)

Cumulative updates never, I repeat never have new features. That is what Slow and Fast Rings are for.

Mobile 10586.218 added background downloading and confirm to download to Edge and support for Visual Voicemail on Dual SIM devices. Moible 10586.420 updated the "Goodbye" screen to last until the phone actually had shut down and updated the period you had to reboot your phone for an update, and although the later 2 aren't really "new features", they did change something noticeably. So I wouldn't dare to say "never". Also, last months Patch Tuesday updates for desktop 10240 and 10586 removed Copy Protection when ripping CDs in WMA format with Windows Media Player.

By "never" he means, "hardly ever."

That's not new features of the OS, that's app changes and feature adjustments to things that already exist.

That's kinda a good point! Never say never? :-)

I had visual voicemail with dual sim 950XL on ATT before this update.

Read the first line of the changelog.

Finally back to normal updates for pc and mobile in the same day. In the last two months Microsoft only released the pc build first and mobile later.

Yeah, that was one of the perks in it being the same OS right?

Yes, but that wasn't the case in the last two months

Downloading on laptop and AT&T L950 (non-insider)

Not seeing on my ATT 950 in RP

I was seeing the same on my ATT 950 that 'was' on Preview Release ring...opted out to Production ring and 14393.321 is now D/L and installing.

That didn't work for me... I wonder if they are US region staggered.

It worked for me as well on my wife's ATT branded Lumia 640 flashed with T-Mobile's ROM.

Always good to see battery improvements, not that I'd noticed anything particularly bad but I'll keep an eye out for improvements during the working day when I'm on WiFi Bluetooth fixes are starting to feel like the old WiFi updates for the Surface Pro 3 :-D Hoping it fixes the issue on Mobile where it gets jumpy if you try to do anything else whilst playing music.

Downloading the updates. So excited after reading the changelog.

Same about some of these notes.

My SP3 in production sees this but not my 950XL in Release Preview.... BAM, switched from RP to Production on my 950XL, now it sees it. Just like the last release lol.

This is stupid that they wouldn't send a production release to release preview too.

The release previews can be on any day correct? So it shouldn't matter. I also thought that the release preview has been on the same build for weeks.

I had delayed updates previously on RP, just getting this update now, showed up as soon as I manually checked

Would like to see my glance screen fixed, it comes on showing the time, then after a second it blinks and then shows notifications. Also screen used to dim for a few seconds before timing out, but no longer.

Same here! I was wondering WTF was going on. I always forget about bugs as an explanation.

wow, update on my SP 3 is taking forever, about 1 % per couple minutes.....

The update was not showing on my 950xl US. I just switched out of the RP ring completely and cancel all insider build. Now I'm on production now and it's currently downloading.

Bluetooth HID in Windows 10 Mobile Anniversary Update is improved. I don't have to restart my phone to get it to recognize media presses from my Bluetooth keyboard. However, it is still flakey. Sometimes it re-connects seamlessly. Other times, It doesn't and I have to either disconnect/reconnect the device, wait a minute or so before trying another keypress before the phone registers it. Very weird.

Designer mouse has the same behavior .

Im already on RP not getting update on mobile

I am on Release Preview with a 950XL and I got the update last night. In US.

Hello there! I didn't have any problems with my new Cumulative Update KB3194798. It took really long time to download and install though.
I guess, you just need to wait until it finishs itself. Be patient!
Now i have 14393.321.
I did install on my desktop pc and laptop, both went well.
Good luck guys!
Czecher

That 1 Microsoft employee working on Windows Mobile in the basement should be able to work on these little updates faster wouldn't you think?

That employee is not being whipped hard enough, methinks.

Hey, what you and that lone employee like to do in your free time is your own business.

RP surface 3 updated, no update yet for 950 in UK

Oddly, I had to leave the Windows Insider program on my Lumia 535 so I can go to the Production Ring and download the update. Kind of inconvenient, since my laptop still received the update while staying in the Release Preview Ring.

Gonna try this cuz my 640 xl isn't getting a update on release preview

I hope this fixes whatever's wrong with WU on some pcs on build 14393.222 that get an error on fast ring while looking for build 14942.

Nope that's one of my pcs updated and still when I check on fast ring for build 14942 I am still getting the " There were some problems installing updates, but we,ll try again later. If you keep seeing this and want to search the web or contact support for information, this may help: (0x80240439) bah

You might try Control Panel/Troubleshooter/ View ALL /Windows Update.

Installed but had an cumulative update 1607 update error after :|

Stuck at downloading.. @85%

For those who are not getting update on RP switch back to production ring

I was on RP with my 950 XL, update showed nothing, moved to production ring, still nothing.

I hope this fixes the problem where my laptop fails to install the KB3195596 update. It's been trying multiple times per day for a week.

This worked for the KB3194496 update. Not sure if it helps 5596 or not. http://www.windowscentral.com/microsoft-releases-script-fix-windows-10-p...

Windows Hello seens much faster in L950

I really want to get this Lumia 950 xl back to normal consumer mode, but the windows device recovery tool simply doesn't work for me anymore, I'm stuck on slow and it's not a nice experience for daily use, only crashed once, but lots of little bugs make it not ideal

Make sure its the latest release of the wdrt or it won't work.

Hi just down loaded and installed no problem. As a previous comment said double tap seems to be more responsive and also the phone appears more fluent. May be just me.

Yeah it's just you.. @Shaun murphy295

I wonder why we get it on RP on the PC but not on the Phone. I switched back to Production on the phone but wonder if there is a technical reason. We have 222 on PC but 221 on phone.

Yeah its ment to be that way 222 and 221

Hope it fixes double tap to wake up
Currently double tap works only 5 out of 10 times average on my 950

Does your problem involve the "black" screen as well when unlocking device?

Yes there is some memory bug that causes that. I have noticed that it happens after approx 24 hours and then it becomes a PITA to unlock and you have to toggle repeatedly to get it to work. I just soft reset it with the power / vol button and its good for another 24 hours flawless. Have already reported this

That's been reported so many times by me. Yet I keep checking the changelogs to see if it's one of the reported fixes.

So im not the only one having this problem?

I have 4 950's in my house and they all have this problem. It's really my only gripe with the phone right now. Other than that we all love them.

Do two of them belong to your kids? I'm interested to hear about how they feel using Windows 10 Mobile and missing out on things their friends might be using. Snapchat, for example doesn't really interest me (and it seems to be losing popularity with "The kids" since everybody and their Grandma now uses it so it seems to be losing it's cool a little) I ask because I'm an adult and I still get childish remarks from people MY age about using Windows on my phone (I've been onboard with it since WP7 released in the UK), most are stupid comments by people who haven't used the OS before, or had a very very brief stint with WP7 at release. People who make these comments to me are obviously childish, but being a kid can be tough if everybody else is using what is "cool" - You may have very mature kids though who might not be bothered by it, but I get the impression most kids want whatever the latest craze is?

Unfortunately you are not the only one :(
I am just wondering what they are waiting for to fix it! I tried to uninstall some of the app like the facebook ones (FB app + messanger) which cuased the issue most of the times but it is still there. :(

I feel like something exciting gonna be happened with next fast ring mobile build

We can hope - I'm eager to get the GATT Server and new Continuum features personally. Can't wait to show it off to a few people when it has windowed applications (My feet are still firmly on the ground, and I appreciate it's limitations but to many it'll just work like their PC and I know a few people who Continuum will be perfect for and allow them to not bother buying a new PC in the future as the phones get more powerful)

Is anyone having problem with silent or ring notification not showing in lock screen and the backlight is not dimming after some time and directly shuts down.....#640XL

Yeah, my 640 no longer dims before the screen times out and the glance screen comes on with the time and then blinks and then shows notifications.

My 950 has been doing the blink then notifications since AU.

my app close whenever it wants, signs out whenever they wants, and my phone restarts whenever.... the update just messed up!!!!

Its fine ...
Anyone can tell me that what is messaging+??

Download on 950 in the uk on 02, anyone know what's new

Can't see anything new, although now my notifications are clearing down once I've viewed a text.

Updated on L950 UK CV, can't see anything different maybe will stop the random reboots.

L959xl finland. Nice, phone seems a bit snappier again all over the place. Thank you. Double tap wake is faster, typing is more responsive... Truly nice!!!

And thank you MS for not forcing html5 geoLocation to be hosted Only from https source like rest of the f**** world.. Extremely nice.

Seems Release Preview Ring got obsolete, changed to Production to get the update.

Does anyone with a L640 LTE have issues with their camera quality or is it just me?

I have 640xl. Camera quality became worst after upgradation to win 10 Mobile.

Hmmm... Maybe I'm not insane after all :) Although this is quite sad, I like taking pictures sometimes...

Yes my Mrs has 640LTE ALSO camera problems ok on 650 W10M

Iam not receiving the update on lumia 650
Dont know why

"Your device is up to date." No update available for my Lumia 640 on Release Preview...?

The same here. L950XL, Release Preview.

950XL. Turned off insider still don't see it.

Got the update this morning, so I suppose it was a roll-out issue. But why in the world do these updates need to be so big? > 1 GB is a bit much for us on 8 GB memory phones, since the update for some reason cannot be downloaded to separate memory. For each update, I need to uninstall plenty of apps to get it to install. (I'm using an SD card and have all apps that can be on it, but it still means I use > 7 GB of the system drive...)

Stuck at 95% on my laptop for over an hour now!

Restart the happy it will finish after reset

I switched to Production (i.e. Stopped Windows Insider builds) and restarted my phone but No update is available yet. ☹

Ditto. Anybody??? 950XL...

This update is for build number 14393. If you have another build already installed then you will not be able to download this new update to 14393.

I have 14393. Still not seeing it

Update: Last night I switched back to Release Preview and when I woke up this morning the update was already downloading. It installed without any problems. -Rich

Iam not getting the update even on production ring
Lumia 650 INDIA

Super quick mobile update too. Downloaded the update in ~2 mins. Preparation stage took ~10 mins.

Remember when we had to wait months for AT&T to let us get updates?

Hope Groove stop playing with the volume by himself.

I'm getting so tired of this half assed operating system. Bug after bug, after bug! It still doesn't fix the unreliable notifications I am getting on my SP4 (and it runs like total garbage), apps immediately crash on my home PC, text tones still do not work on my Lumia 830. WSUS is totally screwed up since the Anniversary update. These are just the bugs that have pissed me off this last 12 hours. And before the know it alls chime in, I've read the article Windows Central posted about 1607 bugs a month or so ago so don't tell me their aren't any bugs. Microsoft upgraded my outlook.com account finally, what a piece of garbage that is. Runs slow as molasses in edge. Wish they would stop with the new features and make this half assed OS not such a pain in the ass to use.

Just saw this post and check updates. I do have one waiting. Downloading. Lumia 640 XL

Hey guys I chose fast ring in order to get This update. But now my phone is downloading the day ring update 14396.1000 and I want to stop that. Please Help

This update was for the non insiders. Disable Insider builds on your phone.

Well im not leaving release preview just to get this. It will be along in a day or 2 maybe with a slightly different build number. Posted via the Windows Central App for Android

That is my assumption too; We will get a further along build soon. No need to update now then do it again. That would be the only logical reason production is ahead of RP.

I left RP, updated, re-enabled RP. No biggie. You are probably right about a later build but why not say that. The PC updated to 321 in RP so why not phone?

321 is on RP this morning. Odd that it isn't a somewhat newer build, but whatever.

Wow! Downloading now! Look at that changelog this should improve my phone battery usage :)
Lumia 640 XL

I'm on Release Preview and only have 14393.221... No updates are available past that. EDIT: This is on a 950XL DS.

Verified. Switched back to RP and it's downloading :D

The opt out of RP and Insider Builds, reboot and check for updates worked for me. Downloading .321 now :-)

How do we get the mobile fixes on 14936.1000? I've complained about those issues on the Feedback app forever. I hope they push out a cumulative update with the mobile fixes for fast ring members soon. I'd hate to have to use recovery tool at this point.

You should expect that on fast ring. They tell you to expect that...

My Lumia 650 is 10 times faster after the update!

Hahaha! Mine L640DS is just installing the update but it's already much faster too! :-P

Downloaded and installed on my 950XL. Installing on SP3 and SP4. I wondered why my 950XL got hot, it must have been downloading the update. I didn't realize it was doing this at the time.

Installing on SP3 and SP4 - what are these sp4 sp3

Any 635,636,638?App scaling issue resolved?

This update makes starts screen more smooth than before in transparent tiles. I can feel Overall improvements in battery performance on light background of my 540. Its not dissipating heat near camera region. Good work Microsoft
Love you..

How can you feel battery performance improvements so fast? I mean, it's only few hours since you've updated Your phone, right?

I played games and watched movies and the battery performance is good as expected no heating issues

My wife's 950 runs hot as hell I hope this update will fix that .

Another patch and Windows 10 Mobile still with HDR + Flash bug on camera. Microsoft, you are a JOKE. thats Why Windows 10 Mobile is in such a bad positoin.

Got error 0x8024001e trying to install them via Windows Update. Downloaded the three updates individually and that seems to work... :(

Still VPN issue not fixed soooo... Pretty much useless as usual -_-

4 hours after release and my 950XL doesn't see any updates.

I was able to turn off release preview insider, rebooted, and it saw the update. 950XL

Still no dice. Turned off. Rebooted. And even soft reset. 950XL

My laptop is in insider preview and it is getting the endless reboot due to failed installation of an update. Does this fix that and how do I trigger it? It looks like it just wants to keep on installing the bad one.

HAVE THEY BROUGHT GESTURE TO WINDOWS 10 YET. 2 YEARS AGO I LOVED THAT IN WINDOWS 8.1.

Not fully as yet. Only the move phone away while in call switches to speaker. So I'm hoping they return as well.

Wasn't that brought in with the caps lock key?

I hope it fixes the random freezing on W10

I hope this fixes the random reboots and the bloody black screen issue that forces me to soft reset my phone more than 10 times a day (yes even after an hard reset).

Just got it again... I am so tired of this issue! In the last 4-5 weeks it made me wanted to smash my 950xl! :(

Downloading now on my Lumia Icon, go go gadget better battery consumption!

950XL Release Preview... I don't see it........
Edit: Turned off insider and restarted. Still not seeing it. Frustrated -.-

I guess they didn't' fix the issue with the Logitech Webcam they messed up on the Anniversary update.

Yep. Also the SR300 RealSense cams are **** right now too.

No update found. 950XL RP.

Fix navigation bar error for Lumia 635. Thank for that.

My 950 still can't find my DT903.

W10M Edge scaling (on some web pages) issue still exist after update. Was hopin' that would get fixed. Maybe next rime.

Hey did the mobile update take anyone else 5 hours to download

Took about 30 minutes start to finish for me.

That's bull I'm still at 42%

Honestly! It was done in 30 min. Restarting finished in another 30 min. Something to di with the wi-fi. Was unusually faster at the time.

I wonder if this fixes the Outlook live tiles not working? I already did a recovery but same problem

1. Downgrade your device by means of Windows Device Recovery Tool
2. Set up your mail account
3. Upgrade your device via WiFi
4. Tiles will work fine. I did that a few times. Worked for me on L 930 and 950

Downloading to my elite X3and SP3 now

Nothing yet. Production. 950 XL :(

Nothing showing up for me either Production 950XL.

My Lumia 735 still shows my phone number is unknown! What is MS hiring for mobile programmers?

Nice stability update, battery lasts longer as of now. Let's watch how it behaves in a week Posted via the Windows Central App for Android %)

Had to swich from release preview to production and showed up to me. Lumia 950 Estonia. Installation took about 45min...

The update gets stuck at 96%

mine is preparing to install, but the download took aprox 5 hours

Trying to get my clean installed 14393 build to 14942 but I'm getting 0x80240439 errors. Thought this cumulative updatre would've fixed that but it didn't.

When you will fix the facebook offical app that always crashes and make the phone restart? it is probably due to the OS bug of win 10 mobile

if you have fb app in sd then move it in mobile. you should be fine.

Does it fix scaling bug on Lumia 635 636 638...??

I got it today morning. Nice clean and fast install..!! :)

Got it in my L550, working smoothly....

The last mobile build made my Lumi 950 XL cripled with many problems, hopefully this does fix most things..

actually seems faster
Onetouch Fierce XL

can't windows mobile update a restart and shutdown instead of pulling out battery even other phones that have their battery in built too please we all need it lets not pretend

To restart your phone just simply press the power button for 10 seconds.
Once your phone vibrate it will restart.

Rotation lock broke again....

its off topic but can i still upgrade my lumia920 to windows 10?? tnx

Sigh sadly just by a hack

Download the upgrade advisor app from the store till tell you

Yes but only through signing up for Windows insider program. When you do it'll only be the TH1->2 builds nothing beyond that, so you'll be missing out on the Redstone added changes. If you know how to go into device system core and make changes to allow your device to receive the RS builds then go on but right now the L920 can only get the basic Windows 10 mobile OS.

It's possible. But I'm not sure it's going to be easy or free.

950 XL DS USA production 14393.221.... STILL NOT SEEING IT.

I just got it a few hours ago USA

On production? (non-insider)? Still not seeing it.

Does 14393.321 allow the Band app to run on the BLU Win HD LTE?

Just as I was going to ask why us on RP aren't supposed to be getting any of these builds/updates sooner than the Production/RTM guys, then boom! I'm now downloading it on L950XL. Yippee! Botswana, Africa.

am I the only one experiencing this, when I take a screenshot it is taken twice sometimes one with a shade of blue and it also opens windows feedback?

Honestly I'd like if MS was able to find a way to show the amount of people expressing same distress with same bug. That way we'd see what's the most pressing issue and be able to see how MS goes about solving these issues compared to if they mainly address what they think is necessary and not what the consumers think is necessary. It should also take account of everyone running this OS and not just the English speaking folk.

I can say this is very good build on my 640 xl

I've done Insider previews for a few years, and now I can say staying on Production will be me for the foreseeable future. Using WM10 on my primary device just caused too many problems that required me to keep doing master resets on my phone. WM10 Prod is actually very stable now, and I haven't run into the issues I did with beta builds. Yes, that's the definition of how development works, but I like my production Lumia 950. Good call. :)

I was on fast for my main phone for a LONG time (and my dev phone was on production for testing apps on the current build) but I've switched their roles for now and taking a break by moving my 950 to the RP Ring. Based on past builds my observation is that for a certain amount of time the Fast Ring will actually be MORE stable than the Slow Ring, but eventually a build will make it to slow with pretty much hardly any bugs. Early on, I don't think slow is worth bothering with you could go a couple of weeks without fixes, at least on Fast you get a build every week or two once they get past the Core changes.

Addressed issue in which setting up both fingerprint and iris recognition sometimes causes the sign-in to fail on Windows 10 Mobile. ? is this what's addressing the black screen bug when unlocking the device, or is this something different?

Narrator remains the same on the latest build; the worst screen reader on any platform. Poor compatibility with most applications and no new language support. And it is very sad that Microsoft don't want to improve accessibility on Windows 10 Mobile.

Great, another update in 2 weeks that can't be installed.. Undoing changes... -.-'
Really?

I don't see any changes in my L730 mobile. Got tired of it. Is it end to the customer mobile market ? Can anyone pls check that battery drain issue when we soft reset the mobile ? I am loosing atleast 5-8% of charging when I soft-reset my mobile..... when switch off and switch on the mobile it doesn't drain anything. Few people r saying its OS issue and someone suggested to change my battery. I searched everywhere but didn't find genuine 2200mah Lion battery.

downvoted for asking a question ? F**k fanboyz. U F**kers made win10m just a crap

downvoted for asking a question ? F**k fanboyz. U F**kers made win10m just a crap !

downvoted for asking a question ? F**k fanboyz. U F**kers made win10m just a crap !

This app crash is os problem or app problem?? My contacts crashed 2 times

My asphalt 8 crashed almot every time

Maybe you should reinstall to see if that helps.

Its OS problem, recently I switch back to win8.1 for few weeks and never faced any crash issues... i play games a lot

"Addressed issue in which setting up both fingerprint and iris recognition sometimes causes the sign-in to fail on Windows 10 Mobile." What Windows 10 Mobile device has fingerprint recognition?

App scaling problem are finnaly fixed! Lumia 635 512MB

But still no fix for the AU breaking the ability to sync to a work Exchange account?

Best ever update for lumia 1520 and 640xl battery improve & less heating and very fast too...working perfectly with facebook beta no need to restart after update

Will finish update when I get home from work.Hopefully it fixes some rendering problems in Edge.

My L950 still running HOT and draining battery as hell.

Not normal at this point... I'm insider and get less than 1%/hour when dozing and with intense use i have full day battery with about 20-30% by the end of the day.

don't play any games, don't make any calls/SMS, don't listen any music, don't watch videos at all, that makes windows 10 mobile run atleast 12 hrs without charging...

can't windows mobile update a restart and shutdown instead of pulling out battery even other phones that have their battery in built too please we all need it lets not pretend

Should we do a hard reset after install, or should it be ok on Lumia 950xl?

No reset required. This is a comulative update which release once in every month on tuesday so why to reset everytime

This latest update has made me love my phone and OS again. I can honestly say that it does in fact feel faster and I haven't experienced that annoying black screen unlocking phone bug as yet. Instagram opens faster coupled with its latest update. Waiting on FB to join in. Here thinking if MS can make this OS fly on my 950xl and this is still only 32bit, I don't know if I will be able to control the 64bit version come RS2 if MS follows through on making us get it then next year. Enjoying the ride though bumpy, can't see myself jumping ship just yet.

I wonder if someone can help me. Since some update I cab't find this option to keep my text messages (sms) not visible when my phone is locked. It is big issue since Im getting confirmations from my bank via text messages and anyone can see it without entering PIN code. If you don't know what Im talking about here is article on topic http://www.windowscentral.com/windows-10-mobile-grabs-private-notifications I need to keep getting notofications about sms but I want to show their contents as PRIVATE

Hi Jan dezzer, go to settings, display notifications, scroll down to messaging, there is a tab for keep notifications private on lock screen -- hope this helps

Could you take a look on my settings, I've switched from my native lang to ENG and Ive set my settings according to your advice http://imgur.com/a/RyVwo

multitasking seems a lot faster. Enjoying this update.

This update fix the screen scaling on my lumia 636. Wohoo

Too expensive, even being a enterprise oriented product there are a lot of day2day regular user cases where this product can fit perfectly. Once matured of course. In any case we will get more options hopefully.

For all the stabilization improvements that's been happening since W10M, what I would love for MS to return and can't for the life of me fathom why they would've removed this but BRING THE BATTERY LEVEL BACK TO THE GLANCE SCREEN!!!!!!!!! Whether on charge or not. WTF MAN!!!!! Could even show it as a % instead of the icon, At least you would know where you're at if you're about to update and you're below the 40% mark at least on charge you'll see when you're go to go.

Why my lock screen wall not covering full display in my lumia 640 LTE. Its just covering till the navigation bar and when i pulled down the bar its become as a black blank.. Help me..

Stuck at 95% download for 6 hours and counting.

Anyone know how to set a metered connection on Windows 10 mobile??

Settings, network and wireless, data usage. Set limit. Hope that helps.

Hello. With this cumulative update I don't see any improvement in my 640. Reading this WC through the app, looking some photos, 5-6 minutes in WhatsApp, check some new mail in linked inbox, drain some 4% in 10 minutes at "3G only" mobile data connection. Brightness set to "Low" and "Battery saver" enabled. And phone overheats... This did not happen before the AU. Hard reset required??

Seen my battery drain more on this new build, having to charge my phone twice a day before it could comfortably go all day

Not able to install it on Build 187. Keep getting the error "We Couldn't Complete the Updates, Undoing the Changes." Any suggestions? I tried searching for the 14393.222 KB install file, but cannot find it. I have tried installing 14393.321 via WU and via the Cumulative patch file. This is damn frustrating.

Not sure about anyone else, but I got this update and it's made my 950 XL worse! - Glance no longer works (it's enabled)
- double tap certainly doesn't (not too bothered to be honest)
- When calling, the screen is all black for 10 seconds perhaps, in order for me to see the screen, I need to press the power button to off then on
- Camera button doesn't work unless I have the phone unlocked (even though it's enabled) I didn't have any of these issues prior to the update, I am getting very annoyed with basics not working, it's always something with the Microsoft phones. I've tried and tried to stick to it but I am getting fed up, quality control, scrub that, control is absolute rubbish from MS! Can't be resetting the phone back to factory defaults all the time which is what Microsoft would no doubt recommend, it's time consuming! Is anyone else having these issues with this latest update?

Updated my 950 U.K C.V to this build, can say it's made my phone worse too. Lots of random reboots, lagging keyboard inputs and feels generally slower

This update messed up my phone real bad

I updated my 950 UK C.V with this build too, looks like my phone has gone crazy with the random reboots. Laggy during keyboard input and don't see what has really been fixed.

What did it do exactly? I updated my 640XL and 550 with no issues.

Still up and running correct. Getting bored waiting to read about new builds and RS2 new features that actually say we haven't forgotten you (consumers). Right now most exciting thing is checking store to see what apps get updated.

OK. This is for those having problems installing .321 after the .222 fiasco. Since no one here has figured out how to install .321 when having problems, I have found a way. I was going from .187, and all I needed to do was to download Media Creation Tool, download the Windows 10 package, and select Update and NOT Clean Install. Make sure you DO check for updates, or you will get 14393.0. After the upgrade, I am sitting on .321. Again, thanks to no one out there. You have been a big help.

Windows 10 Mobile (10.0.14393.321) stuck at 89%. Hello All,
Hope I can get some help here, or pointed in the right direction.
Recently upgraded my Lumia 730D to Win10 mobile. I ran an update check and tried to download and install available update Windows 10 Mobile (10.0.14393.321)"; but this gets stuck at 89%.
I have 1gb space available on the device memory. Appreciate your help. Rgds Tony

Is MS finished with developing more builds for RS1? Since the .321 production update, haven't heard a peep about any new builds in RS1. Was wondering if they've finished with that and only working on RS2 builds or are we still going to be getting more CUs for RS1 until the official release of RS2?

Correction, unlocking bug has returned. It now takes a few days to return but it's still there. Hoping MS can eradicate it in next production update. This bug is very annoying.
Windows Central Newsletter
Get the best of Windows Central in in your inbox, every day!
Thank you for signing up to Windows Central. You will receive a verification email shortly.
There was a problem. Please refresh the page and try again.