Microsoft pushes Windows 10 cumulative update 14393.321 for PC and Mobile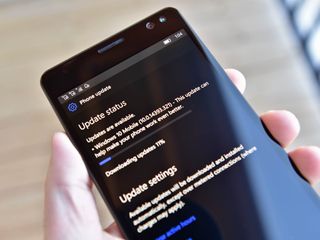 Today is Patch Tuesday and as such Microsoft is pushing out new cumulative updates for Windows 10 PC and Mobile.
Update: As of 1:30am ET we can confirm that Release Preview for Mobile is now getting the update too
Build 14393.321 is now live for those on Production (non-Insiders) and Release Preview (e.g. no Slow or Fast Rings) and with it comes new fixes and improvements.
The PC build is listed under KB3194798 during the Windows Update process.
Update: More about the KB updates:
KB3192440 (for RTM)
KB3192441 (for 1511)
KB3194798 (for 1607)
There also seems to be some bifurcation with Release Preview on PC getting a cumulative update while Windows 10 Mobile does not.
Changelog for 14393.321
This update includes quality improvements. No new operating system features are being introduced in this update. Key changes include:
Improved reliability of Bluetooth and storage file system.
Addressed issue causing printer drivers to not install correctly after installing security update KB317005.
Addressed issue causing sign-in errors if a password is entered incorrectly or a new password doesn't meet password complexity requirements after installing security update KB3167679.
Addressed issue that required users to log out and log back in before using the application they installed using the Windows installer (MSI).
Improved support for networks by adding new entries to the Access Point Name (APN) database.
Addressed issue that was causing excessive battery drain on Windows 10 Mobile when connected to Wi-Fi.
Addressed issue in which setting up both fingerprint and iris recognition sometimes causes the sign-in to fail on Windows 10 Mobile.
Addressed issue that was causing high CPU usage on Windows 10 Mobile.
Addressed additional issues with multimedia playback, revised daylight saving time, authentication, Internet Explorer 11, and Windows Shell.
Security updates to Microsoft Edge, Internet Explorer 11, Windows registry, and diagnostics hub.
For more information about the complete list of affected files, see KB3194798 (opens in new tab).
Daniel Rubino is the Editor-in-chief of Windows Central, head reviewer, podcast co-host, and analyst. He has been here covering Microsoft since 2007 when this site was called WMExperts (and later Windows Phone Central). His interests include Windows, Microsoft Surface, laptops, next-gen computing, and for some reason, watches. Before all this tech stuff, he worked on a Ph.D. in linguistics and ran the projectors at movie theaters, which has done absolutely nothing for his career.
I installed this and my phone exploded. My phone is Samsung Galaxy Note 7. Help! What can I do?x

Nothing it's too late now

Dammit, Jim! I'm a doctor, not a computer programmer!

Did the phone wear a red shirt?

Just like Windows 10 Mobile Phones.... dead.

Try drilling a 3mm hole into it to unexplode it.

I'm pretty sure he should've done that first to relieve the pressure.

Did you try turn it on and off

Did you try turn it on and off

Put the smoke back in and seal with superglue. Explanation: Your phone works with smoke and hot air. The moment the smoke and hot air gets out, it stops working.

did you forget to charge it in the microwave first?

He can't, his phone exploded. =P

"I know! You construct a weapon. Look around you. Can you form some sort of rudimentary lathe?"

"A lathe? Get off the line, Guy!" :-)

That lines going to annoy me. I know it, but I can't remember where i know it from

They should have the ATIV version of the GS Note 7. With Continuum. That DOESN'T EXPLODE!

That would be insanely awesome, just like a flagship Nokia device running android

sing the song that Sam Sung, its the last funeral.

You can do HaraKiri to keep company to your SGN7

In that moment you know that you prefer to have a power brick like Xbox One and if explodes you only replace the power supply haha

Up, Up, Down, Down, Left, Right, Left, Right, B, A, Start

Beautiful :) Konami Rulez! still

Damnit! It was supposed to be two players, you forgot the select button!

Exchange it for another one...:|

We all know you are making things up as Android doesn't get monthly updates like this!! ;-)

Downloaded and installed! actually this is the first upate after the AU that fixes bluetooth sync issues with my Fitbit alta. also, the bluetooth button in the action center works normally. Double tap to wake is also faster. I'll have to wait and see if this also fixes the blank screen problem when turning on the screen. vpn store apps still dont work like hotspot shield

Were you having issues (that never happened before the AU) with the screen going dimmer like it was adjusting to light but not brighter after covering the sensor? I'm wondering if this is somewhat common. Haven't had a chance to check the feedback hub.

i only get this problem with the blank screen problem

I've had that problem in the past haven't seen lately however.

I encounter this when I set brightness from Suggested to Dimmest. After switching back to Suggested, I have to toggle the power button to turn the screen off and on to make the brightness change fully take effect.

Yes I had the going dim on & off for a couple of days, on 650 W10M

Do you still have issues on your L650?

I've had this problem since installing Win10 on my L730. It seems that the gamma is either too high or too low after unlocking the phone. Re-locking the phone fixes this. This happens once every 10 times. These days a similar problem happens in my HP laptop, with the screen gamma turned up when i unlock the laptop. it gradually returns to normal values in a minute.

This is very much common. Have this on a 950XL, 650, 640.
Brightness goes down randomly on the AU.
Solution is - Hold power button down till slide to turn off screen is seen. The brightness goes back to normal. Slide towards the top to not turn off. :)

I will try that out, thanks

I have seen the dim screen issue on my 950 on a recent AU build, and ALSO the blank screen. The Dim screen seems to be fixed for me as of late and the blank screen was always fairly rare for me

I had been having that issue with the screen not getting bright / staying very dim on my L959. Have not had that problem with my L650

Thanks for all your responses everyone. My issue was on a 950XL and it didn't happen at all till around the AU. Simply turning the screen off and then on solves it, and it does seem to be 1 out of every 10-20 times. Really need to search the feedback hub and upvote thus issue.

It's there in the feedback hub and I've even mentioned this to Jason (@NorthFaceHiker). Got a reply too. They weren't aware of this then.

Nothing here... 950XL Production

Just finished downloading it on My 950XL and finally the double tap to wake is more respnosive than before :D

Any chance they fixed glance not working for a crap om the 950XL? Down with Nutella

Until Swiftkey is their keyboard (they own it now for crying out loud), repeating notifications, and custom reminder delays are all in the changelog, I'm still not switching back. I tinker with my 640 on production ring, but not sticking with it a daily driver for these reasons.

On RP with both Surface Book and Phone. Surface is downloading, phone does not find.

Bit confused... I am not on any of preview branch.... still, I am receiving this update????

This update is for everyone. It's Patch Tuesday!

You will get updates like this every month. :) It is like a maintenance update for PC's.

Downloading. Hope a fast ring will come today too

How'd you like fast ring in your primary phone? I'm eager to do that, is it safe?

Better pick slow ring, or release preview.
Fast ring has lots of bugs and less stable.

Wow, it seems like every time I buy a Lumia, an update appears soon after. Only had this Lumia one day.

what is yur new device? x3?

Nope, Lumia 550. The last time, I had the 950 for maybe 2 days before the Anniversary Update dropped.

Ah, the famed Lumia x3 :D

Haha. The Elite x3 seems like a very interesting phone.

Yes, because you buy it the second Monday of the month.

Nah, both have been by chance. I actually bought the newest one with the b&h deal last friday. It just came yesterday.

I hope this fixes the 0x139 crash with Centennial apps.

Hope so my laptop is suffering coz of this error

If they aren't releasing to Slow Ring, are they getting ready to move Slow over to RS2?

I thought (could be wrong) that slow ring went to RS2 last week.

The Mobile slow ring is still on 14393, shouldn't they be receiving this update as well?

Downloading on my tablet nothing on my phone both on release preview

High battery drain and cpu usage, thank you. Hope it shows up in update soon.

Yeah! Was about to comment about this now. I just went back to 8.1 yesterday in my 930. I think I will stay there for 1 or 2 more days

Sounds like this could improve my L950 battery life. I would not object to that . Assuming it shows up for us on RP anytime soon. It was a couple days later for me last time.

Don't we have specific change logs for mobile these days

Why would we? It's one OS. See the changes for mobile in the posted changelog.

People usually complain about lack of change log, funny how now its switched to "can't we have a separate change log?" Lol

Its not one OS. You cannot buy the windows 10 disk and install it on a phone...please stop saying that...they are similar...but far from one OS. If it were one os, you could use x86 programs on your phone...

So, because you can't use 64bit programs on Windows 10 32bit, you're going to claim that Windows 10 32bit and Windows 10 64bit is the same OS? It's a different architecture, that doesn't make it a different OS.

Actually, it does. The 32 bit and 64 bit versions of Windows are different operating systems.

Nope. They are the same OS compiled two target multiple processors.

64 bit runs 32bit as well,

Does anyone have a problem accessing glance screen under extras', I'm on the Lumia 640 LTE

Yes, you can uninstall that.
The new glance option is under Settings > Personalisation.

Bruh have you heard of one core? where mobile pc builds and now xbox updates go through too? they have the same core... just minor tweaks since its ARM and cant do everything!

Minor tweaks... and desktop version is 4x size of the mobile os because minor tweaks?

I agree, all I was saying is mobile has particular issues which are better explained in a separate change log. PC doesn't bother me as I hardly use mine. I use my phone everyday so just want to see what's been done. An issue with my ringtone stuttering when I get a call for example won't be an issue on PC

You have a 640 don't you?

True that! One core and same OS are different things!