Microsoft releases first Windows 10 'Redstone 2' build 14901 for Insiders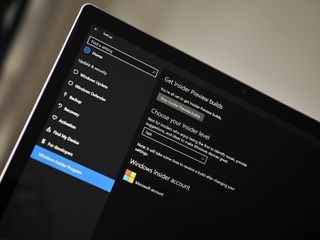 Hungry for a new build? Microsoft has just began rolling out the first Windows 10 'Redstone 2' preview build for Insiders on the fast ring for PC, packing a whole load of minor improvements and changes over the last public preview build, which was the Windows 10 Anniversary Update RTM.
With today's build, Microsoft is kicking off a new wave of Insider releases, as 'Redstone 2' is set to be the next major update for Windows 10 coming in early 2017.
Here's what's new:
Improving Product Education: As part of an effort to explore new ways of educating our customers on features in Windows 10 – we are testing out new notifications within File Explorer. They're designed to help customers by providing quick, easy information about things they can do or new features they can try to have a better experience with Windows 10. If you want to opt out of these notifications, you can do so by unchecking 'Show sync provider notifications' from the Options menu in the File Explorer View tab.
Here's the known issues:
Support for kernel debugging over 1394 has been removed, but will be available in an upcoming kit release. A work-around will be posted to the Debugging Tools for Windows Blog shortly.
Adobe Acrobat Reader crashes when you try to launch it.
The build has just started rolling out now, so if you can't see it yet don't worry as it's likely still propagating throughout Windows Update servers. Make sure you're in the fast ring too, otherwise you won't be getting these new bits.
Windows Central Newsletter
Get the best of Windows Central in in your inbox, every day!
Zac Bowden is a Senior Editor at Windows Central. Bringing you exclusive coverage into the world of Windows on PCs, tablets, phones, and more. Also an avid collector of rare Microsoft prototype devices! Keep in touch on Twitter: @zacbowden.
I don't think that these RS2 builds are a "reboot" as in previous new branches... I doubt they will ever be anywhere near as unstable as RS1 builds from earlier this year. I think W10 has passed that point, for now, until at least MS does a HUGE overhaul to W10. (Windows 10 Continuum)

I agree. I don't think people have too much to worry about if they stay in the fast ring.

I'm speculating that these builds are but a continuation of development on RS1, from the standpoint of relatively close branch builds....

New features can still be added without seriously breaking things around them.. But, there will be bugs, just like the RS1 release build has. No OS is ever perfection.

Although they have said they'll be doing a bit more improvement development on OneCore in the start stages of RS2, so it could be likely that it may be a slight more buggier than usual.. But yeah I don't think it will be as bad as the start of TH and RS1 development though

Really? I missed that part... Those improvements must be so that continuum works deeper, and to further solidify universal capabilities. Cool.

RS1 was a continuation of Windows 10... When you say "I think", I believe you should know a bit about the topic, because you are potentially making other people go to fast ring and maybe breaking their PCs. IMO it should be prohibited to have an opinion when you don't know what you're saying (read: basic research or some facts).

Which is why I say I think...which to me means I suppose. or I'm guessing. I have no authority here. It's not my fault if someone chooses to go to fast ring.

Everyone's entitled to their opinion...whether it be an educated one or not.

Sadly, which is why we have some abominations like Mr. T. Running for president.

Haha. Lol...Neither of the candidates are worth voting for this election in my opinion. But that's just me. Glad we still have the freedom of speech, religion etc etc etc though. Anyways....waaaayyyy off topic

Since you drove it off topic anyway...Johnson/Weld 2016 :)

I would pity the fool that didn't vote for Mr. T.

I agree until the "it should be prohibited to have an opinion when..." No, it should never be prohibited to have an opinion, both because such a thing would be utterly unethical, but also because it's completely impractical. You can never, ever stop someone from forming an opinion, no matter what you do. All the laws in the universe could never achieve this. :P

Can you enlighten everyone on the facts then? I'm seriously considering pulling out of fast on my SP2, but based on what most are saying, things should be ok with this new transition. Obviously always a chance MSFT could break everything, thats the nature of this beast, but if you have actual facts, please share them in your reply.

The truth is that noone knows what will happen, including Microsoft. They are making changes to the Core of Windows and it's very easy to break something in there that probably would have an impact in several parts of the OS. If something happens there, I wouldn't expect them to fix the issue very fast, in fact expect them to fix it when they finish their work on OneCore, because it would be prone to breaking again as soon as they make more changes. In short: Every time you start refactoring and expanding code, you will break stuff that wont be fixed until the end phase of the refactoring. If you don't want to lose time with setting up PCs, you should stay out of Fast (or even Slow) ring, until at least they start working on new high-level features.

Ok, so then everyone can still be entightled to their opinion. Whether it be a MSFT employee, a tech writter or an enthusiast.

It's not about having an opinion. It's good that everyone has an opinion, but at least if you want to say something you should be able to stand behind what you say. And have a reason why you say something. Not like "I think we should give dolphins a phone because they like it". Do I know if they like it? No. Is it probable? No. Will anyone listen to me, if I write this in a dolphin forum? Probably yes and some people will start throwing phones into the sea. Outcome? Bullshit.

The fact that I'm not the editor of a major site, or don't claim to have any insider affiliation, or factually knowledge, renders me free of any responsibility/liability that you might be suggesting.... IOW, readers can take my pure speculation at their own risk.... So, I disagree with you, and this is America. We have the freedom to express our opinion without being "prohibited" because we may be wrong...

Exactly. The freedom of speech (including forming opinions) is a basic human right, and not just in America, but in most of the world's countries. Anyway, I'm going back to release preview now. And why? Because I want to do it, and not because someone here said that he/she thinks that fast ring will be unstable in the near future. If I'd listen to any opinion, I'd have an android phone or an iPhone now instead of my beloved 535 (and 950 XL too, soon) :D

Maybe, but it might be wise to step back to the production ring or slow ring temporarily until we get a solid idea of how stable these builds will be. Both the original release of 10 and the Anniversary update had serious stability issues early on. If you're using it on your main PC, best to play it safe for the time being.

Nah, I'm going full speed ahead with fast ring on my main PC. I like living on the dangerous side :P

They are working on The Core (this name makes me think of the horrible movie) though. At first these builds could be very buggy.

Yeah; Windows has a *lot* of low-level things that could still be worked upon (besides OneCore) and low-level changes mean bad bugs! That's a good thing, however, and generally make the OS stabler, cleaner, and more efficient in the longer run.

I actually liked that movie. The science behind it was more original than most post apocalyptic movies even years after it. Posted via the Windows Central App for Android

Perhaps...however after RS 1 early builds I think I will be a spectator for a bit. Wait for a feature that will work for me in my day to day.

That's the wise thing to do, especially on your daily driver. It's one thing to go fast ring with a PC that doesn't really matter, but for a mission critical device, cooler heads (and insider rings) should prevail :P

Phone wise, I still get that niggling feeling that despite adding new bells and whistles, something is going to get tweaked and we're going to see that overheating, fast battery drain problem at some point (or two). Of all the minor annoyances that eventually got ironed out, it was still that battery issue that always made me need to dramatically adjust the way I used my phone.

Good stuff Posted via the Windows Central App for Android

Soon to be posted from your shinny, red carbon fiber incased, X86, 41mp, Surface Phone Pro.

Man, a 6.2" Surface Phone "Pro" would be able to run full on PC, and Xbox games.. Game Killer!

You'd like to carry such a large phone?

You'd like to carry such a large phone?

I would! :) Posted via the Windows Central App for Android

Lol. Hellz yas.... The way I see it, the 1520 had a 6" screen, and was a beast of bezel's, and girth... If they could slim down the hardware there is no reason they couldn't fit a 6.2" screen in a 1520 package.... So, yes. Being a 1520 owner for 3 years I would.

Damn... Turned my PC off an hour ago... Will fire it up in the morning hopefully before work, will be nice to have a preview watermark back , looks odd without it now

You can remove the watermark on preview builds with http://winaero.com/download.php?view.1794​. Just so you know. I prefer a clean desktop even while I'm testing a new build.

He wants to have the watermark back, can it also bring the watermark back?

Use paint to modify your wallpaper.

Thanks All - I must be Sad as I want the new watermark, not one added by myself :D

I'm going to stay away from insider this time. Unless some insane feature comes

Didn't you see the toggle for Insane Ring?

I'm down for insane ring haha

Bring on the Insane Ring!

Like a public canary ring? :D It would be really really insane :D

I will defo wait a bit to see how stable these early builds are before I jump in. I'm anxious to see what new features are rolled out eventually.

Yup, sticking to Release Preview for now. Can't Risk it.

Not appearing yet here....

Switching to slow, final exams for two weeks :'(

Switch to release preview or drop out of the program then. It's not worth the risk or hassles. I waited a year for Messaging Everywhere and they took it out. The one thing I wanted.

Staying in fast will be downloading to my laptops edit read the part where it will take awhile to show up on update

Glad I got out, before they pulled me back in...

see Dan? he used "RTM" here

So you're seeing everything?

Can someone tell me how bad that adobe reader crashing?

I just switched my PC to release preview because of this bug. I need adobe to work.

Try using Edge or Nitro Reader, they do the same (except for Edge, it can just view and print PDFs)

Agreed. That's why I'll pass on this build. I need that Adobe Reader app as well.

I've been using Drawboard (which comes with all current Surface iteration I think). It is a better reader than Acrobat and has good annotation tools.

Not really. For me, Edge or Nitro as PDF Reader can do things too.

Should we expect relevant features for mobile or Microsoft would focus on continuum integration mainly

I would be okay with just continuum improvement. It really is a great feature that makes them stand out but it needs work.

I was off of the Fast Ring updates for the last month. When I just switched it back, I am not getting updates. Anyone know how to force the update?

Nothing to do, just wait for a few hours to get the updates. :)

What's the consensus? Stay on fast ring or hop off? I don't mind a couple of bugs but major bugs, I can't deal with. So far, fast ring has been smooth on my SP4 for me since I joined a few months ago. What do you guys think?

I would stay on Slow, as both of my devices are being used for production. If you want to stay at getting the newest features, go ahead to Fast ring.

I hopped off the fast ring, stopped Insider Builds completely. My SP4 is my daily driver and I don't want to take any risks. I'm liking how smooth things are now. Maybe I'll re-join a slower ring down the road. Thanks for the insight, everyone.

Just like Win98 was built on Win95.

I got a chuckle from "whole load of minor improvements and changes" written in the article. Haha. Dunno why, it just seems funny to me how it's worded.

No update showing up yet on my SP4.

hmm im still in fast ring and nothing yet...

Nothing here, either. Must be coming on a slow boat from a far away place.

Being delivered to you fresh from Antarctica!

I am getting a "problem installing updates error" 0x8024402f ? In Australia btw UPDATE false alarm, a windows update trouble shoot fixed update but it was only the 1/8/16 hardware update going back in after I did a clean install 2 days ago.

thx Zac
with onecore and uwp being the focus these changes will be hard to see... hopefully they give a more detailed list as it won't be obvious. lol still expect to see you over on wb....do you have a new weekly cast?

Its downloading now. I hope it doesn't break too many things especially Microsoft Edge. I'm falling in love with this browser since adblock.

I'm getting crashes with AdBlock Plus which forced me to uninstall it. What bugged me is the 'subscription storage is full' error, though it's just newly installed there... weird bug.

I'm using it now and my ad block plus extensions are not causing a problem for me so knock wood. But Edge ain't half bad doing most things lately. Maybe an uninstall, reboot then reinstall would resolve it.

More tips? This will surely piss people off. :D

Fast ring will be buggy at first. So what? That's what virtual machines are for.

But not for this RS2 phase. TH1 and RS1 are very buggy at their first preview release.

That's why you should put it on a virtual machine.

I'm sure some cheap tech media site along with some Linux vagabond will fret over that notification and will report like 'Windows 10 will now show Ad within file explorer'

Although this sounds ridiculous at first, but sadly, it is possible :/

I'm ready for messaging everywhere to come back...

Not Getting this build in the UK yet

What can we users do or say to get messaging every ware back? Please?

We can wait for the functionality to be delivered in the Skype UWP app. Easy as that.

Hello I didn't get windows anniversary update in my Lumia 730 when i get it?

It takes few more weeks, no wonder if it is postponed for few months. MS only care about insiders who test their software for free..... Non insiders are no use for them, just buy a phone worth of $500-$600 and suffer

There is an article in MSpoweruser which quoted Donar Shakar one of MS head of insider preview stating that they are working on it in a fast paced manner to destroy remaining bugs to make it efficient.They say it is almost ready for release,so I think it won't take months maybe a week or so.

Those are just excuses. You are too naive to believe them. Jumping ship is the only option. Sorry.

one of my friend was about to purchase iPhone 6S but I convinced him and made him to purchase L950, now he literally started scolding me for getting him a buggy phone, too many bugs, he thought I had a grudge on him lol.... i said to wait until AU and see. If they are going to release buggy OS for AU I am dead... hahahaha

Geez next time let him use a loaner device what a waste. Posted via the Windows Central App for Android (LG V10 or Nexus 5x)

I absolutely never recommend Windows phones to anyone. I recently gave my backup 640 in new condition to my daughter but only because she has had several Wphones over the years. She loves the 640.

Watch out for the sharks if you're jumping ship. Hope another ship comes along soon to pick you up

Ok bye :D No one will miss you here :3

I think Daniel Rubino retweeted a tweet which said the similar thing.

I would be glad when Microsoft can just scale the entire Windows down to phone level and leave mobile for 4" screens and smaller. By doing this we could have alot of more features and stay in sync with the desktop

Yuck! That does not sound like a good experience to me. Why should mobile be for 4" or smaller screens? You can't do much on a screen that size and having full windows on a 5.7" screen (for example) just sounds like a disaster waiting to happen. I'm having trouble seeing your reasoning here, maybe give a little more info on your thinking?

Take the blue pill. That's a rabbit hold you'd want to avoid

Just make explorer universal app.

Will I get it on my phone? Currently I'm on 14393.63... Plz tell me

No they said in the article phones are weeks away.

There doesn't seem enough here to justify jumping on the new build. I'll wait for the next one. Sounds like that's when the fun really starts.

Before India, most likely

as normal, win10mo later...

Been smashing the "Check for updates" button for last few hours! Still no updates for me in the Fast Ring!

Been smashing the "Check for updates" for last few hours. Still no updates for me in the Fast Ring!

Been smashing the "Check for updates" for last few hours. Still no updates for me in the Fast Ring!

Looks like you also have been 'smashing' the send for a long time for you to have posted the same comment thrice.

I am on Fast ring and I used to get all builds but no build showing up for me now.Any ideas?

lol, that's a network issue I suppose.

can i download this 10.0.14901 from media creation tool ??? or can i dwonload this updtae from MS Insider previuew website ??? help me

I doubt they are releasing an ISO of this build already. It usually takes awhile for them to release ISO's and usually more stable builds only. This one I'm going to bet will be through Windows Update only.

Where is mobile update guys

Mobile update will available after a few weeks.

What the f!!!! Did u just show us a video promoting a watermark?????!!!!!

It still sounds odd to hear your "Hey there guys Zac here for Windows Central and welcome back to another video" instead of winbeta :P
Anyway I love your voice ! :)

I have stopped RS2 builds on my main phone lumia 950 XL. Even on my Asus laptop have I stopped preview updates. RS1 is very well working on both so not intersting in lags with new builds. My lumia 1520 though got fast ring enabled.

Unfortunately, no new build received today for me on my Microsoft Surface Pro 4 with version 1607 and OS build 14393.67

Same here. Nothing available.

Updated today since I live with my toes hanging over the precipice. So far no issues on my SP3. But really have not run it through any serious work yet.

Any one tell me when anniversary update for mobile come ......?? Posted via the Windows Central App for Android

And it continues. Glad to see Microsoft as pumped up about insider program as us insiders. Hope that excitement will transfer to mobile, xbox and other skus as well.

Is the UK getting this as on SP4 it still hasn't shown up.

Windows Central app doesn't work with this new build Posted via the Windows Central App for Android

Facing more issue with this update. Settings app crashes continuously, brightness button not working either through action centre ot settings app. Tying to go back to previous build, but again settings crashes when I try.
Windows Central Newsletter
Thank you for signing up to Windows Central. You will receive a verification email shortly.
There was a problem. Please refresh the page and try again.