Microsoft releases script fix for Windows 10 PC 14393.222 Insider install issues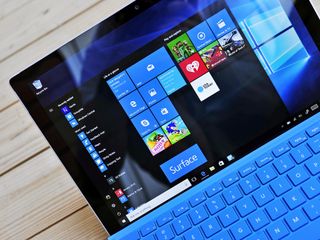 Microsoft has released the promised script fix that will hopefully solve the install issues that some Windows Insiders have had with the Windows 10 PC 14393.222 cumulative update.
The update was released last week, first for Windows Insiders in the Release Preview and later for non-Insiders but many people could not complete the installation process on their PCs. Microsoft's tiny (52KB) script fix (via ZDNet) is designed for Insiders who have encountered this issue without having to do things like edit their registry files.
If you have downloaded this script update, did this fix your problems with the Windows 10 install? Let us know in the comments.
Download Windows 10 1607 Script fix (opens in new tab)
Windows Central Newsletter
Get the best of Windows Central in in your inbox, every day!
Ran the fix script and my Surface 3 W10 Insider Release Preview now (finally) has successfully installed the KB update to xxxxxxx.222

Yes it worked! Installed fix on Lenovo z50-70.

Wonder what bad news today will bring. Something promising? Hopefully.

hopfully the announcement is they will release windows 11.000.8.1. the last last windows you will ever need. with improved touch functionality, stability and a new metro UI interface. ;-)

What's it to you if they do, you don't use Microsoft products anyway!!!!!!!

They could fix Mail and the Gadgets app. They realy are making a mess lately.

Gadgets app? What's that?

Hi Dan! I just notice MS have made an impressive camera apps for iPhone. Is called Microsoft Pix. Please make a review for that.

Common knowledge. I think you'll find that the tech in Pix is actually included in the post AU camera app, although implemented a little differently.

Does that post AU means insider builds?

Anniversary update / Redstone 1.. Not insider preview...

Then I don't see same features like in Microsoft Pix, like selecting best picture

Worked on my Surface Pro 4 and desktop. Thanks!

Worked for me. Lenovo Thinkpad Yoga S1.

Worked.. Trusty ole Asus x44h

No change - my Asus gets to Working on updates 87% and then freezes (have done fresh install and still not able to update) my other PC and Laptop all ok.
I am wondering if this has something to do with my multi screen setup as the update process seems to jump from one screen to the other during the update procedure ????

You have a different problem.

Fix worked for me on my Surface 3.

Running this script finally allowed 14393.222 to install on my Onda V919 Air CH tablet (on slow ring).

Do they expect network admins to deploy this over hundreds or thousands of machines? How about a CU that simply works, without special extra steps required to get it to install. That would be a nice change.

How many network admins deploy insider builds to their clients in the first place?

Hmmm I thought I read on wc that 222 went to the public without a fix for this.. Maybe I was hallucinating or had a cold beer to many..

No it happened, my mother half way around the world that doesn't know a thing about computers is having this issue too.

Well if it's just the few who helped me with Insider testing, that's ok. But I was pretty sure I have seen this failure on machines that were never Insider. Maybe I remember incorrectly.

An average user will not download and install this. They should remove the 222 update and push this one first and then re-release 222 update.

An "average user" wouldn't have been in the Insider Program in the first place, so wouldn't need this fix.

This went production with the install issue brainiac, keep up...

What is with this "some" crap. Callahan apparently hasn't been keeping up with the posts on MS's forms, ad well as here. More than some. Jesus Christ!

Wow, this is an msi, that spawns a command script that starts a powershell script that uses inline c# to pinvoke native apis to change permission of and then delete 3 registry keys. Classy.

Never needed it on 4 machines that all updated just fine on their own. I wonder what people have done to cause this problem.

Joined the Insider program and used the Xbox App

Doesn't work on my HP Laptop. Gets to 100% then undoes everything.

I wish there was more detail on how to use this? I have 2 machines where the update is already downloaded but I have postponed the pending reboot. If I do this before rebooting should that work?

Yep, worked for me and my Surface Pro 1.

hmm is this build that important it installed alright on 2 0f my PC's but not on my laptop. if no fix came i would have stopped the fast lane builds and waited for the next build

I have now formatted disk and reinstalled W10 (14393) several times. Have run Fix but still 14936 will not install on my desk top It worked ok on my Laptop and another OLD PC but on my Desktop it gets to "Working on updates but completely locks at 87% every time. After manual restart it resets to previous version. Someone must know how to fix this???

LumiA phone are worst than Samsung s7 Posted via the Windows Central App for Android

This is a W10 issue not a Lumia issue. Besides, I'd much rather have a temporary update delay than have a Samsung phone exploding or catching fire.
Windows Central Newsletter
Thank you for signing up to Windows Central. You will receive a verification email shortly.
There was a problem. Please refresh the page and try again.