Microsoft is releasing an official Xbox Wireless Headset for $99, now available for preorder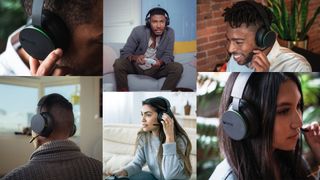 (Image credit: Microsoft)
We love headsets on Windows Central, reviewing dozens upon dozens for our best Xbox One headset, best Xbox Series X/S headsets and best Xbox One wireless headsets roundups.
One interesting omission from these lists in recent years has been Microsoft itself, who do invest a fair bit in headphone tech. Microsoft launched a wired Xbox One headset back in the day, and have a few related products available as part of the Surface line, including the Surface Earbuds and the Surface Headphones. Alas, Microsoft hasn't released a wireless headset designed for the Xbox Series S and Xbox Series X. That is, until now.
Say hi to the official Xbox Wireless Headset, which boasts some impressive features. Let's dive in.
Crazy value
(opens in new tab)
Official Xbox Wireless Headset
Best Xbox headset ever?

Microsoft has opened preorders for an all-new official Xbox Wireless headset, that boasts a truly impressive feature set for a $99 option. But will it deliver in reality? If Microsoft's claims come to fruition, this could prove to be the best-value Xbox headset in history.
An official headset with "best in class" audio
Swipe to scroll horizontally
Category
Spec
Freq. Response
Unknown
Compatibility
Xbox Wireless, Bluetooth
Usable with
Xbox One, Xbox Series X, Series S, Windows PC, mobile devices
Features
Auto-mute retractable mic, "best in class" audio, mic-monitoring feedback
Battery Life
Up to 15 hours battery life
A 30-minute charge provides up to 4 hours of battery life
A 3-hour charge provides up to 15 hours of battery life
Price
$99
Microsoft claims the new Xbox Wireless headset sports "best in class" audio and chat performance, with a goal of "bringing more value" to headsets in this price range. It will be interesting to see if this headset competes with comparable wireless Xbox headsets in the $100 price bracket, given that so many of them tend to compromise on quality to hit that price.
Although Microsoft hasn't yet provided any hard specs, it has given us a rundown of some of its features. Microsoft claims that due to their expertise with the Xbox Wireless protocol, they were able to fine-tune the sound delivery from the console to a degree that competing solutions aren't able to offer. Microsoft also seems to hint that it will be tuned for tactical play, emphasizing audio like footsteps to give you heightened awareness in competitive scenarios.
The Xbox Wireless Headset also puts a large degree of emphasis on voice chat, which is an area where many headsets even at higher price brackets simply fail at. Microsoft claims that its headset will provide "clear and intelligent" chat audio quality, with dual beamforming microphones that amplify speech and drown out background noise, using voice isolation technology.
The headset has an "auto-mute" feature that blocks sound when you're not speaking. It will be interesting to see how well this actually works in practice. Either way, Microsoft has included the ability to turn this off if it isn't up to par. There's also a physical mute button on the headset, and a LucidSound-like LED indicator on the mic to let you know if it's muted or live.
The headset will also sport around 15-hours of battery life, with 3 hours of charge time when not in use. I do wonder how much juice this headset will get in practice, and we'll be sure to test that when we get our hands on it.
Microsoft levels of design and comfort
Microsoft says it has invested a lot in the design and feel of the headset, with "ultra-soft" polyurethane leather, with an adjustable headband that aims for even weight and pressure distribution. Microsoft also says that the design is "intentionally understated," with subtle design cues and a green accent that align with the Xbox branding.
Microsoft emphasizes durability too in the product design, noting the metal interior of the headband, rubberized dials for ease of use, and rotating earcup dials, perhaps borrowed from the Surface Headphones design language. The microphone can also be tucked away when not in use.
The best Xbox headset ever?
If Microsoft's claims about audio and chat quality turn out to be true, this could prove to be the best Xbox headset ever. Perhaps most shocking of all, this headset also comes with Bluetooth connectivity, which is simply unheard of at $100. This headset could prove to be the most versatile of all products on the market, giving you connectivity to mobile devices, Xbox consoles, PCs, and practically any modern device you may want to connect it to.
Microsoft also notes that you can pair this headset to a Bluetooth device and an Xbox console simultaneously, mixing sound from two different sources. Many headsets that try this are in the $150 dollar range or higher, usually. The headset will pair with the Xbox Accessories app for configuration, with wireless updates from your console or PC.
The headset will roll out globally in all Xbox markets on March 16, 2021, with preorders opening up on February 16, 2021 at select retailers, including the Microsoft Store. I suspect this headset will sell out extremely well. So, if you're interested, be sure to preorder it right now.
Crazy value
(opens in new tab)
Official Xbox Wireless Headset
Best Xbox headset ever?

Bluetooth, Xbox Wireless, "best in class" audio, mic monitoring, auto-mute features, metal interior, and more. Microsoft's new official Xbox Wireless Headset boasts impressive features on paper, but will it deliver in reality?
Windows Central Newsletter
Get the best of Windows Central in in your inbox, every day!
Jez Corden a Managing Editor at Windows Central, focusing primarily on all things Xbox and gaming. Jez is known for breaking exclusive news and analysis as relates to the Microsoft ecosystem while being powered by caffeine. Follow on Twitter @JezCorden and listen to his Xbox Two podcast, all about, you guessed it, Xbox!
This feels like a gamified version of the surface headphones which is exactly what I've been wanting. Happy birthday to me.

Agreed. I bought SH2 several days ago and I'm wondering if I'm returning them now. I was looking for something for video chats and gaming and decided to go for SH2 but I find them uncomfortable (almost no padding hurts the top of my head). This new Xbox headset looks very promising plus wireless protocol and lower price, though probably worse sound and no ANC.

What would have been wild is if Microsoft designed their existing Surface Headphones 2 to work with their own Xbox...

Two thoughts: 1.) Do we know if this headset was made in partnership with Bang & Olufsen? They kind look like B&O design, and we haven't seen anything come from this tweet: https://twitter.com/BangOlufsen/status/1270356010943819776?s=20 2.) A lot of gamers have built PC towers without a bluetooth card. Can we get a piece from Windows Central on the best way to use this type of headset with a PC without built in bluetooth? Perhaps the best Bluetooth adapter?

I don't think this headset is made alongside B&O, since their headphones tend to be fairly expensive, like $500 USD+ I'm sure we'll hear more about their collaboration in the coming months

For this headset, it might be worth using a Xbox Wireless USB dongle instead of a Bluetooth dongle.

Good thought. I totally forgot about that. Thank you!

Would you happen to know if it will connect to the Surface Book 2 which has xbox wireless built in? It would be nice to use with my SB2 thru that and my cell thru bluetooth.

Split audio inputs is a plus. I don't do a lot of multiplayer, but I do tend to listen to podcasts while I play single player. Being able to not abuse my family's ears like that would be a plus.

Damn I just bought an audeze Penrose x, which I'm fairly sure the sound quality will be better than this, but the dual Bluetooth and wireless audio functionality at that price point is enticing. Also I like the look, it's not super "game-y"

It's great to see Microsoft getting in on this space

I think we can use it on PS5 too?

Preordering ✅ Marks EVERY hope I've had for. Anew headset for them from the past year. So excited for this. I bought an original Xbox one headset again in 2020, knowing they were replacing them soon.... but they are still my favorite of all time so far. This looks like the perfect step up in every regard.

Already out of stock from Microsoft Canada 😔

And the UK by the looks of it. Glad I got my pre-order in early.

My main concern is durability, my experience with the surface headphones (1st gen) left a lot to be desired. The band on top popped out within months and the padding on the ear broke down before the end of the first year. Really disappointing considering the price tag. On top of no wireless protocol for the Xbox.

Does this work with the OG Xbox one?

Usable with
Xbox One, Xbox Series X, Series S, Windows PC, mobile devices

Can I pre-order an Xbox Series X right now . . .

Oh the irony, no Cortana in the Xbox headphones! But there is Cortana in the Surface headphones . . . just saying. 😁
Windows Central Newsletter
Thank you for signing up to Windows Central. You will receive a verification email shortly.
There was a problem. Please refresh the page and try again.