New security features are coming to Windows 10, Office 365 and more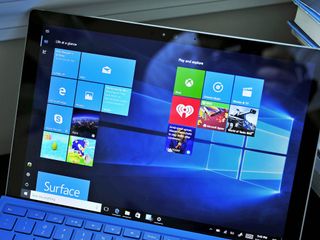 Microsoft has announced a number of new and upcoming security features that will be added to products like Windows 10, Office 365 and more in the coming months. The company revealed these plans as part of its Ignite IT conference today in Atlanta:
Here's what Microsoft customers, particularly in business and IT, can expect to see in terms of security for the company's products (opens in new tab):
Windows Defender Application Guard, coming next year to Windows 10 Enterprise customers and soon to Windows Insiders, makes Microsoft Edge the most secure browser for the enterprise. It is powered by virtualization-based security technology and uses isolated containers built directly into the hardware to prevent malicious code from moving across employee devices and the corporate network.
Windows Defender Advanced Threat Protection (WDATP) and Office 365 ATP now share intelligence mutually across both services, helping IT pros to investigate and respond to security threats across Windows 10 and Office 365 more quickly and efficiently.
Office 365 Advanced Threat Protection will be extended to Word, Excel, PowerPoint, SharePoint Online and OneDrive for Business. Other enhancements include dynamic delivery, which enables users to receive email immediately with a placeholder attachment while the actual attachment undergoes scanning, and URL detonation, which analyzes links in real time to identify unknown malicious URLs.
Office 365 Threat Intelligence provides alerts and information on the origination of specific attacks, integrates with existing security incident event management (SIEM) systems, and enables customers to deploy dynamic policies based on the nature of the threat.
Outlook for iOS and Android is now fully powered by the Microsoft Cloud for Office 365 commercial users, supporting Exchange Online mailboxes natively so that no mailbox data is cached outside Office 365.
Enterprise Mobility + Security E5, a new offer that expands security to help the transition to mobility and cloud, will be available starting Oct. 1, 2016. The suite includes the new Microsoft Azure Information Protection service to help organizations classify, label and protect sensitive data.
Also available Oct. 1, 2016, is the Secure Productive Enterprise, which offers the latest and most advanced security and productivity capabilities across Office 365, Windows 10 Enterprise and Enterprise Mobility + Security.
Stay tuned for more news from the Microsoft Ignite 2016 conference.
Windows Central Newsletter
Get the best of Windows Central in in your inbox, every day!
I need 1K downvotes.
Please fulfill my wish.

I always wonder whether you can have just Windows Defender in your system instead of a dedicated Antivirus solution or suite. I mean, would it be enough for a regular user? With AU they seem to have made it a more robust solution, and if it's up to the task and integrated withthe OS, which guarantees regular updates, I think it's worth trying.

I've been using Windows Defender since W8.1 and been using it like that for nearly three years now including the W10 use (upgraded). I've had NO issues regarding viruses and malware. It's got excellent protection. I've used some really bad pen drives and external HDD's and its always cleaned up the harmful bits with ease. :) Just use WD and save your money. :)

I've been using Windows Defender since Windows 8 as well and its worked fine. I do have Malwarebytes installed as a back up for detecting malware. I do a scan about once every 2 weeks and its never detected anything yet

It's enough for MOST average users, though not everyone. I have most of my clients on Defender only, BUT with the concession that there are a handful of them who need something more. There's a certain class of person out there who always manages to get malware. And the funny thing is, the phenomenon knows none of the traditional demographics: race, income, religion. If there's a pattern other than "dumbass", I can't find it :P

If you wonder that much why not have a look at the many threads about this subject, plenty to choose from.

I say give it a few years for Enterprise to adopt the OS while having enterprise phones launch with the OS also. It'll come close to the 1 billion mark I'm sure.

Discriminating users to roll out security features selectively is a thing, now?
Windows Central Newsletter
Thank you for signing up to Windows Central. You will receive a verification email shortly.
There was a problem. Please refresh the page and try again.