Microsoft Solitaire Collection for Windows 10 to add new Events mode soon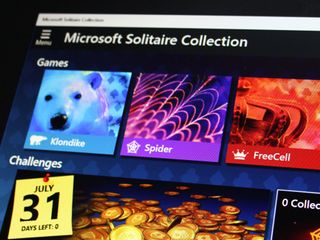 The Microsoft Solitaire Collection game for Windows 10 will be adding a new Events mode in the near future. The new mode is designed to give players awards while they play the free-to-play virtual card game. Microsoft is promoting Events mode with the humorous video clip seen below.
Xbox Wire (opens in new tab) has a little more info on the mode:
Events will be added to Microsoft Solitaire Collection sometime this fall. The game will also be coming to iOS and Android devices for the first time later this year as well.
Microsoft also noted that over 100 million unique users have now played Microsoft Solitaire Collection on Windows 8 and 10 PC and Mobile devices. It has offered up some interesting facts on the game as well
On average, 55 million Microsoft Solitaire Collection games are played per day – that's equivalent to 20 billion games per year, 2.29 million each hour and 38,194 each minute.
You can earn some serious Xbox Live gamer cred by playing. Since Microsoft Solitaire Collection added support for Xbox Live when it released on Windows 10 and 8, the game has awarded more than 1.3 billion Gamerscore to players to date.
Download Microsoft Solitaire Collection from the Windows Store (opens in new tab)
Windows Central Newsletter
Get the best of Windows Central in in your inbox, every day!
They should add achievements too

They should add achievements too

They should add achievements too

How come my comment appeared 3 times?

Drunk? Anyway, they already have achievements!

Yeah we were at the pub together. Retard.

Says the retard without a basic grasp of technology and posts the same thing three times. Says the retard who asks for achievements to be added, when it's quite clear they've had achievements for years. And says the retard who acts like an offended little princess because someone dared to make a polite joke.

MS makes it clear what's the main news: "
Additionally, for fans of Microsoft Solitaire Collection, we have some exciting new features launching this fall: Microsoft Solitaire Collection Coming to iOS and Android."

most Win10 PC and Xbox owners will have either an iOS or Android phone, so makes sense to release the app to them too so they can keep playing

And awards just in US I guess.

This will keep my dad busy for another 20 years.

The Events feature was already released in a prototype state a few days back when an update was pushed through the Windows Store. Posted via my Nexus 5X

FYI, the version I have with the Events feature is 3.11.8240.0.
Windows Central Newsletter
Thank you for signing up to Windows Central. You will receive a verification email shortly.
There was a problem. Please refresh the page and try again.