Microsoft to be featured at SXSW 2014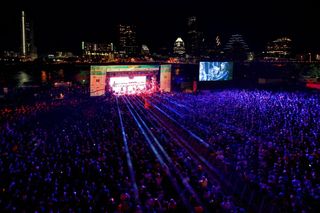 This March sets the stage for the twenty-seventh annual South by Southwest festival in Austin, Texas. The event itself is a collection of film, music, and interactive media. This year, South by Southwest will begin on March 8 and continue until the 17 for a seemingly never-ending party of fun. If the event was not already awesome to begin with, Microsoft will be there in full setup to join the fun.
Microsoft is not only heading to this year's South by Southwest (www.sxsw.com) festival – it will be sponsoring it. This year, the company will be the official sponsor of the annual event "which combines tech, music and film into one entertaining and educational festival and conference".
Microsoft's Studio at 323 Congress Avenue in Austin will become a place to spotlight the company's latest achievements and innovations in a variety of fields including music, gaming, travel, photography, and social media. Various teams will be on site including Windows, Xbox, Surface, Windows Phone, and Microsoft Research.
While the South by Southwest festival serves as an outlet for creative individuals in the entertainment space, it has begun to attract the attention of major companies who have noticed the possibly to get their products to the masses – Microsoft is one of those companies.
The Redmond based company will also be hosting a special DJ performance by producer, Questlove; he will be performing using his Windows PC at the Microsoft Studio on Saturday, March 8.
South by Southwest is a festival that fills up fast, so if you are looking to grab tickets to the events – do so now. Otherwise, you can always join a waiting list by clicking here. For the full details, be sure to follow the hashtags, #ReadyWhenYouAre and #MicrosoftStudio on Twitter, along with @Windows, @WindowsPhone, and @Microsoft. You can also click here, to see the full schedule for the event.
Are you heading to South by Southwest this year?
Source: Microsoft
Windows Central Newsletter
Get the best of Windows Central in in your inbox, every day!
They are working on changing their image. This isn't such a surprising thing. Too bad I didn't research in advance, I might have attended. But I'm also an Austinite, and am well aware of the nightmare that is getting around town during such events (we recently ranked worst traffic beating NYC in some poll).

Agreed, they are trying to be a cool and modern company to the average consumers and this event is perfect for that.

I hate driving in Austin. Rather be stuck in Houston's traffic. The Metro Rail is a joke without expansion.

Sounds good. Maybe we can get a live stream of the Questlove concert and other events on Xbox Live like they're doing with Bonnaroo.

These guys never account for us non-US people, do they? HELLO! WE EXIST! :P

Last I checked SXSW is in the US.

It's more like non-western people. MWC was in Barcelona.

No, they think Non-US Customers are Ailens. :P

I hate what SXSW has become.

Non commercialized and more independent oriented. Now its a commercialized polluted infestation.

Excellent! This is exciting news.. I was hoping for this. Microsoft really needs to be everywhere. It should've sponsored the Grammy's if you ask me. But this is a great opportunity for marketing and brand recognition. It'll be a great mix of people from different industries in the same place.

I wonder if Questlove will use a Surface and the Surface Music Kit add on. I'm wondering when we'll hear more on that item such as cost and release date. I'm thinking or I should say hoping that we'll hear more on that during the Build Conference.

Sweet. Please. Desperate? Come on dude. You telling me when red bull, vans, and go pro do events they are desperate. Its marketing and sxsw is perfect for the clientele they are trying to reach. Wish I could be there this year.

May head down if I wanna deal with the $30 parking.
Windows Central Newsletter
Thank you for signing up to Windows Central. You will receive a verification email shortly.
There was a problem. Please refresh the page and try again.