Microsoft Store officially ends online sales of Surface Pro 2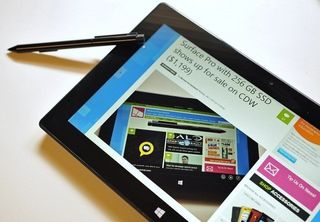 Microsoft has quietly ended sales of its year old Windows 8.1 Surface Pro 2 tablet. The 10.1 inch device was first launched alongside the Windows 8.1 RT-based Surface 2, which is still available for sale.
Neowin reports they confirmed the end of Surface Pro 2 sales with an online Microsoft Store sales rep. While it's possible that a few online retailers and brick-and-mortar stores might have some Surface Pro 2 units still available for sale, the fact that Microsoft has ended its availability shows that the tablet has reached the end of its sales life.
As we mentioned, the Surface 2 is still on sale as well as the 12-inch Surface Pro 3 that debuted in June. Microsoft seems pleased with the sales of the Surface Pro 3 but has yet to offer any concrete sales numbers for the tablet. It's highly likely that the company won't release any new Surface tablets until the official launch of Windows 10, which will happen sometime in 2015. How do you feel about Microsoft retiring the Surface Pro 2?
Source: Neowin
Windows Central Newsletter
Get the best of Windows Central in your inbox, every day!
It only means the third one is near.

sad day... as I love my surface pro 2

Looks like the big discounts worked and they cleared all of their old stock. Only a good thing that there are more Surface tablets in use around the world.

That's some nice Surface-inception in that head picture lol

Wow, is this bad or good news? I don't know how to react to this...

I love my Surface Pro 2, but this is progress.

So sad it's still too expensive. I would like to get one for my wife.

That's not a trade, right!

Good riddance to that brick

I feel so informed by your comments.

I have been trying to get one for the last two week gave them ring yesterday here in England and they said we are out of them try in a week. The pro 3 is great but too expensive

www.currys.co.uk have a Surface Pro 2 in stock....

Thanks for the heads up I had checked PC world and they did not have it so assumed might be the same with currys.

Welcome, then there is always eBay too.

Waiting for a Black Friday fire sale.

I just love my Surface more than my Lumia 1020

You're comparing apples with oranges... No, apples with pumpkins.

Been having problems with my SP2 so I'm thinking about sending it in for a return/replacement. I've had to restore it to the factory setting many times as it would randomly restart and start repairing whatever went wrong.

I've had something like that too recently. For mine I suspect it's the keyboard connection. When I grab the SP2 sometimes it will just instantly turn off / reset, after which a 'repair' attempt is made. Thankfully this far it has always worked, but it's definitely scary. Kind of don't want to upgrade to an SP3 though because of all the goodies (two keyboards, docking station, extra power supplies).

I'm going to contact Microsoft later about it. I'd like to see if I can go into a physical store for this or possibly replace it with a SP3 (if possible).

I bought a surface pro 2 off eBay for £400 with the type cover! Incredibly pleased with it :)

Can't wait for Black Friday.

That's great. To me, sp2 is a subpar product that will bring negative impression to surface branding. The less these product sold, the better Microsoft can retain surface's reputation. But sp2 is still much better than original surface pro and surface rt. Those two almost ruined surface's reputation

Uh that's bs. The original sp and sp2 are good products still.

I freaking LOVE my Surface Pro 1

I returned my after 90 days (too many problems) they gave me a gift card I bought a Nokia 2520 and an Xbox one!

I like that they still offer surface 2 "rt". Too bad the 4G version is not available in Germany and I am not able to buy one on the UK store without a billing address in UK. Hopefully they are still available in the end of December when I visit London. Keep my fingers crossed

Well, looks like I own a piece of computing history now :) chances are I will get the SP3 early next year, but my SP2 performs flawlessly, so it will be become second device.

Bring the surface line to India please.

This is part of the reason people don't trust MS - there lack of push and support for the products!

Just because they aren't selling more of the previous model doesn't mean they aren't supporting it. SP2 just got some updates in the last few weeks. It will probably be supported for years to come.

Yet Apple offers less support and is praised...

All of this progress.. But for the love of all things holy... Why can't Microsoft give concrete confirmation concerning the Surface ARM line (Surface RT, Surface 2).I don't want any half ass answers like "Microsoft remains commited to Windows on ARM." Of coarse they'll continue Windows on ARM, since Win 10 is rolling out to mobile phones too.. I want a definitive answer. Can we expect a Surface 3? lol

Lol I know how you feel
Either Yes or No

MS may not know yet. At least not enough to make promisses to the public. Windows 10 is probably still about a year away from RTM. A lot can change in the technology world in a year. For example, Intel's Pentium M models will be widely available by then which will probably allow for fanless tablets with much more processing power per watt than ARM. If that is the case (it's basically already the case now with modern Intel ATOM designs), then it might make more sense for MS to drop ARM tablet support. They could still get the same effect by having a "locked down" tablet mode for Windows that only allows Windows Store apps to execute while also hiding all of the complex power user features of Windows. The end results would be a Surface RT/2 like user experience, but it would benefit from consolidating the OS and hardware platform.

It's to bad the wide screen is going away. It was great for video. I still have my original Surface -RT. I use it all the time and love it. My daughter has a Surface Pro 3. It's a great tablet!

hope this means microsoft is already working on surface pro 4.

I know this is off topic, but would anyone say that the Surface 2 will get Windows 10? I'm completely lost as to where Windows RT stands in all of this...

Don't why it should get it eventually.

I mean shouldn't! Sorry! Stupid autocorrect!

Things do move on , before I got my sp3 I had an iPad 3 which was killed off with the iPad 4 a year later , then it was only iPad 2 and the new iPad (4) IOS 8 killed that tablet ,made it slower than a galaxy tab 3 , so sold it along with my MacBook pro and bought a surface pro 3 , a good choice and don't miss the over priced apple junk

well lovin my Surface 2RT. does everything that I need to do... eventually PC's will only be for ppl who work in the fields like that, devs, companies an such... had my surface a while now an I have no complaints

Holy cow..... it seems like yesterday that the Surface Pro 1 came out :P

kind of a bummer. i was about to grab one due to it having wacom pen input, but i have doubts about microsoft's desire to support discontinued devices.