Microsoft Surface PCs blasted by Consumer Reports for reliability issues
In its annual reliability study, trusted recommendations company Consumer Reports blasted Microsoft's Surface lineup of PCs and removed its "recommended" designation for all Surfaces, according to reports.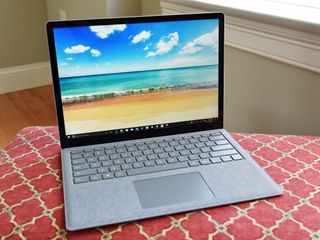 The reason Consumer Reports took Microsoft and Surface to task was a significantly higher rate of breakage during the first couple of years of ownership, according to Reuters. Consumer Reports based its assessment on responses from 90,000 tablet and laptop owners and estimated that a full quarter of all Surface owners would experience some sort of problem with their PCs within two years of purchase. The most common issues with the Microsoft devices were reportedly frequent freezes, unexpected shutdowns, and touchscreen problems.
However, Microsoft quickly responded, saying it disagrees with the conclusion. Microsoft also said "its return and support rates differ significantly" than Consumer Reports' findings, Reuters says.
For what it's worth, Windows Central has a very active set of community forums based on the Surface lineup, and though we see posts regarding hardware issues and concerns about Surfaces, we have not seen constant complaints about Surface reliability. And a few months ago, J.D. Power, another trusted product recommendations company, released some very different findings.
Of course, that does not mean a problem doesn't exist.
Either way, the Consumer Reports findings are very bad news for Microsoft, because many people, especially those who aren't particularly tech savvy and who look to the most well-known names for product recommendations, rely heavily on Consumer Reports when making purchase decisions. It's going to be tough for the Surface lineup to come away from this without a major scar on its reputation.
What's worse: Apple's computers ranked highest in reliability in the study, according to Reuters.
Windows Central Newsletter
Get the best of Windows Central in your inbox, every day!
Al Sacco is content director of Future PLC's Mobile Technology Vertical, which includes AndroidCentral.com, iMore.com and WindowsCentral.com. He is a veteran reporter, writer, reviewer and editor who has professionally covered and evaluated IT and mobile technology, and countless associated gadgets and accessories, for more than a decade. You can keep up with Al on Twitter and Instagram.
Really! Gone gone complain about reliability issues as if Microsoft is the only company that has them. Really. So Apple, Google etc don't have reliability issues. They just love to bash Microsoft because they love Apple and Google to much. Smh!

You missed the part then where Consumer Reports went hard on the new MacBooks?

https://www.consumerreports.org/laptops/macbook-pros-fail-to-earn-consumer-reports-recommendation/ Have a read. Blindly stating "OMG THEY JUST HATE MICROSOFT AND LOVE APPLE" is ill informed. Apple had to fix the laptops in order to get a recommendation.

Notice I didn't say anything specific? Apparently you have narrow mindedly focused on one specific thing for me. Making inaccurate assumptions saying "OMG THEY JUST HATE MICROSOFT AND LOVE APPLE" attempting to show how I feel is clueless on your part. Because I couldn't care less really, In my mind Macs was not even an option. Surface is big for Microsoft, show me something of that same source blasting Apples big boy IPhones. I'll wait...

But they got the recommendation...

wow. they ripped the new macbook pro. rightfully so, it is a POS.

Had one for a couple weeks (without touchbar). It is a beautiful machine. No complaints yet.

I had a few hours to kill before getting a plane this past weekend, so I went to best buy, and used the touchbar macbook and put it side by side with the surface laptop and surface book. The macbook is so far behind the MS products in software it's laughable. Plus the touchbar is a complete JOKE. How anyone can say that it's better or even as good as a full touchscreen is lying or has never even seen what a full touchscreen device can do. MACBOOK = JUNK, SURFACE BOOK = AWESOME...even with that silly hinge!

Software is subjective and so is hardware to a point. The Surface is certainly nice but the MacBook Pro hardware is almost unbeatable. It is so much nicer than any PC in that price range. Originally went in to buy the XPS15 but it is hard to turn down the MacBook when they are side by side. Nothing else is even in the same ballpark as the Mac and these failure rates confirm that.

I could have a gold plated PC that runs faster, has more ram, storage, full touchscreen with full 2 in 1 capability for the price of a macbook pro. There is nothing in that price rage....THANK GOD:. macbook is an overpriced under performing POC. The xps is faster than it coding videos, etc.

XPS15 definitely has higher specs but it is also more expensive than the Macbook Pro. If the power is really needed, the XPS is really nice.

Where do you live bleached? the macbook pro of similar spec is Hundreds of dollars more than an XPS here in Canada....So much so, you can purchase a second smaller XPS from refurb from the savings!

Yeah, you are right. I am comparing the 13" MacBook the XPS15. It doesn't really make sense.

I did this comparsion just this week actually. I was looking at the new xps series for my new device. I loaded a xps 13 2 in 1 with 16 gb of ram and 1tb of storage space and it was 900 dollars (cdn) cheaper than a similar MB pro touch bar. Same goes for the xps 15 compared to a MB pro 15 touchbar with similar configurations. Thats a significant amount of money to waste on a device that is 1. slower, 2. less productive, 3. "weaker" meaning the dell takes falls and hits better and 4. Iooks better with the carbon fiber.

You are right about everything but the "looks better and that is subjective. I think the carbon fiber looks and feels like plastic and was probably the biggest reason we didn't get the XPS.

Not sure about google but I bet $100 ipad more reliable than surface tabs.

$100 dollar iPad? Since when has this been a thing? Given the fact that the extortionate Mac Books have always had reliability issues, I'd hardly bring up Apple as an ideal here

I "bet" $100 "that" ipad are more reliable then surface tab. I said ipad, not "macbook" I am comparing apple tab and MS tab. I will go as far as saying ipad is more reliable(hw/sw) than any w8/10 tab. I work for a refurb company.

ok first don't compare an ARM based tab with an X86 based tab... It's like comparing a bike and a car.... Way more potential design issues on a very thin X86 than an ARM... it would be absolutely scandalous if iPad had more issues... then comparing iOS running on a handful of very specific ARM only HW with one of the most versatile PC and much more HW is just as ludicrous if not more... Ever tried to build a hackintosh? apple is good for noobs with too much money and macheads too infected to run a true FreeBSD distro... For the rest a PC with a win10 or linux distro eats for breakfast anything apple is pumping especially when you take price into consideration

You bring solid point, but why does it matter to 99% of the people that carry tab? They have no idea what's under the hood non they care. Close frd and family have tab and laptop of all kind, guess what they use tabs(ipad/SP3) for most of the time. Your right, online shopping, surf the net, YT, music, social network and stupid games. To get work done they all go back to real laptop/PC like everyone else does. if you have 10min to kill and want to check twitters or play some candy crush, do you pickup a SP4 or ipad? seriously question. How many news network host use SP live? How many use ipad live? How many coffee shop use ipad as POS? How many use wintab? That all go back to my point, people don't care what's under the hood, it is not their issue. They pay for something that easy to work with and reliable. How many people actually use the up shift and down shift in their automatic car? Additional features isn't always needed. Apple is for noob with too much $? do you even look at the price tag on the surface line? And before you say I am trolling, I use L950, 8c16T Xeon workstation and Dell i7 touch laptop.

It's not if others had failures but comparing the amount to others. The Surface line has had a fair number of hiccups. In their defense though they are pushing more boundaries so getting any sort if reliability with such new tech is pretty good. That said, CR is about cold hard facts.

For over 25 years i have been microsoft loyal. Over the last 5 years i have bought 3 microsoft phones and 2 bands. Both bands broke when the rubber detached from the watch. this could have easily been avoided by modular bands that detach from the unit like the blaze. how ever microsoft threw in the towel for a product that was actualy quite good despite design flaws. My phones have all been problematic due OS issues. As well as bad functionality decisions made by microsoft. like the fact that i can't change the rington volume when bluetooth is enabled, only the blue tooth, this was a stupid idea. this leaves me forgetting to turn my volume back up constantly, causing me to miss apointments, several people has left coments about this in feedback and microsoft had done nothing. the reminders section in the calander limits you to rediculous intervals, leaping from one hour to one day, what if i need an and hour and 30 min reminder, or 2 hours? My ring tones are too short and seldom wake me up. many people have requested fullength MP3. wich was granted at one point but then MS reversed course and return to short tones. I have had alot of crash issues. some casued by the battrie, but this was easily fixed by replaceing the battrie. The quick charge battries loose strength when they get worn, I can understand this as a tecnology limitation, and the battries are replaceable, but microsoft doesnt even sell the battries put in your phone. The other non power related app crashes, bugs problems, and the constant OS reboots with out any seeming direction, and the product abandonments have left me extreamly hesitant to buy and future microsoft products, other than the desktop and laptop Oem OS. In fact the only way im going to buy a surface phone is if they provide and a compleatl volume control pannel in the Action menue with all volumes at all times, Timers and sceduals for volume settings, full mp3 ringtones, and a discount for turning my current phone in. my opionion of MS is that it has gone from a robust tec company to a wishywashy gimic factory. i have held the benifit of the doubt for microsoft due to a major ovehauling focused on moble and now that windows is coded for arm things should being to smooth out with moble, but microsoft is going to have to blow me away with reliability.

I went through 4 or 5 Surface Pro 3s before I got one that seems to not have any major problems. I still run into issues with plugging into the new style of Surface dock.

I have a Surface Pro 3 with zero issues. I had an iPhone with many issues, my nephew iPhone is possessed but no one is claiming that they have reliability issues. Just saying.

love how someone says they have zero issues with a surface and has "many" issues with their iphone they get upvoted. I call BS.

My Pro 3 is a dog. After the nightmare of trying to get it fixed once which involved shipping it to and from Germany multiple times, the warranty replacement device then developed a horrendous issue where it won't stay powered on away from the outlet. Probably not buying another. It really put me off.

My SP3 is an amazing device. It was extremely reliable, awesome battery life, and had consistent performance. I always pushed the device to it's limits and was quite pleased with how it worked, especially when docked using external monitors. The only issue I had was, recently, I was disconnecting the type cover and my thumb was directly over the microphone hole on the SP3 and it caved from the pressure. I replaced the screen myself and was back to normal. My wife now has it as a friend of mine sold me his Surface Book i5 for $500. Cleaned the type cover and it's still looking/working great. That deal was too good for me not to upgrade, otherwise, I was planning on keeping it as long as I could.

I haven't had any big issues with mine, except the battery but last year. It also occasionally bootloops and I have to shut it down and try again. I don't think I would recommend one to a non technical person. I hope the newer versions are better, but it doesn't sound like it if CR is correct.

Make sure the dock firware is up to date. You can check that by running the dock updator tool on the link provided. https://docs.microsoft.com/en-us/surface/surface-dock-updater

I own two separate SP3s: one with 8 GB of RAM and one with 4 GB that my wife uses. The 8 GB SP3 is still running like a champ without any issue. Early on it, along with the other one, did suffer from weird WiFi issues like practically every SP3. It also had rare issues where the TypeCover wouldn't be recognized until I removed it and reattached it. Both issues appear to have been fixed by firmware updates. However, the same cannot be said about my wife's SP3. The screen is slowly becoming detached from the left side of the Surface itself because the glue appears to have weakened over time. It's obvious that it's the glue because there's a soft yellow hue where it's happening and applying pressure hides the issue temporarily. Unfortunately Microsoft's only option for repair is to replace the unit, at my cost (it is out of warranty now that it's 3 years old, but this is clearly a manufacturing issue). Given that I do not want to pay $400 - 600 to replace a SP3 with a SP3 / SP4 (the two options), my wife will just continue to use it until it becomes unusable. At that point, we will probably upgrade it to the latest Surface Pro model.

I've had 3 failures in 2 years, all surface pro 3's. Two were new, one was a warranty replacement. Finally gave up after the last and asked my employer for a Dell XPS 13. It's a good device when it works, but some of the appeal was diluted when TSA stopped treating it like a tablet, and I realized I didn't use the pen as much as I thought I would. I still love the size, but there are plenty of laptops now that offer similar size and weight.

I had to return my sp3 three times before I got one with an even backlight and the second one died, as in wouldn't power on, after one week. I use it every day now and do like it, but will probably go back to MacBook Pro when I change it because I want a discrete GPU and the Surfacebook is too pricey for what it is, and all surfaces in general are too expensive in the UK. I'm an IT professional and nothing makes me laugh more than the whole "noobs choose Apple" argument. I have built loads of PCs in the past and now develop for a living and software certainly doesn't slow you down on a Mac (you can get Visual Studio Code) and you can install windows if you want) and I like the reliability, design and honest battery life. The warranty and Apple care is really good and there are always service locations in Apple stores. MS lacks this is the Uk at least. With Microsoft, they are a bit unpredictable in terms of strategy recently as any Windows Phone owner will attest.

I think microsoft should get 2 interns instead of one

Not sure anyone younger than Boomers really pays attention to Consumer Reports...they're going the way of Readers Digest.

Think we have one of those in our bathroom.

only ever to be seen in dentist waiting rooms

Back when the Surface Book released, I'm pretty sure you did see constant complaints about it's reliability. Mine works flawlessly for the most part now but for those first few months it was very frustrating.

I've heard about this one

I would side with Consumer Reports conclusion. Their surveys are precise and complete. They have a huge user base. It's only natural that MS would disagree. FWIW I answered the survey.

I'd have to agree. They have an excellent reputation for being unbiased. And since I've been through four Surface Pro 3s and I'm on my second Surface Book, I can't argue with anyone who says there are problems, no matter how much I love the product.

"Consumer Reports said the study was based on data from 90,741 tablets and laptops that subscribers bought new between 2014 and the beginning of 2017." That's 30K devices on average per year for all of the products. I wouldn't call that big sample but they also make assumption that Surface Pro is therefore also unreliable by definition.

It's based on anecdotal evidence, certainly not research. I wouldn't use CR as a basis to buy anything. You can get the same anecdotal evidence by reading reviews on Amazon.

I think a lot of the bad reviews are more to do with the buggy unfinished mess that is Windows 10 rather then the hardware itself.

No. The issue is that Microsoft puts cutting edge processors in the Surfaces and it inevitably has "early adopter" driver and compatibility issues. Apple only puts tried and true hardware in their computers so Apple products are always inferior in specs but superior in reliability. They also don't push any envelopes. Windows 10 is not even close to a "buggy, unfinished mess". 9.9/10 problems people have with windows 10 are a result of their cheap hardware or their own meddling/overreaching old software. I have probably deployed somewhere around 550 Winodws 10 machines in the last 6 months the only problems I've seen are related to McAfee's garbage encryption and my company's own meddling in the Win 10 image (using Novel products to lay down our image)

And which is the better approach from the consumer's perspective? Nothing destroys the fun of getting something new better than reliability issues, especially if you depend on the device for college or work. Bragging rights are nice, but usability must come first. There's also the safety aspect as I've had my Surface pro 3 power up and drain in my backpack on more than one ocassion and this has been an issue with the Surface book as well. I use W10 every day and I like it, but it is very cluttered next to OSX. It's only unfinished in the sense that MS are changing it all the time and will be moving forwards. I can completely see why non IT people would prefer Apple's approach, and these form the readership of CR.

I work at the airport, and everyone knows that America Airlines pilots are issued Surface Pro's for their flight data... Well, some of those pilots aren't fans.. I saw this Hater of a pilot the other day eating lunch, and having some downtime with his Surface... I see tons of various Surface machines everyday (especially Surface Books), so I don't usually pay too much attention.. But, this Fool had placed an Apple logo sticker over the MS logo... 🙄🙄🙄 OMG! Guess he was mad they didn't issue iPads.... I almost went, and told him, that the device (he was enjoying so much) was ten times more powerful than some iToy. I let it go, though. He had stickers all over that thing, so it wouldn't been a waste of my time.. Some of these kids just don't have an appreciation for anything of value. Damn millennials. SMDH

I often accost people eating lunch about their technology brand choices because that's what normal people do.

Like I said, I didn't say anything to him.. I just wanted to let him know I noticed. It would've been a good laugh. Those pilots are pretty cool guys, most of the time... You're over dramatizing it.

Lol you should have said of you don't like it, give it to me.

As much as I wanted to, I'm sure AA would've docked his check for it coming up missing....
....
Airlines are choosing Surface products for a reason... They are not toys. End of story.

And the reason is: Someone at AA knows somebody working at Microsoft that will offer him a remuneration for choosing them as technology provider. This is a known story, contacts and money. Maybe Microsoft and AA have an agreement. Who knows?

But, of course... It's just business.

Actually the pilots and the NFL deal are below cost deals for Microsoft in order to get publicity.

But, of course... It's just business🙂

Why do you care so much what others are using; people need to shut up and start minding their own bussiness; especially when it public.

I really don't, as much as you're panicking about.
He was using a Surface.. I like Surface. If you think about your comment it is irrelevant.. It's just funny that he would put an Apple sicker over it. Chill, Mr sensitive pants.. Unfold your arms, and untuck that lip.

Why would you care so much Rodney? assless chaps to tight? vibraitons from that harley scrambling your brain? Who gives a **** if someone puts a sticker on their device....speaking of mister sensitive pants...you are the one who should stop crying...like a little *****!

wooo hoooo fangirl crybaby downvotes.....waaaaaaaahhhhhhh!

How much power does an airline pilot need? I am sure an iPad would be a much better choice for their use case.

Who knows. I know that I fly westjet exclusively, they have ipads....And software created for them for the ipad. It has nothing to do with power, and everything to do with software. I had my son in the cockpit after we landed in Orlando last year, and was talking to the pilot about the ipad and how they use it....it gives nav, flight and other info to them in real time. Just another tool. They care less what the device is, unlike a fanboy.....the pilot only cares that it WORKS.

waaaaahhhhhh fanboy tears downvotes....i'm under my umbrella ella ella! ey ey....while the fanboys tears fall.....ey ey!

From personal experience (I know it is not statistically significant), I have to agree. I did have to return SP3 twice, and am just waiting for the replacement of my SP4. The worst is that I do not have confidence that these machines are fit for mission-critical stuff, as they tend to crap out somewhat randomly. Never had these feelings with my ThinkPads.

Windows is far from perfect as it does have some issues. But that doesn't make Windows unreliable. Some people love Apple for its reliability. One major difference between Microsot and Apple, is that Micrsoft doesn't make PCs except for the Surface, whereas Apple makes the Mac, so they control the hardware as well as the software. They don't allow Mac clones or MacOS to be installed on other computers be Macs. Microsoft allows Windows to be install on any device, so their are millions of configurations.

The odd thing us though, Macs have always been renowned for having issues. I know a guy who does out offices with IT equipment and he has to requisition twice as many Macs due to failure rates

Darkyl Pure, what's your source for "Macs have always been renowned for having issues"? Most surveys and studies, like those from J.D. Power and Consumer Reports, have put Apple at or near the top in terms of reliability for over a decade. Are you using your anecdote to make generalizations?

JD power also rated my Dodge dakota high as well...but it was far from the truth. It was a POS.

Oops! I thinks the issue is not hardware, but software...

My issues were hardware. I've been through four Surface Pro 3s, and I'm on my second Surface Book. They don't replace hardware for a software problem.

Does it matter? Neither is good.

I just wonder how much Apple or Google paid Consumer Reports for this fake, biased report. Or cooul it be that Consumer reports is covertly owned by them?

Or could it be that they are unbiased? No, of course not, Microsoft cannot fail on this site, lol

@www_tgsnt_tv. What a remarkably stupid thing to say.

No, this wasn't a biased report. Issues with the surface line are well known. All the oems have been making hardware for decades. Outside of keyboards and mice, Microsoft has been make PC hardware for a fairly short time. It will take time for all the QC issues to be resolved.

Am rough with my surface pro 4. The tablet itself was dropped several times but going strong. Where as the kick stand is busted already and came off after a year and a half of usage.
My highest complain though is the keyboard. I was never rough with that but the magnetic strip already came separate.

My Surface 2 touch screen broke within a couple of weeks of the warrantee expiration. And the warrantee is very short. I'd never buy a Surface again, especially because they lock you in to proprietary ports. Terrible devices.

I went through four Surface Pro 3s, and I'm on my second Surface Book. As much as I love the products, I can't dispute anyone who says that there are problems with them.

Anyone that discredits this report is in denial. Although I would argue that the main problem is and has always been the software.

The software is the same software running on all teh PCs in that reports, except Apple's. The issue is with hardware. Microsoft used many custom parts to make the surface line. It takes time to iron out all the issues.

No issues with my Surface Pro 4 M3 on a hardware level since Day 1. Mostly just software/firmware/driver niggles which all seem to be sorted now.

And that's fine if you are familiar with IT and are willing to wait for a firmware upgrade from MS for your brand new $2-3000 device. Many are not. My issues with SP3 were all hardware faults and the PSU had to be recalled as a fire safety risk. Windows updates I can deal with

My personal findings match up to this perfectly. I have three Surface 3s, one is useless due to a dead micro USB port. The other two, working great! That's a 33% failure rate in two years. I have 12 other non surface windows machines in constant use in my business and my 2 year failure rate on those machines ( 1/2 tablets, 1/4 laptops, 1/4 desktops and 1 windows phone) is 0%. I usually get 4 years hard use out of a machine before any part failures, and most of those are repairable(hdd/ssd/power supply), which the surface is not. I still love the brand, but I don't suggest them to friends and family when they ask for advice on the most reliable brand.

Hmm. I stopped paying attention to Consumer Reports quite some time ago. I consider them about as reliable and useful as the Better Business Bureau.

I find this comment funny and the same from the apple fanboys from imore when CR was BLASTING the macbook. Fanboys from apple would go CR gave every apple product a great review so they are great products. As soon as CR gives an apple product a low rating it's not worth the paper it's written on. SAME GOES FOR THE MS fanboy now. Oh, surface gets great reviews from CR...they are great. As soon as CR says something bad about the MS product, again, it's not worth the paper it's printed on. Can't have it both ways people!

To be honest I don't think this will have a HUGE impact on sales EXCEPT that it will put even further in check Microsoft's overpricing. ALL Surface devices are now incredibly overpriced and with these sorts of reports the only think it might force Microsoft to do is to either accept the hit in sales or counter-balance it with an adjustment of the prices to the more realistic value of the devices themselves. For consumers it's not the same thing if their 700€ laptop malfunctions after a year of use or if their 1500€ laptop malfunctions. With the overpricing of the Surface line, Microsoft set itself out for consumers to NOT forgive a single problem the products have. Which then leads to this. And it also doesn't help all Surfaces have been released with some sort of problem, be it terrible software integration with drives missing or lightbleed problems or what have you. Let's see how Microsoft will answer this IF they answer at all.

Sales weren't that great anyways *ducks*. This certainly won't help, but the fanboys that were buying Surface before will continue buying Surface. Normal people who werent buying many anyways will buy even less now. I will probably get the Surface Pro again.

ill tell you something...they 1000% deserve this. surface as a brand evolved from nothing, to a star, to just looks but unreliable.
1. i wasnt familiar with surface before surface pro 3, but since then, surface pro 3, 4 and 2017 ALL had problem with sleep, battery, and whatever. same goes for surface book and even surface laptop. i actually got accustomed to "new firmware to address sleep/battery/you-name-it issue on surface X release now by microsoft" articles on this blog, so yea they definitely deserve it.
2. you windows central start to act biased and i dont like it as an every day reader. how dare you to say in this article that their hardware is better that what ppl say, based on your forum and what ms is saying(of they defend themselves) when if you as a blog have an extremely high amount of articles about surface line issues or new firmwares to address them (which we all hear that most often they dont really address them, at least not completely)
3. to people who start throwing crap like google and apple have issues too, just top fanboys. i dont care about apple and google. if i cared, i most certainly id know about their issues. but i dont. why? because i use windows, so im trying to keep myself informed about windows devices, which neither google nor apple build. so yea, im upset about microsoft busting a premium line of windows devices, while i couldnt care less about what issues google and apple have. is this so hard to understand?

I have a Surface Pro 3, heavily used for the past three years, which is still going strong. I more recently got the new Surface Pro, and couldn't be more pleased with the quaility and performance thus far. I know I'm just one guy, and my case is only anecdotal, but you'll hear no complaints from me on quality of materials or build. My only hang ups over the years was: 1) an initial WiFi connectivity issue w/ my Surface Pro 3, quickly resolved via patch from MS, and 2) a short lived issue I had w/ the old Surface Pro 3 dock not playing nicely w/ my external monitor (it was addressed w/ a firmware fix). That's it... SERIOUSLY... in all this time those are the only significant quality of service issues I've had w/ my Surfaces. And, both were resolved quickly, and to my complete satisfaction. FWIW, my company uses Surface products widely, and I've rarely heard of others having issues as well. In fact, my company, as a whole, was satisfied enough to turn around and move us all to the new Surface Pro this year. (No cheap endeavor.) So, that's saying something.

My tally is 33% of the Surface products I've owned have had an issue. 1st was a SP2 I bought used off of eBay. Worked great for the 6 months I owned it before selling and buying a Surface 3 (non-Pro). That lasted 1-2 months before the touchscreen went crazy and I had to return it (90 day return window at Costco!!). Too bad, because that form factor was the one I liked best, despite the slow-ish performance. The SP3 I immediately replaced it with has been solid ever since.
Combined with the battery issues that made the news a while ago (that thankfully I wasn't impacted by), this seems 100% believable from my experience.

Have had Surface Pro 2 and 4, both have had issues. I know several people who have also had issues. This report is good, it will mean Microsoft improves its testing and that is good for us all.

LOL.... why I laught you ask ??? Simple they can't solve their issues within their hardware ecosystem but they are ready to launch an iPad keyboard.... What a mess is this company. LOL

That Consumer Reports critisized a specific Apple product does not disprove the long-standing Apple love shown in their pages. Consumer Reports for years built its rankings of electronic devices like tablets and PCs based on the non-scientific survey it sends to its subscribers. Consumer Reports acknowledges that its subscribers are not representative of the US as a whole: they tend to be whiter and wealthier than the average of US population. That this class of consumers also happen to be more likely than not to be purchasers of Apple products is not surprising. The survey results from this not-representative population is drawn from only the subset of those members who then answer the questions and mail back the survey, resulting in a collection of results from an even more narrowly drawn population. Consumer Reports uses these results as its "rankings" of the quality of electronic products it writes about. They do acknowledge that this is how the establish their rankings, but they do it in a dense block of tiny type at either the bottom or top of the ranking. All most readers will ever actually pay attention to is the list itself, which usually shows that the relatively wealthy subscribers of the magazine, who are more likely to buy Apple products anyway, really like Apple products. I don't believe Consumer Reports distorts any actual testing they do on products. I believe they are detailed and careful about their testing. The problem is they don't actually test a lot of the electronic products they report about, but they including these lists of rankings by their subscribers without clearly indicating that these are merely the preferences of a self-selected group of non-representative consumers and not the results of tests.

Maybe, just maybe, people are satisfied with Apple products? SHOCKING I know. All companies have issues with products. It happens. And no Apple stuff isn't perfect either. I had 5 replacement iPhone 5s' back in the day.

I am happier with my iphone 6s compared to my windows mobile devices, as I am happier with my ipad than my surface 3. HOWEVER, I am very much happier with my dell 2 in 1, than my macbook. Macbooks are crap compared to a windows 10 touchscreen equiped computer!

"Macbooks are crap compared to a windows 10 touchscreen equiped computer!" That'll depend on what a buyer needs out of their laptop. Everyone has a different use case, they just have to find the machine that works best for them.

MacOS is a garbled mess....Hell the two distros of linux i am using for fun are more capable and easier to use than MacOS. There are only 2 reason to buy a mac.....1. to LOOK cool. 2. Imessage. thats it. A windows 10 pc does EVERYTHING faster, more efficent, easier than a macbook. for thousands less.!

Richard, that isn't the issue. The issue is Consumer Reports subscribers demographically are also the people who are more likely to purchase Apple products; and their rankings of products, including in the article referenced by this post, are based entirely on surveys from their non-representative base of subscribers. This list is in no way the result of the testing they do on other products, which I believe is metitculous and fair. It is simply the compilation of data from a self-selected portion (those who choose to respond to the survey) of a population (Consumer Reports subscribers) that is not representative of the US population as a whole. They also do not assure that consumers responding to their surveys actually own the products they comment on. One the other hand, JD Power, for example, conducts random surveys from lists of people who are known to have actually owned or used the product or service they are asked to evaluate. JD Power survey of acutal owners of iPads and Surface devices earlier this year showed a slight preference of consumers for their Surface devices over the iPad for the first time. Consumers were not specifically quizzed on reliability of the devices, but were asked about overall satisfaction. It is unlikely that someone with a troublesome Surface device would be satisfied with it however, so I think the results of this survey are a better indicator of consumer satisfaction.

You're probably right, the problem is white wealthy people, not Surface Laptops quality control or software faults. <\sarcasm>

HUH? What chu talkin bout willis?

I've owned a Surface 3, Surface 3 Pro, Surface 4 Pro, and Surface Book. I'm fine with the look and feel, but all of them have had issues. In concept I love the devices, but the software issues are totally in line with the reporting by Consumer Reports. Beyond just having problems, consumers ( who never read these forums ) have learned that normal support services at Microsoft are simply terrible. They receive scripted responses having them do things they simply do not understand. 3rd party support is costly, and often inaccurate. When they spend $1500 on a device, they want to count on it, and when they can't they respond accordingly to CU surveys. The prevailing attitude at Microsoft is to have a great time bringing forth new ideas, but reliability is totally unimportant, as is consumer based documentation. It exists in some cases, but it doesn't answer questions. Phone support most frequently leads down a bad path. Computers are a part of our daily lives, and that applies to everyone. Lots of technically oriented people frequent these forums, but far more buy these devices, and they contribute the $$$ necessary for the companies to stay viable. When they are ignored, or treated arogantly, they turn elsewhere. Apple ( and I'm a Windows person ... ) went to the top because they built really good hardware and provided very personalized service. When someone has a problem with an Apple device, their experience with that company's tech support is positive, and successful. That is why they get high marks from "consumers". As for the comment about baby boomers ... without us none of you would exist. So some respect please ...

I think people tend to disparage Consumer Reports because they don't want to hear that their beloved product has problems. I don't take everything they say at face value, but they do tend to put everything they review through its paces. You get a much better assessment of quality than you'll find almost anywhere else. J.D. Power, on the other hand, is hot garbage. They charge for everything from mentioning their name to featuring their logo on advertising. They'll pretty much say anything you want, for a price. It's one of the reasons why they focus on "initial quality" instead actual reliability. Everything looks good when it's still new and shiny. People seem to miss that reviews are often little more than product presentations. It's actually pretty difficult to a honest assessment, especially reviews that look at long term reliability. You can't even trust Amazon reviews anymore because they're so flooded with fake reviews.

JD Power surveys are random and participants are drawn from known owners of products or known users of services. The company is in business to make money and so, yeah, they charge for the surveys and use of their name. Their methodology is not suspect. Consumer Reports survey results are only of a self-selected subset of their subscriber base (those who choose to fill out the survey). They do not verify if someone responding has ever even seen the device or service they comment on. Consumer Reports doesn't allow its name to be used in advertising. That's great and when it comes to their actual testing, they are top of the class. But these survey based rankings should be given nowhere near the credibility of their testing results.

the ENTIRE surface line has issues. be it battery issues, sleep issues, wifi...I've seen them all. the surfacebook is what really made me give up on the line.

I had many issues with Surface 3, when Surface 4 was made available I handed mine in for a Surface 4. No real issues with the 4. It is my daily driver.

Software issues mostly. Like the windows hello breaking on the SP4 a couple weeks ago. That sort of stuff happens too frequently. A buddy of mine has one. I never hear any complaints from another friend with a surface book though. I have an SP3 and since it had windows 8 initially. It's been quirky at times but again, software related as it's ok these days. Oh I have one of the slowing down Samsungs SSD in mine but know how to deal with it. My surface 3 has been on insider rings a long time... that's pretty quirky too but to be expected cause of insider, so they should probably do better to differentiate between hardware reliability and software.... or maybe not it, it's a good point that it's one package.

My 7 years old Samsung laptop sends regards

So does my 10 year old Acer! ha ha ha.

Easy, read the article on CR, it's a stupid article! They note that they based on a survey from users, and note that "Microsoft laptops and tablets will present their owners with problems by the end of the second year of ownership."... but after that, "Consumer Reports applies to Microsoft devices with detachable keyboards, such as the new Surface Pro released in June and the Surface Book, as well as the company's Surface Laptops", so... They are talking about Surface Pro and Laptop, which were released only 2 months ago! Thisnis the most ridicoulous affirmation! So pathetic

CR needs a big "donation" from Microsoft, hahaha... CR are such patethic, they made a video Bashing Suface Laptop which have only 2 months.... Patethic and stupids!

Not everything can be as reliable as that workhorse that was the Microsoft Band.

My Band II is going on 2 years of hard fitness and is still perfect. The Software is getting a little buggy though.

I had lot of issues with Surface book when it came out first. I returned it within a month. My brother in law kept his and he is regreting now that he kept his. There are lot of bugs still with Surface book. One of many anoyying bugs he experincing is when the screen brightness changes autometically all the time (auto brightness is off). Second, when he conntects his computer to a tv or monitor, audio stops working (no way to change it through "playback device"). He has to disable something in device manager and enable it everytime to get it to work again. He is looking to buy a Macbook next.. smh (i bought one too after I returned my surface book).. honesly, I dont have lot of issues with it.

that's not auto brightness, that's adaptive brightness. To turn it off he needs to enable all of the power settings. He'll have to go into the registry to disable connected standby and then he'll be able to go into the power options to turn off adaptive brightness. It's a very annoying feature.

I have a Surface Pro 3 that's almost 3 years old which is still going strong in both power and performance. Battery still manages 3.5-5 hours on a full charge (which in my case has been the case since day one. Battery Bar estimates battery derogation between 5-10%, after 3 years!!!) I have no problems with the devices what so ever. Microsoft sold me a solid performer with excellent build quality! I can't speak for all that came after the SP3, of course, but mine is ending up to be a more then excellent device, that was worth every penny I spent on it!

I am on my 6th Surface device and have never had an issue with any of them that wasn't my fault. They don't like to be dropped on concrete or have wine spilled on them apparantley.

Exactly. People blame manufacturer is for their own wrongdoing. But the good thing about it, they give reason to smile to many CrApple fanboys.

That's very surprising to hear. I've been rocking my day one surface pro since the beginning and haven't been able to talk myself into spending the money to upgrade to a new model since this one works so well. Even with offerings of new features and the new pen, why replace what works great still after 5 generations? Sounds a little skewed report to me.

I had to send my SP4 back at 10 months for replacement. Now I have an issue with the replacement. I didn't participate in the CR surveys but my problems lead me to believe there is some credibility in their ratings.

My experience has been the same. They are great devices when new, but reliability is definitely a problem. My SFP 3 died after less than 2 years and at a very critical time. I now have a SFP 4 and I am holding my breath. They do seem to have fixed lots of the problems, but in the meantime the consumer was the one bearing the costs of debugging these things. Just like Apple there is a lot of hype around the SFP's. I am no longer buying it.

Avoid Microsoft hardware. Just look at their history.

My frame of reference only, but I haven't paid any attention to Consumer Reports for many years.

Since they slammed the MacBook Pro last year then updated their recommendation after further testing, I wonder if they'll do the same thing with Surface?

The MacBook had a battery issue that was software based. How does Microsoft go back and fix all the crappy hardware they already have in the field?

Consumer Reports? Whats that?

Shouldn't surprise anyone. Apple has always had better quality. Still have our ipad 1 and that has been 6+ years? No issues with any Apple product. MS on the other hand? Phones, Surface. I see a pattern here. Consumer Reports is spot on. And unbiased. There goes MS' stock.

I have an inexpensive Surface, probably 4 years old. Haven't had a glitch and I did do more than your laptop and iPad combined do. I went to Lifeline and Office Depot on 2 different occasions and months apart. Guess what they had more CrApple stuff than any other. This is why CrApple is so reliable as per Consumer Reports. In India, there is a word for misleading wrongful news sources - People call them "PRESSTITUTES".

Microsoft's response should be, "You're holding it wrong"

Nutella's mediocre quality at stage.

That is the one thing I do not like about Consumer Reports, they can manipulate purchasing decisions and product directions just based upon their opinion. I have had zero issues with all the Surface products I have owned, from the Surface RT, to the Surface 2, to the Surface Pro 1 to the Surface Pro 3 that I am currently using. (Upgrading is why I went to different Surface devices.) There is NO WAY consumer reports is able to purchase all the stuff they do just with subscriber and donation money, unless they have SUPER RICH donors and then, they are not going to pay without expecting something in return. Sorry but, in my opinion, their determinations are bought and paid for and often, biased with personal preferences.

Consumer Reports may have a big chunk of money from Microsoft rivals. Well, good for them. In India, there is a saying: When elephant passes, dogs always bark. Does that affect the coolness of Elephant? Do their barks discomfort Elephant? NO. Same way, Microsoft is a way to do great things. Let dogs bark.

consumer reports does this sort of lies once in a while. Ive heard of surface issues less than five times in my hole life. the same thing happened with apple macbooks and even then everyone knew it's just a 100 percent irrelevant lie. consumer reports does this for two reasons. 1- to show everyone who's boss. 2- to make it's name being remembered every now and then.

I have returned a couple of surfaces, one the Surface 2 had numerous, probably software issues when it was first released. I was not happy that something was released full of bugs and returned it. I had a Surface Pro 4 with a screen delamination issue which I returned and they replaced it. I had a few nuisance issues with the SP4 such as having to reboot it to get the keyboard working again which happened at least once per week. It is impossible to see the numbers in context. I definitely had software based issues on the SP3 and SP4 which took months to sort out and I found the pen was never 100% reliable on palm rejection. The Windows Hello facial recognition was always hit and miss too on the SP4. I currently use an Lenovo 910 and that came with a Wifi driver issue I fixed and I had to remap the shift key on the RHS. No device is perfect. I would very much doubt if Microsoft devices are particularly reliable. If I compared with them with Apple devices I have owned, I doubt they are comparable. I think Microsoft is all marketing and hype although the devices overall are well designed. They need to take more care to make sure that devices released are ready to go and really have been thoroughly tested and debugged.

I have to agree with this finding. My aurface pro 4 is not as well built as my old surface pro 1. Ive gone through 3 surface pro 4s and I still have not been able to resolve an issue with the screen. The latest one has finger prints behind the screen. This is the third one that has this issue. And now i have a screen flicker problem. I have almost no confidence that if i change it out again that I will get a better one.

I've been a longtime subscriber to CR, though I abandoned their magazine in favor of their consumerreports.org website, which is cheaper and does what I need it to do. CR is, to me, just another tool in my informed consumer arsenal. While they can provide some useful information, I take EVERYTHING they say with a grain of salt because, in spite of their reputation for being unbiased, experience using them makes it obvious that they have a self-perpetuating agenda. When they see something they don't like, they beat it to death - to the point of sometimes gross exaggeration. I once purchased a vacuum based on the fact that they raved about it and declared it to be a CR "best buy". It was called the Genie Vacaroo, and it was the biggest piece of junk vacuum cleaner I ever bought. Oh it was reliable to the extent that it didn't break down, but from a performance perspective, it was simply junk. Their agenda includes promoting items that have merely acceptable performance at a low price. They want you to think you're getting a great deal, because that will bring you back to CR. I can't speak to their review of the Surface line because I've no experience with these devices. But if I were a prospective buyer, I'd take, as I said, their damnation with a grain of salt. JMO.

I have to agree with the report, as my surface pro 4 has been plagued with problems ever since my first week of use, I was putting the blame on windows 10 itself, but now its looking like a hardware fault after all. My surface is always freezing, locking up, blank screens or touchscreen stops working, and after spending a small fortune for the top model we have every right to complain, sure there are lots of tech with problems but the probs with my surface pro really spoil the everyday joy of computing. I previously owned an Asus e slate upgraded to windows8.1, which worked perfectly well, but was slow. Microsoft should stop hiding behind the curtains and sort out these problems now ! before their customers lose complete faith in them altogether .

Much as I was never fan of Apple's "form over function", sadly it looks like Microsoft is trying to out-Apple Apple. I can accept that Surface Pro tablet must be compromised design to perform such an extreme thing as packing laptop in tablet format, albeit other brands did manage to do it in more conservative way, such as HP whose Elite X2 tablet, for example, isn't glued but assembled with screws and can even be serviced on-site to quite an extend. However, Surface laptop doesn't have to be glued. It il laptop. Even slim and portable ones are usually screwed together, not glued. Even Apple laptops (except for latest generation which I'm unsure of) can be opened without tearing them apart. Surface laptop cannot. And then, permanently fixed (glued) cloth. I don't care how durable Alcantara is, cloth glued to chassis cannot be as durable as metal itself... and need's to be cleaned... and basics such as battery, RAM module, SSD... should be made reasonably easy replaceable. My SP3 serves me well, but it is my portable device - I have custom desktop for gaming and heavy work. I'm planning to get another Surface tablet, but I'd never plunge into Surface laptop. Luckily there are good, well made laptops around if I need one - Dell XPS, HP Spectre, or good old track-proven EliteBooks and ThinkPads.

I'm a Microsoft fan & need a new laptop! Hope they get the problems fixed asap! Consumers Report is my BIBLE before I make an important purchase!