Microsoft Surface Pro (2017) vs. HP Spectre x360 13: Tech spec showdown
Let's see how Microsoft's latest 2-in-1 PC stacks up against the excellent convertible HP Spectre x360.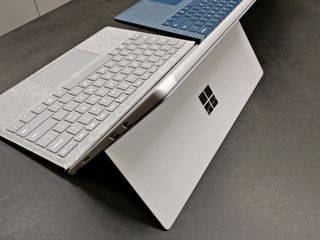 While not directly competing against each other, there are some crossovers between Microsoft's latest Surface Pro (opens in new tab) and one of the best Ultrabooks you can buy, the HP Spectre x360. The prices hit the same mark at some levels, and while the keyboard doesn't come off the Spectre, you can fold the screen around and get to some serious digital inking.
So, let's see how one of the 2-in-1 PCs stacks up against one of the best Ultrabooks.
Related: HP Spectre x360 13 review
Surface Pro (2017) vs. HP Spectre x360: Tech specs
Swipe to scroll horizontally
| Category | Surface Pro (2017) | HP Spectre x360 |
| --- | --- | --- |
| OS | Windows 10 | Windows 10 |
| Screen size | 12.3 inches | 13.3 inches |
| Screen resolution | 2763 x 1824 | 3840 x 2160 (4K) |
| Processor | Seventh-gen Intel Core m3, i5, i7 | Seventh-gen Intel Core i7-7500U |
| Graphics | m3 and i5: Intel HD 620; i7: Intel Iris Plus 640 | Intel HD Graphics 620 |
| Storage | 128GB, 265GB, 512GB, 1TB + microSD expansion | 256 or 512GB PCIe NVMe M.2 SSD |
| LTE | Yes | No |
| Rear camera | 8 MP | N/A |
| Front camera | 5 MP (With face authentication) | Front-facing HP TrueVision 1080p FHD IR Webcam |
| Ports | Full USB 3.0, Mini DisplayPort, Surface Connect, headset jack | Two USB 3.1 Type-C Thunderbolt ports, one USB 3.1 Type-A, one headphone/microphone combo |
| Weight | 1.69 lbs (0.76 kg) | 2.9 lbs (1.32 kg) |
| Battery (listed) | Up to 13.5 hours | Up to 16 hours |
| Price | $799 to $2,699 | From $1,199 |
Based on specs alone, it's a close race. The Spectre offers the advantage of coming with a free keyboard and pen, as well as the standard USB-C Thunderbolt 3 connectors. With the Surface Pro you have to pay extra for the pen, the keyboard and the dock. When you take that into account, it's about even on price with the Spectre.
What the Surface Pro offers is versatility. You can use the Spectre like a tablet, but it's still a laptop with its screen folded around. It's bulkier, and it's not as easy to just grab the Surface Pro, flip out the kickstand and be on your merry way. That's even more so if you go for the LTE version, because the Spectre doesn't have LTE at all.
The bottom line
What is clear is that the Windows 10 hardware ecosystem is where it's at. You've got similarities and differences across the board, but there's no question of there being some form of awesome hardware that meets your every need.
The decision probably comes down to which form factor suits you better. While the Spectre x360 is a convertible, it doesn't offer the flexibility of the Surface Pro. You can never take the keyboard off, so you can't properly use it as a tablet.
Likewise the Surface Pro isn't always a laptop, and if that's what you want, you have to pay extra for the keyboard, and now the pen. Both these are high-end Windows 10 machines, which is best for you depends on exactly what type of experience you're looking for.
Richard Devine is an Editor at Windows Central. A former Project Manager and long-term tech addict, he joined Mobile Nations in 2011 and has been found on Android Central and iMore as well as Windows Central. Currently you'll find him covering all manner of PC hardware and gaming, and you can follow him on Twitter and Instagram.
It's like comparing cars to motorbikes...

Come On... the HP isn't THAT limited...

I still don't understand why they went with rounder corners.... The sharpness of the Surface brand is what made it appealing vs the others..... Maybe some research showed that women liked the corners rounder/softer?? IDK🤔

When you see it in person, it doesn't look or even feel more rouned (you have to look hard to see it)... the vents are hidden better is about the big visual difference in my mind, plus the cameras are also blacked out which also make it look cleaner.

Looks pretty obvious in pictures. I would think it's very obvious in person.

Don't know why you would think it's only the women, I think that while aesthetically the sharp corners look good, that isn't the case when you physically hold the device.

First, I never said I think anything. I actually stated IDK.. It was just a question of many I could've asked...
...
Second, who says the corners ever bothered anyone? They might actually help with griping the device. Do you have a Surface?.. Well, I do, and the fact that those edges don't taper makes for a more confident hold...

Not saying that I dislike the angles of my SP4 - I really like them, too - but I imagine this is something MS would've picked up through market research. This refresh seems entirely built on user feedback in MS's quest for perfection with the Pro line.

The x360 is one of the best "Convertibles" not Ultrabook/Ultraportable, the latter just means a really slim/light Laptop.
"Convertible" means a lightweight Laptop that can't have its display removed, but it can flip right around. I realise there's no industry agreement about this, but that's how I prefer to categorise things, given that there's no standardised agreement. (and there does seem to be some tacit consensus in the industry, tis just often forgotten to be "consistently" applied!) When are you guys going to start comparing the Surface Pro 2017 with far more similar weight & dimension 2-in-1's?
So far you've compared it with everything BUT that…. I realise you need to keep the article count up but please try to make it more useful/focused, don't mean to sound like a dick, love ya work!

Totally different categories, no matter how much people try to pretend convertibles are a thing. The weight difference is the biggy. I have a SP3 and X360, and like all convertibles, the X360 is just too heavy/bulky to be comfortable as a tablet. It's nice that I can flip the screen around, but it's VERY rare that I ever actually do. It's possible I'd do it more if I didn't also own a SP3, but that doesn't mean that form factor is good. It'd just mean for lack of choice, etc. The X360 is the superior traditional laptop though. The kickstand has a lot of uses, and the touch cover keyboard (since gen 4) is not terrible any longer, but for traditional laptop like work the solidity of an actual laptop still wins hands down (not a popular opinion around here, but I'm in the camp that thinks the SP devices were pure trash as laptops until the gen 4 touch cover keyboard came out; gens 1-3 of that keyboard-but really what I'm staring at is the trackpad-were terrible). The kickstand roars in front in less traditional usage scenarios. Sprawled on my couch, etc, the SP is easily the hands down winner.

Looked at the HP 13.3 yesterday on the HP site. $989.99 till mid June. i5, 8GB, 256GB SSD Windows 10 Home. $70 more for Pro. http://store.hp.com/us/en/pdp/hp-spectre-x360-convertible-laptop-13t-touch-y5w39av-1

Waited for Surface Pro/5 release. Ordered x360 i5. At this price a laptop makes more sense than a tablet. Almost canceled the order when saw yoga 720 i7 for the same price. Changed my mind since yoga doesn't look as nice.

Still no Surfaces here in Brazil. (sadface)

Funny how the thinner and lighter Surface Pro has seamless storage expansion (via MicroSD), yet the bigger Spectre x360 is stuck with what you buy...I'd go for the Surface Pro in this case, but already have a Pro 2, and this new Surface Pro doesn't have what I want; Thunderbolt 3 port.

I have a quick question: Why is this comparison between Surface Pro and Spectre X360, instead of the Spectre x2? It would seem that the Surface Pro and Spectre x2 are in the same class. Did I miss something? Just curious :)

Yeah that would have been a much better comparison.

Bought myself a Spectre x360 a few days back. Can't wait for it to get in. While I love the look and portability of the Surface devices, I need a laptop form factor that has proper writing potential (Ahem, Surface Laptop).
Windows Central Newsletter
Thank you for signing up to Windows Central. You will receive a verification email shortly.
There was a problem. Please refresh the page and try again.