Microsoft testing Word and Excel trackpad support for iPad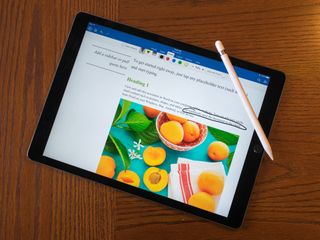 (Image credit: Windows Central)
What you need to know
Microsoft is testing trackpad support for iPad.
Specifically for Word and Excel.
It has rolled out the feature in betas of both apps through TestFlight.
Microsoft has started testing trackpad support for both Word and Excel on iPad through TestFlight for iPadOS.
As reported by MacRumors:
Apple released trackpad support for its entire iPad range back in March with iOS 13.4. From that release:
The feature supports Apple's Magic Mouse and Keyboard, as well as Apple's Magic Keyboards for iPad, and some third party offerings with options for both USB and Bluetooth connectivity.
As noted, the new trackpad compatibility for Word and Excel on iPad is currently only available to TestFlight users on the beta. As per the report, Microsoft has previously noted that it would bring trackpad support to Word, Excel, and indeed PowerPoint in the fall of this year.
iPads with trackpads? And keyboards? Even mouse cursors? What has become of the world! HEll freezes over.
Wasn't the Surface stupid and clunky looking? This is the pathetic company Apple has become today. Slowly fading from relevance.

Funny that this article is about Microsoft supporting a non-keyboard/mouse functionality on the iPad, not about iPad supporting keyboards and mice. Jealous much?

Jealous about the iPad? Nah. I have no use for an iPad, I don't care about it. I think they are pathetic. The iPad in particular, is a toy tablet. they're struggling to become a productivity device. Good thing that MS is the best company here and helps them.
Windows Central Newsletter
Get the best of Windows Central in in your inbox, every day!
Thank you for signing up to Windows Central. You will receive a verification email shortly.
There was a problem. Please refresh the page and try again.