Microsoft wants Insiders to help it redesign the Windows 10 'All Apps' Start UI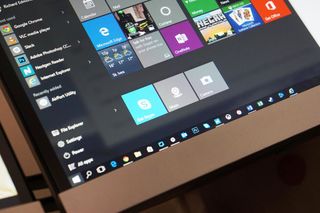 Microsoft will release its big Anniversary Update for Windows 10 sometime later this summer. However, the company is looking for some feedback on changes it wants to make for the 'All Apps' interface in the Start Menu and Start Screen of the OS.
In a Sway post (opens in new tab) (via MSPoweruser) Microsoft showed off their ideas for the revised "All Apps" UI. For the Start Menu, which is usually used on the PC desktop, the new version moves the Power and Settings buttons from the bottom of the Apps menu to the left side of the screen.
For the Start Screen view, which is mostly for touchscreen and tablet users, there's a much bigger change in the concept. In this case, the idea its show all the apps in a full-screen mode, similar to how it was handled in Windows 8.1. It also shows a "Most used" app selection on top. Insiders can fill out a survey to make their voices heard on these All Apps UI concepts before they are finalized.
My feedback: 1.) Sync Start tile layout across ALL your devices (PC & Mobile), and let you click and use your phone tiles "virtually" on a PC 2.) Option to easily resize the Start menu across entire screen to toggle Start Screen (without tablet mode) 3.) On Mobile, swipe from left to right to show all apps list (align with desktop, currently it's backward) 4.) Make "Start" truly universal. Right now desktop has more tile sizes than mobile, and mobile has live folders while desktop does not. 5.) Pinned website tiles should show the website's favicon (currently they show Microsoft Edge logo)

Sync Start tile layout across ALL your devices this was one of the best things in windows 8.1

Please feel free to copy & paste these suggestions into the survey if you agree. :)

Not really, it was impossible to have the same layout on screens with different resolutions. I had to turn that feature off and that's the reason why MS scrapped it.

This is not really a problem anymore in Windows 10, since both desktop & mobile now share a common 3-tiles-wide format.

The layout were basically the same just arranged differently according to the screen res. It was a joy to buy a new Windows 8.1 device and just select a previous backup and watch as your setup from a different PC appeared on your new device with no other input from you. One of, if not the best feature of Windows 8.1.

Yeah, it was awesome to have things synced. It was way more convenient and seamless, no need to deal with tedious remaking layouts from scratch. Even you plan to have slightly different layout, you can sync it and choose to turn turn it off later when its finished syncing. Average users don't want pr lazy to deal with tedious relayoutung their Start menu/screen. Removing it on the first place is an absolute short sighted as it just disservice for its users. Its got more advantages and their excuse though reasonable but simply shortsighted and kind of lazy. They can really make Start smart enough to reflow the layout if they wanted to. Sent from Turing Machine

How about we have this as an option? Personally, I do not wish to have my phone, laptop and tablet all the same.

Agree with BaritoneGuy. Start sync across devices would be great if I could use the same apps everywhere, but that is not the case. Start sync between all of my Windows mobile OS devices completely separate from Start sync between all of my Windows desktop OS devices would be more useful.

While I liked having my start menu syncing, I don't want it syncing across both mobile and tablet since I tend to keep different apps pinned to my screen on the phone. I think that is probably why MS scrapped it although it would be nice to give people the option to choose which start screens get synced.

An option is better than nothing! Potential problem: Some apps on mobile aren't yet available yet on PC (e.g. Whatsapp). Solution: If you click "Whatsapp" tile on desktop, it either opens up the app on your phone, or it opens up in a small "emulator" window on your desktop (allowing you run the phone app on your PC using virtualization!)

Define "virtualization". If you mean run the app in an emulator i dont think developers will like that. On the other hand if you want your phone to open on your desktop using cloud virtualization then forget about it. Cloud virtualization is a big business for Microsoft they won't give it to home users for free.

Both options are entirely possible. You say "Microsoft won't do it", but I think you've missed the fact that they've created a survey ASKING for your feedback.

You seem to have missed the fact that they have created a survey not a genie that grants wishes. Here's a scenario:
Day 1: An employee goes to his manager and says "Hey you know that thing that makes us a lot of money why don't we give it to some users for free".
Day 2: Employees resume goes up on job portals and he is now looking for a new job.

How about adding virtualization in windows 10 professional, exclusively? L950

Cross-syncing between tablet/desktop and mobile/phablets wasn't even implemented at all before. They removed that feature that was fine on desktop/tablet PC. Sure it sounds impossible or users may not want their phone and tablet to have same Start layout, but that can have an option not to sync if there's feature ever implemented. What I find kind of stupid decision was removing the feature on Windows 10 when it was working perfectly on Windows 8.X. Heck W10M still have this feature and it is fine. I also don't want everything to have same layout, but I still use syncing so it saves me time to make Start layout and turn off syncing after. But I didn't even wish to remove the feature because of my use case, other people use this feature and the feature is great, just so happens I have different needs on some of my PC. Sent from Turing Machine

exactly what i wanted, copy pasted all your points :P

2. You can easily toggle between normal and full screen start menu without using tablet mode. There's an option for it in the Settings. Correct me if I took it wrong.

You are correct that there is a toggle tucked away deep in the Settings App. I wouldn't call it an "easy" way to switch between Start Menu & Start Screen though. Right now the Start menu is resizable, if you click and drag its top-right corner. You might expect, though, that dragging the corner across your entire screen would toggle Start Screen. But it currently isn't intelligent enough to do this.

I like some of your feedback but it's nothing to do with the feedback they're asking for in the quest lol

My pinned sites *usually* show a logo. You just have to wait for the website to completely! load five it a couple seconds after it says it is done, then go to pin website. +640/Win10

Bring back Windows 8.1 touch style for tablet mode in Windows 10, it's a little hard with the lay out of tablet mode. It needs to be more touch friendly like 8.1 was.

Don't agree with number 1 though. I don't want my mobile tiles to like my PC tiles

Link to their official survey: https://insidersurveys.windows.com/s3/Feedback-Hub-Quest-Improving-the-A...

I liked the 8.1 UI in that respect. The only thing I (and most people) didn't like was how it was so bifurcated between desktop and metro/modern.

I still prefer Windows 8.1, and that is also why I still have not updated to Windows 10 on any important computer .. I dont want a start menu.... I moved on from that and see no point of it . For me the optimal solution would be to keep the desktop start menu like they have now in Windows 10, and then fix the tablet mode, so it was actually usefull on a tablet unlike today (specially on a smaller tablet ..then the tiny all apps list and others are almost impossble to hit) Tablet mode should be exactly like Windows 8.1 was with a full screen start screen with live tiles, and horizontal scrolling, as it makes sense in landscape mode.. , and a swipe up gives you a full screen all apps list just like windows 8.1 .. And put switch user/logout and power button on top right as well. Then you would get the best of both worlds. All the things that made Windows 8.1 great on a tablet, and the start menu for desktop for those that prefer that and hated Windows 8 (most of them never used it on a tablet) .. and since you can set tablet mode while in desktop, people like me that actually prefer a full start screen Windows 8.1 like experince on a desktop and laptop as well can get that .. (If it was only possible to remove the action center and get the charms bar back I would love it, but that i can live without and accept as that would never happen... as I'm probably one of the 5 people that acrtually loved the charms bar and found it extremly useful every day :) )

Chams bar were very useful. I barely use action center

I'm one of those five people

@JudaZuk Agree 1000%. The reasons you mentioned is why my mostly used computers won't ever run WP10 if I can help it. I hate the start menu. Long live Windows 8.1!

Oh I thought I was alone in the universe! I use windows 8.1 on laptop and I have to say that horizontal scrolling start screen and all apps view format was big improvement. I find it even better than windows 7 or windows XP solution! I would like to have an option of having windows 8.1 style start screen in windows 10. The way they messed up start screen is reason why I chose not to upgrade to windows 10.

The"start screen" on 8.1 is brilliant because there's no scrolling involved; you simply swipe down and you see ALL of your apps on the same page. Like I said before, the only thing I HATED about 8.1 was the bifurcated UI (especially because you couldn't toggle between modern and desktop IE). Other than that, 8.1 is superior to W10 in every material respect (e.g., swipe gestures, touch interface, charms, etc.). I've been on W10 since day one and it's brutal in tablet mode. Further, I don't "get" the insistence on having an abbreviated "start" menu. If MS had merged the best aspects of 8.1 and 10 (perhaps through user preferences), they'd be sitting on gold.

Please!!!!!! Listen to this user!!!! MS please!!!!! Windows 8.1 gesture was the best thing ever!!!! Swap apps with just one finger was briliant. But I understand than there are a lot stupid people than complaing about Start menu and MS has to change because of them.

Interesting. I'm not 100% on the first change but the second change seems like a good one. Windows Central for Windows 10-Microsoft Lumia 640

Not sure what that huge gap on the left is for in the 2nd screenshot but I like the changes in general in the second one

Well these are early concepts. I'm sure any anomalies like that will be rectified.

1. It's very simple. Make a LIVE tile for "All Apps" that can be pinned anywhere on the Start Screen and it can show details like last installed apps, app updates if any and most popular apps. Opening it will reveal a linear list of apps that can be scrolled vertically but instead of being at the left part of the display, it should open right where the tile has been placed. 2. Also make a toggle tile for power and sleep modes. 3. Do not change any other thing. It's perfect already.

There would be a problem if those tiles could be unpinned, though.

I'm talking about if Microsoft makes the All Apps and Power buttons into tiles.
EDIT: I misunderstood your first comment.

All Apps and Power buttons can co exist with the LIVE tiles.

I noticed that after rereading your first comment. That would be a great idea.

Anything to make W10 more like 8.1 and not the poorly designed mess it is now is a good thing.

I know, 8.1 was a wonderful piece of OS...it was great for tablets.

I am not the only one!!!!!!! YEAH! Windows 8.1 was the best for tablets! Now this stupid way on Windows 10 make me cry al the time, too much pain

LOL as a power user I find it difficult to navigate their metro control panel its like a bad version of how bbos manages settings

It's alright the way it is now. No need to change. Please stop tinkering with same stuff over and over again and start bringing some more features Microsoft.

Lol definition of insanity

Do some effort for phones too

Is it possible sending graphic concepts? I mean, a picture is better than a thousand words...

Something sorely missing from the All Apps views on Windows 10 and Windows 10 Mobile is a category view. When you've got a lot of apps installed and you know you installed a game you wanted to try out but can't remember its name, or you installed a productivity app some time ago and can't remember how to spell it because the developer got all cutesy on the spelling, it would be nice to filter by application category (games, productivity, tools, social, etc.). All apps have these categories coded in their manifests, so it should be almost stupidly easy to add this. Posted from Windows Central for Windows 10

This! We need filtering option for All Apps and we need to bring back the Windows 8.1 sorting option where we can use Category sort (I always use this option). It be also great to have this on W10M. Sent from Turing Machine

Glad I'm not alone... anyway, here's a link to the Feedback entry I added so you can vote it up. :-) Posted from Windows Central for Windows 10

LOL, and this time I'll include the link: feedback-hub:?contextid=203&feedbackid=bca17625-154e-4877-aabb-13719d02dc05&form=1&src=2 Posted from Windows Central for Windows 10

Lol! Me too, I thought I was alone as I kept sending similar feedbacks and even now, we still don't have any sign that will come back! Also I will definitely vote (no, I must!) for it when I restarted to my Windows 10 Insider partition. I'm currently using regular TH2 Windows 10. I would like also you to help me to vote my 'older' feedbacks too, you might find them useful. ;) They're sent from older Feedback App from Windows 10 TH2 (non-insider build). I hope you will vote too. :) I think we need to share wonderful feedbacks. The Feedback system is still poor at discoverign feedbacks especially when scrolling with wall of text. Boot to Start Screen option for non-Tablet-mode users: Windows-Feedback:?contextid=213&feedbackid=b519bcb2-6172-4646-b524-089b021a04c5&form=1&src=2 Additional suggestion about "Evolving Action Center's Entry Point": Windows-Feedback:?contextid=337&feedbackid=7a486100-6215-4eb3-8331-261334776ba5&form=1&src=2 Task View Drag-and-Drop objects/files between windows/apps: Windows-Feedback:?contextid=214&feedbackid=c2ef11bb-b1ec-4605-ae20-8aed796b48b8&form=1&src=2 Windows-Feedback:?contextid=214&feedbackid=89ba1b2c-3977-446b-ba90-a9a3c8dbf8a2&form=1&src=2 Logon experience: Windows-Feedback:?contextid=112&feedbackid=2bfebca6-1d67-4e37-94d7-e28b476a9503&form=1&src=2 Independent Task View and Drag-and-Drop windows between multi-monitor setup: Windows-Feedback:?contextid=214&feedbackid=6c1ad994-09b7-4cdc-a6ac-27fb7c6750ce&form=1&src=2

Lol if only they didn't mess up the w7 mode cp till metro cp was properly setup

Apps grouped togther by context i nthe menu works, it worked in the older versions of Windows and will work in future too, eg 'accesories, Games, Work...also the ability to define groups (not just tiles but actual apps in tailored menus) just makes sense. Having a list of All Apps is quite frankly stupidity at its finest, its as if some young developers have ignored the previous experience and knowledge of windows and started again...not wise!

I would rather suggest have a contest, let the Open Source UX world participate and get you the ideas...!!

Sounds a great idea but it can turn messy. They have UX team (which sometimes Microsoft forgot they have one), and they have need to be cohesive. But it's still interesting to have one and show them on Feedback hub nor Survey form for all UX/UI and feature suggestions. I think for now we just need Survey form for now to including richer suggestions where we can send them our UX concepts directly.

I don't like this, I'm fine with the way it is now. The Action Center on the other hand needs to improve a lot. I like the changes they're presenting in the other survey. Posted from Windows Central for Windows 10

Agree 100%. The solution seems so obvious

They should just make it an option. So you can switch the formats from time to time. Sometimes a change is refreshing, but it does not have to be a permanent change. Keep it dynamic.

Well I heard this before and hope Microsoft is really serious hear are my suggestion i Round off the 4 corners of the tiles because a lot of people think the tiles look ughly as hell ( I dont but alot of people hate the tiles). space the tiles a little apart to give a less clutterd look to the start screen. Make all tiles that donot have uodating data inside them small tiles. on the windows 10 mobile smart phones keep the tiles start screen with the new tiles mentioned above buy have the Apps screen look just like an apple or android gridded icons screen for 2 reasons which are 1=People will see more apps on the screen without scrolling up and down a lot like being done on current Windows 8. 8.1 and windows 10 mobile apps screen. 2=this screen will help Apple and Android smart phine users more easily use a windows smart phone because part of the windows smart phone Ui will look like what they use everyday on their smart phone but the Windows smart phone will still retain IT'S IDENTITY BECAUSE it still has it's awrd winning smart tiles UI on the start screen when the Windows smart phone is turned on.

I absolutely do not want an all apps list like iOS and Android, it sounds simple until you realize that icons all start looking the same after a while. Both of those operating systems get disorganized once you go above 20 apps or so. Give me my alphabetized app list with the ability to quickly and easily move to the app I want with the jump list. Also, rounding out the corners of the live tiles would just make them look like oversized Apple icons. I realize that some people might not like the tiles but making them look like a bizarre mix between iOS and Windows isn't going to fix that.

I like the new layouts but one thing I absolutely hate is that there is a ton of wasted space on both versions. It looks like there should be some stuff there like action icons etc. Something. Plus I wish they would bring back the start menu sync where you could have the same tiles on your start menu as on your phone. Maybe one day. The other thing is to make the swipe actions the same. On phone, you have different ways of accessing things such as swipe down for action center... Whereas on desktop/tablet it's swipe right to left. Posted via the Windows Central App for Android

I gave the new start menu a chance, but I gave up and installed start 10. Much more customizable.

I confuse the all apps and more settings button in tablet mode all the time. This might done that issue. Yippie.

Start UI is fine as is. It's better they allocate resources to fix the tile synchronization bugs instead.

This is a great idea. The new layout is exactly what I would have liked

I like the Start Screen one, although that design has a lot of wasted space to the left and right which i think could be used to show even more apps in.
The Start Menu however... I don't really like either design. I think the best option is to merge the Start Screen idea into the Start Menu. So clicking on 'All Apps' expands into the tile section and shows all apps in an easier to view list. Currently All Apps is very cramped in that scrollable list. That's the feedback i gave anyway. I like how they're asking for feedback on this

Whats wrong with the start screen in mobile? Posted from Windows Central for Windows 10

Whatever happened to being able to tap on a pic in app so that you can zoom, or am I too dumb to do it now

Microsoft gave up on 8.1 because tech writers said it was terrible. Forget about getting Insiders to help go seek the wise tech writers they seem to have all the answers on how Windows should run and look.

When I click on the Start button and the menu list (from Documents to All Apps) is displayed, let me right click on the :All apps" button to bring up the Alphabetic view (i.e. the 0-9 A-Z view) of all the Apps. Right now to do that I would have to click All apps and then click an alphabet heading to get that view. This makes it much faster to get to the app I want without the extra clicks.

The start menu should be not darker also should our support desktop themes also the notification bar it's wrong because nobody pay attention to notifications of pop up from your right side bottom display specially when are interactive ones should be placed alike the mobile version on the top together with the status like WI fi signal , any other quick status icon and on the bottom only quick buttons the ergonomics to Microsoft looks like they forgot that,I in fact never watch the bottom display notifications because are out of my vision field when watch a website or read an word text

People have been waiting for a landscape mode layout for mobile. Can't they make the landscape mode look like the tablet start screen, with an "all apps" section to the left and the usual tiles on the right? I would like that.

It would be nice to separate the live tiles on the start menu and the start screen. On my start menu I might just want a few live tiles, for example mail, weather and the store. But on the start screen I want more live tiles. So I want them to be separated, so that I can truly have a personal experience depending on which computer, desktop, tablet or mobile, that I'm working on.
Windows Central Newsletter
Get the best of Windows Central in in your inbox, every day!
Thank you for signing up to Windows Central. You will receive a verification email shortly.
There was a problem. Please refresh the page and try again.