Microsoft wants to make Windows 10 more accessible for people with disabilities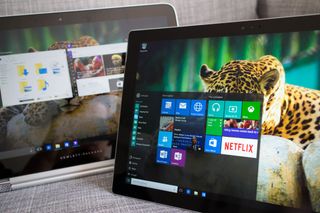 Microsoft wants to make both Windows 10 and Office 365 more accessbile for people with disabilities. The company has outlined a roadmap for both products that will offer those kinds of features and improvements for 2016.
Here's what Microsoft has in mind for accessblity improvements for Windows 10 in the next year:
Improve commonly used features and do a great job with showcase Windows experiences. We are working to ensure that everyone can easily access and use the Start menu, the lock screen, and settings as well as Cortana, Store, Music, Videos and more.
We're also working hard on our new browser, Microsoft Edge. By the end of 2016, the browser will have improved browsing and reading experiences not just for those using our built-in assistive technologies, such as Narrator and Magnifier, but also for people who use other commercial assistive technology. On Feb. 3, we shared our priorities for 2016, including additional detail about the key areas that we think will have the biggest impact.
Windows 10 Mail will have improved screen-reader support for common email scenarios – already, we've made progress against these goals on Mail for PCs.
Work continues to improve our built-in assistive technology by increasing performance, reliability, compatibility and usability. These improvements translate to a faster Narrator, improved compatibility while using apps like Windows 10 Mail and Microsoft Word, better mapping of keyboard commands to user expectations and an increase in the number of supported languages.
As far as Office 365, Microsoft has this roadmap in place for 2016:
Making it easier to author accessible content from any device. In 2016, we will be extending the Accessibility Checker (already available in Office for PCs) to Office for Mac and improving the experience with alt-text in Office Online.
Making it easier to use Office 365 with screen readers and keyboards on any device. Last year, we added support for VoiceOver for Office for Mac and this year, we will be adding full accessibility support for all our Windows 10 store apps.
Enhancing the experience with our apps in High Contrast Mode. For example, we will make it easy to read commands and navigate through controls in Office for PC.
Introducing new reading and writing tools that are particularly beneficial for people with dyslexia. In January, we introduced a preview of Learning Tools in OneNote for PC that will be generally available in 2016. We are also working on improving spelling checker in Word 2016 and Outlook 2016 to offer suggestions for phonetic and other less commons misspellings.
Enabling everyone to use our applications in more intuitive ways. We introduced "Tell Me what you want to do…" in Office Online and Office 2016 for PCs to help people get things done quickly or get help by entering intuitive commands. We will be extending this capability to Office on iOS and Android in 2016.
Microsoft is taking suggestions on these plans from the public on its UserVoice Accessibility Feedback site.
Source: Microsoft (opens in new tab)
Windows Central Newsletter
Get the best of Windows Central in in your inbox, every day!
Thats why i luv ms!.. Guys anybody have noticed the limitation of 7 back ground apps in w10 mobile??.. Or I am the only one with this issue?

The more RAM you have, the more background apps you can have. (Not really an issue)

Oh I thought android has unlimitted background apps

Which is why it can run painfully slow for some unknowing users who have lots of Android apps on a low-end phone

Even on 950 and XL it only shows 7 apps. I have 535 and I tried loading many apps. All of them are in the memory. I tried to click the app icons from the start and they loaded without any delay, but only 7 apps show in the recent apps view.

I hate to be that guy, but Microsoft is only announcing "Tell me" functionality for Android and iOS for Office mobile, this year? Windows 10, mobile anyone? Microsoft? Bueller?

If you hate to be that guy, don't be that guy. Rule of thumb.

Maybe, but it is largely true that feature parity and new functionality seems to be more of an issue on Windows 10 mobile, than is the trend on competing platforms, particularly with Microsoft Garage projects (which are technically published under the Microsoft official dev account). As the commenter pointed out below, I the Tell Me functionality already there on 10 mobile (whoops, my bad! And thanks for pointing it out!)

That's already there. Check out a lamp in the 3 dots bar.

Just get Cortana and full voice dictation working OS wide and that would help out many crippled people.

It's not even accessible to healthy people, what are they planning now

I like to read this kind of articles. I remember that I once saw a video where MS was working to help people with visual disability to navigate through streets with more ease. It was very interesting! It is surprising how most people still demonizes MS because of windows ME and Vista.

I love you very much great wild ever windows 10 is great features

I can sincerely recommend you the site www.Microsoftkeystores.com based on my personal wonderful purchasing experience on it. I also bought a product key for my Windows 10 key yesterday. The site provided more support and service than I expected.

Just like me, not a master of the computer, I believe many of us may get stuck with the computer problem. Take this question for example, based on my previous experience, I think you have to get a product key to activate your Windows 8.1 activation key. Just go to the site http://www.MicrosoftStoreinc.com and place your order to buy one. When you pay for it successfully, the genuine product key will be sent to you timely. You can activate your Windows 8.1 activation key in several minutes.
Windows Central Newsletter
Thank you for signing up to Windows Central. You will receive a verification email shortly.
There was a problem. Please refresh the page and try again.