Microsoft fixes Windows Store icon bug, adds support for Groove Pass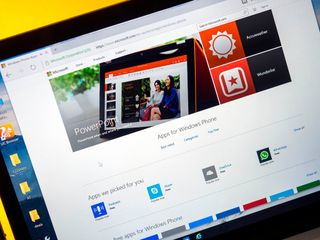 This afternoon, Microsoft pushed out an update for the Windows Store. Version 2015.8.3.2 is now live in the Store, which updates the previous version 2015.7.22.2.
In searching high and low, we could not find any differences with today's update. However, Richard Hay (@WinObs) of SuperSite for Windows noticed that his Task Bar icon had changed. Indeed, it did, as you can see from our before and after images.
However, this does not seem to be for everyone. Rather, some people already had this style meaning today's update merely fixes it for some of us. The old icon used the system accent color as a background whereas the new one is a large, solid white icon that matches Xbox and Mail.
Clearly, this was a bug that is now fixed.
Small update? Definitely. However, it does add to that tidying up of the OS. Head to the Store and check for an update to get the latest version. Need to know how? Just follow our tutorial on how to make that happen or watch the video above.
Update: Another welcome change is Microsoft has added a 'Play' button to the music store. This only shows if the device and account are linked to a Groove Music Pass subscription. Clicking play will jump the app to the Groove one to begin playing the music. This addresses a criticism I made in my review, namely that it was confusing for Groove Pass holders as there was only a buy option but no way to stream. Thanks, Ryan D., for the tip!
Noticing anything else in today's update? Let us know in comments.
Windows Central Newsletter
Get the best of Windows Central in in your inbox, every day!
Daniel Rubino is the Editor-in-chief of Windows Central, head reviewer, podcast co-host, and analyst. He has been covering Microsoft since 2007 when this site was called WMExperts (and later Windows Phone Central). His interests include Windows, laptops, next-gen computing, and for some reason, watches. Before all this tech stuff, he worked on a Ph.D. in linguistics, watched people sleep (for medical purposes!), and ran the projectors at movie theaters because it was fun.
that icon has been updated and looking that way for some time hasn't it?

There was a BUG for some where no, this was not the case. That is how I did the before and after. Thanks.

There's obviously a conspiracy behind this article, Daniel. Microsoft sent you the 'before and after' pic to make us believe they're actively fixing bugs in Windows 10. /s

Indeed, this bug affected me: when I first installed Windows 10 the Store icon was monochrome but then later changed to the accented version. It didn't affect just the store, though; it did it to the Xbox app as well. Personally, I'd like to see all of the icons go monochrome (or at least have the option to do so), particuarly the Edge icon, whose deep blue color makes me feel funny inside.

I just want them to fix the settings app icon so that it matches the rest of the accent-less icons. It's a little jarring to have most of the system apps all sport the new look except the settings app. It's not a show stopper by any means but it does impact the overall consistency of the design. I suppose this is the expectant result of releasing a product to market earlier than intended.

they fixed it for me now Caps lock bug and edge newsfeed not showing bug

i see the article updated from prettifies to bug fix -- makes sense.. i have had inconsistencies across different device upgrades so let's hope the patches keep coming! my main pc has a totally messed up edge browser, no easy fix on global apps..

For a long long time, the icon has been ok for me. In fact, the new store has never been green for me.

Yes. The green store icon was the old store which has been removed. The grey store icon was the store beta.

I've had since the 29th or 30th of July. Good its getting around, much better looking. My mail and calculator is like the store too

I got it the moment I installed Win10 days ago.

I think you may have missed the point of this article, lol Focus on the part about "bug fix".

I think this prove that people don't read articles but love the comments section xD

Well yes. I always read the articles but some I just go straight to the comments to see all the rage and anger.

I like to call it constructive feedback. :)

Man I was hoping they where updating it to make it look less horrible on high DPI screens. It is just so jaggie currently.

That and the auto-update toggle is still hit and miss. I have it working on some, not on others. Weird.

In 10240 for me, I'm still seeing the majority of the built-in app icons incorrectly showing themselves. I haven't seen this as a widespread issue online, but is anyone else seeing this among most of the apps? (Mail, Calendar, Music, etc.)

Yes. Heck, even my one note has a white icon.

Sadly, not all my icons are like that. The only ones like that are, now the store, the feedback app and my alarms. Nothing else. Does anyone know if it's going to come in future updates?

Nice....and if they can now also change that Edge icon into white instead of this blue IE-ish icon. Would be much more consistent

Yeah, wondering if they are going to do that. My guess is no, at least not for awhile. The blue is iconic, pardon the pun, of IE and now Edge. That whole familiarity thing.

Same with the other core app icons I suppose (such as for the explorer). My guess is they'll change it eventually once people got used to the new shapes and looks. I would certainly like to see the MSN (and all other microsoft) apps to adjust to the new style as well, another step towards consistency.

Explorer just needs to be redone. I mean, functionally it's fine, but it's clearly just the old version with a makeover. Maybe it's just me, I dunno.

File Explorer badly needs tabs for opening multiple folders.

Yeah, I think they have just to make the UI consistent with Modern UI styling. Make things more touch friendly and give some gestures, wireframe icons and update things. I don't think File Explorer has to be Universal App, since it needs to be baked in tthe OS. Universal Apps are restrictive and its API is still very limited. Maybe something like this.
http://i.imgur.com/8T63A3z.jpg

You're exactly right, explorer needs to be modernized, but dont force it on to people, make a new explorer optional until people get use to it. But it doesnt need to be radically different ui/ux wise. Explorer just feels like a relic, a functional relic, but still a relic design wise. I hope they're not afraid to forge a path forward with explorer.

Maybe so, but if I were MSFT I wouldn't want people associating Edge with IE... It's got a bad rep... just my 2c ;-)

Bad rep from techies, not mom and pop. It's more about discovery for them then legacy concerns.

Rather bad rep from Mac-sporting, latte sipping, web developer hipsters who only test in chrome... :-P
I'm perfectly fine with IE11

When my brother started working as a web dev and said IE sucks I called him out on it. Don't repeat the mantra you heard somewhere, it really just makes you sound stupid. Meanwhile, all of these Mac/Chrome users are loosing hours of battery life because Chrome is sucks the life out of your laptop

I switched back to I.E because edge crashes and has serious scrolling issues.

Me too for most of the work I do in it... Edge doesn't crash on me, but refuses to scroll as long as the ads on a page aren't loaded. And for the moment Wordpress doesn't play nice with Edge (totally unusable in fact)

I was at a Microsoft Store for a Windows 10 launch breakfast for small business owrs and an older guy asked where the blue internet button went, the one he uses to go to Yahoo (it was there just hidden from his view by a kinect sensor). I'm sure there are many people who just think the blue e is how you access the internet and have no clue it's a browser.

Mine is broken from the very beginning - it looks like 2 color black and white .bmp convert. I sure would like to be able to change it :/

Daniel must be crying. Read the article, folks!

I'm about a minute from deleting the damn thing, lol.

I feel for you... READ people!

Groove is fixed with this I sent you the info in a tip

Groove was not fixed for me, i had to uninstall Groove and download it again, then it went how it should be. This was after the Store update. Maybe i had to restart Windows 10 idk. But they should do that on all Microsoft apps. Posted via the Windows Central App for Android.

Same here i see no play button, gonna restart.

How did you mnage to uninstall Groove? As far as I'm aware it and other apps (like the XBox app) are registered as system apps and are therefore uninstallble. Unless I'm missing somethng in the right-click context menu? Or is there a way and I just don't know about it.

I've had this icon since I read the article and noticed that I had it.

My store keeps disappearing from my 640

how to update the store? im still at 2015.7

This fixed downloading music with Groove before it only had a buy button now music shows a play button which takes you back to Groove so you can download

Only icon I have issues with is on one machie my xbox logo has the green background..

Speaking of bug fixing: I have the Insider Build of Windows 10 Build 10240. I have been upgrading, upgrading and upgrading it for months now. It works great, but it's just that ... the task bar shows running applications with the icon + name of the application, instead of showing just the application with a line under the icon. To explain this better: In the article screenshot you see MSPaint being active, with the MSPaint icon and then a green line under it. This is not how it shows on my Insider build. EDIT: For instance, if I start the File Explorer window, to the left there is the icon, followed by "File Explorer" text to the right of the icon. Under it all, is the line (a red line in my case, since I have set Windows to show things in a red theme). Is this a setting that has been preserved in the Windows registry since the earlier days of the Windows Insider builds? If I clean installed, I am pretty certain I would have this fixed immediately, but I have not seen any need to clean install just because of this icon issue, so yeah ... lol.

This is not a bug. Right-click on the Taskbar, select Properties - Taskbar buttons: Always combine, hide labels. Done.

Okay, nice! I will try that.

Tried it just a minute ago. It worked! Thank you!

I love the new style of this icon ;) good news for me ;) I hope that the Windows 10 Mobile Version will be so beautiful like Windows 10 too...

Mail,Photo,Calendar are the same way,they need a fix too.

And some of the apps' shortcut icon on my desktop just look like a blank page of paper, don't know why. The tiles of those apps, however, have just the correct icon on them in the start menu. Does this happen to anyone else?
Some of those apps which I can remember are Phone Companion, Outlook Mail, Calendar, Groove Music.

I've been having the opposite issue. Some of my live tiles in the start menu show a blank color tile, which if I unpin and repin then they are fine. Hopefully this bug will be fixed as well.

Good for you that you have a simple workaround. I, on the other hand, have not. I tried deleting those shortcuts and drag & drop'ed them to desktop again--no luck. Anyway, thanks for sharing!

This is a weird bug that affects more than Store. I did a clean install and all my icons reverted to the old one. Did a clean install again and they are mostly all back to the new style, except OneNote, which still has the purple.

After I manually updated the store I got this and some Office downlaod as well. I don't understand the office one though. I use Office 365-E3

how can we update the store?

We posted a video on how to do app updates. I mention this in this very article. The Store is an app. Apps are updated in the Store.

Which is funny in a way... ;-) "Updating Store app" - "Downloading" - ZAP! Store gone.. ;-)

Is that the new-new icon?

Good to see as that using explore but not the store confused the help out of me.

I keep trying to change my store so I have to do app updates manually but it keeps telling me I have to have the administrator do that...I am the administrator!

I wonder if file explorer and files will ever sync in the future to allow files and other system related stuff appear on either device. Sorry way off topic lol

I'm still missing the Play button for Groove pass, even after the update

The worst problem with store is when you search for an app. You click on see all, and go the list a 100 apps or so. You find one that seems interesting, click on it for details and realize that's not what you are looking for. You click back, and have to start from the beginning again with "show all" and browse through 100 apps again to get to where you were up to. That's really annoying...

Yes, music pass is fixed! Even though it isn't that big of an issue on PC. Its much more of an issue on Mobile.

I need Groove on the Web to quit asking if I intend to open the app. Takes closing two pop ups to go on and then must sign in.

Now I just want them to re-add "Sync my Licenses," make it possible to click the app icons to view patch notes again, and for whatever reason (Probably a bug): I can't individually download updates. I HAVE to select "Update All," it's to only way to begin downloading updates. Super frustrating, not as smooth as 8.1. I'm loving the new Store, but I do have a couple gripes with it. Growing pains, I suppose.

The Candy Crush bug been fixed yet? Support told me it was a problem on windows end

Nope, the Candy Crush tile still randomly appears for no reason on every machine after a clean install. It's a weird bug, but luckily you can just unpin that bugger.

I meant the one for windows phone haha, I should of made it more clear! It won't download.

Anyone tell me its available for windows 10 mobile also??

Yea now they need to update the groove music icon also cuz its just like the store icon.

Updating branches is of no use if ur main trunk is full of bug.HP USER

Hopefully it fixes the annoying "overlaid icon" bug when automatic app updates are turned off and there are app updates available.

I don't like the way it closes out after downloading the update without any warning the app needs to be restarted.

They should do something to the error people, including me for the last 3 days, keep getting. The 0x803F7000 -error and can't download anything from the store...

Uh, I updated my Store app and it's gone from the new to the old look... what just happened? lol

It just did the opposite of what it was supposed to do. Now it's the accent square with icon look.

whoa whoa whoa... whatsapp has a universal app now?!?!? At least in the picture above it does.

Mine has done the same thing. When I upgraded from Windows 8.1 to Windows 10, the Store updated and I got the new icon. Clean install of Win10, I'm stuck with the square background and color of the old store despite my store being up to date. I know it's minor, but it's bothering me how it was fine one way, not the other.

Same, does anyone know what to do?

"My" icon of store application, is in blue square (because of my settings color) on taskbar. It's because of version and build of Windows 10 Pro?
Windows Central Newsletter
Thank you for signing up to Windows Central. You will receive a verification email shortly.
There was a problem. Please refresh the page and try again.