How to check for app updates on Windows 10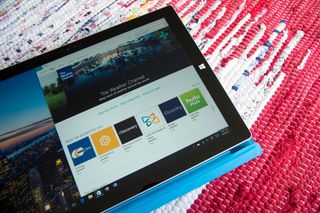 Windows 10 can automatically install app updates when they become available, but you can also check for updates manually. We'll show you in a quick how-to video. Some people like to check manually so they can see if there are any changes mentioned in the update. We're guilty of that because we report on app updates that readers might want to know about.
How to enable automatic app updates
Open the Store
Tap or click the user icon on top, next to the search form
Tap or click Settings
Toggle On Update apps automatically
How to manually check for app updates
Open the Store
Tap or click the user icon on top, next to the search form
Tap or click Downloads
Tap or click Check for updates
You can also check specific apps for updates by going to their Store page. You can use the search form to find the app, or check My Library for a list of all your apps.
If you think this guide is helpful, we have many more posts like this in our Windows 10 help, tips and tricks page.
It is well hidden. I've submitted feedback that it is not in the best location.

No kidding. I'll do so as well

Have you been able to update the 3D builder app..its showing 0x800***01 error

You have to clear the store cache. I had the same error with 3 apps, and clearing it fixed the issue. The instructions are online.

I think WCentral should hold on to some of the tips for W10 as majority of us haven't received it yet & till the time we get it, all this would have gotten over.....

That makes no sense though. The articles still exist in the future, lol. Just go to our help and tips page.

The articles still exist in the future, lol. So... you're a time traveler. lol

This is the internet and there is a search bar. I think there is even a landing page for all things Windwos 10. There is no need to hold back until everyone gets it and then have a flood of info. Read it now and remember the content, or bookmark the pages.

They really need to add some "Dot" or something on the live tile when you have auto update ON.. Now I don't know what's been updated.

Is it a known issue in the mobile version that checking for updates never actually finds anything? Visting a specific app in the store will trigger the available update to show in downloads, but manually checking for updates never finds anything itself.

I'm still running the old USA Today app, store doesn't show an update. Guess it'll update one day, some day....

Anyone figure out how to view update history? I turned automatic updates off until I can find that option.

I'm also looking for update history. Surely this is a step backwards?

It's amazing to me that the Windows 10 store does not have Action Center notifications for updated apps. It's the only reason I don't let my apps update automatically. Side-note: I discovered last night that Windows 10 Home edition doesn't even let you change the toggle to update apps manually. Lame.

If you read while you were doing the update process, Microsoft has you agree to and accept this behavior, during the installation. Automatic updating is mandatory for the Home OS. Inevitably there will be a registry change to unlock our ability to choose. I'm not too worried about it because I know it will come.

Yeah, its too,hard to find the list of apps installed :\

My automaticly update app option is greyed out....

You are using home edition that's why.
Microsoft has made it compulsary for people on home edition get updates.

"Update apps automatically" is greyed out for me. Below that it say to "contact [my] system administrator about changing this setting." When I asked myself, I told me to post here.

Same for me. Have not been able to find anything that will allow me to turn the automatic app updates off. I personally like to see the change logs before I update to see what has changed. Also sucks that the start screen and apps don't sync between Windows 10 devices like it did with Windows 8.1 https://windows.uservoice.com/forums/265757-windows-feature-suggestions/suggestions/8976184-sync-start-menus-between-various-windows-10-device

Read my comment above about why it's greyed out.

HAHAHA! LOL!! :) I do that sometimes too.

You could try switching versions... (results may vary). https://technet.microsoft.com/en-us/library/hh825157.aspx?f=255&MSPPError=-2147217396

+1 "Update apps automatically" is greyed :-(

Auto Updates are mandatory for everyone using Windows 10 Home.

Auto Updates for system, not apps!!! In Home Single Language I can turn off this option...

I think he's referring to discoverability; when the masses get on it, they'll have to dig for articles from the past. It kind of sucks for them, but at the same time, those of us who are on win 10 shouldn't have info withheld for the sake of convenience of those who haven't upgraded yet. Maybe put a sticky link to the win 10 tips and forums at the top of the page if it isn't already. ..

make sure after updating to windows 10 in some notebook pc and netbook pc Bluetooth is not working windows defender is not working and as well as windows hello.. So I suggest people that don't upgrade it now let Microsoft releases there next update to windows 10

Before giving your opinion to public at large I guess you should your pc for possible errors, drivers incompatibility etc.
Cause mine is working fine. There were troubles when I upgraded but then I did a clean install and updated all my drivers and its smooth now.

Anyone found where to sync app licenses? I guess Microsoft forgot to add it !

Anyone with w10 installed already can post whether the Store allows temporary user switching (for example for buying apps for the children's account with the wallet of the parents). W8.x allows that and it's even in the MS site in the Family Safety FAQ.

downloads are blank for me, ho hum..

It was much better in Windows 8.1.

Reader app can't be updated in the store: error code 0x803F8001

I noticed one time that my apps didnt continue to update(like i dont have internet connection), even deleting it and reinstall. But aside updating apps, everything runs well. Turns out, i need to restart my PC so the updates will resume.

BTW, is there any way on the new store app to see the downloads and update history?

I can't able to see update history from update page...

If I paused an app while downloading them it will not resume from that point. It always starts downloading from start... Please fix that Microsoft

Yes I cant seem to resume downloads properly too.. Have to download them in one go.. And I cant see update history too

has anyone tried firefox Mozilla 40 for windows 10? I have tried for some hours but its made me slower and also its too worst than it looks.
Windows Central Newsletter
Thank you for signing up to Windows Central. You will receive a verification email shortly.
There was a problem. Please refresh the page and try again.