Microsoft is 'working quickly' to fix battery drain issue on some Surface Pro 3 tablets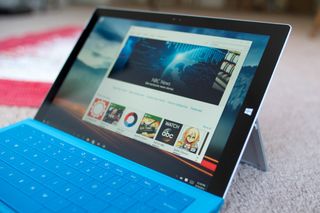 (Image credit: Windows Central)
Microsoft says the company is "working quickly" to find and fix a battery drain issue that is currently affecting many Surface Pro 3 tablets.
Many owners of the 18-month old tablet have been reporting on their battery drain problems on Microsoft's support forums (opens in new tab) (via WinSuperSite). The issues seem to center on the models that have the SIMPLO batteries installed.
MSPU got a statement from Microsoft on these problems:
Some people who have tried to get their batteries replaced have already been told by Microsoft that the price will be $450 outside of the warrenty period, even though Surface division leader Panos Panay mentioned in a two-year old Reddit AMA that price would be just $200.
I'm sure it's Microsoft employees not fully understanding that someone higher than them already promised a lower price. the world is becoming dumber every day. :(

Im definitely one of these. I bought my sp3 i7 256gb the day it came out and my battery now lasts just 3 hours after a full charge. Im doing development (so compiling of code in Visual Studio), graphic design (adobe apps), browsing and streaming music. I also have it running a second monitor. But still, i used to get at least 6-7 hours doing the same stuff a few months ago.

I bought my SP3 second hand this spring. I used to get 3.5/4 hours out of it at first, but lately it's more around 5/6 since one of the last Windows 10 updates. It's still in it's warranty period, the warranty lasts till next December. Thought of getting the battery replaced, but now that it's at 5/6 hours I no longer feel the need to do so. Posted via the Windows Central App for Android

Wow, you're lucky to have gone way up in battery life

I wonder what they'd want to charge to change the battery in my Original Surface Pro, it's still a great device but barely lasts half an hour on a full charge! Notice the difference big time now I'm on the Surface Book, lasts the work day easily

This article only applies to the Surface Pro 3

Yes and I was just saying I wonder how much they'd charge for the original Surface Pro. If you read the Reddit AMA the original poster said "I have an original Surface Pro, and my number one complaint with it is that when the battery stops holding a charge in two years, my only option is to have the entire device replaced by Microsoft for $450."

My SP2 lasts all day... Just saying. Posted via the Windows Central App for Android.. But waiting for the HP Elite so I can get rid of this junkie Galaxy S5...

Depends how much they've been used and abused. Mine was Visual Studio use every day (and still is!), or the missus with TapTiles and Fresh Paint :)

I have a Surface Pro 4, and have 2 monitors, Bluetooth speaker and mouse attached all day and the battery lasts about 7 hours non-stop. I probably will see a decrease in battery life-span in a year or so.

Surface Pro is 128GB, Surface Book is Intel Core i7, 8GB RAM, 256GB

There's a tutorial om YouTube how to replaced surface pro battery and where to get one.

Not really worth it as the first Pro didn't initially have the best battery life. SP2... might be worth it, but not the SP1.

thank you.....................................

Lucky here and mine is not the simplo one. It's the LG or smth. Request the detailed report using the command line: powercfg /batteryreport Then go to C:\users\NAME\battery report.html and open it with browser. Check for the manufacturer's name.

Thanks for the tip!!!! Looks like I'm LG too: Installed batteries Information about each currently installed battery
BATTERY 1 NAME
X883815 MANUFACTURER
LGC-LGC SERIAL NUMBER
1157568772 CHEMISTRY
LION DESIGN CAPACITY
42,157 mWh FULL CHARGE CAPACITY
42,773 mWh CYCLE COUNT
391

Take a look at those other reports like your recharges' date-time since you first connected your device per manufacturer's mAh total expected charge value based on manufacturer's definition. Cycle count (yep, u saw that)... Would like to have this on my Lumia 950... Not that I'm having issues at all, just one "neurotic" check per week maybe won't harm no one... lol... Since last october, when I first charged mine, I just lost something like ~1000 mAh of its life, so... no issues here, nor software update problems.

All that info has been reset because of installing new OS build all the time :/

Wow, now it's my turn, thank you for the info. Had no idea...

My Sufrace SP3 has two years and I'm not having issues with his battery, but battery's manufacturer is LGC-LGC.

I've noticed battery drain on the SP3 too. But I don't think it's a hardware problem. Probably some botched update. Though... 450 for a new battery? I'd rather buy a new one for that money which is likely their intention. Of course, that would also lead me to consider other hardware though if it turna out the Surface Pro comes with programmed obsolescence. Posted via the Windows Central App for Android

Any device with a sealed battery... Blah, blah, etc etc.

My SP3 still under warrenty, plus I have microsoft complete too, so I should get it fixed for free, if there is a hardware issue here, right?

One would hope, just bought a pro 4 myself, so if it doesn't cover it let me know, cause I'm still debating on getting Microsoft Complete also! Posted via the Windows Central App for Android

i don't know if that is case for PC/surface, but I had microsft complete with my Nokia Lumia 1020, and it droped, and that is how I get Lumia 950 as replacement. So I assume they might just give me another surface device, instead of trouble to replacing the battery if it go thru Microsoft complete. But i do wish they do battery "repair as standard warranty" , since microsoft complete only allow 2 replacements total.

here is mine: Installed batteries Information about each currently installed battery
BATTERY 1 NAME
X883815 MANUFACTURER
LGC-LGC SERIAL NUMBER
1192763140 CHEMISTRY
LION DESIGN CAPACITY
42,157 mWh FULL CHARGE CAPACITY
41,298 mWh CYCLE COUNT
20

Am I the only one that's suspicious that this may have been "by design" and it just worked a little too well?

Forced obsolescence is in everything now, although generally you would expect a $2000 item to have a longer lifespan than two years.

Personally I don't. The moment that year vanishes it's game over.

You are. It's this way for most, if not all, devices that have a 1 year warranty.

Unfortunately my surface pro 3 have damned battery brand and face same issue of quick degrading: MANUFACTURER SIMPLO
SERIAL NUMBER 1161370116
CHEMISTRY LION
DESIGN CAPACITY 42,157 mWh
FULL CHARGE CAPACITY 39,710 mWh
CYCLE COUNT 96 PERIOD FULL CHARGE CAPACITY DESIGN CAPACITY 2016-07-16 40,128 mWh 42,157 mWh
2016-07-17 40,108 mWh 42,157 mWh
2016-07-18 39,710 mWh 42,157 mWh Hope to be just software issue

Comparing to mine, I am thinking there is an issue with yours! NAME
X883815 MANUFACTURER
LGC-LGC SERIAL NUMBER
1150752772 CHEMISTRY
LION DESIGN CAPACITY
42,157 mWh FULL CHARGE CAPACITY
44,270 mWh CYCLE COUNT
1026

Thought it was just me. My battery used to last about 5 hours (which still is pretty pathetic, Microsoft!) but in the past month, I'm down to 2 hours 20 minutes. Some software update destroyed my battery life!

Please and thank you. My pro 3 is always dead. Posted via the Windows Central App for Android

Poor Surface Pro. Love my atom processor. Still rocking the Dell Venue 11 Pro with keyboard. I'm getting almost 2 days battery life.

My SP3 can only last below 4 hours, 4 hours is its best shot. I thought thats normal until this article. Poor battery compared to ipad for sure.

I'm just hoping, hoping someday in the near future a Core i Surface will have 10 hours battery while keeping the same slim design as SP4. And by that day it will be the end of all Macbooks.

My battery was fine until that last update about 5 to 7 days ago (it downloaded about 20 or so x64 updates). I suspect it's software. Prior to that update could run 7 or more hours, now it's like 2. I have one more trick up my sleeve to try fix it, which worked last time, if it works will post back here.

SO this is software related? Really MS? The SP3 has been out for ages. This should not happen. W10 has been out for ages and it SHOULD be optimized for your own hardware by now. WOW. going down faster than the titanic.

Do any of the Surface clones have a user accessible M.2 SSD and Battery? It cant be that difficult to engineer. I mean they didn't have to copy the dick move planned obsceneness part from Microsoft along with all the good parts.

I have an SP3 with a battery issue as well. It isn't this issue but it is really annoying. My battery indicator will get stuck at 99% for like 3 hours. When it finally does start dropping it drops really, really fast and at about 30% it will just shut off. I have reinstalled winodws and done all the tricks to reset the battery indicator. MS has lost a future customer with me. No way I am buying another $1500 device that goes out of warranty on an item that will not show defects until after the warranty has expired. Had they designed this with a removeable battery this would be a non-issue.

How on earth has it gone out of warranty, do you only have 1yr in your country? We have a minimum of 2yrs here, & when I rego'd I got 2yrs & 3mth... Even if I'd bought it the second it arrived on shelves here (didn't buy it till ~7mth later). It still wouldn't be out of warranty till Jan 2017....
Windows Central Newsletter
Get the best of Windows Central in in your inbox, every day!
Thank you for signing up to Windows Central. You will receive a verification email shortly.
There was a problem. Please refresh the page and try again.