xCloud game streaming hardware shown off in new video
Those are some beefy servers.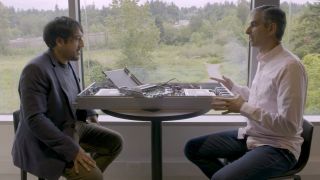 What you need to know
Phil Spencer and Kareem Choudhry talked about Project xCloud in a new video with Fortune.
During the video, Kareem shows off the hardware that is being used in Project xCloud.
Project xCloud will begin preview beta testing in October 2019.
In a new video with Fortune, Phil Spencer, the Vice President of Gaming at Microsoft, and Kareem Choudhry, Corporate Vice President of Gaming Cloud at Microsoft, talk about what Project xCloud means and how it will work in tandem with other devices. When talking about how they got to this point, Kareem stated that "I believe our journey to the cloud started with the original Xbox." Phil Spencer also talked about things they have to consider, like how a game will look on an OLED TV versus a 10-inch tablet device. Phil Spencer added "In order for streaming to work in the long run, it has to support the diversity of business models we see in gaming."
During the video, Kareem also shows off the hardware being installed in servers around the world. A "blade" for Project xCloud is currently made up of the internal parts of eight Xbox One S consoles. These blades are then stacked and installed in different datacenters around the globe.
You can check out the video showing the tech behind Project xCloud below:
Project xCloud has been in internal testing for some time at Microsoft, with Microsoft employees testing the technology earlier this year. At E3 2019, our Senior Xbox Editor Jez Corden got to try out Project xCloud. Xbox fans attending Gamescom 2019 will also get a chance to go hands-on with the streaming technology. Be on the lookout, as Project xCloud will begin preview beta testing this fall in October 2019.
Xbox
(opens in new tab)
Main
Xbox accessories you'll love
Every one of these quality accessories is guaranteed to enhance your Xbox experience.
PowerA Enhanced Wired Controller for Xbox One (opens in new tab) ($20 at Amazon)
PowerA's take on the Xbox One controller is an attractive pickup for budget-conscious gamers that nails all the basics.
Talon PDP Xbox media remote (opens in new tab) ($20 at Amazon)
The Talon PDP Xbox media remote is great for watching shows on your console.
Xbox One S vertical stand (opens in new tab) ($10 at Amazon)
Stand your console upright with this accessory.
Windows Central Newsletter
Get the best of Windows Central in in your inbox, every day!
Samuel Tolbert is a freelance writer covering gaming news, previews, reviews, interviews and different aspects of the gaming industry, specifically focusing on Xbox and PC gaming on Windows Central. You can find him on Twitter @SamuelTolbert.
First part of the video was more Games as a Service propaganda.
F*** that! I want my games to be games and not an entry point to a store where I'm constantly sold stuff like boost packs with microtransactions... Second part is more interesting. Spencer doesn't really reply the question of business model but at least there are hints. For him, there are three models. Renting games, buying games and free2play with microtransactions.
So I'm hoping XCloud is part of the gamepass renting service. If you buy a game on XB, you'll be able to play it for free on XCloud servers (like Stadia). And free2play games are free to play on XCloud and microtransactions made by those games will finance the hosting on servers.

If i'm not mistaken, they said if you own an Xbox One console you can use it as a local XCloud server, without using Microsoft data centers

Yes u can, or in fact rent a part of a dedicated server provided by Microsoft. Its basically somewhat similar in like having a private server for custom games.

@Feras
Yes, but I and I guess the video wasn't referring to this remote play feature. Being able to play your machine remotely is hardly a game changer because gamers were able to do it for years now.
I was talking about actual streaming games without the need of a XB console.

@Guest_aotf, I think you've missed the point entirely. xCloud is just a faciliation service that enables access and thats it. It's not changing how games are developed nor is it mandating how games should be developed to be streamed in terms of game play mechanics. There is no fundamental changes to be made by developers as they already have to target the OG Xbox and Xbox One S, therefore more than capable of running on the Xbox One S server blades. So in short, yes you can play your games without the need of an xbox console. That option is there for those who don't want to stream from servers but from their own gameplay library off their own console. Additionally, that option also meets the stringent GDPR requirements mandated by the EU.

@TechFreak1
When I said game changer I didn't mean games will be made differently. I meant it as a new way of playing games. Remote play where you play your console remotely over the internet isn't a new feature. It's been there for years.
Steaming console/PC content on phones, tablets, PC, TVs... is relatively new. It's a new way of playing games and that's why I called it game changer. I wouldn't say the remote play feature (streaming from your own console) is really part of XCloud. It's more a feature called "Console streaming".
When Spencer talked about it at E3, he made it quite clear what was the difference between project XCloud and Console streaming. Spencer said this during E3: "[...] by bringing Xbox to the cloud. We will do this in two ways, through project XCloud and through console streaming."
https://www.ign.com/videos/2019/06/09/project-xcloud-xbox-one-presentati... (0:36)

You're such a hater that you even bring up GDPR. You've been multi posting tripe all day. Give it a rest will you. We get it you don't like. Fine go back under the bridge mr troll and let more positive people discuss things with positivity. It's a new way to game, more choice is never a bad thing. I actually love my game pass - so gaming as a service works for some people. Do you hang out on pizza forums telling people burgers are better? No, you just don't eat pizza as that is your choice. Now do please take your whiney ball and go home.

@hwangeruk
What are you talking about? I didn't bring up GDPR. LOL
Didn't I tell you to ignore my post if you don't like my opinions?
Why don't you do that instead of trolling with bs?
I don't to keep it positive or negative. I'm not a company fanboy. I don't get emotionally involve in gaming discussions. You love games as a service? Good for you. I don't. Looks like you don't understand that people can have different opinions? LOL Looks like you don't like anyone criticising a company you are in love with. You tell them to stop and "go home". I don't know about you but I live in a country where I have freedom of speech and I have the right to give my opinion.
Trying to censor criticism is a bit like dictatorship. :)

@Guest_aotf. Your own comment disagrees with you "First part of the video was more Games as a Service propaganda.
F*** that! I want my games to be games and not an entry point to a store where I'm constantly sold stuff like boost packs with microtransactions...".

I'm not sure what you're talking about.
I was talking of the video in the article.
They are two different part.
1) Games as a service and 2) XCloud and "Console Streaming".
These are two different things. Did you watch the video?

If you own a game that is in the xCloud CatLog on Xbox One (digitally) you will be able to play it with xCloud at no extra cost.

Do you have a link to this?

I tried xCloud in the Store in Oxford Circus and when I spoke to the reps they said it was running off a server outside of London running off WiFi. In terms of latency there was no lag at all, I tried out Halo multiplayer - not sure which one. The real test would be a mobile data connection as that would truly make xCloud ubiqitous if they can nail that experience, especially with the 2020 trials for 4g signal in the underground (I know many countries have mobile reception in the subway / underground - London does not although some parts of the UK have 2g signal in the underground). Also got to see the Mclaren Senna, which was pretty impressive as well but unfortunately due to time constraints couldn't try out Forza - the queue was massively long. Can't wait for the launch of xCloud.
Windows Central Newsletter
Thank you for signing up to Windows Central. You will receive a verification email shortly.
There was a problem. Please refresh the page and try again.