Microsoft's latest generation Surface devices have landed - should you pick one up?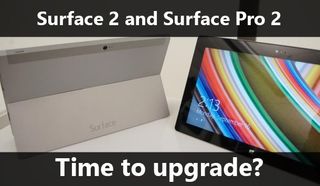 Attention Microsoft fans, it is officially October 22, 2013 here in the United States, and the latest generation of Surface tablets are now available for your purchasing delight. In addition, all new Surface accessories are also available including the refined Touch Cover 2 and Type Cover 2. The questions many are asking, are of course "should I pick one up for the first time?" and "should I replace my current Surface device with the Surface 2 or Surface Pro 2?"..
Surface 2
Microsoft's latest Surface 2 is a follow up to their pervious Surface RT tablet. The new next generation unit includes NVIDIA's Tegra 4 processor, which features a more modern architecture that now supports USB 3.0 and power that is promised to be around 6 times faster than Tegra 3. The tablet's weight and thickness are close to the last generation tablet at 1.49 lbs. and .35 inches respectively. The Surface 2 now also features up to 10 hours of battery life while consuming video (compared to the Surface RT's 8 hours).
The biggest improvements to the Surface 2 besides the new Tegra 4 processor, is the redesigned two angle kickstand and the newly upgraded display. The previous Surface RT's 1366 x 768 resolution was less than desirable, while the new Surface 2 now packs a full 1080p HD display for your viewing pleasure. Internal memory has stayed the same at 2 GB, and storage can be picked up in either 32 GB or 64 GB flavors.
The Surface 2, as expected, has been upgraded to Windows RT 8.1 and includes Office RT for free. In addition to Word, PowerPoint, Excel, and OneNote – the new Surface 2 also includes Outlook for managing your emails, calendars, and contacts.
Surface Pro 2
If you stood Microsoft's latest generation Surface Pro next to the Surface Pro 2 – you probably wouldn't be able to tell a difference. The two units are essentially the same aesthetically, as the real differences are internal.
The new Microsoft Surface Pro 2 includes Intel's Core i5 Haswell processor and either 4 GB or 8 GB of RAM for some serious multitasking. Solid state storage for the device is available in either 64 GB, 128 GB, 256 GB, or 512 GB.
The Surface Pro 2 includes a battery that is said to last up to eight hours active and 7-15 days in standby (or "Idle life" as Microsoft now calls it). Just as the new Surface 2 includes a two angle kickstand for easier use on your lap – the Surface Pro 2 does also.
Other differences apart from the regular Surface's ability to run legacy Windows applications, include a digitizer pen for sketching/note taking and a 1080p touch screen that can detect up to 10 points of multitouch interaction (versus the Surface 2's five points of interaction).
Both the Surface 2 and Surface Pro 2 also include 200 GB of online SkyDrive storage for two years (a $400 value) and unlimited minutes with Skype for one year.
The Accessories
Accessories for Microsoft's Surface 2 and Surface Pro 2 machines are not left out of today's launch. The biggest products on display – Microsoft's Type Cover 2 and Touch Cover 2.
The new Type Cover 2 features an improved button layout for a more efficient and comfortable typing experience, a thinner profile, and backlit keys. The cover is currently listed in a variety of colors including comes in Black, Cyan, Purple, and Magenta for $129. At this time, only Cyan is listed as In Stock on Microsoft's web store.
The new Touch Cover 2 has also been redesigned with more touch sensitive, enabling a more accurate experience, and backlit keys. The cover is currently listed in Charcoal for $119 on Microsoft's Store, but is currently out of stock.
And before you ask, yes, the Touch Cover 2 and Type Cover 2 are compatible with your first generation Microsoft Surface RT or Surface Pro tablet.
Other accessories include Microsoft's new Wireless Cover Adapter, which allows users to detach the keyboard from their Surface and go wireless up to a distance of 30 feet. The cost for wireless freedom will cost you $59.99.
For the more productive type, Microsoft is also offering up a Docking Station and new Arc Touch Mouse for their Surface products. The docking station allows Surface Pro and Surface Pro 2 to become full desktop workstations; the dock provides a display port, audio input and out jacks, an Ethernet port, and four USB ports (one of which is 3.0). The docking station is not currently available from the Microsoft Store website, but will cost $199.99 upon availability.
The new Arc Touch Mouse Surface Edition is also up for display, yet not available, and will cost $69.99. The Arc Touch Mouse is a flat foldable Bluetooth mouse with Microsoft's BlueTrack technology. A touch strip replaces the standard scroll wheel for navigating through documents. We personally recommend other mouses from Logitech like the MX series, but some may prefer the Arc Touch Mouse for its foldability.
The Decision
The question you may be asking yourself, if whether you should run out and purchase the Surface 2 or Surface Pro 2, is a valid one and something to consider.
If you currently have the Surface RT and wish to upgrade to the Surface 2 – it will most likely be a great purchase. The new Surface 2's 1080p full HD screen, two angle kickstand, USB 3.0 port, and Tegra 4 processor will provide a much better experience than the RT. If you have the cash and are sure you love Windows RT devices – the Surface 2 is not a bad upgrade choice.
The Surface Pro 2, on the other hand – takes some serious consideration. The processor has been upgraded and the new kickstand has been added, but nothing has significantly altered the user experience. The previous Intel processors ran well on the Surface Pro and while, the Surface Pro 2 does provide a jump in power – not everyone will need it. The HD screen has also remained the same and provides no compelling reason to upgrade. If you don't have a Surface Pro already, the Surface Pro 2 might be a great choice and is a good step in the right direction for Microsoft. If you already own the Surface Pro and are enjoying it – you can probably skip this update and wait for Surface Pro 3.
Don't forget that new Type Cover 2 and Touch Cover 2 do not require the latest generation of Surface devices, they will work perfectly on the Surface RT or Surface Pro. In addition, the new docking station is also compatible with the original Surface Pro.
Whether you choose to upgrade now or wait, is your own decision, but we hope the above advice makes your decision a bit easier. In addition to Microsoft's Surface devices, other great Windows 8.1 machines to check out include Lenovo's YOGA Pro 2 and ThinkPad YOGA, Sony's VAIO Flip and VAIO Tap 11 (for the review click here), and the latest Nokia 2520 RT tablet introduced today at Nokia World. You can check out our hands on experience with the Nokia 2520 by heading over to our post here.
Are you going to run out and pick up a new Surface or are you waiting for different devices on the horizon? If you are already a Surface owner, share your experiences and what you think about the product that Microsoft calls the #1 tablet for productivity.
All products mentioned above can be order at the Microsoft Store online by clicking here.
Get the Windows Central Newsletter
All the latest news, reviews, and guides for Windows and Xbox diehards.