Microsoft's latest generation Surface devices have landed - should you pick one up?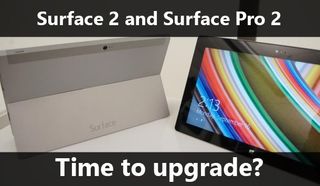 Attention Microsoft fans, it is officially October 22, 2013 here in the United States, and the latest generation of Surface tablets are now available for your purchasing delight. In addition, all new Surface accessories are also available including the refined Touch Cover 2 and Type Cover 2. The questions many are asking, are of course "should I pick one up for the first time?" and "should I replace my current Surface device with the Surface 2 or Surface Pro 2?"..
Surface 2
Microsoft's latest Surface 2 is a follow up to their pervious Surface RT tablet. The new next generation unit includes NVIDIA's Tegra 4 processor, which features a more modern architecture that now supports USB 3.0 and power that is promised to be around 6 times faster than Tegra 3. The tablet's weight and thickness are close to the last generation tablet at 1.49 lbs. and .35 inches respectively. The Surface 2 now also features up to 10 hours of battery life while consuming video (compared to the Surface RT's 8 hours).
The biggest improvements to the Surface 2 besides the new Tegra 4 processor, is the redesigned two angle kickstand and the newly upgraded display. The previous Surface RT's 1366 x 768 resolution was less than desirable, while the new Surface 2 now packs a full 1080p HD display for your viewing pleasure. Internal memory has stayed the same at 2 GB, and storage can be picked up in either 32 GB or 64 GB flavors.
The Surface 2, as expected, has been upgraded to Windows RT 8.1 and includes Office RT for free. In addition to Word, PowerPoint, Excel, and OneNote – the new Surface 2 also includes Outlook for managing your emails, calendars, and contacts.
Surface Pro 2
If you stood Microsoft's latest generation Surface Pro next to the Surface Pro 2 – you probably wouldn't be able to tell a difference. The two units are essentially the same aesthetically, as the real differences are internal.
The new Microsoft Surface Pro 2 includes Intel's Core i5 Haswell processor and either 4 GB or 8 GB of RAM for some serious multitasking. Solid state storage for the device is available in either 64 GB, 128 GB, 256 GB, or 512 GB.
The Surface Pro 2 includes a battery that is said to last up to eight hours active and 7-15 days in standby (or "Idle life" as Microsoft now calls it). Just as the new Surface 2 includes a two angle kickstand for easier use on your lap – the Surface Pro 2 does also.
Other differences apart from the regular Surface's ability to run legacy Windows applications, include a digitizer pen for sketching/note taking and a 1080p touch screen that can detect up to 10 points of multitouch interaction (versus the Surface 2's five points of interaction).
Both the Surface 2 and Surface Pro 2 also include 200 GB of online SkyDrive storage for two years (a $400 value) and unlimited minutes with Skype for one year.
The Accessories
Accessories for Microsoft's Surface 2 and Surface Pro 2 machines are not left out of today's launch. The biggest products on display – Microsoft's Type Cover 2 and Touch Cover 2.
The new Type Cover 2 features an improved button layout for a more efficient and comfortable typing experience, a thinner profile, and backlit keys. The cover is currently listed in a variety of colors including comes in Black, Cyan, Purple, and Magenta for $129. At this time, only Cyan is listed as In Stock on Microsoft's web store.
The new Touch Cover 2 has also been redesigned with more touch sensitive, enabling a more accurate experience, and backlit keys. The cover is currently listed in Charcoal for $119 on Microsoft's Store, but is currently out of stock.
And before you ask, yes, the Touch Cover 2 and Type Cover 2 are compatible with your first generation Microsoft Surface RT or Surface Pro tablet.
Other accessories include Microsoft's new Wireless Cover Adapter, which allows users to detach the keyboard from their Surface and go wireless up to a distance of 30 feet. The cost for wireless freedom will cost you $59.99.
For the more productive type, Microsoft is also offering up a Docking Station and new Arc Touch Mouse for their Surface products. The docking station allows Surface Pro and Surface Pro 2 to become full desktop workstations; the dock provides a display port, audio input and out jacks, an Ethernet port, and four USB ports (one of which is 3.0). The docking station is not currently available from the Microsoft Store website, but will cost $199.99 upon availability.
The new Arc Touch Mouse Surface Edition is also up for display, yet not available, and will cost $69.99. The Arc Touch Mouse is a flat foldable Bluetooth mouse with Microsoft's BlueTrack technology. A touch strip replaces the standard scroll wheel for navigating through documents. We personally recommend other mouses from Logitech like the MX series, but some may prefer the Arc Touch Mouse for its foldability.
The Decision
The question you may be asking yourself, if whether you should run out and purchase the Surface 2 or Surface Pro 2, is a valid one and something to consider.
If you currently have the Surface RT and wish to upgrade to the Surface 2 – it will most likely be a great purchase. The new Surface 2's 1080p full HD screen, two angle kickstand, USB 3.0 port, and Tegra 4 processor will provide a much better experience than the RT. If you have the cash and are sure you love Windows RT devices – the Surface 2 is not a bad upgrade choice.
The Surface Pro 2, on the other hand – takes some serious consideration. The processor has been upgraded and the new kickstand has been added, but nothing has significantly altered the user experience. The previous Intel processors ran well on the Surface Pro and while, the Surface Pro 2 does provide a jump in power – not everyone will need it. The HD screen has also remained the same and provides no compelling reason to upgrade. If you don't have a Surface Pro already, the Surface Pro 2 might be a great choice and is a good step in the right direction for Microsoft. If you already own the Surface Pro and are enjoying it – you can probably skip this update and wait for Surface Pro 3.
Don't forget that new Type Cover 2 and Touch Cover 2 do not require the latest generation of Surface devices, they will work perfectly on the Surface RT or Surface Pro. In addition, the new docking station is also compatible with the original Surface Pro.
Whether you choose to upgrade now or wait, is your own decision, but we hope the above advice makes your decision a bit easier. In addition to Microsoft's Surface devices, other great Windows 8.1 machines to check out include Lenovo's YOGA Pro 2 and ThinkPad YOGA, Sony's VAIO Flip and VAIO Tap 11 (for the review click here), and the latest Nokia 2520 RT tablet introduced today at Nokia World. You can check out our hands on experience with the Nokia 2520 by heading over to our post here.
Are you going to run out and pick up a new Surface or are you waiting for different devices on the horizon? If you are already a Surface owner, share your experiences and what you think about the product that Microsoft calls the #1 tablet for productivity.
All products mentioned above can be order at the Microsoft Store online by clicking here (opens in new tab).
Really like them, but I'd pick Lumia 2520 over

I don't care which one people buy as long as it's a W8 tablet❕..

Got Surface 2 in the mail today... it is a gem.

I think I'll be waiting for the Nokia 2520 to be available.

Dang it!! The Lumia 2520 is sexy as hell... Just that micro usb holds me back :(

while i see your point, you can buy a Micro USB to USB adaptor for literally pennies - http://www.amazon.co.uk/female-Micro-male-Connector-Adapter/dp/B005GI5H2... less than £1, i would assume around $1 at a vague guess? nice and compact too

Except unlike the Surface Pro, it still runs RT. That's a tough pill to swallow for that amount of money, especially if you want something a little more powerful.

Exactly! Does Nokia actually offer a Windows 8.1 Pro tablet (not rt)? I guess MS does not allow them to steal consumers from the surface pro 2. I would buy a Nokia pro tablet but not rt. My windows phone is rt'ish enough.

I want a $899 surface pro 3 with broad well and a type cover, a $449/499 surface 3 running cherry trail and a touch cover, and a $299-399 max Lumia type device running RT. RT can't hit higher than $400 with devices like the venue pro. I understand Microsoft wants to protect their baby, I just hope they realize they're in the wrong price target, and then recognize precisely how successful a $499 surface with full win 8 could be.

I agree 100%. Same too with those Ferarri bozos. If they only dropped the price to $20k, I'd buy two. And what about them 747s? Too pricey for the likes of me. I'll just have to settle for a crappy 737-300.

I'm waiting for someone to buy me a Pro 2. Any takers?
...
Make sure it's the 8 GB of RAM, 512 GB storage model.

"Any takers?" Yes. When someone buys you a Pro 2, I'll take it. ;)

I want a 2 million bucks so if he gets the tablet in sure you can spare the $$

I bought myself the surface pro 2 256gig. The difference is price is just the HDD you pay. All depens how many programs you will install since all the rest can be put on usb drive or card.
very happy with purchase only thing that misses is LTE support. If they would have put that on it it would be excellent.

I wouldn't recommand RT...it barely has any apps...its only good if you watch netflix ...or videos

Does it have the Kindle app?

Yes, the store has the Kindle, Nook, and Kobo ereading apps.

The apps are there, but it's not a good form factor for a reader IMO. Way too big and heavy for books, and not a great aspect ratio for magazines and such.

This is the one reason I'm looking at an Ipad.
I want to view Epub/comics/magazines.
For everything else surface2 is better, but I want the reading.
To bad they don't make a 4:3 cover screen so we can have the best of both worlds.

Not sure what the point of bring an iPad in here was. For reading a paper white kindle is the only device. For everything else the Surface is the biz.

I have a kindle paper white and love it. But I want to read magazines and comics. And the 4:3 aspect ratio is better for that.

Yeah, that's the excuse I'm giving myself for looking at that iPad mini. I have a Thinkpad Tablet 2 Now. I had a Kindle Fire HD, but I had issues with it. Actually, I've had issues with all android base devices. But 400 dollars is a bit Much. I guess Apple figures they can get away with it cause people will probably still buy it. That's 70 dollars more than the first one :(
I think I may look at that Dell Venue Pro 8 or hopefully Sammy will make a nice 8 inch windows device or whomever really. We need some more devices in that segment.

You said it. iPad is a great reader. But it's not a tablet. It doesn't even have a pen.

I have the Surface RT and its really nice for reading books. I check them out for free from my local library using the Overdrive app. I then download them in the Kindle format . They automatically get returned two weeks later. Its free and easy. I currently have the standard grey Touch keyboard but am considering getting the new Type keyboard with backlighting.

I just hate the side scrolling, it would be fine if the apps had some kind of snap that scrolled in pages. Scrolling sideways with the thumb as you hold the tablet is a PAIN IN THE ASS.
And why cant WPC fix this site so I can comment without attaching my keyboard to my Acer Iconia, its impossible to activate the commentbox and touch keyboard with touch. /rant

What's wrong with the aspect ratio. The books and magazines get laid out horizontally, like an open book and you scroll lift and right , as if turning a page. I have had no issues reading on a landscape device. People have no problem reading heavy ass text books for school, but somehow the surface is too heavy.

I didn't say reading wasn't possible on it. But there are better devices for every type of reading I can think of (except web pages). If reading is a primary consideration, Surface is a poor choice. Sure, if you like reading magazines horizontally on a roughly 5.5" tall screen and always holding it with two hands, maybe you'll actually like reading on it. But most readers won't.

Horizontal makes the text way too small. For everything else, S2 is better. For reading Ipad/kindle is better.

That's funny I've been using the RT as my daily work unit since release and it hasn't skipped a beat. I would definitely recommend it.

I'm typing this on my Surface 2. So far I like it a lot though I'm limited to a slow web connection right now.

False.
While it is not perfect for everyone, it is a fantastic device for some so stop spreading the FUD.
I use mine daily for taking notes, browsing the web, writing e-mails, music, connecting to my server, powerpoint presentations for work and other tasks. 8.1 just made it even better.
My only gripe is no VLC yet.

Thank you! Finally someone with an honest, positive opinion.

Most probably we will never get VLC ready for Win8 / RT / WP8.

VLC runs on Win8 just like it ran on Win7. According to their blog posts and forums, they have made good progress on RT, but it has been a while since the last update.

The Surface needs better note taking apps.
I know some where just announced, but so far the Ipad has better app taking notes.
Why doesn't the S2 support the digitizer pen, that would really help it sell.


What's wrong with Onenote or Evernote?

One Note is great for note taking on the Surface RT. If you use the app version of One Note, the alternate on-screen handwriting keyboard - used with a stylus - is fantastic. I have horrible cursive handwriting and it recognizes most everything I write and converts it to text with the push of a button.

Are you serious, RT One Note has ocr? That would push me toward surface.

It's good for a lot more than that. The biggest app weakness is you won't find the latest games. But you will find a PC-level browser, Office, Skype, SkyDrive, XBox Live, Facebook, Twitter, etc, etc. Full touch IE on a table is really underated. Do you install an app for every little thing you do on your PC? Of course not. You won't have to with the Surface either.

Wonderful post! People unrealistically expect more from a surface running rt than other tablets or computerS... They act like they need to put everything and the kitchen sink on it or it is junk! Yet, they compromise and love it elsewhere... Even more funny is someone comparing. It to a desktop... I have a really nice desktop. Multiple monitors with one being touch screen... That does not mean it is better than my surface. My computers are tools like other items in my tool box. You will never find one to replace them all and some do things better than others. This does nit mean one is junk or more valuable. I continue to remind myself that many people do not have many computers like me where they can be selective and see them as tools. They need to make sure the device they choose will work for what they need it to... However, this does not mean they are justified in bashing items that do not work or fit their bill.. Its that simple. That product does not work and move on... Yet many other them bash and hate products and companies to justify themselves... I guess this is why I don't have a favorite sports team. I enjoy them all and have a great time no matter what.

Oh...the mythical "barely any apps" poster. I would estimate in your lifetime you will see roughly the same number of unique apps as you would on iOS or Android. You forget that, while 100,000 < 800,000, it would takes you days and days to actually see all those apps, read their names, etc. You are very unlikely to read and process close to 10% of all the apps in the iOS or Android store. I would probably say closer the 4-5% range. That being said... even 10% of the iOS/Android store is a SMALLER number than the Windows Store. You will perceive no noticeable difference in app quanitity. You are actually referring to official first party apps from companies you personally care about.
Please don't confuse the two.
If you want to argue 100,000 is barely any...go to one of the several college football stadiums that can hold 100,000 people. I bet you won't be yelling that 100,000 is barely any when you are stuck in traffic for quite a while.

The Windows Store is doing pretty well given it's only been around for a year. I know you realize this but to be clear, yes you will percieve a difference in app quantity as in you won't find a lot of specific apps. There is no app for any of my three media streamers for example (Sony, Chromecast, and WDLive). There is for Android. Local business apps and such will not be found. Neither will a lot of specialized professional and educational apps many people require. If you want Angry Birds your only choice is the Star Wars version. I could go on and on. A lot of this can be overcome by virtue of a full functioning browser and standard interfaces and drivers. But not all of it.

Do your streamers work in a browser? If they do, then they will work on RT. I realize Chromecast requires a chrome browser. So, that won't work. How about the other two? All those local business have fully functional websites. Are the apps any better than the actual website? Angry birds also has the space version. However, your point about games does stand.

I'm guessing you don't actually have one, because that's what the iPad can do, the Surface RT also has a full-fledged USB port with a database of over 1 million drivers it has access too, which includes, but not limited to printers, mouses, keyboards, webcams, phones, even mass storage devices.

Please, I beg of you, crawl out from the rock you're stuck under, we're WPCentral, not iMore.

I go back and forth on RT. The terrible performance of the tegra 3 in my surface made me very anti RT when I saw that atom tablets were cheaper, faster, and just as good battery life. If what I read about tegra 4 is correct, then the performance issue is gone. But there still remains the problem that im not sure what you are getting with RT over W8 to justify the lack of x86 compatibility. Saying "I don't need x86" isn't a valid argument because you still haven't shown what you get for the compromise. If rt was cheaper, then sure, but the announced bay trail tablets are all in the $300-400 range. So please, RT proponents, educate me.

The Surface RT's advantages are security, build quality, form factor (subjective of course), support, and generally less muck which tends to accumulate over time on x86 machines. These advantages appeal more to casual and family use than to enthusiasts. And of course there's no reason Microsoft couldn't put Bay Trail in the Surface RT chassis and negate the physical aspects. But they don't, so there you go.

I can understand where you're coming from. I often ask the same questions. Why should I get a RT tablet (From MS or other) instead of a bay trail tablet with x86 support?
If I understand correctly, the Windows 8 store has more apps than the RT store (I may be wrong here), and Windows 8 tablets can also run x86 applications... and they cost less than a Surface RT, and the battery life / horse power is about the same?
Maybe other RT tablets cost less than a bay trail tablet, but I haven't seen one significantly less to justify buying an RT over a bay trail.
Sorry, prlundberg: I don't see a big enough difference in build quality, support, form factor, or security to push me to the RT side.
I guess not having to buy office is a PRO for the RT column.

My reasons were all valid and significant. If they are worthwhile to you is another issue so I won't try to tell you what your needs are. The Surface RT isn't everything to everybody and doesn't pretend to be. But that's the real beauty of Windows, isn't it? If you don't like it you have several other options. I don't get why so many people complain about having choices.

I'm not sure what you mean by Windows 8 Store and RT Store. The RT and Pro get their "apps" from the same store. As far as build quality, the screen is very clear (even though its not 1080). The the kickstand and keyboard versatility both come in handy every time I use it and I use it practically every day.

I know what you guys mean, too. I love my Surface RT--it's an awesome device--but there have been several instances where I've been frustrated by the lack of x86 capability (mostly wanting to control it as a remote desktop device). The Surface 2 looks absolutely awesome--makes up for every shortcoming of the original Surface (mainly, so-so screen, so-so speakers, and a so-so processor), adds in some new awesome stuff (improved keyboards, kickstands, and battery life), and I really have been contemplating selling my Surface RT and upgrading. But as I'm thinking about that I then think abou this: say I sell the Surface RT and Type cover for $300 on Craigslist or whatever, then I'd need to spend another $530 (before taxes) to get the Surface 2 with the Type Cover 2. But, if I'm going to spend all that money, why wouldn't I just get a full Windows 8.1 tablet? Well, there are a few reasons: 1) I love the build quality and design of the Surface line, and 2) holy shit they're giving away 200GB of free SkyDrive Storage for 2 years and 1 year of free Skype!. Still, then I think, is all that worth it for the occassional times I will be frustrated that it can't run legacy apps? I don't know, which is why I'm still wavering on what to do (I also fear I'll feel guilty upgrading when I convinced 3 other family members to get the Surface RT, almost like I'm bailing on them).

Do you want a truck or a car??? One has nit value over the other... They serve different task, offer benefits that the other does not or or does not do well enough... Rt vs regular is the same. They offer pros and cons. Rt has many pluses... Fanless and cool usage, better security is enough for almost every PC user who gets viruses and malware (how I know, but why because they do not know how to use a computer and need a safer environment to play in), plus more.. The store will continue to grow and almost all store apps will work on rt. Tegra 3 moan and groans are not the os... It was the hardware. It was like getting a netbook from yesteryear. Microsoft should have known better on that one, but the tablet still performed well then... It truly multitasked vs others and that alone hurt it when users didn't understand how to use it optimally. X86 application usage is valid while we go through these short few years of transferring out of the executable of programs. Many people want to see the desktop go away and data stored like a database. Apps are going to continue to be built around and apart of the is vs the old. What desktop apps... If you know you don't need an rt, fine. Don't buy it... Does that make it garbage??? No! The rt does not need to be justified to you, you don't need it.. So stop bashing it. I have two surfaces, rt and a 2... The rest of my many computers are all x86 64bit machines. Even my mac. They all have a purpose that it does better than the other. my mac is used the least, but that does not mean it is junk! it is solid and I will be updating it later today. I still have windows 7 running on my production machines, but one is on 8.1 for dev. Have a great day :)

Thanks for the superb comments. More people need to think this way. I think RT is great for certain things. Will be getting an RT tablet again when I upgrade from my Surface.

Bay Trail x86 performance has been sub par - pretty bad in most reviews I've read so getting a Bay Trail tablet for running true x86 is not really a good reason in my oppionion since the Tegra 4 will run most everything ARM better than bay trail.
Now if you can get a slim fanless iCore tablet then by all means tell me which one it is so i can buy it too!!

i used to own a surface rt. typing on my surface 2 now and i can tell you all the performance issues are gone. blaaaaazing fast.

Also, think of why you really need x86. I thought about it and I realized that i really didn't need x86. IE, office suite and 14hours of battery life is all I need.

It blows my mind to hear comments like this
.. What do you need that is not there... Aheam, that you actually need to use on this small package??? Price? Please... I have so many computers... So many different purposes for each... I do not and have not regretted my purchase of two rt(s) or my surface 2 today. No other tablet compares... The surface pro will not replace my ultrabook, that is why I do not have one of those... Even still, I would not do much heavy work or programming on it unless it was docked... Which, I would be using a more powerful machine for. The surface rt models are great at being a tablet that can do almost all, even remotely when needed. Small, light, cool to touch, et, portable computer... I mean, most people whonclammer about rt use computers for the minute tasks. L.. But whatever floats your boat... I am not a fan of ios at all.. Can't work with it the way I need to... It is limited. Yet, I don't bash it. It not fit me, but that does not make it or android junk to me... That don't work for me that's it. They work wonders for many. There is nothing wrong with me or them. People get what you want and need. You do not have to justify your choice or lack there if by bashing things. Rt is the future, just like android, and ios. These will be the future OS's... The desktop of old will be only used for specific tasks. IOS, android, and windows rt are bring built from the ground up to lead in the future... The pain and limitation is only seen now... With every passage, the old desktop is idea will continue to fade foe the consumer and prosumer.

Err...it has 99% of the apps, just doesn't run standard x86 software.

As many have pointed out before, it has a full, flash enabled browser. Many of the apps that are missing have fully functional website that will work nearly as well as the app and in some cases better. A good example is HBOGO. There is no app in the store, but you can access all the content online. On the phone, you need apps because the browser doesn't run flash and it is limited. This is not the case with the tablet.

I'm happy with my home built pc, more power for the money. Although the beautiful surface does have a unique attraction to it.
Either way I supported Microsoft by getting a Lumia 920 and buying Windows 8 Pro for my pc.

I am also happy with my 3 pc's as well as my file server, but not sure what that has to do with anything?
Can't take them to a clients for easy note taking or recording. If you are a user that has and needs a powerful desktop, this isn't and shouldn't be seen as a replacement for it.

What are you talking about...I just picked up a 3 PC folio with bluetooth keyboard the other day. The whole package only weighs 75 lbs, and it looks svelt in my messenger bag /s

With all the Nokia news, almost forgot Surface Pro 2 is available today!!!