Review: Sony Vaio Tap 11 - The Windows 8 tablet to beat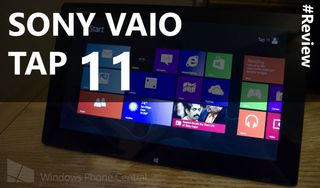 When you pick up Sony's Vaio Tap 11, you can't help but feel that it is a direct competitor to Microsoft's Surface line of devices. A few different OEMs have already tried to cut out their spot with devices similar to the Surface, but none have yet to hit the mark. Sony on the other hand, might have a winner, and one outstanding product.
Swipe to scroll horizontally
Great design and external aesthetics make for an elegant machine. Stylus works excellent and couples well with included "holder" attachment. Keyboard works great and integrated charging with the tablet means you will never forget to charge it. Display is beyond the description of mortal English – we will call it outstanding and amazing all at once. Includes apps are a nice touch and give the tablet software that makes it stand out.

Poor positioning for the stylus holder. Longer battery life would have been desired. Buttons around the edges can feel too recessed and hard to press.

The Sony Vaio Tap 11 is the best Windows 8 tablet we have reviewed to date and is a guaranteed great experience for anyone who purchases it. Its main competition will be the Surface Pro 2, and we might be siding with Sony on this unit. We hope more Windows 8 tablets are created in the image of the Tap 11 as it is a great deal starting at only $799.
Form - The Tablet
Unboxing Sony's Vaio Tap 11 is like unraveling a piece of fine art. There are multiple pieces to the unit including the tablet itself, a wireless keyboard, and a digitizer pen attachment. All three pieces can be snapped together on the go, so there is no worry about losing that expensive stylus.
The tablet itself feels as if it was designed with attention to almost every detail. The front of the unit houses a gorgeous 11.6 inch 1080p IPS display that is complemented by a beautiful edge to edge glass. The front of the tablet has almost no branding besides the light colored silver logo in the upper left hand corner. Below the touch screen sits a physical hardware Windows button; unlike most other units, which simply plop the button directly below the screen, Sony has placed the button along the edge of the unit and curved it. Between the minimalistic front, curved Windows button, and subtle front facing HD web camera – the unit is a pleasant breathe of artistic design to look at.
Like all beautiful specimens, there is usually a catch or hint of imperfection if you look hard enough. Sony has included a charging connector for their wireless keyboard on the front bezel of the unit, which stands out as a mole would on a face of perfection. The connector is small and sits recessed as a three pin connector against the edge of the unit. When holding the unit, there are no complaints, but one can't help but feel it would have been nice for Sony to try and find another solution to charge the wireless keyboard.
The back of the unit is also simplistic, and bears a single shinny Vaio logo in the center. Our review unit included a collection of stickers that stated the unit was, "NOT FOR SALE" – obviously something that you will not encounter. You will encounter an "Intel Inside" sticker, but like any stickers – it can be removed with a little work.
The back of the tablet does make itself home to three speaker grills, which produce great sounding audio for such a thin tablet, along with a kickstand that can be extended also perpendicular to the tablet itself – in essence, unlike the Microsoft Surface, there are a variety of different angles to enjoy using this tablet in.
Of course, this wouldn't be a tablet without also throwing on a rear facing webcam, so Sony has included an 8 MP webcam and microphone for all your recording needs – unfortunately, there is no flash. That being said, please stop recording video and taking pictures with your tablet – it is the new millennia's equivalent of the 1990s fanny pack in terms of social perception by your peers.
The unit itself has come stocked with a collection of various ports and expandability options around its finally crafted edges. The bottom side of the tablet sits completely clean as one wouldn't be able to access said ports when using the kickstand on the tablet. The top of the tablet keeps it simple by including a small pinhole microphone jack, exhaust fan, and a small covered slot that would accompany a MicroSD card for expandable storage. One last button is added to the top section of the tablet (although it sits farther, back around the rear), which is Sony's "assist" button.
We cannot communicate how happy we are that Sony decided to include this assist button. Recovery with Windows 8 can be a tedious and annoying procedure on most other devices. Due to the new UEFI booting system that Windows 8 incorporates, pushing buttons to boot into safe mode is now near impossible – instead you must boot into the Operating system, then reboot it into safe mode. Obviously, this possess a problem for those who cannot even get their machine past the Windows loading screen. A USB key can be used to help access recovery, but many times the BIOS is set to ignore it and a secret button/key combination must be found to get in and mess with the BIOS booting options. The Sony Assist button on the other hand is heaven; simply press the button while the device is off and you are booted to a Sony recovery menu – from there, you can select to boot into the BIOS, launch Sony recovery software, or access advanced Windows 8 startup options (like safe mode).
The majority of ports will be found on the left and right hand sides of the unit. The left hand edge includes a small power adapter charging port and a flap that reveals a USB 3.0 connector and Micro-HDMI port. The right hand edge of the unit includes a volume rocker, illuminated power button, and standard headphone jack. As with many of Sony's units, the buttons feel too recessed and can take a bit of time before one feels completely confident in their "button clicking skills". The buttons on this unit, may be the Achilles heel for the Sony Vaio Tap 11.
Form - The Keyboard and Stylus
Let's move onto the keyboard. Sony's included wireless Vaio keyboard may just be a compliment to the unit itself or a bit difficult to work on, depending who you are. This full sized QWERTY keyboard has 82 keys with a 1.1mm stroke and 19mm pitch. The keys themselves have a matte finish, which feels nice against the balls of your fingers and provides decent feedback for such a thin construction. For my taste, the keys were a bit too far apart, but I am most likely being nitpicky as I type all day long.
The keyboard also includes a touchpad with a physical click button for left and right clicking. The texture of the pad itself feels great, as do the keys that sit below it. Some might find the buttons a bit too resistant to click, but I did not have that issue.
In the upper right hand corner of the keyboard sits two LEDS (one for CAPs lock and the other for battery charge level), an ON/OFF switch, and the male end of the charging connector that clicks into the front of the unit. The power switch also doubles as a way to disable the touchpad while typing – a much welcomed and quick to access feature.
The rear of the keyboard is a brushed metal finish with a small Sony logo engraved into the corner. There is also a small LED light that lights up when the unit is docked with the tablet and charging. The back is where we also find the biggest flaw of the keyboard – traction. The back is a slippery metal finish that is accompanied by two small plastic feet and two small rubber feet; this combination does not come anywhere near what is needed to keep the keyboard stable on most surfaces (say a polished, non-rustic, wood table or desk). If you are someone who keeps their palms firmly on the palm rest while typing, you shouldn't have an issue. If you are like most people whose hands fly around the keyboard, you may encounter some slipping. The fix may be as simple as applying something to the back, but we really wish we didn't have to – we honestly wonder how Sony missed this in the product testing process.
The keyboard also doubles as a cover for the tablet, which is one of the unit's "prize features". Simply place the keyboard upside-down over your screen and it magnetically stays in place. The magnets do work nicely, but the keyboard can slip a bit, so carry the unit as if you are carrying two books – the magnets don't glue the two together. We do enjoy that whenever the keyboard is cover the screen, the LED lights up to inform us that it is being charged by the tablet – a great feature that should ensure your wireless keyboard never runs out of juice.
The last included accessory is Sony's digitizer pen, which works extremely well with pressure sensitivity within applications such as Microsoft's Fresh Paint and ArtRage 3. The stylus itself is comfortable to hold, as it mimics the thickness of a high quality writing utensil. The pen itself contains a "triple A" battery within, which gives it a comfortable weight during use. Attached to the pen is a pen clip that functions nicely to keep the pen from rolling away. The overall design is modern, with a space like tip and slanted rear.
Unlike Microsoft's Surface Pro which makes losing a stylus easy, the Sony Vaio Tap 11 includes an attachable pen holder that sits over the USB and Micro-HDMI ports. If you are someone constantly swapping USB devices in an out, then the positioning of the holder may be an annoyance, but Sony has reassured us that the holder has been improved in the final production model to make it extremely easy to detach and reattach.
Sony did an excellent job on designing the Tap 11 and it may make its mark as one of the most beautiful Windows 8 products to date. The sophisticated and practical design of the unit hits a wonderful sweet spot in our hearts. As far as what could be improved design-wise, we hope Sony reevaluates the external buttons for their next model and finds a different place to attach the pen holder.
Function
Looks aren't everything though, functionality is just as important – if not more important. Turning on the tablet reveals a stunning 1080 HD display. I wish I could convey the crisp beauty and beautiful colors that the display illuminates. The LCD is backed by Sony's TRILUMINOS technically, which they say "creates incredibly true, natural shades of colors". This was the display Windows 8 was created for – this is perfection of imagery. If you are display crazy, nothing will make you happier than the Sony Vaio Tap 11.
We said beauty isn't everything, and this tablet is ready to defend its worth on both sides of the fence. Our review unit came loaded with a powerful Intel Core i5 processor, 4 GB of RAM, and a 128 GB SSD. Our copy of Windows 8 ran like butter and was able to keep up with everything we threw at it. Applications within the Windows Store? Easy as cake! Windows legacy applications? Have fun!
This certainly isn't a gaming machine, but it is one hell of a productive tablet. Most people today think they need to grab a Core i7 and 8 GB of RAM to get anything done, but we are at a point of spec overload – Core i5 and 4 GB of RAM is more than enough for most people.
Sony states that the Tap 11's internal Lithium Polymer battery will last up to 5 hours and 45 minutes - in our testing and use, we found that around 4 hours is a more reasonable time frame. The result isn't excellent or poor, but simply sits in the middle of both states. This tablet won't last you through the day, but it shouldn't require a power plug every couple of hours.
If you do need more power and storage, don't worry. Sony has announced that units with Core i7 processors and up to 512 GB of SSD storage will be available for purchase. There is no increase on that 4 GB of RAM though, so if you are going to be working with multiple Photoshop windows open – you might want to consider another option.
The insanely gorgeous display (seriously, head to a Sony store once these are out and take a gander) coupled with the powerful intervals provide a great everyday experience that is sure to impress the geek within. You will even be able to squeeze in some raiding in World of Warcraft and meet your favorite Microsoft News Editor while doing so (long as you are Horde, of course).
Sony is one of the few companies out there that makes us excited to see what software they have preloaded onto the system. Sure, they throw on a few undesirable applications like Kaspersky Antivirus and the Intel AppUp store, but the rest are usually enjoyable.
Just as previous Sony units have included, the Vaio Tap 11 preinstalls "Album by Sony" and "Music by Sony" – both are excellent alternatives to Microsoft's built in music player and photo viewer. Sony also includes their Socialife software for checking out what your friends are doing, and provides an interesting alternative (although it needs a bit of work) to other social applications. Sony's Vaio care software and note software is also bundled into the package.
Now for the exciting additions; for starters, Sony has included an application called "Vaio remote control", which allows you to control your television with your tablet. That's right, this tablet has a built in RF module for cable boxes, televisions, DVD players, stereo systems, iPod docks, projectors, and more. The application docks nicely on the side of the screen in the 30/70 ratio and provides a great experience while you watch that latest episode of the Walking Dead and follow along with AMC's StorySync app.
Sony also includes a piece of software called CamScanner, which works nicely to scan in physical documents to your system. The app works best in well-lit environments, but is also manageable in darker situations. CamScanner can also scan your document for text using OCR technology and save it to the clipboard for later use. We wish the app allowed us to save the scanned documents as PDF files, but saving as an image worked just fine.
Conclusion
Overall the Sony Vaio Tap 11 is an excellent product and one of the best Windows 8 tablet hybrids we have reviewed to date. The exterior is beautiful, and the 1080p HD display shines like none other we have seen before. The kickstand and wireless keyboard make working efficient and enjoyable at the same time. We feel the biggest competitor to the Tap 11 is the Microsoft Surface Pro, and we have to say that we like the Tap 11 much better; it provides a more adjustable kickstand, better screen experience, thinner profile, better pen management, and great extras. One of the main reasons we could see consumers picking the Surface Pro 2 over the Tap 11, is due to the difference in battery life, which is rated an addition two hours.
The Sony Vaio Tap 11 starts at $799 and is available for preorder now via Sony's web store. You can choose between choices of a white or black unit (both look great) and expect to have the unit to you by the end of October.
Get the Windows Central Newsletter
All the latest news, reviews, and guides for Windows and Xbox diehards.