Microsoft's mobile failures killed Windows phones and could hurt folding PCs
Critics declared Microsoft's Windows phones dead long before its smartphones efforts actually failed. And they did so while the company was still actively "investing" in the phone-focused aspects of its mobile strategy.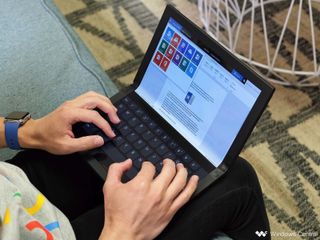 Windows phone enthusiasts and critics know that Microsoft's commitment to smartphones was wanting. That reluctance to fully commit echoed through Microsoft's former CEO Steve Ballmer's infamous dismissal of the iPhone in 2007. The 2010 three-year-too-late introduction of Microsoft's modern smartphone platform Windows Phone. To a lackadaisical commitment to development for the platform (the world's leading software company could have aggressively and creatively modeled Windows phone app development), to CEO Satya Nadella's failure "to make Windows Phones if no one else makes them" promise.
Microsoft's brand is strong. Surface is succeeding. Azure is generating billions of dollars in revenue and growing profoundly. HoloLens 2 is inspiring. Microsoft Teams is beating Slack. Office, Dynamics and Microsoft 365 are expanding and Xbox and game streaming are potentially positioned to win big (if all goes well) in the next evolution of gaming.
Still, Microsoft's spectacular failure in smartphones, a computing platform that (re)defined mobile computing and birthed an ecosystem of apps, developers, carrier relationships, ambient computing and more may negatively impact folding PCs as part of Microsoft's always-connected PC vison. Former Microsoft CEO Bill Gates gave this indictment in a recent interview:
The impact of this failure is already affecting Microsoft's non-phone efforts and the ripple effects may continue.
Unfolding Microsoft's problem in an always-connected world
Folding PCs (just like Surface Pro and Surface Go) are equal part laptop and tablet PC. If always-connected, expectations for the user experience in both configurations would be understandably high. The ability to access anything, and use any app anywhere is the appeal of an always-connected PC, tablet, or 2-in-1. And the potential versatility of folding PCs, particularly if always connected, is profound though the technology has barely scratched the surface. Sadly, Microsoft's smartphone failings and poor tablet UI have already impacted the user experience of Surface Pro, Surface Go, and other Windows 10 2-in-1s in tablet mode. Microsoft's app ecosystem falls short of the competition and Windows 10 on a tablet is crude compared to iOS on the iPad. This is a direct result of the ripple effects of Microsoft's dubious commitment to mobile.
Microsoft is committed to mobile, just not Windows-based smartphones. The company's always-connected PC investments, Project Centaurus, previous investments in Project Andromeda pocket PC, its support of 5G and push for edge computing with partners like ATT and Qualcomm reflect a commitment to making cellular PCs of various form factors computing's next step.
Smartphone enthusiasts may overlook this commitment, but mobile computing is a broad and evolving landscape of which smartphones are an important — but an increasingly less exclusive — part. Still, Microsoft failed to realize how important smartphones are to the success of its mobile vision, and to the evolution of the broader mobile computing landscape in which its rivals are investing.
Why Microsoft should fix its broken Windows 10 tablet mode
Mobile OS origins have an advantage in a mobile future
Image 1 of 2
Apple and Google are aggressively moving forward with smartphone (iOS and Android) and browser-based (Chrome) platforms that are becoming more powerful. These platforms have morphed into tablet and, to varying degrees, laptop-scenario operating systems. Conversely, Microsoft let Windows-on-phone languish. Consequently, the derivative app ecosystem, user interface, developers, carrier and consumers relationships and more that support touch-friendly mobile computing on non-phone form factors also suffered. Windows 10 on the desktop remains unmatched, but the increasingly important elements of mobile computing for context-sensitive, connected devices like Windows 10 2-in-1s and coming folding PCs are lacking.
Microsoft's phoneless mobile efforts are moving forward. The company continues populating iOS and Android with Microsoft apps and integrates them into its ecosystem via Azure, Your Phone, Microsoft Graph, Cortana and more. Partnerships with companies like Qualcomm and PC manufacturers bring PCs of various shapes, sizes and form factors to the cellular roadmap as always-connected PCs; and as such, the company inevitably ventures into territory dominated by our "always-connected-phones."
Following the breadcrumbs to convergence
Image 1 of 3
Microsoft's smartphone failures can have a long-term impact on potential innovative and new always-connected mobile form factors. This is unfortunate since the company's commitment to ARM and cellular connectivity development made clear that it had a vision for mobile beyond smartphones. And even with current size differences, the lines are progressively blurring between what a smartphone does and what always-connected tablets or PCs do. As always-connected PC tech advances and smartphones become more powerful, companies are also bringing folding designs and category-crossing dimensions to PCs and phones that seem to point toward an eventual convergence of the two.
Samsung's Galaxy Fold and Huawei's Mate X unfold to become larger always-connected android "tablets" while Lenovo's folding PC foreshadows a future where Windows PCs may fold and unfold into always-connected Windows tablets. As more smartphones cross into the bigger tablet category and PCs potentially become just as connected as smartphones and OEMs inevitably pioneer smaller versions of folding ACPCs, the converging we see happening between phones and PCs now may become more complete.
Simply put, when both phones and PCs are on the cellular roadmap, the differences between the two platforms are less clear. I am not predicting that this convergence of sorts will happen, but I'm considering the possibilities of where this technology may lead. We already see folding phones and PCs. And there is already a precedent of companies making smaller versions of larger computing devices.
Image 1 of 2
The Surface Go is a miniature Surface Pro, GPD Pocket is a pocketable PC, Intel's Tiger Rapids concept PC is specifically intended to inspire OEMs to make nearly pocketable PCs. It seems inevitable that OEMs will apply the same logic used here to make smaller versions of folding Always Connected PCs. Sadly, if they do, the impact of Microsoft's smartphone failures may continue, as they have on Windows 2-in-1 tablets, to hamper the mobile experience of those future devices including potentially pocketable folding PCs.
Mobile is growing up
Apple, via numerous upgrades and the addition of mouse support, has made iOS on the iPad a more powerful PC rival. Combined with unrivaled developer support, analyst Jeff Lin's rumors of a folding iPad as an ACPC contender may have the superior tablet advantages iPads have over Windows devices today and offer a "laptop" experience good enough for most people.
Android tablets, though plagued with an inferior tablet experience than iOS, still have an app advantage over Windows tablet experience that make them a better tablet for many users.
Thus, as mobile computing matures and broadens and Android and iOS-based phones and tablets continue their path toward convergence, they do so with the inherent advantages afforded them by the success of their smartphone platforms. Conversely, Microsoft may continue to reap the consequences of its smartphone failures though it and manufacturing partners may embrace mobile's evolution and move forward with new mobile form factors.
Windows Lite, PWAs and fighting for mobile
Image 1 of 2
Windows Core OS, or Windows Lite, with an adaptable UI for different device types or device states (a folding PC in laptop mode or tablet mode), is expected to be the solution to Microsoft's tablet mode woes. Microsoft is betting on Progressive Web Apps (PWAs), which are hybrid app and website properties to address some of its app challenges in a connected world. This process is going slower than hoped. Furthermore, AI digital assistants like Cortana and bots on the intelligent edge, in conjunction with 5G, and ambient computing via a variety of embedded and intelligent devices is projected to replace some of the things we now turn to apps to accomplish.
Before these advances to our computing experiences come to pass — if they come to pass — the future of folding PCs is looming on the horizon, and unfolding before us. And that future will have to contend with Microsoft's past choices regarding smartphones. Bill Gates made the long-term impact of Microsoft's smartphone failures abundantly clear:
Folding PCs will likely be very versatile, powerful and offer some surprise applications that make them very appealing as desktop computing, notetaking, gaming and creative devices for art, music, teaching, and more. Still, in tablet mode as always-connected devices on an evolving mobile landscape, or as smartphones and PCs converge Microsoft's "app-less" smartphone legacy may keep folding PCs, big and small, from reaching their full potential.
Related reading
Get the Windows Central Newsletter
All the latest news, reviews, and guides for Windows and Xbox diehards.
Jason L Ward is a columnist at Windows Central. He provides unique big picture analysis of the complex world of Microsoft. Jason takes the small clues and gives you an insightful big picture perspective through storytelling that you won't find *anywhere* else. Seriously, this dude thinks outside the box. Follow him on Twitter at @JLTechWord. He's doing the "write" thing!