Microsoft OneDrive bids farewell to file fetching feature
OneDrive won't be able to fetch files from PCs after this month, but you can still sync files across devices.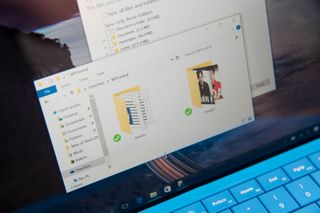 (Image credit: Windows Central)
What you need to know
Microsoft is discontinuing OneDrive's file fetching feature.
The feature allowed you to retrieve files from a PC that's connected to the internet.
You'll still be able to sync files and folders from your PC to other devices through the cloud.
OneDrive will discontinue its feature that allows people to fetch files off a PC on July 31, 2020. While the file fetching feature won't work after this month, people will still be able to sync their files and folders from their PC to OneDrive. Microsoft added a note about the end of the feature to a support document (opens in new tab) recently (via BornCity).
The ability to fetch files lets you access all files from a PC through the OneDrive website. You can retrieve files from the PC or any network locations the PC has mapped as drives or in its libraries. The feature requires a PC to be on and connected to the internet. The feature is disabled by default, but you could easily enable it through OneDrive's settings.
Fetching files provided some benefits that syncing files to OneDrive doesn't offer. First, you could access files from network locations. Second, you could remotely access all of your files without having to sync them through OneDrive's cloud storage. This uses less space but requires a PC to be connected to the internet.
How to set up file backup to OneDrive on Windows 10 May 2020 Update
For many people, they'll be able to replicate this functionality through OneDrive file and folder syncing (opens in new tab). As an example, I use OneDrive as my main storage on every PC that I use and select which files are stored locally or just on the cloud. I can then access any files from my PC on the web and mobile devices. It doesn't completely replicate the functionality of file fetching, but for many workflows it covers the same bases.
Microsoft's support document points people toward file and folder syncing, stating:
The support document also points people toward PC folder backup (opens in new tab), which allows you to back up important folders.
News Writer and apps editor
Sean Endicott brings nearly a decade of experience covering Microsoft and Windows news to Windows Central. He joined our team in 2017 as an app reviewer and now heads up our day-to-day news coverage. If you have a news tip or an app to review, hit him up at sean.endicott@futurenet.com (opens in new tab).
I wonder if this will, from a security perspective, see One Drive be less invasive on machines. Then again, this promotes turning over your data to Microsoft's servers, meaning you have to keep paying them or risk having your data taken. I've never seen this advertised or used it, but it seems like the "solution" is more data-intensive for users. I wonder, though, how this will affect their "Desktop backup" feature, as I don't recall if that transfered the data to OneDrive or not.

IMO that feature has no place in the onedrive service
You can still do that with some other services, like remote desktop (probably, i haven't used it for a long time)

No place is rather strong. It's an additional feature that never was enabled by default and is buried in settings if you want to use it.

That feature was very handy before they would let you sync your desktop and other default folders to Onedrive. Today it doesn't seem relevant anymore, but it definitely was when it was launched. I used it all the time to get files I left on my desktop and needed elsewhere.

Actually the original Live Mesh even included peer to peer service therefore without the need for your data to transit to Ms servers at all.

You've never used it but feel equipped to comment? How is OneDrive invasive exactly? It's not setup by default, this needs to be done by the user. You would presume the user knows OneDrive is a cloud service before using it. How does this promote turning data over to anyone? By your own words you've never seen this advertised, because it never was. "Desktop Backup" is a separate feature which the article mentions and yes syncs to OneDrive. It's the whole pint 🙄.

I never understood this feature and I have no issues seeing it go.

I'm sure someone uses it and won't like that it's going away, but I agree with you. I just store all files I need across devices on the cloud and they show up everywhere.

I used it early on, but once I defaulted to my Libraries being in OneDrive folders the feature because superfluous.

Same here. I used to us it years ago, but now my system drive is a 2TB drive and I can sync all my files to OneDrive directly.

I have over 20TB of files on my main desktop that I would use this feature to fetch from when necessary while traveling. Guess its back to remote access...

Same, never understood it

Did you read in to it to find out? Seems simple really, lets you access your entire C drive from a website on any PC with a browser (at least a desktop browser). You may have files you don't want to sync to OneDrive but want to access.

>> Did you read in to it to find out? Yes. >> Seems simple really, lets you access your entire C drive from a website on any PC with a browser (at least a desktop browser). You may have files you don't want to sync to OneDrive but want to access. Sounds like pointless, slightly insane security risk to me.

I'm not a tinfoil hat wearer. I fully embrace total ubiquitous access to my data. I have always configured my Libraries to default to OneDrive folders (Documents, Music, Videos, Pictures) and sync everything to the cloud. I can access anything from anywhere on any device.

I always thought this seemed like a nice feature for the person with multiple personal machines -- a desktop at home with lots of files, and a laptop with a more restricted library for travel/vacations. Seemed like it could be a good way to get that obscure file you didn't expect to need while you're travelling. However, I never used it out of a general concern over making ALL my files accessible over the Internet. I know it was probably reasonably secure, but the fact that it was only on the Personal OneDrive and not OneDrive for Business led me to believe that even MS didn't feel comfortable with it. I suspect MS is removing it over a combination of limited use by users and general security concerns over what it enabled.

>> I suspect MS is removing it over a combination of limited use by users and general security concerns over what it enabled. I bet it's the first because how hard is it to plan your OneDrive sync settings to make everything you need available in the cloud, and the second because WTF why would anyone risk total exposure when the workaround is so simple? It would be nice if someone were to ask MS about this.

I redirect all my user folders (Documents, Pictures, Music, Videos etc.) to the OneDrive folder which then automatically backs everything up. I never used the fetch feature and I won't miss it either.

My guess it was very niche so is being killed off. It's not turned on by default and is buried in settings/onedrive. I liked the idea but used it once since it launched in Windows 10 1709.

I didn't use it regularly, but it really saved me when I did need it. Another loss ...

Same. It was great when traveling to be able to go grab that data set that you did not expect to need on that particular trip. Not paying to house 20TB on a cloud service...

Same. Actually just used it a couple of weeks ago while traveling... Albeit, for the first time in a couple of years.

Ah Microsoft, the Sultan's of giving us useful features and then inexplicably taking them away...

Why can't just leave it there, for people who need it? Not that this feature will rot, decay or requires maintenance costs like replacing wear and tear parts. 😂
Windows Central Newsletter
Thank you for signing up to Windows Central. You will receive a verification email shortly.
There was a problem. Please refresh the page and try again.