Microsoft's updated 3D Builder app for Windows 8.1 offers cloud 3D printing and more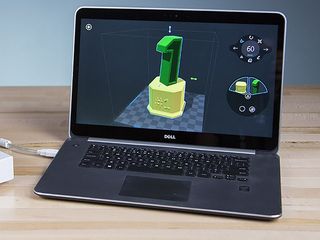 Microsoft has just released a new and major update for its 3D Builder app for Windows 8.1 that adds a number of new features and improvements, including a way to make 3D printed objects without the need to actually own a 3D printer.
Basically, the app has a new button, "Buy Print" that allows users to buy a object they can customize in the app from 3D Systems. Microsoft says:
The Main Control user interface for the 3D Builder app has also been changed and improved, with a way to expand the circular menu to include new Object and Edit selections. The app also has some new pre-build trophy parts for when you want to make your own award. Finally, the app finally adds support for Windows RT, which means the Surface RT and Surface 2 tablets can use it for the first time.
What do you think of these new improvements for the 3D Builder app?
Source: Microsoft
Windows Central Newsletter
Get the best of Windows Central in in your inbox, every day!
I thought it said "Minecraft's"

Speaking of Minecraft, someone needs to make an app that converts Minecraft items into 3D models to print.

Why not just paint plastic cubes?

Both would be practical. I think for active minds it'd be cool to set up something in Minecraft them MAKE IT... for real.

I don't understand how good would this be unless you already have the design in Minecraft and you wanted it to export, not like I would want to go to Minecraft just to create something, i would surely would rather do it directly in a real 3d package. BUT there is already an app that does what you want. (it's been a while.. years since this was released) http://www.realtimerendering.com/erich/minecraft/public/mineways/ you just needed to know where to look at. I don't play Minecraft, but I am sure if I ever do it, I will use this app. I don't know if there are other apps like this but at least you can try that if you want. this seems to grab the textures as well, which would be faster. but if this is what you were asking for, you can try it.

That is SO COOL! I just say because Microsoft just brought them out, so they might want to bring this stuff under their banner.

*Looks at this article and the app*..... then *looks at computer with Lightwave3d opened* yeah yeah... no comparison. but I should give it a try and see how it loads stuff, it sounds good you can send it and have it printed for you and all. but of course I am sure it wouldn't work for me since I am not in US. but this sounds like a good thing, Microsoft should expand it to make it more functional and connected, like plugins in every 3d package or something. but I know that's much to dream, just it would be nice for people with 3d printers.

*looks at Inventor or Solidworks then looks at Lightwave, then looks at Rhino*

* looks at Cinema 4D and blender*

Switch side method please stop

And how much the printing and the shopping costs?

ALL of those comments were deleted xD.

Offer chocolate and then we'll talk.

Dell xps 15? I think Posted via the Windows Phone Central App for Android

It's funny because while your probably right that it's the Dell XPS 15, I have a Dell Precision M3800 which has EXACTLY the same design.

Just downloaded Posted via the Windows Phone Central App for Android

Plug a Kinect for Windows to this app, to clone yourself.

I also think this .They should do something like this in future.

VERY interesting! Depending on the cost of the printing....

3D printed Nokia Lumia1020 stand, thanks to Microsoft 3DBuilder! http://instagram.com/p/tD8cRfKx41/

Prices kinda suck... A 1520 stand from the default library was going to be $50 before any options or shipping. Another little item that holds a single xacto blade was $20 not including a tiny cap and not including shipping. I really need to get going building my own 3d printer...
Windows Central Newsletter
Thank you for signing up to Windows Central. You will receive a verification email shortly.
There was a problem. Please refresh the page and try again.