Microsoft's Wireless Display Adapter is yours for only £26.50 in the UK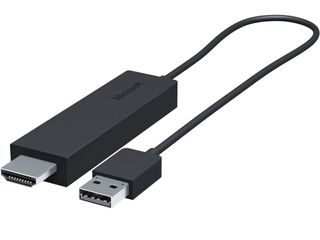 Microsoft has slashed the price of the company's Miracast-enabled Wireless Display Adapter, which is yours for only £26.50 in the UK. The company itself is offering the promotional price through the official Microsoft Store. Usually listed for £59.99, this is quite the discount for those who have supported hardware and wish to invest in such a solution.
Should you own the Lumia 950 or the Lumia 950 XL, you'll have a use for said adapters that will enable you to project the Windows 10 Mobile OS onto a larger screen. Utilizing the functionality included in Contaniuum, it would then be possible to use the setup as if you were sat in front of a desktop PC.
£26.50 at the Microsoft Store (opens in new tab)
Via: Neowin
Rich Edmonds is Senior Editor of PC hardware at Windows Central, covering everything related to PC components and NAS. He's been involved in technology for more than a decade and knows a thing or two about the magic inside a PC chassis. You can follow him over on Twitter at @RichEdmonds.
Does an adapter like this only work in its own Wifi space? It doesnt connect into a home Wifi , does it.

Yup it's a direct WiFi Miracast connection between a device (capable laptop or phone) and the adapter.

So just to ask even more questions - I cant cast to DLNA from my non wifi game pc , right :)

Ok, so can I plug this into a projector and wirelessly display from a Surface Pro 3?

Autocorrect not working?? Posted via the Windows Central App for Android

In the article apparently so!

I guess the best way to inform about this was to reply to my post..

It's a peer to peer. What I find weird is if i cast to my tv from movies and tv app I can't turn off the screen on phone just like continuum. It's so annoying

One is DLNA one is Miracast I suppose

Will it act as same as continuum?

Hey there. It is the same experience as if you use the wired Microsoft display dock, but a lot cheaper and of course wireless.

And a little laggier because it's wireless.

How well does this work with surface pro 3?

Got myself Netgear PTTV Miracast receiver and it works quite nice with newer Lumias, SP2 and even BLU Windows Phone.

Thats the joy of an open standard :) WHat can you do with the BLU though? Cant do continuum ..just lumia playto - cant even stream from edge on mobile :( (even though BLU has not released win10 yet)

I believe you can still mirror your display with the BLU. So you could just cast your display while using edge for the same effect.

BLU doesnt support continuum, does it. Just 950 and 950xl so far

Having used this device for continuum, I can say it works great! Didn't notice any lag TBH but then again I haven't used the hardware dock.

Boom! Ordered. Thanks for the heads up.

I have the more ambitious version of this (Microsoft HD-10 with the tap-to-share display NFC plate) and it honestly gets very little play out of me because ALL IT DOES is accept Miracast. It's kinda shocking that they normally charge *Roku Stick* prices when Roku Stick does SO much more while also being a Miracast receiver. I know HTPC's are a thing (bought a ton in my time, even built some) but I'm still waiting to see something like a "Windows TV" that is tiny, compact, runs Windows 10, and interfaces well with a remote - a Roku Stick competitor if you will. I'm currently using a Lenovo Stick 300 to kinda do this, but it just feels clumsy to use. And while many HTPC options can send their display through Miracast, none I've seen so far can accept it.

I would like Microsoft to do this!

It honestly wouldn't be hard. I'm using the $69 Lenovo Stick 300 with a $10 Tronsmart TSM-01 air mouse... which is an *okay* method of navigating Windows 10 on the big screen since it has a full keyboard, but it really needs a touchpad with scrolling gestures that actually work (and of course I wouldn't have emphasized the functional touchpad if I hadn't already gone through tons of USB remote/touchpad combos that didn't work well). Luckily, input is the only real problem. It handles Netflix, PLEX, Hulu Plus, Amazon Prime Video and the others like a champ! ...and handles Windows Store games beautifully. If Microsoft slapped their name on something that imped the Intel Compute Stick (Atom Z3735 with Windows 10, 2GB RAM, 32GB SSD, microsSD slot, Bluetooth and a full size USB port), bundled in a well-crafted remote and sold it at $79 with effective marketing - that thing would DOMINATE the market.

This is exactly the solution I need to fill the gap left from the poor dlna experience in Windows 10. I need a full replacement for my aging Google TV. Microsoft could easily make this happen and it could be a Chromecast killer.

I have to admit, I've been disappointed by mine. I'm using it with a Lumia 930 (Windows 8.1 then 10) and the lip sync on the TV is noticeably out, to the point where the video is unwatchable for me.

Great bit of kit. You have to mess around to get it working properly sometimes but I take it away with me all the time to stream films and PowerPoints without cables.

I picked up at similar discount over the weekend. Streaming video worked pretty well from my Asus Vivotab 8 M81C. A few minor video glitches now and then, probably due to the Wi-Fi router being in a non-optimal location, but overall acceptable. Updating the device's firmware (using app) yielded better performance, though getting the app to check for a firmware update is sketchy. (Add a button, for Pete's sake, Microsoft.) Picked up another Wi-Fi router to boost the signal on the TV side of the house yesterday, and expect the device to perform even better.

Does anyone have both this and an Amazon Fire TV Stick to compare performance with SP3 and Lumia 950/XL? I've got a Fire TV Stick, and the performance is great, just trying to figure out whether it would be worthwhile picking up the MS one that's the same price but has less functionality (though I suppose that would be better for use at work)...

Really...? My fire TV stick is atrocious as a Miracast/Continuum receiver, lags like ****, then just drops the connection for no reason. It can't even cope with music in groove... I've tried several and they're all the same... Just not what they were really designed for. I haven't tried Microsoft's dedicated receiver, but I'd be willing to bet that it's much more robust at Miracast than the Fire TV stick.

Yeah, my FireTV stick sucks for Miracast too...

Much better off buying a Roku stick. I have both and the MS wireless display constantly drops the connection with both my 950 and SP3. The Roku stick works great and does sooooo much more. Don't waste your money on this.

I have been waiting for this to be offered at a realistic price in the UK. £60 for the last nine months was plain ridiculous greedy. But reading the comments suggest that I should invest in a Roku stick instead.

Just bought it, MS let me ship it to the Netherlands. Was messing around with Apple devices and chromecast. Looking forward to see this piece in action with my Lumia 950!

I can't get Miracast to work. Haven't been working on any of my phones when using W10 :/

Ordered mine from UK store and still received free delivery to Czech Republic.. Now I have 2 Display Dock's, for home and Work & now the wireless for use in meeting rooms.. Very useful tech for me.

Trying to order, but the site gets stuck on a loop at the checkout using edge on win 10 mobile! More awesomeness from Microsoft....

Which part of it is wireless? One end is USB that goes into the PC, the other's HDMI. The cable seems short, too.

You plug the usb lead into your TV as well, it's just used to power the stick!

Stuperior, try the chat. They will help you to get past the ordering process

It seems to be something to do with PayPal as I was having the same issue on edge, ie and chrome. But all was fine when switching to card payment!

Is it really worth it? I assume that like most miracast devices the video/audio lags?

wish i had seen this a week ago! saw an advert in outlooo saying it was 26.50 but when i clocked on tjelonk it was 59.99. annoying!!
Windows Central Newsletter
Thank you for signing up to Windows Central. You will receive a verification email shortly.
There was a problem. Please refresh the page and try again.