Microsoft's Xbox Game Preview program expands to Windows 10 with Everspace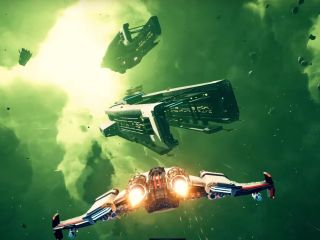 Microsoft has announced that its Xbox Game Preview program will now be expanded to Windows 10 PCs. The first game that will be included in this expansion is the upcoming rogue-like space shooter Everspace.
Microsoft made the announcement during Gamescom 2016 earlier today. The company's ID@Xbox European head Agostino Simonetta stated on Twitter:
Everspace was first announced in October 2015 for both Xbox One and Windows 10 from developer Rockfish Games. It raised $500,000 from backers via Kickstarter to fund the development of the game. There's no word on when Everspace will enter the Xbox Game Preview program.
Check out our interview with Rockfish Games CEO Michael Schade on Everspace
In related news, Microsoft announced (opens in new tab) that its ID@Xbox indie game publishing program has seen over 300 games released for the Xbox One since the first title, Strike Force Zero, launched in April 2014. Over 1,000 more ID@Xbox games are currently in development.
Update: Rockfish's own press release states that Everspace will enter the Xbox Game Preview program on September 14 for the Xbox One and Windows 10, along with Steam Early Access and GoG.com's GOG's Games in Development.
Windows Central Newsletter
Get the best of Windows Central in your inbox, every day!
More features for the Windows 10 Store. MS needs to keep this up.

Elite dangerous and everspace..space games collection is growing!

And I couldn't be happier. If Star Citizen does half of what they promise (assuming it ever comes out) I'll be in heavan

That game is sadly a joke after spending £1000, in it on goodies, I wish I could get a refund...

I ve spent less..still try not to think of it too much..but they keep remind me by sending me progress emails...wish they can make it

I hope this comes to Xbox One as well! I don't mind playing it on the PC, but I'd much prefer to play it on my xbox.

Everspace has my interest piqued!

We are September 14th I cannot find Everspace in the Xbox store. do you know if it has been pushed to a later date ?

According to this article: https://www.kickstarter.com/projects/rockfishgames/everspace/posts/1677319 The Xbox version is under the XBox Store validation process and they have a few perf optimization to do.

Xbox One and Windows 10 Release For the last two weeks, we have also been working closely with the Xbox Team at Microsoft to get EVERSPACE for Xbox One and Windows 10 through Certification. We did some further performance optimization, fixed all technical roadblocks for the Xbox One build, and are looking forward to Approval. However, there are still some store-related tasks open before we can go live. As UWP is all-new to us, we also need a few more days to get everything working as intended. We will announce a new release date on Xbox One and through the Windows 10 Store when we are closer to having all the boxes checked, presumably before the end of September.