A month with Minecraft Earth: Is Microsoft's AR adventure the next Pokémon GO?
Minecraft's AR debut establishes a strong (but bare) framework for a potential mobile hit.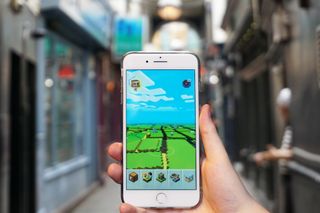 The first wave of Minecraft Earth beta testing kicked off in July, providing a glimpse of Microsoft's augmented reality (AR) spin on its hit blockbuster. With decade-long momentum pushing the series close to 200 million copies sold, Minecraft's latest revival takes on the world, following familiar steps that led to Pokemon GO's success.
Despite many opposed to Pokémon GO comparisons, it chases those same fundamentals that created a worldwide craze back in 2016. It's still uniquely Minecraft but already draws those underlying mechanics from Niantic's, the creator of Pokémon GO, AR adventures. After soon using Minecraft Earth around the streets of London for a month, it's clear where Microsoft is headed.
The blocky world to tap and explore
Putting an AR spin on Minecraft Earth delivers an experience immediately familiar to veterans of its vanilla predecessor. Utilizing Mojang's shared Bedrock Engine, a universal kernel powers all modern Minecraft experiences, extending its existing gameplay ecosystem to mobile. However, this new AR approach means new ways to collect resources and shaking up how you build.
Tapping into collaborative works of the OpenStreetMap project, developer Mojang overlays a voxel skin upon geographical data for a Minecraft spin to the world. Buildings translate to raised turf, while paved roads and water bodies all represent their real-world counterparts. The overhead map is your central hub upon startup, with deeper AR and progression systems divided across dedicated menus.
A sizeable portion of Minecraft Earth's gameplay loop revolves around "Tappables," scattering random number generator (RNG)-based item drops in proximity to the player's real-world GPS location. Only a small pool of Tappable variants exist in early beta iterations, with each dishing out two or three randomized blocks from a pool of possible contents.
Items are assigned a color-coded rarity tier, deposited into your inventory for future building endeavors. Commonplace materials occupy the lower rankings, while desired pickups fall under a further three levels rounding out with "Epic." And for Minecraft's diverse lineup of fauna, it means exclusive variants, from a mushroom-infused "Cluckshroom" chicken to sludge-loving "Muddy Pig."
Tappables bridge your Minecraft Earth experience and real-world travels, leveraging one of the many concepts attributed to Pokémon GO's rise. While AR building is a stationary and involved experience, collecting resources acts as a passive grind to fit around everyday life. But heavily leaning on RNG-driven loot boxes has its pitfalls, and after surpassing the first half-dozen levels, you've likely seen everything the beta offers. Whereas Pokémon GO pushed players to explore those alleyways and hunt monsters, there's little mystique to the randomized click-and-go implementation featured in the beta.
Breaking the fourth wall
Minecraft Earth's AR tricks have emerged as a defining centerpiece, axing the barrier between virtual creations and the real world. Considerable advancements in mobile have surfaced, with Apple and Google pushing dedicated AR toolsets for their respective platforms. Now delivering full-fledged block building through your camera lens, the game's execution far exceeds rival efforts.
This all ties into Minecraft Earth's shift away from dedicated "worlds," providing build plates of varied sizing instead. These self-contained AR platforms host all virtual creations, spanning 8 x 8 to 16 x 16 zones. These AR limitations will change how you approach your creations, ultimately favoring verticality over floor space.
The implementation currently straddles two modes: "Build" mode where players use resources to create scaled-down structures, and "Play" where full-sized blocks are projected on your viewfinder. Hooking into iOS and Android's respective AR technologies, the game maintains consistent, stable tracking at various angles, provided your build plates anchor to a textured surface.
However, in its pre-release form, the Minecraft Earth beta is a shell of what could be a broader experience. Minecraft Earth's AR falls between its core Creative and Survival modes, nailing those underlying block-building foundations while cutting nearly all supplementary systems.
Mojang promises a sizeable lineup of further updates, making the beta client a mere framework for more to come. Deeper systems are slated to expand building and progression, bringing the much-needed diversity in gameplay. Adventures could also be a critical component of improving retention, set to pack curated missions to face foes and earn loot. We're just not sure when these features will hit, later in the beta period or a year down the line.
Microsoft should ideally further streamline the app ahead of launch, too, with long loading times a vital factor in my ongoing frustrations. The app has a lengthy startup, often hitting 30 seconds on an iPhone 8 Plus, with clunky multitasking taking 10 seconds after loading and locking down your location. It might not be game-breaking, but when Tappables encourage regular, small-burst action, it only emphasizes these load times.
Minecraft Earth's beta offers a ton of creative action and looks to be a natural extension of the franchise into fresh territory. The underlying foundations support some promising gameplay, with AR finally viable for on-the-go gaming. Microsoft's primary setback in beta lies with a lack of gameplay content, with few reasons to return after those opening levels. What comes next could be Minecraft Earth's biggest highlight or its downfall, with content updates hopefully slated ahead of the public launch.
For those looking for a chance to pick up Minecraft Earth ahead of launch, free registration for the closed beta remains live on the official site. Microsoft has committed to a wider iOS release this summer, alongside the game's Android debut.
Essential Minecraft Earth accessories you'll love
These affordable Minecraft Earth accessories are guaranteed to help on your digital adventures.
Anker PowerCore 5000 Portable Charger ($18 at Amazon)
Like any augmented reality experience, Minecraft Earth will be power-hungry and drain your battery fast. This 5000mAh Anker PowerCore portable battery pack keeps phone topped up when on the move with a compact, cylindrical silhouette.
PopSockets Collapsible Grip & Stand ($10 at Amazon)
Avoid phone drops on your blocky adventures with this collapsible PopSocket grip that doubles as a stand. Grippy and comfortable to hold, it adds convenience and peace of mind to any Minecraft Earth session.
Minecraft Baby Pig 7" Plush ($10 at Amazon)
Grab your own porky Minecraft Earth companion with this affordable official Minecraft Baby Pig plush. Lined with a soft exterior and embroidered pixel detailing, don't miss out on your seven-inch friend.
Get the Windows Central Newsletter
All the latest news, reviews, and guides for Windows and Xbox diehards.
Matt Brown was formerly a Windows Central's Senior Editor, Xbox & PC, at Future. Following over seven years of professional consumer technology and gaming coverage, he's focused on the world of Microsoft's gaming efforts. You can follow him on Twitter @mattjbrown.