TinyDO updated, the most minimally awesome to-do list for Windows Phone gets new UI and features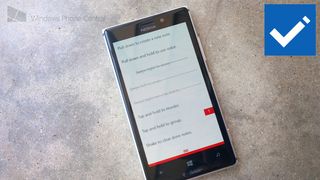 Sometimes an app comes along so simple and beautiful you can't help but love it. TinyDO is one of those apps. We first covered it a little over two weeks ago when we looked all the apps from the developer. We told you guys and gals to go download them because every single one of them was visually stunning. One of those was just updated today. Let's see what's new with TinyDO.
TinyDO is a basic to-do list, but cloaked in a minimalist package. Being minimalist doesn't mean it lacks power, just that it requires you to understand how the app works before you can fully appreciate the brilliance of it. Here's what's new in the latest update 4.0 update:
Repeated task
Show more info on the flip tile
Pin the directory tile
Fix data-loss when resuming
All-new designed UI
The app previously relied heavily on gestures, but this latest update ups the ante a bit. You'll notice a few UI for TinyDo. One of the first things you might notice is that the traditional app bar below is even more minimally available. You can pull it up to access the sections for settings, about and more.
There's also some new features with the app itself. For example you can now edit tasks to repeat, which is very handy. Additionally the flip tile will display more information about the tasks you enter into TinyDO.
While TinyDO might not be for everyone, it's certainly one of our favorite apps for keeping to-do lists. Plus, you can backup and sync your data through SkyDrive.
Want TinyDO for you device? Of course you do since the app is free for both Windows Phone 7.x and 8 devices. Just head to the Windows Phone Store to get it, use the QR code below, or swipe to the more section in our app.
Thanks for the tip zhoulhas!
Sam didn't mentioned that we would lose our to do's when we updated our app...not cool!

Did that happen? Not my fault! I installed it on my phone that didn't previously have it. You might want to reach out to the dev or make sure you back things up with SkyDrive :)

Now I will for future updates. Not blaming you btw.

Thank you. Acbuono5! Backed up my list before that thing installed. Was installing 6tag's update and i saw your comment and was quick enough to go to tiny do and back up before that thing installed :)

Lost my existing entries too.

All I need is the ability to change the tile color!

You have no idea how much I want a Windows 8 version and syncing between the two. Beautiful app.

This is the best to-do app i ever used. Thank you Developer :)

Try Simple Do. In my opinion the best to do app. It doesn't look as beautiful as this one, but it offers more options and a better live tile.

I downloaded this app when you guys last covered it a week or so ago and instantly started using it everyday! Looks like its even better!

I lost all my tasks when I updated... Anyone with the same issue? I've already informed the developer. Anyways great app. Thank you dev :)

Yup, same thing here and when I restore the SkyDrive backup it doesn't keep the restored tasks upon reopening the app. Very very frustrating because I can't remember all of the to dos I had

I ranted to the dev in an email. He claims the database is there, just hidden. He also stated that he posted an update to fix this, but he's waiting for MS to approve it to be posted. We'll see. I was SUPER ticked that I lost all of my tasks.

I have other to-do apps I've paid for on the platform but... For free, I can't help but give it a shot... jejeje

Any advantages to simpledo? Still love simpledo the most for beauty and fluidity...

It beats Simple Do in both those aspects.

Do NOT install this update if you have to-dos that you do not want to lose. After I installed the update, all my pre-existing to-do's were GONE, replaced by their goofy sample items. THIS IS AN EPIC FAIL! You cannot do this to people. It earned them a 1-star review and possibly an uninstall, haven't decided.

Hi. there.
I feel so sorry to this issue . it caused by a minor change on the database.
Your data was there , it's just not showing....
we have fixed it and sumbited an update but MS need some time to certificate it (at least 2 or 3 days?).
thanks !
Jim

Hey the app size has decreased to 1.5mb from 2.5mb :) any space saved is welcome :)

So not cool at all :-( lost all! Was going to go over all this morning this weekends big event and now I can't remember half the stuff that needs done. Hope these guys comes up with a BIG public sorry to all users...

"I feel so sorry to this issue . it caused by a minor change on the database. Your data was there , it's just not showing.... we have fixed it and sumbited an update but MS need some time to certificate it. thanks !" - Response from TinyDo team :)

I logged into this site for the first time in months just to say how much I appreciate TinyDo. I was looking for a minimal app which gives me information at a glance which can be easily entered and your app allows me to do that. After using your app for a week I've uninstalled everyother app which tries to do similar tasks on my iPad and 920. I left a comment in the Windows Phone Store with a good review - my only wish is for integration with Outlook or something so I can view my To-Do's in the Reminder app on iOS perhaps. Other than that, love the new update (besides deleting/hiding all my tasks!).

Same here, InterKnight :)

Will this synch with my Live calendar?

OMG OMG OMG! This app is amazing. The first time an app with voice recogntion that actually scores 100% on things I say....in my language...Dutch. And also on WP7.x. This is huge!

Using it now. Totally loving the simple interface. Just one problem - it was updated yesterday, and update totally deleted all my previous notes.
Wish they would have cloud sync stuff.

hi. Viktor
your data're still there and will be back with next update 4.1 which is under certification stage . (MS need at least 2 or 3 days to make it public )
Jim
Windows Central Newsletter
Get the best of Windows Central in in your inbox, every day!
Thank you for signing up to Windows Central. You will receive a verification email shortly.
There was a problem. Please refresh the page and try again.