Mirror your Windows Phone to the big screen with the low-cost Amazon Fire TV Stick
The Android powered Amazon Fire TV Stick might not be the first device on your radar, but it can be very useful to Windows Phone owners at a pretty low price.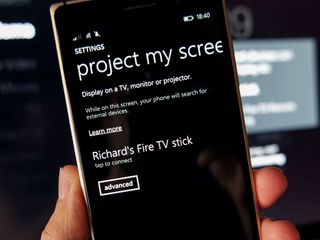 If you enjoy mirroring your Windows Phone to your TV, the Fire TV Stick is a great option for doing so. And it has so many benefits over a Miracast adapter, especially if you don't use any other set-top boxes or something like an Xbox One.
I'll admit I didn't look into any details on the Fire TV Stick before picking one up. Aside from knowing it runs Android, has a bunch of UK specific on-demand content apps, Netflix and all the Amazon digital ecosystem, it's just a low-cost way of having said services in my bedroom. So imagine the surprise when I discovered it's also a pretty nifty way to mirror my Windows Phone to the TV. If this sounds tempting, here's how you do it. Do note that not all Windows Phones support screen mirroring.
On the Fire TV Stick, hold down the Home button on the remote.
Select the "Mirroring" option to prepare the device.
Open up "Settings" on your Windows Phone.
Scroll down until you find the "project my screen" option.
You should now see your Fire TV Stick as an option to pair with.
Tap to pair and you should see your Windows Phone display appear on your TV!
Miracast dongle's aren't the most common thing around and when you consider Microsoft's own will set you back £60 in the UK, the current promo price of £25 (regular RRP is £35) makes this all the more tempting. And you have the added bonus of being able to do a whole bunch of stuff (even play Crossy Road) on the Fire TV Stick without your phone attached.
Windows Central Newsletter
Get the best of Windows Central in in your inbox, every day!
Managing Editor - Tech, Reviews
Richard Devine is a Managing Editor at Windows Central with over a decade of experience. A former Project Manager and long-term tech addict, he joined Mobile Nations in 2011 and has been found on Android Central and iMore as well as Windows Central. Currently, you'll find him steering the site's coverage of all manner of PC hardware and reviews. Find him on Mastodon at mstdn.social/@richdevine
Probably just trolling and rushing to be the 1st comment.

Did they update the firmware? When these first came out they couldn't Miracast with all devices. I bought just for that reason and ended up returning it. Purchased the Microsoft Miracast dongle and it works great.

I am doing it with Google Chromecast ...

Does chromecast do mirroring for Windows tablets and phones, cause I think you had to hace chrome for it to work?

Let me answer my own question....NO! And for everyone else Fire stick does miracast your Windows tablets too, so no need to buy a $69 Microsoft adapter. Found it in the specs on Amazon where it said Windows 8.1 ceritfied coming soon, but when I searched Youtube I found mulitiple videos of people already casting their Windows tablets. Now I know Fire Stick is the best choice, also if you're a Football aka soccer fan like me you will get Sling TV plus a free preview to try it...can't bet $28 new on sale plus free shipping.

The FireTV stick never worked for me. It wouldn't connect with my Miracast capable windows phones or Windows laptops. :(

Same here, but I think there was an update that added it. I can't try now cause I gave my 630 away and went back to my 920 :P

I was just able to test. The was an update, and it is now working with a Lumia 635 for me.

And while it now works with the 635, it still doesn't work with our Windows 8.1 laptop.

Same here. Only thing the Fire TV Stick has been consistant on is Android, phones and Tablets. My Windows things see it, it says connecting on the screen with the right device name, but never gets there. I haven't checked for updates recently. Roku has a Miracast option as well with spotty results. The MS stick is pricier, but surpringly rock solid ;) If your intent is to cast WP or Windows, I'd go for MS's. If you want entertainment, and Miracast is a once in a while bonus, get what makes sense.

Yes, oh yes it does...use the app full movies and voila, a watch on tv feature with Chromecast..

How? I can only use the Tubecast app.

I'm not sure to be honest.

Have the same problem with roku ever since I switched from my dlink(whql certified router) to asus(not whql certified)

https://www.thurrott.com/mobile/windows-phone/3682/windows-phone-tip-wir...

With a name like blackfire you should never post anything.

Or maybe... https://www.thurrott.com/mobile/windows-phone/3682/windows-phone-tip-wir...

Maybe because it runs you-know-what. :P

https://www.thurrott.com/mobile/windows-phone/3682/windows-phone-tip-wir...

Latency
https://www.thurrott.com/mobile/windows-phone/3682/windows-phone-tip-wir...

may be you got lumia 920 like me?

"This phone can't project your screen with a wireless connection, but you can use a USB cable to connect to a windows device."

Probably an older device? What phone are you using? My HTC One M8 for Windows mirrors the screen through my Roku 3 perfectly fine.

That's not too old IMO. I wonder if it is a feature that exist on higher-end devices then.

It needs newer CPU, SD400 and 800

Yes exactly.. My 625 cannot project wirelessly, but my 640 can.. Snapdragon 400 is the reason

Because 925 has S4 not SD400

It's not just a higher end thing either. My 1020 can't do Miracast, it's cable only, and that isn't even working currently. Thought it used to...don't know when it quit.

Have you tried full HD video playback or games?

It can't do full HD anyways. Even with my OnePlus One, its only capable of 1024x768.

It can do full HD with any Windows tablet/PC.

Just for Snapdragon 400, 410 and 800/801 (newer devices without low end). S4+ and Snapdragon 200 not supported (x20, x25, 435/430/530/535)

That clarifies it. Thank you!

Funnily enough, I tried a preview quest last night, had the same problem. Although the play to app (Lumia) works a treat. So not sure why I need it wired. Lumia 920.

That's because Play To works through DLNA, while screen mirroring I believe is Miracast. So while DLNA can work to cast a video using Play To, Miracast has different requirements and one is not related to the other.

Can you guys project pics to Xbox 360 with play to app? My Lumia 925 can't find the Xbox even though they are in same wifi.

Maybe your router is using somekind of firewall partitioning

I think I used to be able to do it on the 360, can't remember.

Lumia photo stream should work with any device that has internet access. Posted via the Windows Central App for Android

Lumia 920 doesn't have miracast, you need it wired and use a program in your PC to project your screen.

I've done the same quest. My 920 didn't work but my 1520 did. No need for a fire stick when my Xbox One does the same thing. But at it's current price it's hard to knock it.

Nice! I do this with my Roku 3 and it works very nicely.

Doing this with my Roku as well. May switch to the Fire TV stick though as I'm not entirely satisfied with Roku.

Sorry to hear that. Im pretty satisfied with my Roku. Do you mind me asking why is it not working for you?

My roku stick's Miracast doesn't seem to work anymore since I switched from a whql router to a non-whql router

Latency
https://www.thurrott.com/mobile/windows-phone/3682/windows-phone-tip-wir...

Would this work on all phones which has the "Project my screen" option?

No. This does not work on older phones like the Lumia 920. Not sure about other Lumia phones, but works just fine on some of the newer phones.

Yes, but only the ones that allow you to it wirelessly (thou need a newish SD processor, such as SD 400 and up I think)

Its not working In my lumia 520 device

I don't think it works on low end devices.

I think it needs a quad core processor. Not sure if the Quallcom 200 supports it though. Posted via the Windows Central App for Android

Hummm... I wonder if my original roku box will do the same...

When Roku announced this, they said they were making it available to Roku 3 only. It's also confirmed here in their support page: http://support.roku.com/entries/56621564-How-do-I-enable-screen-mirrorin...

Actually it works on the new roku stick and roku 3. I have both and that was the difference for me for buying those vs amazons. I was just about to buy more roku sticks but I may try an amazon. I use then to watch netflix etc but also to connect my phone or surface for a bigger screen.

I found it used to work but now since I switched my ms approved router to one thats not my phone wont connect

Cant the Microsoft USB Video device (forget the official name) do the same?

Yes. My brother has one of those and a WP, and it worked for him.

The Miracast dongle. Yes, and it's much better

What makes it "much better"? In my experience, most recent Miracast implementations provide similar experience. But would be good if you can explain what makes that one much better.

https://www.thurrott.com/mobile/windows-phone/3682/windows-phone-tip-wir...

Doesn't seem all standards compliant implementations are created equal. The Fire TV stick doesn't work with my Windows things, phone or PC. The Roku does pretty well but drops periodically. Both seem to work better with Android devices. My MS Miracast stick works rock solid with my Windows things, but is limited to that...no other programming available on it, it is just a Miracast receiver. So, what is better depends a lot on what is better for you.

The one I mentioned in the post that costs twice as much as this where I live.

That makes it cheaper, which is a big plus for most; but not necessarily much better in terms of capabilities IMO.

Yeah based on tests I've done with both devices the Microsoft one has much lower latency and drops less frames. But yeah, twice the price so you'd expect it! The Xbox One does pretty well for screen mirroring too, about the same as the Fire stick anecdotally

Hello Jay, owner of the WP wc app...

Well some chip manufacturers doesn't follow standards Qualcomms atheros being an example

I already do this with my Xbox one works good with all my devices

You mirror you screen to the XB1, or you do DLNA "Play to" Xbox One? I can't project to my Xbox One, but I can play videos there through Play To from Windows 8, which is the DLNA implementation to play content from Windows to XB1, but that doesn't work to projects the screen. Are you on the XB1 Preview program?

They recently released support for miracast on xbox one in the preview program :) it works pretty well, and should allow people to stream whatever they like to the big screen easy. I think even games will work :O

There was a new feature in the Preview program. I don't know if it has come to the regular update. You need to download a Wireless Display app to the Xbox.

That is still under preview, not released to the general populous yet.

Its a part of the official June release for everyone.

It's not working wirelessly on Lumia 535

Can you tell us which phones are compatible?

Lumia 630*, 635, 636, 638, 640, 640 XL, 730, 735, 830, 930, 1520 and Icon.

So any other dongles that work via USB than Miracast.

I own the FireStick and I like it better than my Roku. I'm able to install Kodi onto the FireStick. Don't do much mirroring, but i will try it out none the less.

Kodi is awesome! My setup is based on Plex, which works perfectly fine w Roku. Just not such a nice of a UI as Kodi, but it works. Whenever my Roku decides to die I'll probably consider the Fire TV or Fire TV Stick. But for now, I'm covered with Roku and Plex.

Will the 640/XL or the BLU WIN HD LTE work with this? Posted via the Windows Central App for Android

640/XL will work; they are on Sd400 which can do wireless projection.

I get the same stupid message on my 930

Guys how about these cheap chinese 20 bucks sticks? Would these work with my lumia 930?

If they're based on EZcast, no it currently doesn't mirror WP. Maybe they will add that feature in the future. As of now it works with Windows desktop OS, iOS and Android.

As much as I hate to admit it Amazon Fire TV Stick is great option for £25 here in UK seeing it allows Miracast mirroring, though we recommend Microsoft Wireless Display Adapter to our clients; we may have to reconsider it now as Microsoft Wireless Display Adapter has nothing to offer other than Miracast for more than double the price which was very disappointing to be honest. We have many clients who require such devices for mirroring their devices for meeting rooms and etc... and is questionable why they should pay almost double for something that does less, we've been asked this compared to CromeCast also. Not sure why with all these options on the market Microsoft is bringing out devices with so much little to offer. As a long term Microsoft user and system admin personally I feel let down by such decisions and hope this area is taken more seriously in coming months as little things like this matter the most, once people purchase ChromeCast and/or Amazon Fire Stick they will not go and buy a Microsoft Wireless Display Adapter or Xbox One to just use simple streaming services/features. In the meantime ordered two Amazon Fire Sticks to have while on the road seeing clients in case necessary to mirror screen, is cheap enough not to worry about losing/breaking it.

Netgear P2TV adapter would have been a better recommendation as it supports WiDi and Miracast.

Good point and can confirm that we were using Netgear P2TV for previous projects however it was not as compact to hide also again is lacking all other features for the money.

I think it's important to test all these things in real-world conditions. Offering features is not always the same as delivering performance.

Agree​, will know in June...

Latency
https://www.thurrott.com/mobile/windows-phone/3682/windows-phone-tip-wir...

Think I'm just going to wait until MS releases the update to the X1 that enables Miracast.

That'll be great, can't wait.

Can anyone tell me how to project windows phone screen wirelessly to windows 8.1 the same way we do with TV?

Got the MS Wireless HDMI Adapter for £45 from Amazon. Connects my laptop, Lumia 930 and Nexus 7 to my TV in HD. Can highly recommend it.

Yeah... https://www.thurrott.com/mobile/windows-phone/3682/windows-phone-tip-wir...

Gah Richard... Stop giving me excuses to spend money! On my way to Argos to pick one up now... (Also £25)

Nice but I have a roku stick and my Xbox one.

'Project My Screen' works so flawlessly. I don't have Wi-Fi at home nor a Chromecast. I just connect my 630 to my TV's Wi-Fi and there I go!
Androids can't do this.

What TV brand do you have?

Androids need Chromecast for screen mirroring. I have tried the 'Cast' option in KitKat, my TV never shows up.

Android actually does support this, but it's hardware dependant, just like Windows Phone. Most of your main Galaxy devices (Note 2 & up, S3 & up) sport Miracast support, as well as I'm pretty sure the higher end Moto devices. Though what Miracast is called varies by device. On the Note II I believe it was labeled as "screen share", though I'm not for certain. Other names it could be would be like "Screen Mirroring", "Mirror my screen", "Share my Screen", "Connect to an external display", etc. Cast I'm pretty sure it's reserved for Chromecast.

How do you do this? I tried projecting my screen (Lumia Icon) to my Panasonic Viera (smart TV, has Netflix and hulu and lots of other apps built in); would have thought it would find it but it never does...

Try this. Turn on your TV's Wi-Fi, go in 'Project my Screen', wait for a few seconds, your TV's name will show up. Just tap on it and you are good to go! :)

And open the 'Screen Mirroring' mode in your TV. Forgot to mention that. Open it first and then try the above steps.

Thanks! I will give it a try. I don't recall seeing that mode on my tv, so maybe that's the problem.

I was just looking at this the other day, since it's actually cheaper than most Miracast devices and has additional benefits over them. Does it support the Surface Pro 3? I realize, in theory, it should, but a couple articles I've found online suggest that, for whatever reason, the devices aren't compatible.

Does an Amazon firestick mirror iOS as well as Windows devices. I still cant wean my partner off apple c*ap

Nope only apple TV. Which doesn't do Miracast. So you'll be stuck with two devices.

No thanx....Tewee is far better than this...

Tewee supports wp,android,ios...

Ok does it do it for Windows tablets too, cause I have a Dell Venue Pro8?

Alot of people don't know that you can put Kodi(XBMC) on thr fire TV stick

You can? That's interesting news. Very interesting news. Thanks DrJekel.

I did not know it until I saw an earlier comment on this article. A $40 Kodi player connected to my TV? That's really very interesting.

I've known of this feature since January, however it had never worked on my Lumia 1520. Didn't work on Cyan nor Denim. Even between the various OS releases of the developer program. It always worked on my Roku 3. Just not with the Fire stick.

It just recently became available this past April with a firmware update for the fire stick. I have a 1520 and it works fine.

i have a quetion, if i buy this stick (or sticks like this one) and i have windows 10. will the television show continuum instead, or just mirror? thanks. :)

Just mirror. Continuum requires new hardware and hdmi.

Holy crap, I picked up one of these for $20 as some kind of deal when they first got released. I, like the author decided to get one for the services in my bedroom. Didn't know about this feature but will seriously check it out later. Thanks!!!

I did the same. Got it as soon as it launched.

Fuck, doesn't work on my 822. Oh well. Guess I'm waiting on using this useful feature. Thanks for having no Windows phones worth upgrading to, Verizon.

I got an Actiontec Screenbeam Mini2, my 630 goes to it great!!! Most Win8.1 devices project wireless to it too. Nice device.

Looks pretty good juanitoriv. Something to keep in mind for sure.

I have the Fire Stick but I haven't attempted to cast to it from my 1520. Thanks Rich for the heads up.

Call me a super geek, but this is fantastic. Thanks for the tip Richard, I am ordering one today. I have been trying to figure out a cheaper solution for a while now. One more reason to love my Win devices and never look back.

Tsk... What a super geek.

It might be helpful to provide a full listing of Windows phones compatible with this. Thanks.

What devices support Miracast wireless display?

I have a fire TV stick
This function absolutely doesn't work with our Lumia 635 or our Windows 8.1 laptop.
Buyer beware, though YMMV.

My Roku 3 projects my screen, but it's a lil buggy and my Microsoft HD-10 works, but still doesn't view in horizontal mode correctly, mainly because I'm running W10:TP

Miracasting in general is just kind of gimmicky and crude. I'd love to have something like apple tv in the windows ecosystem. You can't even use Miracast to stream audio.

Well honestly you only need Bluetooth to stream audio, anything else is overkill.

No need for a dongle in my case. I just connect my 1520 thru my $60 Bluray player (Sony) and it works flawlessly.

I just picked up an Amazon Fire Stick. It works quite well with my 830. Unfortunately it doesn't work with my Win 8.1 PC or tablet. It won't pair. The Amazon web site say Win 8.1 coming soon. Strange it will work with the Windows phone but not a PC or tablet.

That's progress. It didn't used to work with Windows phones either.

I have a fire stick upstairs. Paid £19 for it when it launched. Been talking today about screen mirroring for my husband when he loses unlimited tethering in July. This could be useful.

Guys could you answer me this... I could have a video playing on my phone or laptop and stream it to the TV flawlessly with this? Would like to stream movies ultimately. Thanks +925

You can stream videos from your phone but the fire stick cant display the screen from a Win Pc or tablet. The Amazon page for the Fire Stick says that Miracast for Win 8.1 is "coming soon"

I'll stick with my Xbox One

Bought the Fire Stick when it was $19 - best deal going. Now I can stream video directly through my Lumia 830 and it works great.

How is the Fire Stick latency, is it so bad as the table above states nearly 3s http://withinrafael.com/raw-wi-fi-display-dongles-and-associated-latencies/

since I have 920, I can't try it with my phone, but I did with my Surface Pro 2 and my Fire TV stick SUCKED!, Huge amounts of latency (3-4 seconds at times), connection issues, instability, it's a mess. My Xbox one and PTV3000 work SOOOOOOOOO much better for miracast.

FireTV itself is a charming device.. but since I have the Lumia 920... there is no use of it. Someone was trying to sell me Microsoft Screen Mirroring Adapter, the selling point was to mirror my screen on big TV, I ask him if I am playing Netflix and lock my device than what? He said the there will be no more mirroing.

Lumia 1020 is again out of the window. Thanks MS / Nokia. I love my 1020 but as soon as a win10 flagship hits, I'm off to a new phone... I will keep it as my camera, but it's just dead for everything. That makes me sad. List of compatible devices: https://www.windowscentral.com/e?link=https2F%2Fclick.linksynergy.co...
-----
"Option 1 - Use a wireless connection with Miracast support: Both your Lumia phone and your external device need to support the specific technology. Screen Projection over Wi-Fi is supported on Lumia 630*, 635, 636, 638, 640, 640 XL, 730, 735, 830, 930, 1520 and Icon."

Flexing the muscle of windows compatibility with all tech. Things are easy to buy when they are all compatible regardless of OS.
Windows Central Newsletter
Thank you for signing up to Windows Central. You will receive a verification email shortly.
There was a problem. Please refresh the page and try again.