Mobile Nations Weekly: At the nexus of anticipation
A week of anticipation, resolved and pending.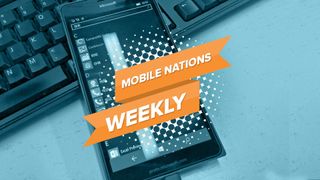 The word of the week is 'anticipation'. We saw the resolution of that concept in Google's announcements of the new Nexus 5X and Nexus 6P, along with a shiny new Pixel C tablet and updated Chromecast media streamers. But that's not all — we also saw the launch of the new OS X 10.11 El Capitan from Apple, bringing Macs around the world up to the latest and greatest
And while Apple and Google are busy resolving anticipation, it's only building for BlackBerry and Microsoft. BlackBerry's let loose a bit more about the BlackBerry Priv Android slider, but the week ahead is going to belong to Microsoft with an enormous New York City event where we expect to see not one, but two variants of the Lumia 950 as well as a Surface Pro 4 tablet and an even-bigger Surface XL tablet.
It was an exciting week, and it's going to be an exciting week. Let's dive in!
Windows Central — Anticipation
This week was a rather good week if you are into leaked news, bad if you are Microsoft and looking to keep a secret. Indeed, we saw more information about the new Lumia 950 and Lumia 950 XL – expected to be announced this coming Tuesday – arrive in the form of new, high-resolution photos. That was after Microsoft accidently listed the phones on their website.
Likewise, the new budget Lumia 550 got some new renders and even Microsoft's new Treasure Tag accessory got peeked at via the FCC. At this point, Microsoft just needs to fill in the details like pricing and dates for their phones.
In other news, we compared those news Nexus phones from Google to the upcoming Lumias and even pitted the Google Pixel C against the similarly-priced Surface 3.
The Dell XPS 12 tablet with a 4K display revealed ahead of launch
#AskDanWindows Episode 10 – Will the new Lumia cameras fare well against the iPhone?
Android Central — All Nexus all the time!
It's entirely possible that we've never had a week as big as this one, having hit the West Coast for the Google's 2015 Nexus event, then the East Coast for an LG event with a big new phone, and a sneak peek at a new watch.
CrackBerry — It's Priv time
With all the Priv by BlackBerry and earnings call news that happened last week, this was a little slower paced by comparison but there was still plenty more Priv to talk about and show off.
iMore — El Capitan has landed!
Another week, another operating system from Apple! Joining iOS 9 and watchOS 2 we now have OS X 10.11 El Capitan and all new Mac mojo that comes with it! Of course, we're still in the midst of iPhone 6s and iPhone 6s Plus launch-mania, and Apple TV and iPad Pro are still to come. So. Much. Fall. Stuff!
Kicked — The future is now: a hoverboard for real-life!
This week on Kicked Weekly we feature a high-tech hoverboard and a low-tech device to help you take selfies with your dog! We also looks at some other cool campaigns including a digital camera with a retro twist! You can probably guess Dan's favorite subject to shoot. Keep it tuned to Kicked as we've got some fun stuff coming up soon including another giveaway!
For the coolest crowd funding projects you need to know about (along with a few weekly antics) be sure to subscribe to the Kicked TV YouTube Channel and follow us on social media. We're active on Twitter, Facebook and of course Instagram.
Connectedly — For the connected life
This week on Connectedly, we learned that Amazon Dash buttons can be a lot of fun, with hacks that can control your Tesla and order you pizza. We also saw the release of a few new products, including the new TiVo Bolt home entertainment device, a new more "affordable" Red Raven 4K camera, Hero+ GoPro announced, and the Logi Circle home security camera. On the lighter side, we looked at tech products we can't believe actually exist, and tech struggles today's youth will never experience.
Windows Central Newsletter
Get the best of Windows Central in your inbox, every day!
Derek Kessler is Special Projects Manager for Mobile Nations. He's been writing about tech since 2009, has far more phones than is considered humane, still carries a torch for Palm, and got a Tesla because it was the biggest gadget he could find. You can follow him on Twitter at @derekakessler.
With respect to hardware and specifications, Microsoft's Lumia 950 & 950XL are in the same premium class as iPhone & Android flagships. Now let's hope Microsoft's Universal Application Program & Project Astoria facilitates the development of a rich premium mobile app ecosystem for Windows 10 Mobile.

My opinion, for 950/ (XL),The quality of product worth for $500-600.

I'd love to see the Lumia 950 priced at the level of the nexus 5x, and the Lumia 950xl priced at the level of the Nexus 6p. But, I am concerned that Microsoft will price these similarly to what has appeared on a Russian site, ~$830 for the 950 & ~$930 for the 950xl. If they do price this in the range of, or above that of an iPhone or Galaxy S6, I think the devices will basically be DOA. But, if they price them competitively, even if they have to be sold at a cost, the devices will actually stand a chance.

If that's the price ($930 for XL) then I'm keeping my 930 and investing in a Note 5 instead. Above $800 is too much for polycarbonate phone on a dying OS.

Honestly, I think $800+ is WAY too much for any phone, regardless of the materials used or the OS it runs. I mean, these devices are basically designed to be replaced every 1 - 2 years, so why should we pay as much for a phone as most people do for a computer? Sure, I get that these devices are reaching a point where they can almost replace a PC, but I'd rather buy a Surface Pro at that price.

What's more tedious than watching all these events and releases? Going to the store to try them all!

I just wish the 950 didn't have that huge silver ring around the camera. If it was like the 950xl it would be great. But I find that silver ring thick and hideous.

I'm on the opposite: I kinda like the ring. That's probably one thing that would turn heads from the 950 in addition to the way you unlock your phone with Windows Hello.

To each there own I suppose. For me id much prefer the 950xl at the 950 size. My OCD is not gonna let me get one of these. :'(

Dat ring tho -_- who the hell designs these phones? And no colors? So bad :(

Nice to see the Dell Venue Pro making a comeback over at Blackberry.

Interesting to see that the 950/XL are ending up being the few if only option for Snapdragon 808/810 + removeable battery + sdcard , regardless of platform. Pity that the camera/sensor technology seems to have stagnated though, not sure if the 20MP camera will power Pureview clearly past its competition like before.

Lumia 950 XL
810 v2.1, removable battery, microSDXC card storage support, 20MP camera Are all things iPhone 6s plus Nexus 6P Note 5 don't have......having basically unlimited storage "2TB" with microSDXC storage on a phone is fantastic!

That's what's interesting - a few years ago, most Android phones had removable batteries and sdcard, so the Lumia trumpcard was its Pureview camera. Now, I'm not sure the camera advantage is enough or even there, but at least say "try Windows Phones, because it has the latest processors and a removable battery + sdcard which your Android phone probably doesn't have".

Spazzmeister: If the batteries are removable then that means that the phone covers are exchangeable... Therefore you will be able to buy different covers of as many colors as you wish. No problem here I think

The Nexus 5X looks compelling for the price, especially if you buy the 5X from retail here in the UK since the 32GB model is only £10 more than the 16GB... which is rather useless and tbh Google should have done 32 and 64 :\ I don't get the point of that Pixel C though, only Microsoft have gotten tablets right so far.

Well i own a cell phone/tablets/computer repair shop, and those windows phone look body cheap, the edge around the screen is too thin like the Galaxy S4/5, and i replace a lots of those screen because of the polycarbonate/plastic when the phone is drop from only one or 2 feet's on a corner the edge touch the screen and crack it... the Galaxy S6, edge or Alpha got an aluminum frame who is a lot more solid so we do not replace a lot of screen on those models the body is solid !! Btw who need a removable battery, yeah if you ran out of power you will buy another battery or a external battery, in both situation you need to buy something, i never got any problems with an external battery with my 920, 930 and i even never use it with my actual 1520 !! Damn i miss the Nokia construction, Microsoft has made too much modifications on the original models from Nokia !! Well lets see what other problems they got before buying one...