Full details about Dell's 2015 XPS 15 leak out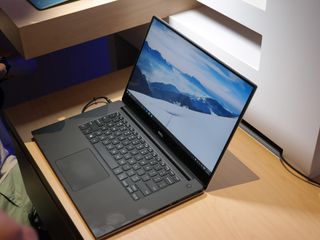 New details have surfaced showing off what the 2015 version of Dell's XPS 15 line may be packing when it makes its debut. According to the report, which is very similar to what was reported late last week, there will be two versions of the computer, both of which will feature a new Infinity Edge touch screen that is said to have a resolution of 3840x2160 pixels and will be produced by Sharp. The computer will also come in a 1080p non-touch variant at a later date.
Inside, the 2015 Dell XPS 15 is said to have Intel's Skylake quad-core processors partnered with Nvidia's GeForce GTX 960M graphics card. The top model with have 16GB of RAM, and a SSD of up to 512GB. Additionally, it will have all of the standard goodies you usually find, USB 3.0 ports, HDMI output, full SD card reader, Bluetooth 4.1 and much more. The top of the line model is said to run around $2200, though no additional information was provided about the other configurations.
Perhaps the best news is the weight which reportedly comes in at just 1.7 kg (3.7 lbs). That is definitely on the low side for a 15-inch laptop these days.
Source: Winfuture
Jared started off writing about mobile phones back when BlackBerry ruled the market, and Windows Mobile was kinda cool. Now, with a family, mortgage and other responsibilities he has no choice but to look for the best deals, and he's here to share them with you.
Will this include the new C-type USB 3.1 connector? I really hope so!

Wish more 15 inch laptops had a numeric keypad.

I have one on my Lenovo W540, it is a nice feature.

Really? Numberic keypads on a laptop are the bain of my existence. It bothers me that it displaces everything to the left.

I hate that, only thing i hate about my laptop

Agreed! I manage the network for a CPA firm. For those who crunch numbers for a living, the 10-key is vital. Wish we could combine that feature with the otherwise slim, lightwieght design of the ultrabooks.

I manage networks too and I can type numbers really fast with the keypad so without it, I waste lots of time. Most latitudes have keypads but those are thick laptops. Dell does have a precision mobile workstation based of the XPS 15 but still it doesn't have a keypad or network port. I think they just slaped precision on it and raised the price. It doesn't seem like it would be too difficult to make it an option but probably the 15" laptop is too small. The latitudes that have the keypad are 15.6". Probably it would be best to use another keyboard or bluetooth number pad.

I think that would be a bit difficult for the XPS 15 in particular, considering it's bezel less display. The keyboard would probably be pretty cramped.

Does this have the small keyboard, as found in the inspiron and xps13 lines? Those vessels indicate that is the case and that would be bad, if true, because the kb would be small and no good to type on...

Tempted by the new lenovo thinkpad p50 or even p70 on that score.

Oh man very tempting ... SP4 vs this.

My wallet is not ready. :(

i have the xps13, and it is my all time fav laptop, but as you can see the on picture with the xps15, this laptop really shows the smudges on top of it, keeping it clean is a pain.

Argh now I can't not see that any more! That sucks, and the trackpad also looks very worn already.

yea.. it is really annoying; i think they are trying to go with black designs just to distinguish themselfs from apple clones. BUT trackpad does works really well, i only use dell laptops (work) latitude/xps and it is one of better ones as far as those lines go.

Iris/3D Camera is essential for high end devices, if lacking it would cost the range dramatically long term.

If you look in the bottom left, looks like three dots, that could be for the real sense camera's.

The only thing I would change about my XPS 13 is the very weak GPU power (Intel 5500), it is nowhere near sufficient for 3200x1800 even just for Windows applications, nevermind gaming. The GTX 960M will make the XPS 15 simply awesome. And of course, the 3840x2160 screen being precisely four times 1920x1080 means that games will scale without blurriness.

Looks very promising... Except 16:9. After using a Surface or a MacBook, the TV-like displays on most Windows laptops just feel needlessly cramped. The best thing about a 15" MacBook Pro for me is the 16:10 screen size... the heck with OS X. I wish more Windows devices would adopt 16:10 or even rally around Microsoft's new 3:2 standard..

Love the xps15 (current), so an very interested in this - my only problem is whether that kb is the small inspiron and xps13 one. That would be a shame as it's small. No good for typing, well of you have normal hands anyway.

Been looking for thin bezzelled screens for multi monitor setup, this would fit in nicely. Hope SP4 comes with thin bezels, that would seal the deal.

I'm waiting for sp4 , hope it comes with a powerful GPU

I'd trade my i7 sp3 for that

Christ look at those finger prints. Black is an awful colour.

For $2,200; I would buy an Apple rMBP for another $600 for high end version. It retains it value just like the iPhone and I can get any problems with it taken care of
in a hour time at the Apple store

Hi please visit Imore or some place like that, your apple opinions are not needed here. I would rather spend 10,000 on this dell machine than have a crapple device again. Pure fluff. They are for the posers of the world.

Only posers are concerned about buying a laptop with resale value as an important factor. For others who need to get real work done and a variety of software to do it, rMBP are pretty useless. I know, I had one and gladly returned it for an ASUS ultrabook.

1.7 KG weight is insanely light for a powerhouse laptop which has touchscreen 15.6 screen, full fat Skylake Quad core CPU and Nvidia GTX class GPU.

The laptop screen looks gorgeous but the keyboard side looks dull Posted via the Windows Central App for Android

Besides the weight and focus on design, I think I'm going towards the lenovo thinkpad p50 or maybe even p70. Hoping that someone will give us a side by side review.

Wow price is pretty good for such high end parts crammed into a thin 1.7kg package. Very nice.
Windows Central Newsletter
Thank you for signing up to Windows Central. You will receive a verification email shortly.
There was a problem. Please refresh the page and try again.