Moliplayer Pro brings download manager for internet videos and more in latest update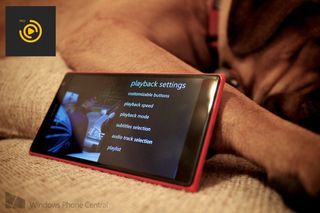 Moliplayer Pro hasn't been on Windows Phone that long, but it's already making a big impact. The app is currently one of the best video and audio media players available in the Windows Phone Store. Moliplayer Pro has been picking up some fairly fast and important updates since its launch a handful of weeks ago. Today we're looking another update in the Store for Moliplayer Pro, so let's go check out what's new.
The last update to the media player came a little over a week ago. That was version 1.2.1.6 and was notable for bringing playback to various modes, the option to change subtitles during playback, and much more. Today we're looking at version 1.3.0.8 sitting in the Windows Phone Store. The following has been added to Moliplayer Pro in this release:
Playback and downloading of videos on the main-stream video websites.
Download manager of internet videos.
Pinch-zoom and pan of videos during playback (SW only).
Selecting embedded subtitles during playback
Fixed slow loading issue
Fixed charset setting issue for subtitles of certain languages
Fixed crash after standby for certain time with screen locked
If you're looking for a VLC type of app on Windows Phone then Moliplayer Pro is the app for you. The latest update only improves what was a solid foundation. This update allows you to playback and download videos from various main-stream websites. Basically turning Moliplayer Pro into an app you never have to leave if you're ready to consume some videos.
The update also contains a handful of other changes and fixes. For example, you can pinch to zoom and pan videos during playback.
Liking Moliplayer Pro? Sound off below with what you think of the latest update to the app. In the meantime, you can grab it from the Windows Phone Store. It goes for $2.99 and includes a trial. You can also use the QR code below to get the app.
Bonus: Looks like there's now a "free" version of Moliplayer, but it appears only to be available for Windows Phone users in China, Hong Kong, Taiwan and Macau. You can get that version in the Windows Phone Store (QR below). This "free" version of Moliplayer omits powerful features like playback support for FLAC and FLV file types.
Thanks for the tip hengxiang32401!
Get the Windows Central Newsletter
All the latest news, reviews, and guides for Windows and Xbox diehards.