Moliplayer Pro brings download manager for internet videos and more in latest update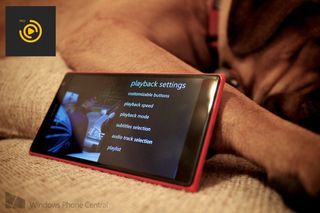 Moliplayer Pro hasn't been on Windows Phone that long, but it's already making a big impact. The app is currently one of the best video and audio media players available in the Windows Phone Store. Moliplayer Pro has been picking up some fairly fast and important updates since its launch a handful of weeks ago. Today we're looking another update in the Store for Moliplayer Pro, so let's go check out what's new.
The last update to the media player came a little over a week ago. That was version 1.2.1.6 and was notable for bringing playback to various modes, the option to change subtitles during playback, and much more. Today we're looking at version 1.3.0.8 sitting in the Windows Phone Store. The following has been added to Moliplayer Pro in this release:
Playback and downloading of videos on the main-stream video websites.
Download manager of internet videos.
Pinch-zoom and pan of videos during playback (SW only).
Selecting embedded subtitles during playback
Fixed slow loading issue
Fixed charset setting issue for subtitles of certain languages
Fixed crash after standby for certain time with screen locked
If you're looking for a VLC type of app on Windows Phone then Moliplayer Pro is the app for you. The latest update only improves what was a solid foundation. This update allows you to playback and download videos from various main-stream websites. Basically turning Moliplayer Pro into an app you never have to leave if you're ready to consume some videos.
The update also contains a handful of other changes and fixes. For example, you can pinch to zoom and pan videos during playback.
Liking Moliplayer Pro? Sound off below with what you think of the latest update to the app. In the meantime, you can grab it from the Windows Phone Store. It goes for $2.99 and includes a trial. You can also use the QR code below to get the app.
Bonus: Looks like there's now a "free" version of Moliplayer, but it appears only to be available for Windows Phone users in China, Hong Kong, Taiwan and Macau. You can get that version in the Windows Phone Store (QR below). This "free" version of Moliplayer omits powerful features like playback support for FLAC and FLV file types.
Thanks for the tip hengxiang32401!
Windows Central Newsletter
Get the best of Windows Central in in your inbox, every day!
Awesome app man!!! Next we need rudys fb

Foreal I want Ruby's Facebook I need that app to work with real time chat now its important!

I said tha same thing about Rudy should make a FB

Has he mentioned making a FB App or is this wishful thinking?

Yeah, no doubt. For $3 this is actually money well spent. I've been watching my movies I haven't came around to watch, now I watch them before I go to sleep. This will even play my .mkv files so there's no video converting of any type before I put into my phone.
On a side note, I updated my L1020 this morning to BLACK!!! There's some really nice features.

Its very dark this time in Sweden and I say we need that Black update real bad because all my photos is yellow now. I hope the camera update fixes the yellow tint problem, because now my photos aren't just tinted, there yellow. My Christmas ham looks like a bloody banana.

Adjust your white balance.

Anyone know how to get the WiFi transfer to work?

Step 1: Connect Phone to same WiFi Network as your PC.
Step 2: Open Moliplayer and go to WiFi Transfer.
Step 3: Enter the Web address shown in Moliplayer in your PC Browser.
Step 4: Select the desired files from the upload button.
Step 5: Click Upload and watch the files getting transfered. Enjoy.

When I click on the link for the free version, it takes me to the US website. And then when I click on "Check my Windows Phone Store" as I'm from India, it opens up the Indian page and still it shows that it's available. Then why did you say it's available for those 4 countries only?

It's not available in India .. U might have different regional settings

For me , it takes me to the app and says it is not available in your region. I'm also from India.

I m also from India.i am using this app,it does not show that it is not available in India

switch your region to China, and download it.

Moliplayer Pro (English version) was available for free at one point (Limited Time). I'm glad I took advantage of the promotion. The developers are constantly updating and improving the app.

I'm interested in seeing the ability to play email attachment video files and file association, also changing the playback mode reverts back to continuous play after you select your next video, other than that it works great.

I wonder what VLC will have to offer considering Moliplayer is on a roll. VLC is my go to player for anime (Naruto if you're wondering)

My tthought as well! VLC will have a lot of catching up to do!

It will be free and I believe like all VLC apps the code will be open source for contributors to improve the app

But that's good tho! The spirit of competition!

I'm loving this App on my 925 and 1520 but I would love it better on my Surface 2. The only app I'm missing right now on the Surface is VLC but after a year of waiting for VLC even with $60k support from the community, I've lost every hope of seeing the app anytime soon. I have about 3tb of movies on external hard drive but I cannot enjoy these movies on my venerable shiny Surface. If Moliplayer comes to the Windows Store, I wouldn't hesitate to pay a premium price for it.

That's a couple of gadgets there buddy..... What are you supposed to get for Xmas? :-)

Lol! I just got me Sony Vaio Duo 13 for Christmas bro. A lot of toys to distract me from the family during the Yuletide :-)

Wow, it's great to be you! Enjoy the holidays and gifts!

Is there an option to share videos?

Very few app purchases has been as gratifying as this one!

The free app is in some Chinese language and of what litle i could make out ... You have to login using the Chinese weibo account (Chinese twitter equivalent) so its a no starter for us English speaking folks....

Hehe, seems like I've bought the app just to support the dev inspired by the first review here and never played a single movie :) how can it be convenient watching movies on a 4.5" screen?

It depends i like to watch even on 4inch

I watch series on my L920 a lot, just keep it a few inches from your eyes and put some decent headphones/in-ears on and it's like you're there.

Same method works for me on my 928.

Moliplayer the best video player on the market. The developer keep updating and improving. I wonder if i would take vlc when comes out. So far no regret buying moliplayer. Vlc seriously got contender on this one

Well I downloaded the free version changing my location but its totally in Chinese and well...."No hablo chino"

Best video app out! Question tho, what is the SW/HW icon I see in the corner?

SW...when the software...i.e Moliplayer is playing a video not supported by Windows phone...like mkv or flv. HW when the video is supported by Windows phone...like mp4.

I was wondering about this... I assume the differences are video quality and battery life? Quality seems great from mkv...

The free version requires a Sina Weibo account, so if you can read Chinese or manage the sign up process with Bing translate than you are good to go. If not you will have to wait for English localization. Once logged in with a Weibo account, the player can play any video that is posted on the Weibo.

The free version requires a Sina Weibo account to login in MoliPlayer, maybe you could use some translate tools help you sign up the Sina Weibo account. You can change your language in English where is the pull tabat at the bottom of page. It's the link for Sina Weibo: http://weibo.com/

Is there any difference between free version and paid version ??

Free version lost many funtions such as uPnP/DLNA, music playback in background, Key protect etc.

Can you use this to play from an itunes server/NAS?

It does support DLNA\UPnP. YxPlayer still does a better job at DLNA though.

I don't know how but my moliplayer trial suddenly became the full featured version.

reinstalled it .voila trial timer starts again ....a good bug in the app ...reinstall 15 days once ...

Bug reported, expect a bug fix in the next release.

Awww thanks 50000 for that.... Hope you get the remaining 50000 to put up your actual name....

The Official said, may fix the bug in next version.

Great to hear that..... Vlc is on way to save the studying group (with no card access) like me...

You can buy a Microsoft Windows gift card in eBay, Amazon etc though Paypal, or directly use cash to buy gift card in Microsoft Store.

Consider a debit card, it will work exactly like a credit card but as it's backed by the funds in your bank account you don't need any income proof or credit history.

I am unable to move video to camera roll in free trial version

This app is great. Well worth buying.

Pinch zoom isn't good
It should be like MX player in android
But more features are best of ever...

Any idea if this is coming out on win8? I'm sick of waiting for VLC..

On Win8, try Mobile HD or Plex for now until VLC

How to download from youtube? The download button keep disable from here

Cool updates but I would love the ability to browse directories instead of having to place video in the "camera roll" directory. Seems more logical for videos to be read from the video folder.

How to download file from website?Someone can help please

I get the same problem as with the built-in player on my Lumia 620, all my mp4 videos that play fine on every other device play in the wrong aspect ratio. Is it really impossible to play these videos on my Lumia in the correct aspect? Such a basic thing to get wrong in an app.

I also get same problem.mp4 file doesnt get played

Won't install on my 928 from USA dev unlocked with all the latest software. :-(

Just bought a Coloud Knock Headphone today and am gonna enjoy watching movies with this app now!But the trial version expires in about 30 days and i hate it that the button for increasing window size i made a customisable button.I hope those buttons are decreased in size and increased in number.But until vlc arrives, this app is the no.1!

I like the player a lot, but video download option is useless until they provide export to music + video hub, because already there are so many apps which can download video but all require pc software to export the videos

If anybody knows pls let us know how to use free version of chinese market after downloading ??

Hey someone please tell me how to use subtitles ?

how do I can copy videos to PC download with MolyPlayer video downloader?
Windows Central Newsletter
Thank you for signing up to Windows Central. You will receive a verification email shortly.
There was a problem. Please refresh the page and try again.