More new Games Hub features for WP7 en route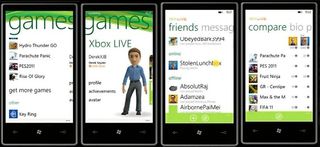 Back in May, we heard about some of the great new features and streamlined integration that the Mango Games Hub will bring to Windows Phone. Today at Gamescom in Germany, the team announced four more things that mobile gamers can expect to see in the coming months.
Avatar Awardables: You can think of these as "wearable achievements." Unlock items during game play and they will become available in your avatar closet. One of the first games to have these will be "Chickens Can't Fly."
Game Add-ons: Players will be able to enhance their gaming experience by purchasing in-game add-ons and downloadable content, like extra weapons and new levels, using MS points. "Beards & Beaks" is one of the first to have this feature, but more are on their way.
Parental Controls: Pretty self-explanatory. This will come in handy with M-rated games, like "Splinter Cell: Conviction," (Coming this Fall).
Fast Async: This service will improve multi-player gaming for turn-by-turn (or asynchronous) Windows Phone games.
Check out the entire Gamescom Press Kit (opens in new tab) for more details, and info on stuff like Xbox 360, Kinect, and more.
Source: WindowsTeamBlog
Windows Central Newsletter
Get the best of Windows Central in in your inbox, every day!
you mean "Beards & Beaks" not Birds lol.Sounds cool, finally getting avatar awards on the phone, not that many games even use them any more.

No real time MP is disappointing. And no AAA titles either. I think XBL is vastly underused on WP7. Wont be buying anything for quite a while, methinks.

Multiplayer is coming. These are just in addition to the new things MS is bringing.

Take 5 seconds and use Google?http://enterconnected.com/index.php/xbox-live-voice-chat-multiplayer-com...http://wmpoweruser.com/developers-add-support-for-peer-to-peer-multiplay...http://blogs.msdn.com/b/rickyt/archive/2011/06/15/windows-phone-peer-to-...

Forgot about those, but I wonder why MS is not highlighting it more? Much better headline than announcing paid DLC as a new game. Anyway, I stand corrected. And I bing, ta very much.

Real time multiplayer is possible with Mango.

PS. we do have multyplayer games. words games , tank wars , ect.. but no offcial crossplatform yet , its what i really want

Words by Post is cross platform. What multiplayer games do we have on WP7 that isn't turn based.

Sounds like in-app purchases to me. Makes me question the entire platform. That stuff is poison.

You're not forced to buy the DLC or extra levels if you don't want to. This is nothing new really, f2p MMOs have been doing this for ever, and buying DLC isn't exactly new either.I don't see how this questions the platform at all? It's another way for devs to draw in players and make some money.

well you can blame apple and google for that , they started that **** on Mobile,

I just hope MS poitns will be good to buy FULL apps aswell and not just add ons. and mayeb some pay-pal would be ncie too....

They also announced 14 new games that will probably be released over 14 weeks, how ridiculous. 2 games a week wouldn't be too much to ask, you can't play on the Live brand and do the service half justice.Anyway, nice to see IonballEx and Chicken can fly getting the XBL treatement, goes to prove that if Microsoft turned down developers it was because their game wasn't as high quality as they thought. I'd like Wordament and AlphaJax to get the bump too.

u just don't let me down with the comment down ranks.

Man,I want to know more about Fast Async !!! there is no multigame play with windows phone now how can this be a imporvement when there is nothing to improve on ??
Windows Central Newsletter
Thank you for signing up to Windows Central. You will receive a verification email shortly.
There was a problem. Please refresh the page and try again.