Mortal Kombat X, GTA V now available on Xbox One, PC for a violent old time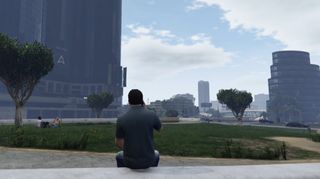 A couple of big name game titles are now available across Xbox One and PC, with Mortal Kombat X and the long awaited arrival of GTA V on the PC. Lots of unnecessary violence, for sure.
Mortal Kombat X sees its global launch across PC, Xbox One and PS4, while for Rockstar's epic this is now the third time on a third platform the title has launched.
For GTA V, some of the headline news is the new Rockstar Editor suite of creative tools to capture and share game footage as well as another bump in graphical capabilities. 4K Grand Theft Auto, anyone?
Here's what you'll need to run both games on PC:
GTA V
Minimum:
OS: Windows 8.1 64 Bit, Windows 8 64 Bit, Windows 7 64 Bit Service Pack 1, Windows Vista 64 Bit Service Pack 2* (*NVIDIA video card recommended if running Vista OS)
Processor: Intel Core 2 Quad CPU Q6600 @ 2.40GHz (4 CPUs) / AMD Phenom 9850 Quad-Core Processor (4 CPUs) @ 2.5GHz
Memory: 4 GB RAM
Graphics: NVIDIA 9800 GT 1GB / AMD HD 4870 1GB (DX 10, 10.1, 11)
Hard Drive: 65 GB available space
Sound Card: 100% DirectX 10 compatible
Recommended:
OS: Windows 8.1 64 Bit, Windows 8 64 Bit, Windows 7 64 Bit Service Pack 1
Processor: Intel Core i5 3470 @ 3.2GHz (4 CPUs) / AMD X8 FX-8350 @ 4GHz (8 CPUs)
Memory: 8 GB RAM
Graphics: NVIDIA GTX 660 2GB / AMD HD 7870 2GB
Hard Drive: 65 GB available space
Sound Card: 100% DirectX 10 compatible
Mortal Kombat X
Minimum:
OS: 64-bit: Vista, Win 7, Win 8, Win 10
Processor: Intel Core i5-750, 2.67 GHz | AMD Phenom II X4 965, 3.4 GHz
Memory: 3 GB RAM
Graphics: NVIDIA GeForce GTX 460 | AMD Radeon HD 5850
DirectX: Version 11
Network: Broadband Internet connection
Hard Drive: 36 GB available space
Recommended:
OS: 64-bit: Win 7, Win 8, Win 10
Processor: Intel Core i7-3770, 3.4 GHz | AMD FX-8350, 4.0 GHz
Memory: 8 GB RAM
Graphics: NVIDIA GeForce GTX 660 | AMD Radeon HD 7950
DirectX: Version 11
Network: Broadband Internet connection
Hard Drive: 40 GB available space
We've got a few links below to pick up both titles, if you've already jumped, be sure to tell us what you think of them in the comments!
Grand Theft Auto V for PC offers players the option to explore the massive world of Los Santos and Blaine County in resolutions of up to 4k and beyond, as well as the chance to experience the game running at 60 frames per second.
GTAV for PC offers players a huge range of PC-specific customization options, including over 25 separate configurable settings for texture quality, shaders, tessellation, anti-aliasing and more, as well as extensive support and customization for mouse and keyboard controls. Additional options include a population density slider to control car and pedestrian traffic, as well as dual and triple monitor support, 3D compatibility, and plug-and-play controller support.
Grand Theft Auto V for PC also includes Grand Theft Auto Online, with support for 30 players and two spectators. Grand Theft Auto Online for PC includes all existing gameplay upgrades and Rockstar-created content released since the launch of Grand Theft Auto Online, including the recently released Heists and Adversary Modes available on day one.
Grand Theft Auto V for PC also brings the debut of the Rockstar Editor, a powerful suite of creative tools to quickly and easily capture, edit and share game footage from within Grand Theft Auto V and Grand Theft Auto Online. The Rockstar Editor's Director Mode allows players the ability to stage their own scenes using prominent story characters, pedestrians, and even animals to bring their vision to life. Along with advanced camera manipulation and editing effects including fast and slow motion, and an array of camera filters, players can add their own music using songs from GTAV radio stations, or dynamically control the intensity of the game's score. Completed videos can be uploaded directly from the Rockstar Editor to YouTube or the Rockstar Games Social Club for easy sharing.
Soundtrack artists The Alchemist and Oh No return as hosts of the new radio station, The Lab FM. The station features new and exclusive music from the production duo based on and inspired by the game's original soundtrack. Collaborating guest artists include Earl Sweatshirt, Freddie Gibbs, Little Dragon, Killer Mike, Sam Herring from Future Islands, and more. Players can also discover Los Santos and Blaine County while enjoying their own music through Self Radio, a new radio station that will host player-created custom soundtracks.
Existing players can transfer their Grand Theft Auto Online characters and progression to the PC from any current platform.
For more information about Grand Theft Auto V and Grand Theft Auto Online for the PC, including minimum and recommended system specifications, please visit www.rockstargames.com/V/pc.
Richard Devine is an Editor at Windows Central. A former Project Manager and long-term tech addict, he joined Mobile Nations in 2011 and has been found on Android Central and iMore as well as Windows Central. Currently you'll find him covering all manner of PC hardware and gaming, and you can follow him on Twitter and Instagram.
Both the games are Devine

I think this joke has run its course.

Really? I only noticed it once before

The requirements of GTA 5 seems perfect but the requirements of MKX damn...I'm not a fan of GTA series but thinking about getting MKX...
Now first I have to do is install 64 bit OS...I guess 4gb of ram will last me another year or so :P

60 GB game? On my Windows 7 Home Edition with inbuilt Intel Graphics? No thanks, I can't seem to run San Andreas properly lol.

Are you a Despicable Me fan?

I like Dave. Do you like Dave? Cuz I like Dave.

I play Dave all the time, kind sir.

Oh man, 9800 GT (2007-ish) is the minimum card...

Will that help me run atleast GTA IV? I am not much of a gamer but the forthcoming Windows 10, damn I wanna run it...

Do not get the 9800 GT haha. Probably not a good experience. It is funny because I get better performance on the newer games with my laptop (Intel HD) :OOO Can you fit one of these in? http://www.ebay.com/itm/Sapphire-AMD-Radeon-HD-6870-11179-09-20G-High-En... $40 would be a good price, and it would definitely be playable for GTA V

Some say that If RAM and mother board are not good enough it creates an imbalance and there will be no use in upgrading the Graphic Card, other things need to be upgraded too.

Maybe, but I am assuming your deficiency is with the graphics card.
Do you have 4GB+ RAM?
Do you have a fairly recent processor?
If so, get a graphics card ;)
If anything, I am worried about your power supply...

>Oh man, 9800 GT (2007-ish) is the minimum card... I bet that is at 640 X 480... LOL I'll stick with my GTX970 :)

When I had the 9500GT my monitor was a 1024x768 CRT ..
220Hz, best color/viewing angles, no complaints xD

I just need a patch that's all ;D

It's so beautiful and buttery smooth! Just turned on my 360 to do a comparison, immediately felt like throwing up when I looked at it...

That's the PC games problems: For each new title, you need a new config, upgrade your graphic card, etc. That's why I have an Xbox One.

Nope, bs. Bought my pc in 2013, still plays almost all games on high-max settings, won't need to upgrade for a long while.

Some people bought their Xbox 360 in 2005.

Yeah so? I didn't say consoles don't last long.

And just look at how far the quality of a game has to slide to make that possible. Skyrim on my GFs Xbox 360 has 2 min loading screens, the game needs to stop and pause when you try to swap races in the character creation, or when you are moving between cells in the world.

Agree with you there somewhat. Had the same discussion with a buddy yesterday who was looking forward to GTA V today yet complaining his already hefty set up wouldn't play it at its best. The Xbox One plays games the best it can play them every time you load it up. Not always the case with PC. That and I like to game with my feet up on the sofa. Can't do that on my PC as easily!

I'm surprised your friend is complaining about not being able to run it at full settings, unless he's going for 4k that is. I was pleasantly surprised to discover I could turn everything up to max at 1440p and still have the game never drop below 60fps. It's not even pushing my GTX 970 that hard, but my god does it look beautiful. I spent an hour ealrier just riding the train and admiring the scenery. And there really is no reason not to play PC games on the sofa. Well, not those you can play with a controller anyway.

Means moving the PC into the living room though. Wives don't always like that, Xbox you can get away with! Buddy is kind of a massive PC nerd. I don't understand most of it tbh, I'm old and boring.

Wireless Controller, PC, TV?

Home theater PC, Record TV from a cablecard, keep all your movies, music, pictures avaible on your TV, and a perk you can play games off it, with a Xbox 360 controller (and a $10-15 adapter). Everything in one box and No DVR cable box fees. Even if you have a gaming PC, you can use Steam's streaming feature on games you even installed yourself....

You don't actually need a high end PC to run it, I could probably ruin it on my 2 year old £400 PC. :)

Yea, u said it.. "ruin it"

It depends if you're a gamer. U should build your own pc. Games like gta are meant to be perfect for PC.

Wha?! Who lied to you? . . .

Well. My computer is 4 years, going to 5. Replaced the graphics with a GTX 660 about 2 years back and I'm still running next gen games fine

That's the point. With Xbox One you'll have 9-10 years without need any hardware upgrade.

You get what you pay for, In 5 years the Xbox one will look outdated, as a $200 video card on a PC will make the Xbox one look like last years toy.

Nah, on a general note, every 3-4 years do a nice upgrade and your fine. If you have a problem running a game, get a $200 video card as long as your main computer is not 10 years old.. Trust me when i say it, on a good PC system, plaing GTA 5, it will BLOW away the Xbox one... Most PCs' do, remember when the Xbox one came out, it was designed with hardware that was almost 8-10 months old, if you got a gaming PC within the last year and 1/2 odd are your already more powerfull than the Xbox one..

And mortal kombat X is available on IOS :|

Not this version of Mortal Kombat X. Some free-to-play cash in.

I pre ordered this, I can't wait to go home and play it, it's not true that you have to upgrade your PC everyone you buy the next iteration of a game, you can buy/build a PC that can withstand the perals of time if you know what you are doing (not me, my brother), also you can over clock your equipment, again, as long as you know what your doing, so even though his PC is over 5 years old, it still plays the latest games with ease, it does get a little hot, but that's what the fans and water cooling is for, also it's 4K ready which is amazing, just got to sell my soul and buy a 4K TV, unless the kind folks at Windows Central would like to run a prize draw for one!!!!! :p

Sold your soul? But how are you typing this then?

Dude, when I get a 4K monitor/TV first, perhaps you'd be allowed to ask for a contest! As it is I'm 'only' at QHD at 25-inches on my office monitor!

All Pc users of world wishing to play this game cant run it if he bought pc in 2007 but all the console users can play it even if he bought it in 2007..

True that...but for some reason few gamers stick to pc when it comes to 'real' gaming (even I don't know the reason) and I'm one of them...the only thing that impresses me in console gaming is the controller..so I bought a controller for my pc and I don't even think of considering a switch to console...but you need to do small upgrades in your rig yearly to keep it playable..

I also preloaded Mortal Kombat on my Xbox one a while back, I can't wait to get home xD

My Course edition is being delivered to me at work today. I'm excited. Mortal Kombat X is the first of my two most wanted games for 2015. I can't wait to get home tonight and play. This game is going to be f'ing rad!

I already got some matches in this AM. :)

Can you transfer your online character from Xbox one to PC?

You can only transfer your character once from 360 to xone or PC

Can I run MKX on my Surface Pro 2?

No sadly, calls for a GTX 460 minimum. Guessing their recommended is for 30fps FHD, not 30fps QHD! No way you are going to cram a Titan in the SP3 XD Benchmarks Recommended GTX 660 (G3D) = 4118 Average ... (G3D) = 3343 Minimum GTX 460 (G3D) = 2568 ....... ....... Surface Pro 3 (5200) (G3D) = 777 [Will be less due to thermal throttling]

I bought MKX digitally and played it for two hours last night from 12-2 despite my better judgment. Woke up at 7:20 but I'm just so chock full of excitement to play again I'm just not even tired! Awesome game. =D

Well...I already have GTA V for the PS3. I bought GTA V for the Xbox One...again (Black Friday, I couldn't resist). On PC...GTA V was the first GTA I didn't play on the PC because I am still burned by the fiasco of GTA IV. So...I'll wait for reviews of GTA V for PC before buying it a third time. Mortal Kombat X for Xbox One is definitely on the list. Apparently reviews have been all really good.

My i3 SP3 probably won't run GTAV :(

it probably can, if you run it on the lowest possible settings. Although at that point you might as well just play it on a console.

When I play GTAV it isn't unnecessary violence, I prefer to call it casual manslaughter. Those people really shouldn't be on the sidewalk anyway, it's dangerous.

Damn Mortal Kombat for PC only available for United States ,that sucks

Picked up Mortal Kombat X for Xbox One and GTAV for PC yesterday..
Third time I've bought GTAV but after seeing the trailer for PC I couldn't resist getting it again to play on my PC I built last year..

Can anyone tell me if GTA will play OK on my SP3 i5? Thanks

Well...It will play. I'm just not sure you'll enjoy it that much since the SP3 lacks a proper gaming graphics card... Posted via the Windows Central App for Android
Windows Central Newsletter
Thank you for signing up to Windows Central. You will receive a verification email shortly.
There was a problem. Please refresh the page and try again.