Motorola Q9c on Sprint is back from the dead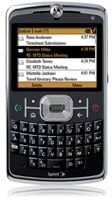 After some gnashing of teeth over whether Sprint had put the Motorola Q9c out to pasture, EverythingQ is reporting that it's back on sale online.
No word on why it was removed in the first place, though presumably it was to fix "all of the problems with the phone" that we'd reported on previously. But if that's the case, what happens to all Q9c's that are already out there? Some sort of software upgrade in the works?
You can pick up the resurrected Q9c now for $99 with a two-year agreement and $100 mail-in rebate.
Old news, you should have checked the forum first before posting.
Windows Central Newsletter
Get the best of Windows Central in in your inbox, every day!
Thank you for signing up to Windows Central. You will receive a verification email shortly.
There was a problem. Please refresh the page and try again.