20 tips to help you transport butter and smash skulls in Mount & Blade II: Bannerlord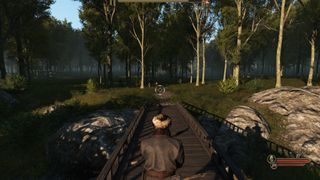 (Image credit: Windows Central)
Mount & Blade II: Bannerlord is a massive game with plenty to do, but if you're new to the series we've rounded up some helpful tips to get off on the right foot. From combat to buying your own store and making use of tactics in battle, we've got you covered.
(opens in new tab)
Mount & Blade II: Bannerlord
The successor to the popular Mount & Blade: Warband strategy game, Bannerlord adds plenty of improvements to make this an even more immersive medieval experience.
Getting started
1. Actually follow the tutorial
I get it. No one enjoys playing through tutorials, but seriously ... it's worth doing in Mount & Blade II: Bannerlord. The combat in this game is a little difficult to get started with unless you know what you're doing. The tutorial is quick, allows you to select which parts to do, and provides all the essentials to get you on your way.
2. Bring extra hooves
Horses aren't just great for you to get around the battlefield and settlements, they also play a vital role on the main map screen. Mules are perfect for providing extra carrying capacity when you fancy doing a little trading, while speedy mares will allow your troops to ride along when you're chasing down some bandits.
If your speed is a little low, check using the UI as to what's penalizing your movement. To be safe, take some extra hooves with your party, even if you've yet to recruit any cavalry.
3. Get readin'
The encyclopedia is an invaluable resource for everyone Mount & Blade player. By hitting the N key, you can explore a realm of information. It's not simply a book of printed material either. Each profile on characters, locations and even kingdoms feature up-to-date information.
You'll be able to track lords and ladies, see what they're up to, who they like and dislike, as well as check out the relations between factions. When you're looking to see which faction to join or whom to side with in a siege, the encyclopedia is a solid place to start.
4. Try not to fail too much
Quests are in so many games these days and most of them don't allow you to fail, but Mount & Blade II is a whole different ball game. If you go around bagging quests from all kinds of NPCs, you will run the risk of failing one ... or a few. Failing a single quest is bad enough, but if you make a habit of this, you can really hamper your standings and coin bag.
Don't be afraid of temporarily turning someone down either. If you're asked to travel someplace and don't know the distance involved, check your map to see if it's viable. You could always go back into the settlement and ask the quest giver to take on the job a second time. Also, be wary of quests that involve combat, sometimes the game likes to throw you into the deep end.
5. Don't forget to focus your points
Focus points are what can be used to increase the experiance gain rate of your skills. Skills level up as you use them, but you'll want to use focus points to make levelling a little faster. For instance, if you plan on switching to bows, add a focus point or two to unlock enough bonus capacity for you to level up the skill and activate perks sooner.
You get a single focus point per level your character gains, so once you've hit your experience goal, consider investing a focus point into a skill you're currently (or plan on) using.
6. Loot your way to initial victories
Looters are those common thugs you'll see roaming the map from the beginning of a game. These are the groups you'll want to take down initially. They're weak, unarmed — no seriously, they throw rocks at you — and provide good enough experience to train and level up your farmers level one units.
Just be careful about numbers. These looters may seem weak (and they are, to be honest) but they will utterly decimate you if you go against a sizeable force alone or with poorly equipped troopers. Numbers matter. Try and engage forces you know you'll overcome.
7. Choosing the right attributes
Six attributes are present in Mount & Blade II: Bannerlord. It's important to choose to increase them when levelling to unlock enhancements for various skills.
[VIG] Vigor: Governs melee combat, including one handed, two handed and polearms.
[CTR] Control: Important for ranged characters who enjoy throwing stuff or using bows and crossbows.
[END] Endurance: The ability to run across the battlefield without breaking a sweat. This oversees horse riding, sprinting, and smithy.
[CNG] Cunning: This is a useful attribute if you wish to better anticipate actions of others for counter strategizing.
[SOC] Social: If you're interested in becoming a trader, this is for you.
[INT] Intelligence: Medics, engineers, and stewards all require a decent level of intelligence.
8. Economics for dummies
Bannerlord features a living, breathing world with settlements producing and importing different goods. At times of peace (and especially war), you can locate some excellent deals, buying low and selling high. Hit up caravans as they traverse the land to see what rumors they've discovered.
When trading in a settlement, the game will tell you if the price is good or not, making sure you're always able to turn a profit. Keep an eye out for quests where they want some product delivered, the quest provider will give way more than the vendor if you manage to source from another location.
9. Smelt down all your looted weapons
While you could sell your weapons to shops, it's far more lucrative to smelt down them into iron and other raw materials to use in crafting or to sell to the vendor. Always loot weapons and smelt them down, it's worth it even if you have to buy some wood to get the ball rolling.
And on the note of smelting, try and utilize any companions you may have with you. Click the banner up top and change to their character to use stored stamina, which should reduce the amount of time used to recover your own. It'll also mean you can use a companion with higher smithing.
10. This ain't no Skyrim
You think you're good? Probably, but you simply won't stand a chance against multiple opponents. Go on, try and take down those 16 unarmed looters by yourself and see what happens. This isn't a game where you're incredibly powerful and can known forces down with nothing but a shout.
Recruit enough forces to have at least 15 units with you at any given time after completing the tutorial mission. Upgrade these units as you gain experience and win battles. And never go into engagements against larger, better equipped forces ... that is unless you enjoy the challenge, of course.
11. Aim and shoot
While aiming a bow (or ranged weapon in general), the aiming reticle will hone in at its most compact point, this is when you should release whatever projectile you have drawn. If you miss this window of opportunity, the reticle will enlarge, showcasing the fall in accuracy. Try and land a few practice shots whenever you can to correctly time this reticle switch.
Bows, crossbows, and thrown weapons all handle differently, so bear this in mind when switching between them in combat. If you no longer wish to relaease your arrow, right-click to cancel the draw.
12. Take your best infantry on raids
When hitting up bandit camps and other minor places of interest where restrictions are in place, the first handful of troops from your forces will accompany you. You can decide who's invited by dragging around your units in the party screen. This is invaluable if you've lost out to bandits thanks to the game forcing you to take some peasants along for the ride.
13. Use your shield ... and bash
You take a lot of damage per hit received, especially in the early game on realistic difficulty settings. Use your shield wisely, anticipating attacks and deal return blows after you've deflected one yourself. If you find an opponent enjoys using their shield a little too much, hit E, which will perform a shield bash.
Be smart about combat, especially when in heated battles with plenty of threats around.
14. Create your own banner
The included banner editing screen isn't the most advanced tool at hand, but that hasn't halted the incredibly talented Mount & Blade community from creating its own creation tool. By using this guide, you can create your own custom Bannerlord ... banner.
15. Save your character design
Have you started a few games in Bannerlord and are starting to get tired of creating the same character over and over again? No longer will you need to do this! Simply hit CTRL + C in the character creation screen once you've done everything and before you set up your history.
Then paste the code into your favortie notepad and CTRL + V on the character screen should you wish to load your newly saved preset.
Smashing skulls
16. See what skills you levelled up
Levelling up skills in battle is agreat, but how do you know what skills were increased if you don't pay attention to the text notifications? In the post-battle screen displaying all the statistics, you will see an arrow next to your name. Hover over this arrow to see all the skills that were increased. You're welcome.
17. Buy some shops to kickstart your empire
You can hit up a shop worker and talk to them about buying a property to generate some passive income. You'll need some considerable capital on hand to do so, but once you've started the ball rolling, not even Bill Gates will be able to halt your new butter-spreading, denar-printing business.
18. Become a strategic mastermind
Using commands and tactics in battles may seem cumbersome or daunting at first, but don't worry, it's actually really easy to use once you figure out all the hotkeys. Bandits, looters, and other minor parties won't utilize tactics against you, but lords and commanders with sizeable forces will.
Try and practice commands against lesser foes first, keep your archers behind your front line, and utilize cavalry charges effectively to deal serious blows to your enemy. A smart leader will likely come away with a victory and fewer injuries.
Using the encyclopedia, look up the current lords of each faction. You'll be able to see their traits and make a better decision about who you'd rather provide your sword or axe to. It's better to be smart about the kind of world you want Calradia to become.
19. Check the companion before hiring
You don't want to hire a companion who won't be useful in your clan. This is why you should always right-click on the said available companion for hire at a settlement to check their stats in the encyclopedia.
20. Change bandit units without disciplinarian
Bannerlord requires you to have the disciplinarian perk in order to switch out any bandits in your forces to normal units. Thing is, this perk is miles away down the skill tree if you aren't a skilled leader just yet. Luckily, you don't need the perk if you have a companion with his (or her) own party or a garrison of a location you own.
Simply place the bandit troops in your companion's party or owned garrison and they should change to a legit troop ina short time.