Movie Creator now available for Windows 8.1, powerful video editing on your Surface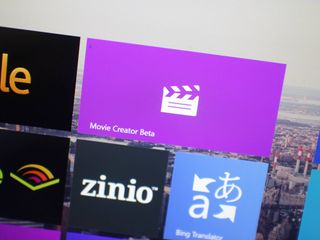 Yesterday Microsoft released a new beta app called Movie Creator. It's available for Windows Phone and Windows 8.1 and gives you powerful video editing capabilities for free. The Windows Phone version was live, but we hadn't seen the Windows 8.1 at the time. That version, for your Surface and PC, is now ready to download.
Here are some highlights of Movie Creator Beta on Windows 8.1:
Make movies in minutes: Select your clips, pick a theme, add music and titles then sit back and watch your movie.
Get the perfect theme (with music) from the in-app Theme Store.
Make it personal: Add titles, captions and edit your clips with tons of tools.
Coming Soon: More themes by professional videographers and even Hollywood studios!
But here's an even more detailed feature list provided to us from Microsoft:
Blend up to 25 different individual videos, photos or Cinemagraph content files together with no length limitations.
Rearrange clips, Add text titles & captions, Adjust trim & duration, Rotate, control volume, and pan & zoom.
Change themes and music (using your own music), adjust volume for both music and the featured videos, and even get more themes from the in-app Theme Store.
Branded themes, including several special DreamWorks-inspired options featuring lovable characters from films like, "Kung Fu Panda" and "Madagascar."
Output Quality Options: low, medium or high resolution depending on preferences
The Movie Creator BETA app is available for all devices including the Lumia 530 and other entry-level Windows Phones or tablets
Have you tried out the Windows Phone version? Download the Windows 8.1 release and let us know what you think.
Movie Creator BETA is available for Lumia Windows Phone 8.1 devices, including those with 512 MB of RAM and all Windows 8.1 tablets, PCs and laptops. Movie Creator is only planned as a Windows release, and it is not currently slated to go to Android or iOS. On Windows 8.1, your device will need to have a touchscreen in order to use Movie Creator.
Windows Central Newsletter
Get the best of Windows Central in your inbox, every day!
Know what would be awesome? Xbox Upload studio integration. Make it so, Microsoft!!

not near my surface, but you say powerful..... the is a heavy word to use. Some of use tend to be well versed in Premiere, Sony vegas and others....

and how do you run Premiere and Sony Vegas in a non Pro Surface? you are comparing expensive video editors, that have been around for years to a free app for TABLETS. it's obvious the difference will be huge. and you seem to just see your title and start saying names like "premiere and sony vegas" but then you haven't even installed this app since you seem to miss where it sayss one of the requirements it's having a touch screen, and it's not compatible with mouse and keyboard. so yeah, not the same. But still good for tablets, especially with more templates coming soon and all.

As a video editor myself I'm going to have to agree with him. Doesn't matter if a free app is compared to a professional program, can't throw around the word powerful so lightly.

Compared to Adobe Premiere Pro CC and After Effects CC with Cinema 4D and more on my Surface, I doubt this amatur-hour software will ever land on my system.

just for you, _EMI_, I will clarify.... I meant to say my surface pro 2 (i forget, the internet can be super literal at times, i JUST got back from lunch and didn't think twice about saying surface pro 2 and just said surface). And yes, I actually do have both premiere and Vegas installed (for work). My issue was with the use of the word powerful. I have played and worked with powerful video editors for well over a decade (since about 1998). So, if the word powerful is being used to describe it, then I can question it all i want. Will i try it out? yes, when i get home i'll install it. Do i think it will be a powerful editor? probably not. It would seem to be something that will work for those you don't have access to a video editor OR someone that just wants to dabble. That's my opinion, and is subject to change..

Where do you work that you get to use Vegas? That's what I prefer to use, but sadly the software is under represented.

how well do premiere and vegas work on surface? Is a mouse and keyboard required or can you get away with touch and pen?

If powerful means that anybody can easily create, edit and share videos using their phone or tablet, then yes, I have to agree that's an apt word to describe it.

It's available since yesterday, but for touch PCs only

Should probably mention that it requires a touch-enabled PC.

Nope, I installed it on my Surface 2 and my Pro 2. Though oddly enough a "Lumia Tablet" is listed under recommended hardware for the app.

I mean on phones. Says not available for my One.

Oh sorry, I misunderstood. Unfortunately I only have a Lumia 1520 and 520 so I can't test that. Maybe some other readers can confirm if this works on non-Lumia devices?

How's OneDrive integration for this app?

Only seems to see local files and no selector to open onedrive.

makes sense.... you wouldn't want to edit a video while it's online.... now can you save to onedrive?

Why not? I can slightly edit videos on YouTube.

slightly is the key word. When editing on youtube, all of the work is being done on the server. nothing is being done on your system. Your system is just the frontend. To top it off, youtube is a video streaming site, onedrive, while you can share video, is not like youtube.

Cloud first as MS says. Anyway, I meant backup and editing on machines and sharing files through OneDrive.

that makes more sense....

The way OneDrive works is that it would download when you open it. The file would remain on your computer until you set it to be "available online only". The file could also already be stored locally within your OneDrive folder.

It took 2 years to have a good vidéo editing app on Windows modern... Congrats

I like it a lot. Tried it on my nl1520. Simple and effective tool, maybe even powerful, for a simple end user like my self. I don't have the patience for complex tools. Keep this up ms and all will be fine.

Wouldn't it be great if the app provides us music files e can use for our vids? :)

It does. They aren't amazing tracks... but default music is nevertheless supplied

Movie Creator beta does not work on all 8.1 PCs. It has no keyboard or mouse support so only works on touch screen devices.

Not correct, go and download it. I just made a movie with mouse/keyboard only.

I'm a little confused. Microsoft Store says it's only compatible with touch devices but this says it's compatible with phones, tablets and PCs. Also, does anyone know what the file type output is? How can you share it? Still, I really liked Movie Maker way back in the XP days for sharing with friends and family (NOT pro level stuff) and never understood why they killed it off.

Used it for a couple hours on my 1020, really nice. Hopefully the rendering is a whole lot faster on an i7. They need to remove the 25 item limit though.

I wish Microsoft would improve Movie Maker. It's got a lot of potential, it's just missing too many features.

Anyone else starting to get sick of the BETA tag? Just because its a first release doesn't mean it always has to be BETA. It's becoming a bit of an excuse to release something and if there are any issues they can say it's BETA to cover themselves. Weak.

that's the point of a beta.... if it worked flawlessly, then it wouldn't be beta... It's cheaper and faster to test a beta on the public than in house. that and you get way more people on it.

I don't get under the Lumia M device under the Recommended devices on the download page of Windows Store. Is that the Lumia 2520 or some unnanounced device? I couldn't get any info about it on the net.

Its still pending on my L1520, wonder whats going on?

Won't install on Surface Pro 3, another MS miss. Going back tto Apple looks more and more likely everyday :(

Here's something that'll make you think twice....
Apple's latest OS release actively prevents users from installing their own SSD drives. Without an Apple signed driver stack, third party SSD's do not pass the secure boot system. The only way to get them to work is to turn off TRIM support....which afaik, is not a good thing to be doing!
Apple is way too restrictive.

Doesnt install on my 520 sd

Not available for french HTC 8x.

All I need is a video editing app that allows me to obscure faces to the videos I upload to xtube. Yes I'm serious.

Just shoot your vids from the ass end. Problem solved.

I does work with keyboard and mouse!

it doesn't work on my iPaq WM 6.1, come on MS das not powerful...

Is this the first Universal App Microsoft's saying about from the start of windows 10 show. One thing I noticed is that windows 8.1 movie maker app has same design and layot with a size ofabout 184mb and for os 8.1 lumia the app size is 164mb. The concept of Universal apps are good but i wonder wheter every app size will be this huge.

It's probably features like the themes that are making the app sizes so big.

Thats gorgeous on Lumia 1020. Great transittions and filters, nice selection of preloaded music. Size over 156Mb is con but given all the features it is worth it. It crashes on share though but one can share saved video from within media hub.

If writers and reviewers can call iMovie "powerful"-and its NEVER been up to par with Final Cut,Premiere,Vegas,or even Cyberlink's Power Director-then the same can be said for Movie Creator,No?

Pending....not downloading L925