Mozo Saffiano Sleeve for Surface Pro, Surface Laptop stylishly protects your PC
By Daniel Rubino last updated
Mozo's new Saffiano Sleeves for Surface Laptop and Surface Pro are a perfect match for your Microsoft PC.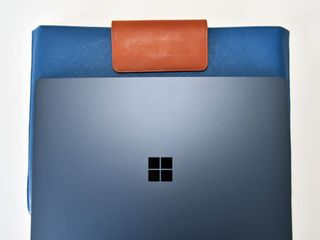 The new Microsoft Surface Pro and Surface Laptop are elegant PCs, but like all materials made from metal, they are susceptible to scratches and dings. I found out the hard way recently with my Burgundy Surface Laptop that if you scratch that metal the silver color is revealed.
Mozo is no stranger to making beautiful cases and sleeves for Microsoft products. In fact, the company is officially licensed with the "Designed for Microsoft Surface" program making it one of the few official accessory partners. The new Saffiano Sleeve fits the Surface Pro (including Surface Pro 4 and Pro 3), and there are larger editions for the Surface Laptop as well.
What is Saffiano?
Like me, you may be ignorant of the latest trends in fashion including material science. Saffiano is a high-end textured leather that is used by many companies, including Prada, for its handbags. The leather is then "texture pressed," which creates the cross-hatch finish.
Additionally, there is a wax treatment on top that makes the leather scratch resistant, simple to clean and resistant to long term wear.
All you need to know about Alcantara
Like Alcantara, Saffiano hails from Italy and appears to be a proprietary design, hence its capitalization when used for marketing.
Compared to traditional leather Saffiano feels like a high-quality nylon versus your typical raw brown hide found in rugged bags. There is no leather smell either, and due to the way it's made, it can be dyed in many colors, which is what Mozo has done for its Saffiano Sleeve.
Saffiano Sleeve is an attractive fit
Mozo's choice for Saffiano nicely matches Microsoft's use of Alcantara. The focus here is on high-end fashion, and the color choices let users either match or contrast with their Surface.
For the Surface Pro Saffiano Sleeve, there are four similar colors including dark blue, burgundy, champagne, and steel gray. For the Surface Laptop, there are just three colors with dark blue, burgundy, and steel gray. That color selection is interesting if only because the Surface Laptop actually comes in a champagne color, whereas Surface Pro does not.
Being a sleeve, there is not much to the accessory, but there are some highlights. A leather flap with a magnetic metal button keeps the Surface Pro or Surface Laptop from slipping out when traveling. That flap also contrasts nicely with the sleeve's base color.
The two-halves of the Saffiano Sleeve are stitched together using matching thread. The stitching looks excellent and is very linear with no frays or deformities.
Mozo also cleverly put a stretchy pen holder loop under the leather flap for the Surface Pro sleeve. Not only is this convenient, it works well too. Assuming you place the Surface Pro with the keyboard edge facing up, the Surface Pen rests nicely against the Surface Type Cover's hinge area ensuring nothing is scratched.
For the new Surface Pro, the Saffiano Sleeve is a tight fit with the Pen requiring a little effort to pull that flap close. I presume it will slightly stretch and break in over time making that a non-issue. The Surface Laptop sleeve is slightly larger with a tinge more wiggle room (though never loose.)
Inside the sleeve is very smooth suede-like lining. That lining is gray too, which matches nicely with the Surface Pro's magnesium coloring. I never had a fear of the material scratching or even lightly scuffing the Surface, which could be a concern due to the snug fit.
For labeling, Mozo keeps it minimal. On the leather flap, the Mozo name is lightly embossed with minimal contrast. There is also a small metal Mozo badge on the lower left that looks classy.
Final verdict – An excellent, stylish Surface companion
Sleeves for laptops and 2-in-1s are a particular category that some people prefer over dedicated bags. With a sleeve, you can snuggly fit your Surface Pro or Surface Laptop into it and then toss the sleeve into your existing bag or backpack. Likewise, sleeves are excellent for those who work in an office and jump from meetings and want some protection.
The Mozo Saffiano Sleeve is a perfect match for the Surface Pro and Surface Laptop. The selling point is mostly the similar new color options. Microsoft chose these so that you can mix or match the Surface Type Cover, Surface Pen, and new Surface Arc Mouse. These Saffiano Sleeves fit right into that design choice.
Being my first time with Saffiano, I was impressed. The material does not feel like a traditional leather – no weird odors or rugged appearance – and the crosshatch pattern is excellent to hold.
For those concerned with gender roles, I never got the impression that these sleeves – in all colors – were more feminine than masculine. Quite the opposite especially with the burgundy, dark blue, or even steel gray, which are very neutral tones.
Regarding pricing, these sleeves fit in with Mozo's previous offerings like the cool Sneaker Sleeve and Surface Folio. The Surface Pro Saffiano Sleeve comes in at €44.90 (about US$51), while the slightly larger Surface Laptop Saffiano Sleeve is €48.90 (about US$56). While more expensive than knock-off sleeves, Mozo is based out of Finland (ex-Nokia folks), and I find its design choices and quality to be worth the investment.
Overall, I think these are an excellent choice to help protect your Surface Pro (including previous models) or Surface Laptop. The look, feel, and uniqueness makes these sleeves a perfect match for Surface, so much so that you might think Microsoft made them.
Pros:
Great colors that match your Surface.
Simple and elegant design.
Pen holder for Surface Pro.
Saffiano material is unique.
Cons:
Not cheap.
Surface Pro sleeve is a bit tight to close with Pen.
No secondary pocket.
Daniel Rubino is the Executive Editor of Windows Central, head reviewer, podcast co-host, and analyst. He has been covering Microsoft here since 2007, back when this site was called WMExperts (and later Windows Phone Central). His interests include Windows, Microsoft Surface, laptops, next-gen computing, and arguing with people on the internet.
that looks amazing! do they have a sleeve for Surface Book?

Great question! I just tried and was able to pretty easily put the Surface Book with Performance Base into the Surface Laptop sleeve and latch it. Since that version is even thicker, the "normal" Surface Book should fit as well. To be clear, I did not feel I had to force it, either (although the first removal was a bit of a struggle. I'm sure it'd stretch a bit over time being leather).

I already own a Mozo sleeve for the Surface Pro. Too bad that it doesn't contain room for the adapter. For the rest it is a stylish travel companion.

Wonder would be dell 13" fit in the surface laptop sleeve?

Probably in the 13" surface laptop sleeve, definitely NOT in the surface pro sleeve....

No, I know it would not fit the pro sleeve. I have to get the dimensions of the surface book/laptop and see how close it is to my Dell.

I did the measurements and the laptop sleeve will fit my 13" and the pro will fit my wifes 11"....

I have four Mozo backplates for my 950XL and I'm happy with those. I've been considering the burgundy sleeve for my new Surface Pro but I wanted to wait for a write-up, so thanks for this. I'm not completely convinced about the rather orange-looking leather flap but it's not hideous so I'll go with it. I was hoping it would be close to the brown leather backplate I have for my phone when seen in the flesh but I'll have to wait and see. I reckon I'll get one of the black Sneaker sleeves for some variety too. I really like the black Golf folio too but not the fact that it sticks on. I'd have got a black Golf wallet case for my phone had it not been stick-on too.

Chicken or the egg? Should I get one of these before or after I get my Surface Laptop?? ;) Actually, not sure if people have noticed in Australia with the MS store, but they only had the platinum SL on sale before and only photos/ads of that model. I enquired and they said that the other colours are coming in August. Yesterday I looked at the website again and now they have photos/ads with the other colours, so it looks as if they are preparing to release! Woohoo!!!!! :)
Windows Central Newsletter
Get the best of Windows Central in in your inbox, every day!
Thank you for signing up to Windows Central. You will receive a verification email shortly.
There was a problem. Please refresh the page and try again.